7 Best Lasagna Pans of 2023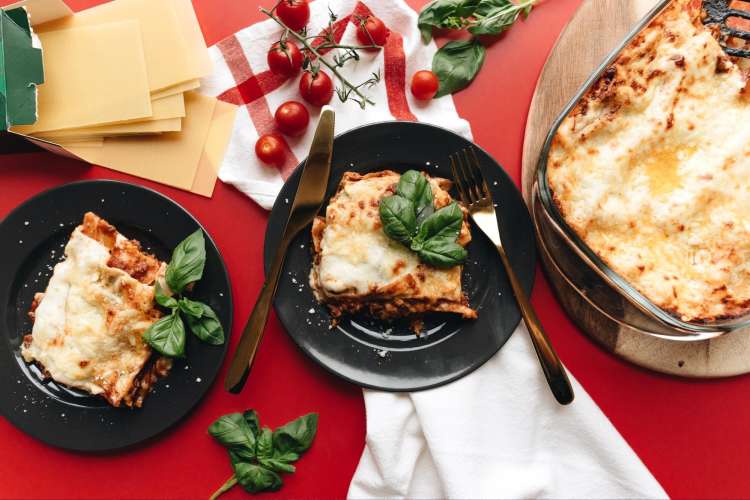 Our editorial team recommends the best products through independent research, selection and careful review. If you make a purchase through one of our affiliate links, we may earn a commission. Prices are subject to change.
Having the best lasagna pan in your collection means you'll be ready for making those delicious layers any time the mood strikes. It's easy enough to grab any pan you have in your kitchen and jump headlong into the lasagna-making process. But what you consider to be the best lasagna pan in your collection may not be the right pan for the job.
Do you have the best lasagna pan for preparing several versions of lasagna at once? What about a pan that keeps your creations fresh and ready to serve from freezer to fridge to oven every time?
Whether you're preparing a hearty vegan lasagna loaded with tender vegetables or a more traditional version with cheese, tomatoes and meat sauce, the chef-approved best lasagna pans listed in the guide below will get you headed in the right direction.
Jump to Section
Shop Chef-Approved Cookware
Beloved brands. Easy returns. Price-match guarantee. Kick your kitchen confidence up a notch with cookware loved by chefs.
1. Best Ceramic: Mrs. Anderson's Lasagna Pan
With Mrs. Anderson's Lasagna Pan, you'll have the best lasagna pan to strike that vintage minimalist vibe. The vivid apple red or bone white finish make for clean presentation in any spread. And helpful handles make it easy to take your savory masterpiece out of the oven and present it directly center table as soon as it's ready. Think about making this one your go-to lasagna pan for cooking and serving.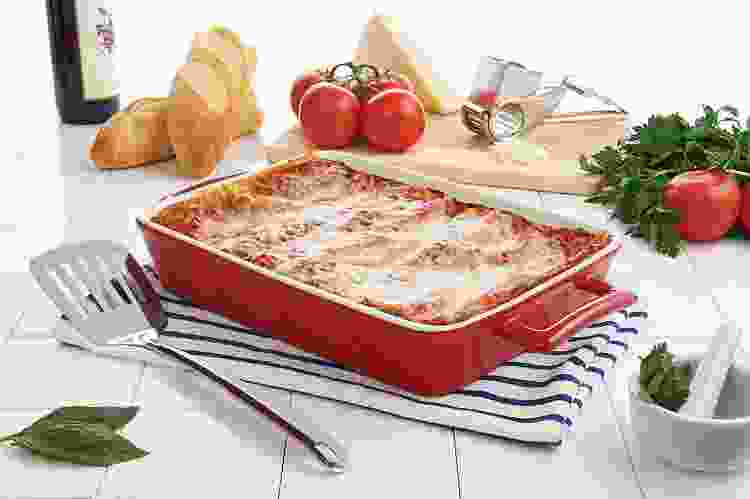 2. Best Personal-Sized: Harold Import Co. Personal Lasagna Pan
Nothing beats the Harold Import Co. Personal Lasagna Pan when it comes to preparing lasagna bakes on the smaller side. The angled loaf shape is perfect for crafting lasagna for a smaller crowd or for creating an alternate vegetarian or vegan version to pair with a larger traditional lasagna. It's a modest-sized winner for cooking up more compact meals and its glossy glazed surface makes clean up a breeze.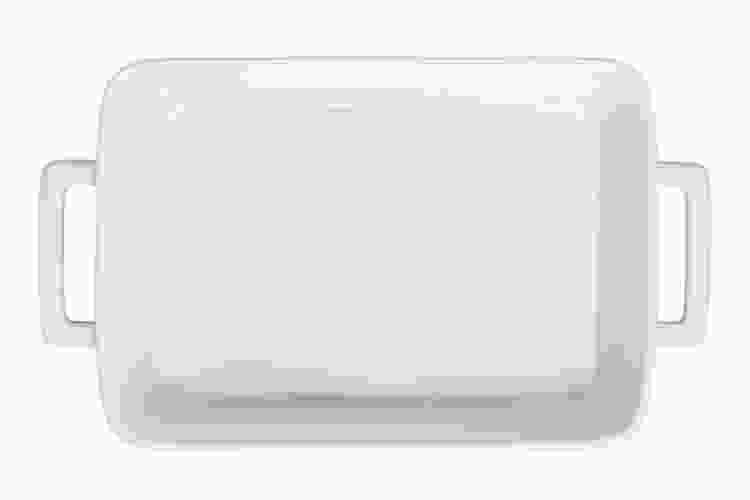 3. Most Versatile: Lock N Lock Purely Better Glass 9x13" Baker With Lid
Take your lasagna on the road or store leftovers in the Lock N Lock Purely Better Glass 9x13" Baker With Lid. The best lasagna pan for cooking and storing goes from oven to microwave to fridge or freezer without skipping a beat. With a locking lid that keeps contents fresh and secure, you can plan and prepare ahead for dinners to come, all in the same remarkable pan. It's all you need for your lasagna adventures!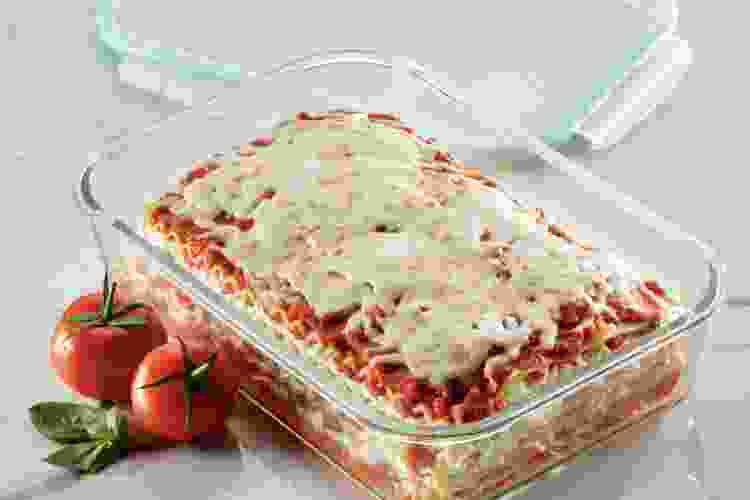 4. Most Stylish: Staub 13x9" Baking Dish
The Staub 13x9" Baking Dish is a stylish winner among the best lasagna pan for entertaining as well as baking. Handles stamped with the renowned Staub name make for convenient carrying. And the high-gloss cherry red or royal blue finish will brighten your family dinner or party spread as your handcrafted lasagna within delights your diners!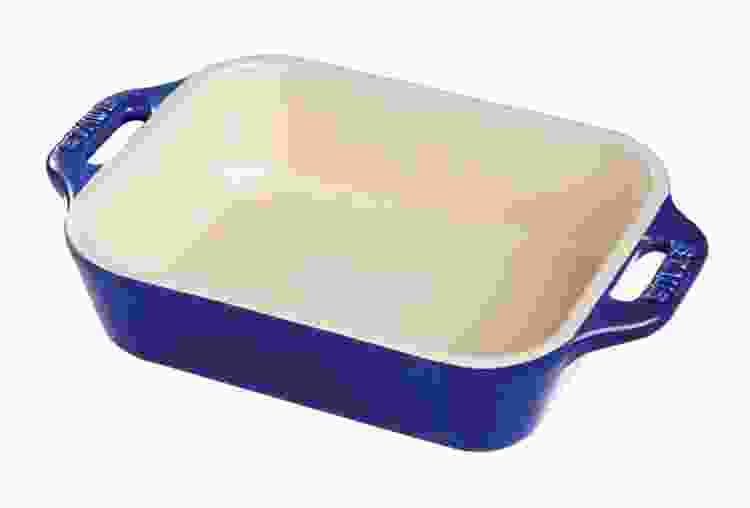 5. Best Set: Staub 3-Pc Mixed Baking Dish Set
When you need more than just one of the best lasagna pans around, the Staub 3-Pc Mixed Baking Dish Set comes to your rescue. With one rectangular, one oval and one scalloped round ceramic pan, you have a trio of hard-working pans at your disposal that double as some of the best casserole dishes. Whip up three distinctly different takes on lasagna or cook a few tasty sides to make a complete meal. It's a winning combination for your lasagna baking needs.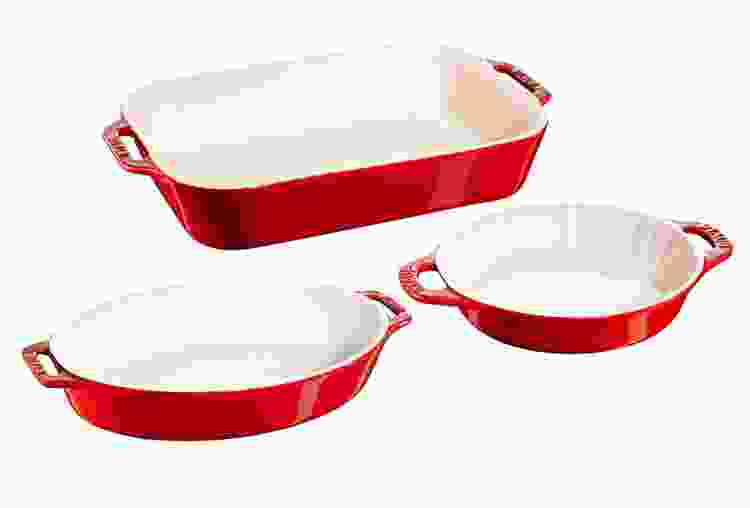 Shop Like a Chef in the Cozymeal Shop
Update your kitchen with top-rated cookware. Beloved brands, easy returns and guaranteed price-matching.
6. Most Decorative: Mason Cash 12" Rectangular Baker
The Mason Cash 12" Rectangular Baker is the best lasagna pan choice for the home chef with an eye on decor. The taupe finish fits almost any home kitchen, while the delicate embossed leaf pattern fashioned after rustic folk art designs makes this pan a charming countertop bowl for fruit or bread when stored. And when it's time for cooking up a hearty lasagna for a special occasion, you have a workhorse that's ready for all the layers you can pile on.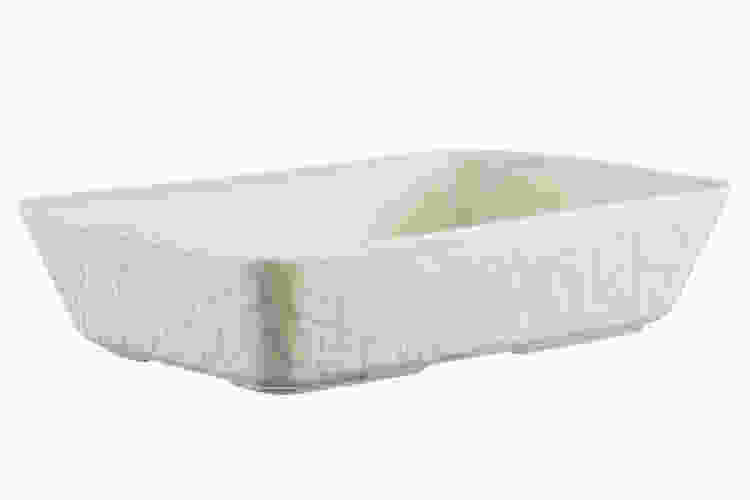 7. Best Deep Dish: USA Deep Dish Lasagna Pan
Crisp edges, easy-lift handles and a convenient non-stick surface make the USA Deep Dish Lasagna Pan a must-have for easy clean-up. It's a classic throwback to the best lasagna pans from Grandma's kitchen. With a design that's withstood the test of time and a deep belly for loads of filling, it's a lasagna pan that delivers when you need it to. And that kind of quality won't go out of style.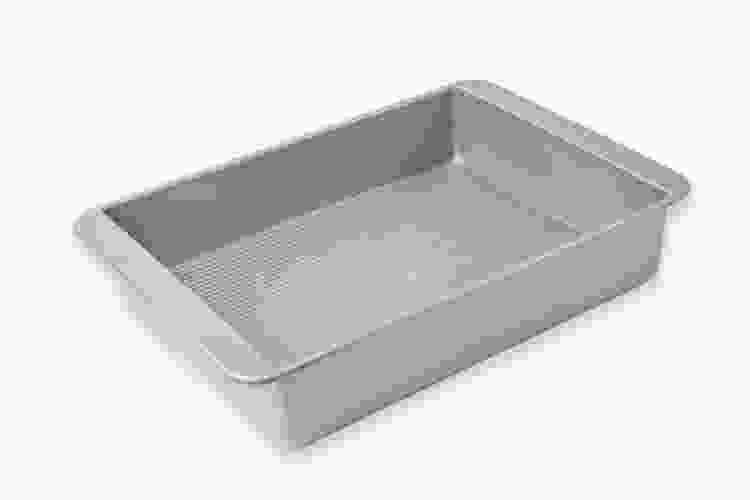 Join 200,000+ Culinary Enthusiasts
Exclusive deals, recipes, cookbooks, and our best tips for home cooks — free and straight to your inbox. PLUS: 500 Rewards Points.
If your recipe is a long-held family tradition or something fresh and innovative you've cobbled together yourself, making your lasagna is sure to be an easier task when you have the best lasagna pans on hand. And remember: The best lasagna pans you can buy are the ones that don't have to be dedicated to lasagna only. Once you have these helpful pieces in your collection, you can put them to work with casseroles, cakes, desserts, traybakes and more!
For even more ways to elevate your kitchen, check out more chef-recommended cookware in the Cozymeal Shop.