53 Delicious Potato Side Dishes
Our editorial team recommends the best products through independent research, selection and careful review. If you make a purchase through one of our affiliate links, we may earn a commission. Prices are subject to change.
From summer barbecues and holiday feasts to special gatherings and weeknight dinners, potato side dishes accompany meals throughout every season. Inspiring cooks all around the world, the humble potato is a perfect canvas for tantalizing textures, bold spices and cheesy sauces. With numerous varieties to choose from, the versatile spuds can be baked, boiled, mashed, stewed, deep fried, roasted and so much more.
What are the best potato side dishes to pair with chicken, fish or pork? Whether you are looking for potato side dishes with bright flavors to highlight tender white fish or rich, creamy potato side dishes to complement roast chicken or anything in between, here are 53 potato side dishes that celebrate the beloved spud.
Jump to Section
Easy Potato Side Dishes
1. Mashed Potatoes with Sour Cream
These Mashed Potatoes with Sour Cream are a tangy, staple side dish that you will want to return to again and again. For an extra smooth texture, try processing your potatoes with a potato ricer that will help prevent the spuds from getting overworked or gummy.

Try our Potatoes with Sour Cream recipe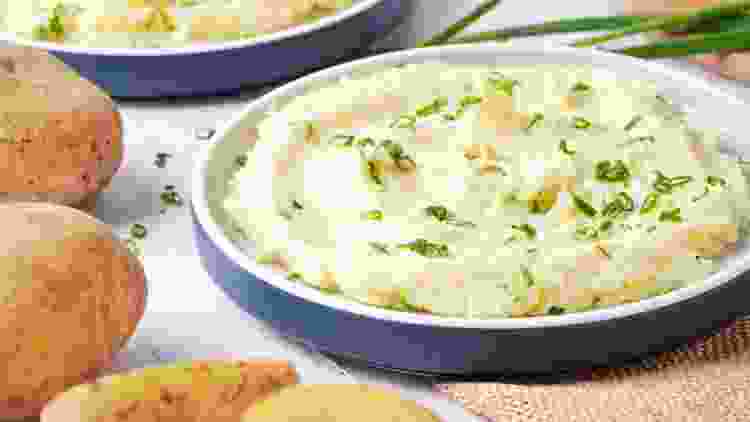 2. Smashed Red Potatoes
With crisp outer edges and a fluffy interior, these Smashed Red Potatoes feature a tantalizing array of textures. Finished with a sprinkle of Parmesan cheese and plenty of garlic, they are sure to become one of your favorite easy potato side dishes.
Try our Smashed Red Potatoes recipe
3. Mashed Potato Cakes
The best side dishes with potatoes pair with any meal and help prevent food waste. These Mashed Potato Cakes by Ahead of Thyme use leftovers to make versatile potato side dishes that are easy to customize with your favorite flavors.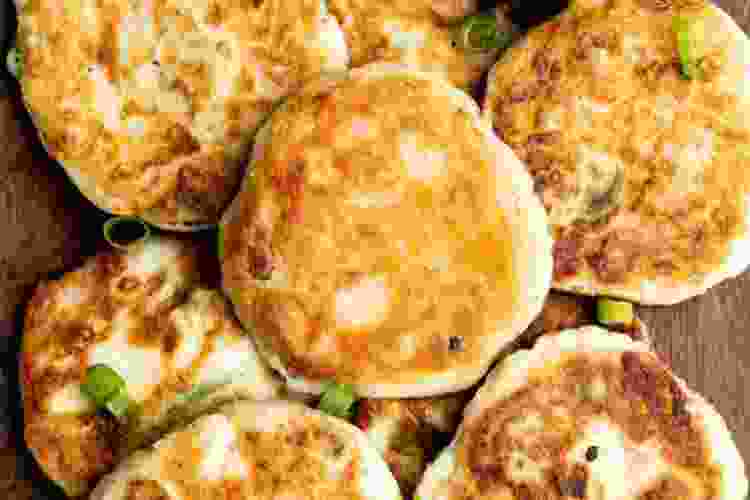 4. Twice Baked Potatoes
Classic potato side dishes like these Twice Baked Potatoes by Spend with Pennies are easy to make, pair well with a variety of proteins and are reliable crowd-pleasers. This recipe can be prepared in advance, frozen and easily reheated from frozen for quick potato side dishes that are ready in minutes.
5. Easy Cajun Fries
It doesn't get much easier than two ingredients. These Easy Cajun Fries by The Edgy Veg can easily be made vegan and/or gluten-free in the oven or air fryer. They also taste amazing with a creamy remoulade for dipping.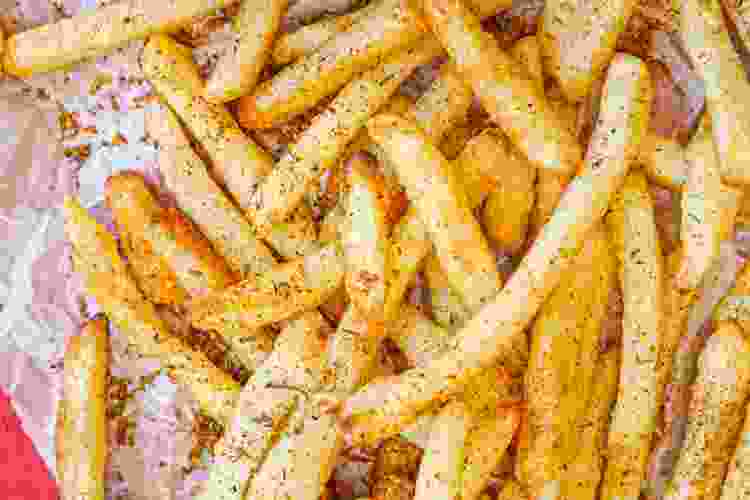 6. Baked French Fries
These Baked French Fries from Well Plated by Erin are an easy to make version of one of the most beloved potato side dishes for everything from burgers and hot dogs to chicken tenders and crispy fried fish. Serve with your favorite dipping sauce for a crisp, salty and satisfying classic potato side dish.
7. Duchess Potatoes
Impress friends and family with these elegant, and very easy to make, Duchess Potatoes by Spend with Pennies. All you need are some mashed potatoes and a piping bag to create this sophisticated potato side dish.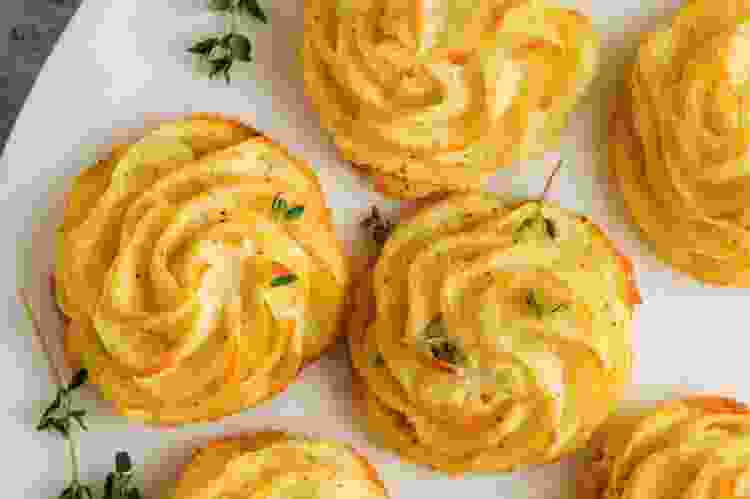 Potato Side Dishes for BBQ
8. Potato Salad with Bacon
This German-style Potato Salad with Bacon swaps out the heavy mayonnaise for a tangy and unctuous vinaigrette. Simple and attractive potato side dishes like this pair especially well with grilled meats and other barbecue staples.
Try our Potato Salad with Bacon recipe
9. Dill Potato Salad
Zesty herbs and spices set this Dill Potato Salad apart from the average potato side dishes you would find at a summer gathering. This fresh and aromatic potato salad is easy to make in large batches and the perfect compliment to a classic picnic or neighborhood barbecue.


Try our Dill Potato Salad recipe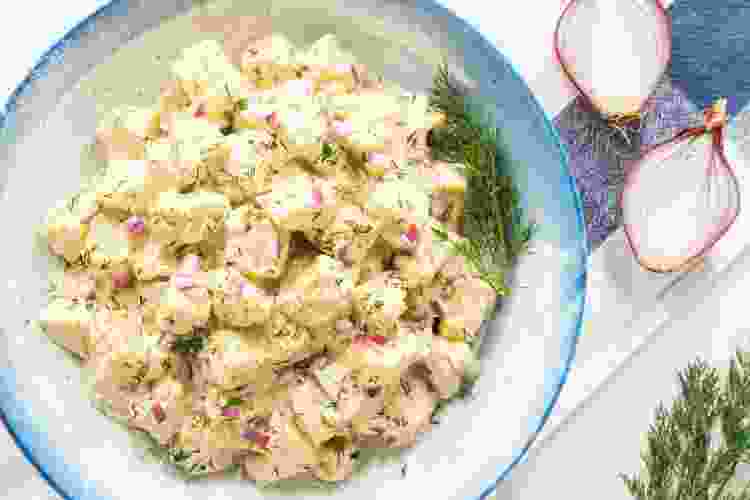 10. Campfire Potatoes
For a flavorful potato side dish you can cook right on the grill, try these smoky Campfire Potatoes by Homemade Hooplah. This rustic combination of potatoes, onions, herbs and a sprinkle of cheese is the perfect complement to grilled meats.
11. Homemade Potato Chips
With endless options for flavoring these crisp and salty Homemade Potato Chips, they are excellent potato side dishes to make for a picnic or barbecue. You can also swap regular potatoes for sweet potatoes with this easy, oven baked recipe.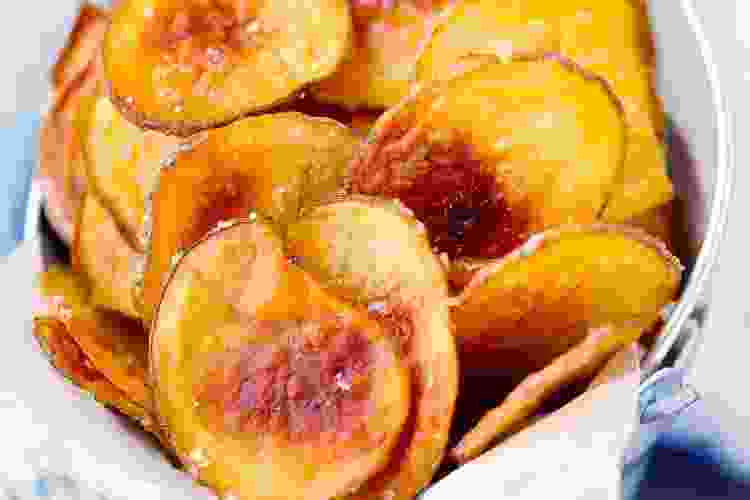 12. Cheesy Ranch Roasted Potatoes
Potatoes, cheese and a drizzle of ranch is a crowd-pleasing combination perfect for a summer barbecue. These Cheesy Ranch Roasted Potatoes by Little Spice Jar are boldly seasoned, roasted until golden and crisp then topped with melted cheddar cheese, fresh scallions and a tangy ranch sauce.
13. Grilled Potatoes
Crisp on the outside with a soft, tender interior, these Grilled Potatoes from Well Plated by Erin are easy to make in a large batch for a picnic or barbecue. Grilling in heavy duty aluminum foil makes for quick and easy clean up, too.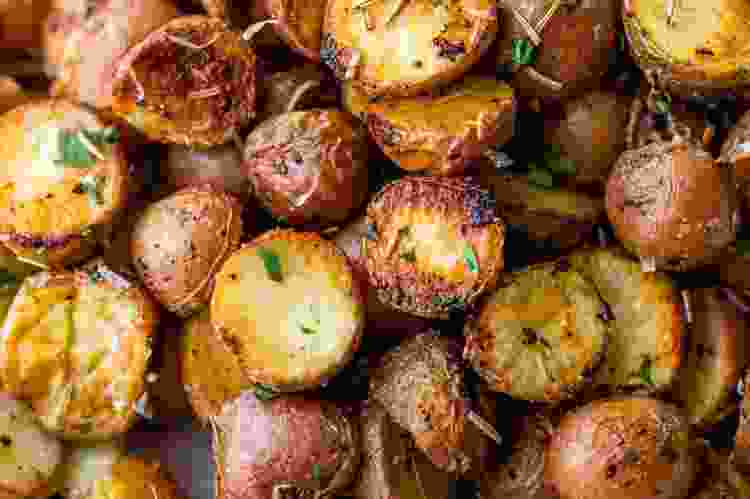 Potato Side Dishes for Chicken
14. Japanese Potato Salad
The spicy, tangy and umami flavors of this Japanese Potato Salad are a perfect accompaniment for a variety of chicken dishes. The bold, fragrant ingredients that stand up well next to fried food make this one of the best potato side dishes to enjoy especially with crispy chicken katsu or other styles of fried chicken.
Try our Japanese Potato Salad recipe
15. Red Skin Mashed Potatoes
These ultra-creamy Red Skin Mashed Potatoes have a slight tang from the addition of cream cheese that compliments a wide range of chicken preparations from roasted or baked to grilled or fried. Versatile potato side dishes like this one are easy to customize with your favorite herbs and toppings such as fresh chives or crisp, crumbled bacon.


Try our Red Skin Mashed Potatoes recipe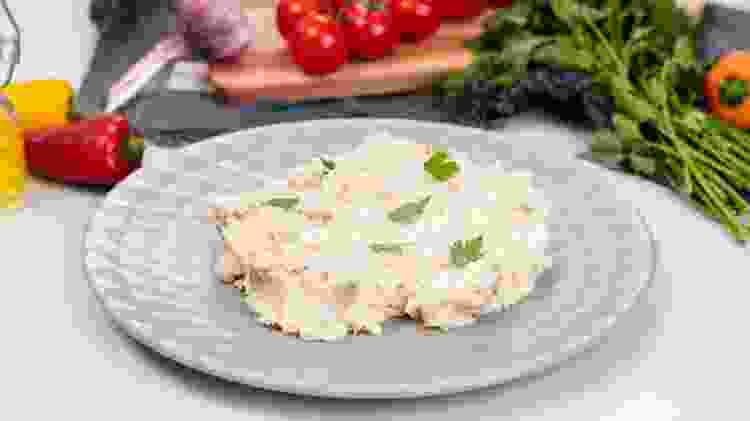 16. Potato Rosti
This crispy, golden Potato Rosti by RecipeTin Eats is a buttery potato side dish perfect for roast chicken, crispy schnitzel or even as a complement to breakfast. This recipe shows you how to prepare rosti two ways: whole in a skillet or individual serving size.
17. Classic Roman Herbed Potato Pizza
The Classic Roman Herbed Potato Pizza by Ahead of Thyme is one of those potato side dishes that is hearty enough to enjoy as a meal on its own, but also pairs particularly well with saucy chicken dishes such as chicken piccata, cacciatore, Florentine or puttanesca. The Italian herbs are a classic complement for chicken and the crust base is perfect for soaking up flavorful sauces.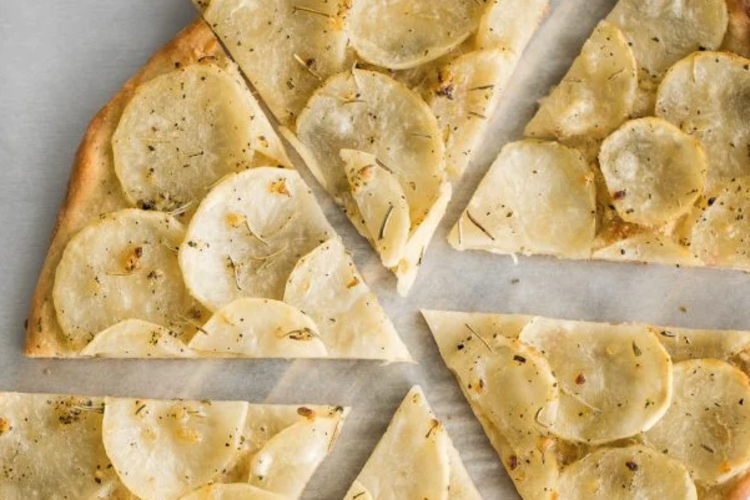 18. Truly Crunchy Roast Potatoes
These Truly Crunchy Roast Potatoes by RecipeTin Eats certainly live up to their name. One of the most classic potato side dishes with a British roast dinner, these crispy, golden potatoes became an internet sensation thanks to their irresistible signature texture.
19. Fondant Potatoes
The French have plenty of classic potato side dishes to choose from, but Fondant Potatoes like these from Spend with Pennies are a favorite to pair with roast chicken. The crisp, golden brown top and bottom contain a creamy interior that needs little more than a pinch of seasoning for an easy and elegant side dish.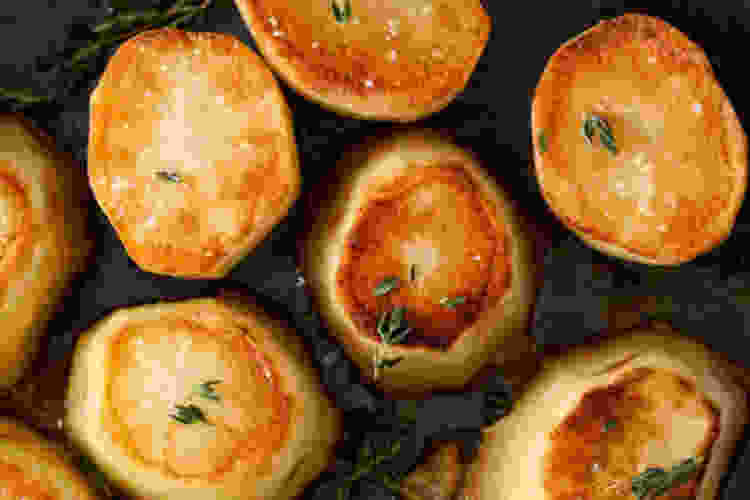 20. Aloo Paratha
This fragrant Aloo Paratha by RecipeTin Eats is a cozy companion for rich chicken curries and stews. The Indian potato stuffed flatbread is perfect for soaking up every drop of flavorful sauce.
Potato Side Dishes for Fish
21. Potato Gnocchi with Butter and Herbs
The delicate flavor of these pillowy Potato Gnocchi with Butter and Herbs is a perfect complement to flaky, white fish. Uncooked gnocchi can also be frozen so you have quick potato side dishes ready for an easy meal. You can use a fork to create the rustic, sauce catching edges or add a gnocchi board to your kitchen collection to make the traditional ridges.
Try our Potato Gnocchi with Butter and Herbs recipe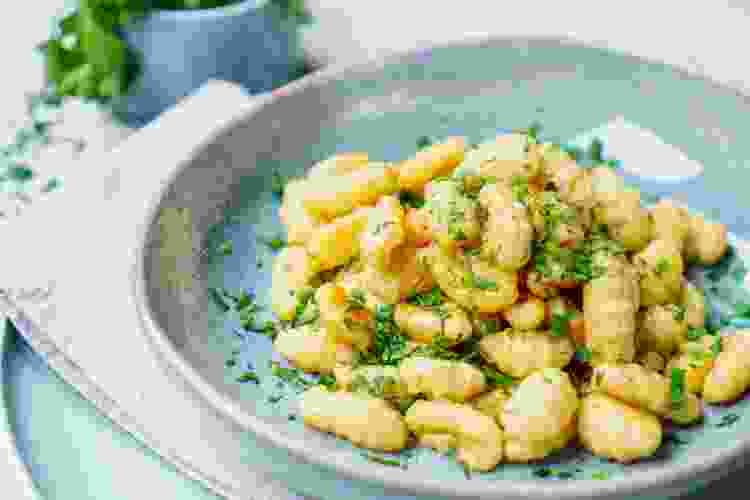 22. Deep Fried Potatoes (Sindhi Tuk Aloo)
These Indian-inspired Deep Fried Potatoes, also known as sindhi tuk aloo, take ordinary potatoes to the next level with bold chili powder and incredible textural contrast. The potatoes are boiled, smashed and deep fried to create a crispy exterior that complements tender, flaky fish.
Try our Deep Fried Potatoes recipe
23. Roasted Lemon Greek Potatoes
With fragrant herbs and a squeeze of bright lemon, these Roasted Lemon Greek Potatoes by The Edgy Veg are a vibrant complement to fish and seafood. These crispy roasted potatoes are also made on one pan for easy clean up.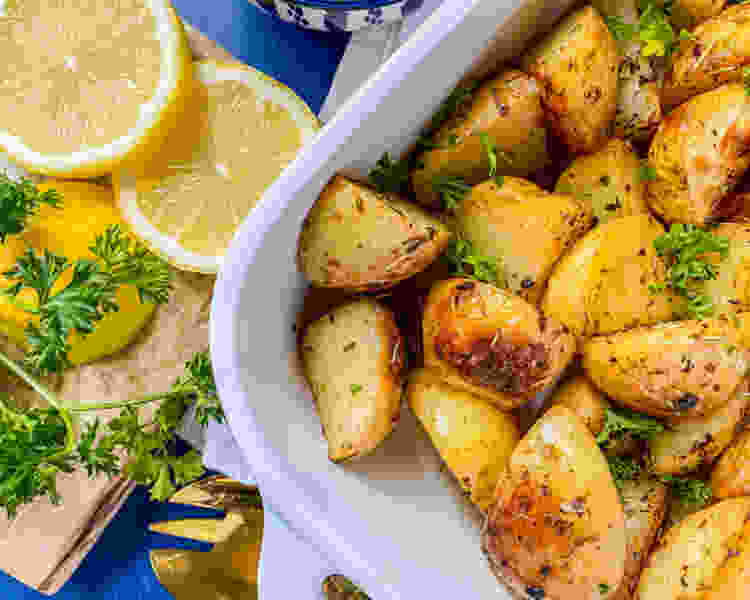 24. Pesto Potato Salad
This bright Pesto Potato Salad from Well Plated by Erin made with simple, fresh ingredients is a vibrant accompaniment to fish and seafood. The easy to make pesto adds peak flavor and texture to this mix of potatoes, green beans and peas.
25. Mini Pommes Anna
Classic French potato side dishes like these Mini Pommes Anna by Seasons and Suppers are tender, buttery and elegant. The crisp edges and aromas of fresh herbs finished with a sprinkle of salt are a beautiful complement to fish.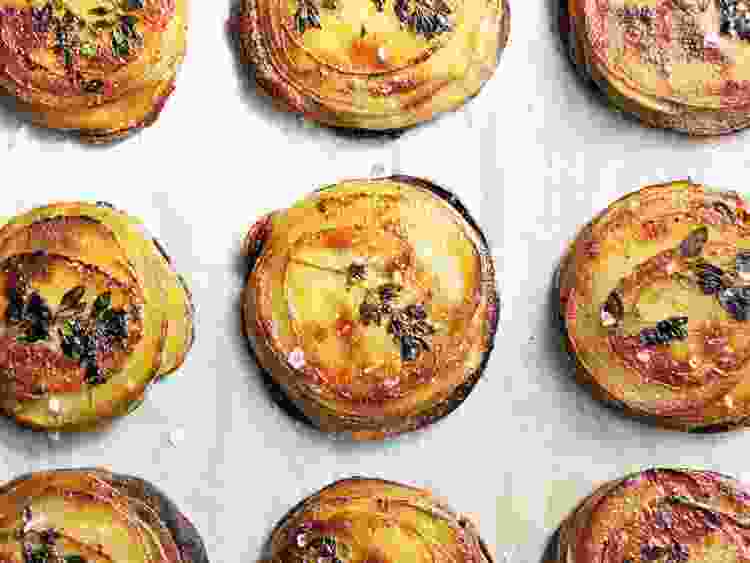 26. Kimchi Fries
These colorful Kimchi Fries by The Edgy Veg are bursting with intriguing textures and bold flavors that stand up well to fish such as salmon or tuna, as well as other proteins such as beef, chicken, tofu or tempeh. Get creative with Asian-inspired toppings such as sweet and spicy gochujang sauce, crunchy chopped peanuts or creamy kewpie mayonnaise.
Potato Side Dishes for Pork Chops
27. Korean Potato Salad
This Korean Potato Salad balances a variety of flavors and textures with crisp fruits and vegetables and a creamy gochujang dressing. The tartness of the apple and freshness of the produce are an ideal pairing for hearty, succulent pork chops.
Try our Korean Potato Salad recipe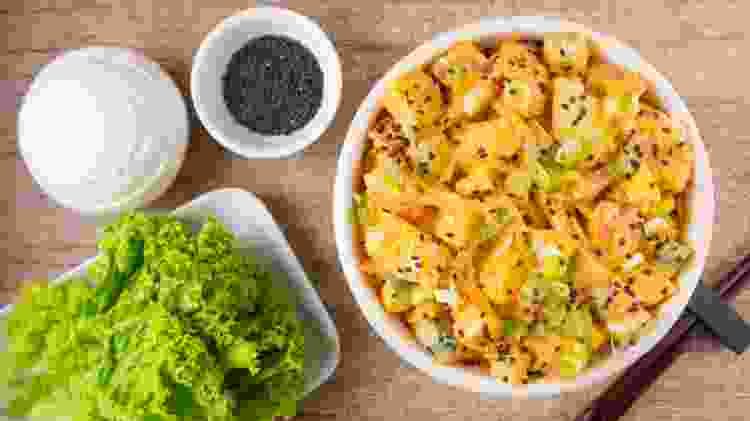 28. German Potato Pancakes
Pork is a popular protein in German cuisine and these German Potato Pancakes, or kartoffelpuffer, are the perfect pairing for a hearty chop. Crisp on the outside and tender in the middle, these savory pancakes are served with a scoop of applesauce or a dollop of sour cream.
Try our German Potato Pancakes recipe
29. Potato Galette with Caramelized Onion and Goat Cheese
The crispy, creamy and rich Potato Galette with Caramelized Onion and Goat Cheese by Seasons and Suppers is one of the most elegant potato side dishes to serve with succulent pork chops. Thin slices of potatoes are layered with savory onion and tangy goat cheese for a sophisticated balance of flavors and textures.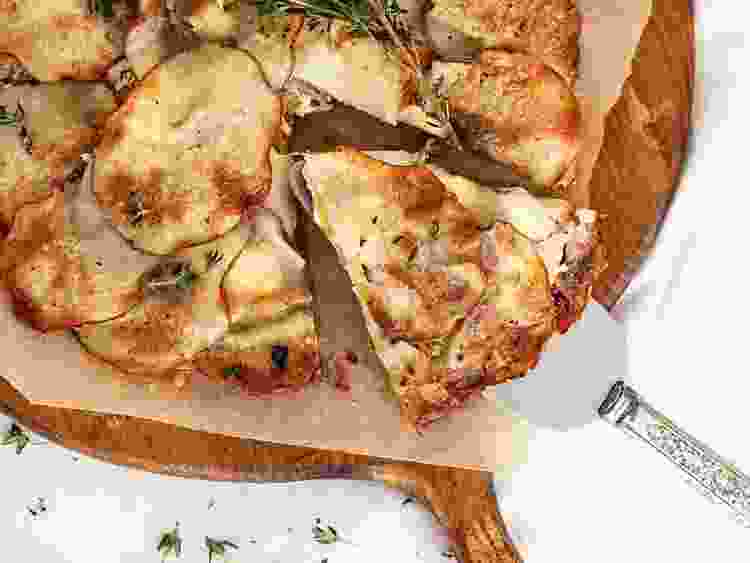 30. Tortilla Española
This Tortilla Española by Flavour and Savour is inspired by the popular potato side dishes found at traditional Spanish tapas restaurants. This rich Spanish omelet made of potatoes, eggs and onions pairs beautifully with hearty pork chops.
31. Korean Sweet Soy-Glazed Potatoes
Pork chops are the perfect protein to stand up to the bold flavors of these Korean Sweet Soy-Glazed Potatoes by Ang Sarap. Gamja-bokkeum is one of many potato side dishes, or banchan, found in Korean cuisine. They are crisp on the outside and fluffy in the center with a sweet and sticky glaze.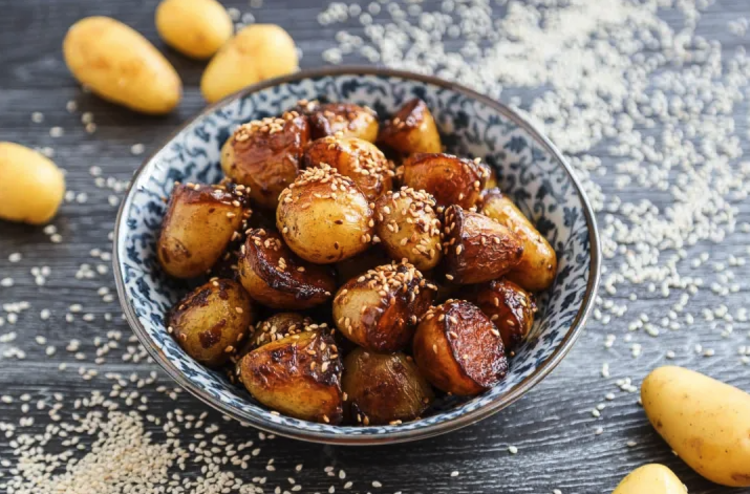 32. Sauerkraut Mashed Potato Casserole
With the unique tang of fermented cabbage, this Sauerkraut Mashed Potato Casserole by Plated Cravings is a perfect accompaniment to tender pork chops. Drawing inspiration from classic German flavor combinations, this comforting casserole is one of the most complementary potato side dishes to pair with all kinds of pork.
33. Authentic Canadian Poutine
Savory gravy, gooey cheese curds and crisp fries come together to create this Authentic Canadian Poutine by Seasons and Suppers. Perhaps the most renowned of Canada's potato dishes, this hearty combination is a perfect pairing for pork chops on a chilly evening.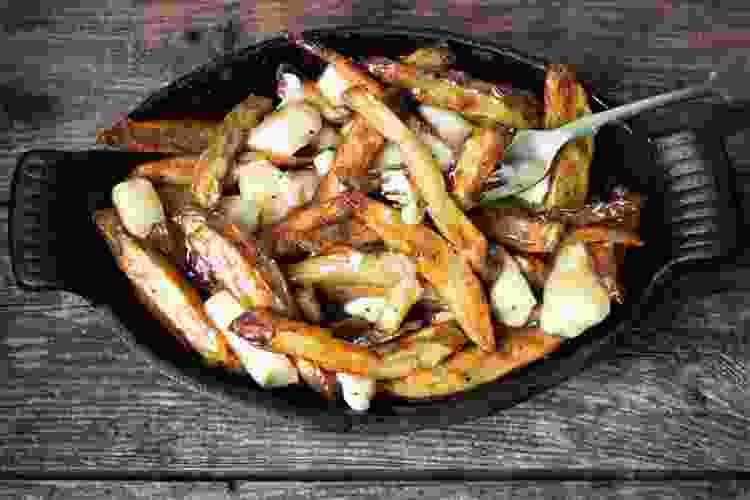 Cheesy Potato Side Dishes
34. Cheesy Mashed Potatoes
Cheesy Mashed Potatoes are one of the most comforting potato side dishes in the world. The creamy potatoes with the sharp tang of cheddar cheese is an unbeatable combination.
Try our Cheesy Mashed Potatoes recipe
35. Homemade Pierogi
One of the most classic side dishes with potatoes and cheese beloved across Eastern Europe is Homemade Pierogi like this family recipe from Spend with Pennies. These comforting, cheesy dumplings can be easily made with just a few pantry staples.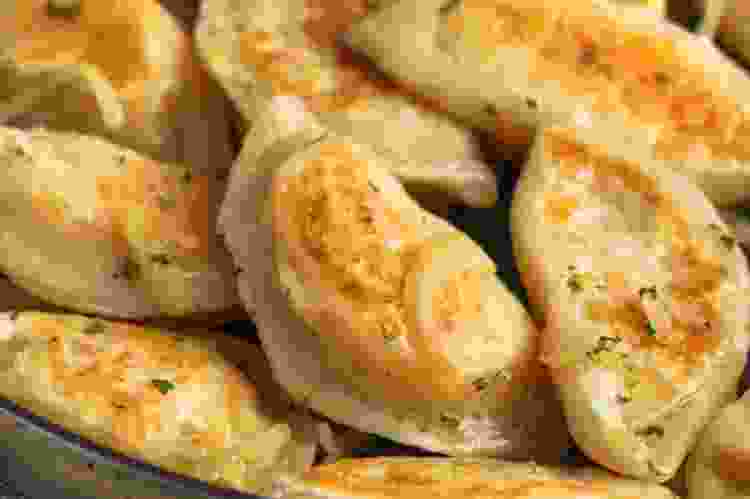 36. Scalloped Potatoes
The cheesy and indulgent Scalloped Potatoes by Ahead of Thyme are rich, buttery and absolutely delicious. This classically French dish combines a luscious cream sauce with layers of sliced potatoes and plenty of gooey mozzarella cheese.
37. Cheesy Pepper Jack Potato Chowder
One of the greatest potato side dishes to round out a cozy meal is a hearty bowl of potato soup. This Cheesy Pepper Jack Potato Chowder by Iowa Girl Eats puts a spicy twist on the classic cheesy potato soup.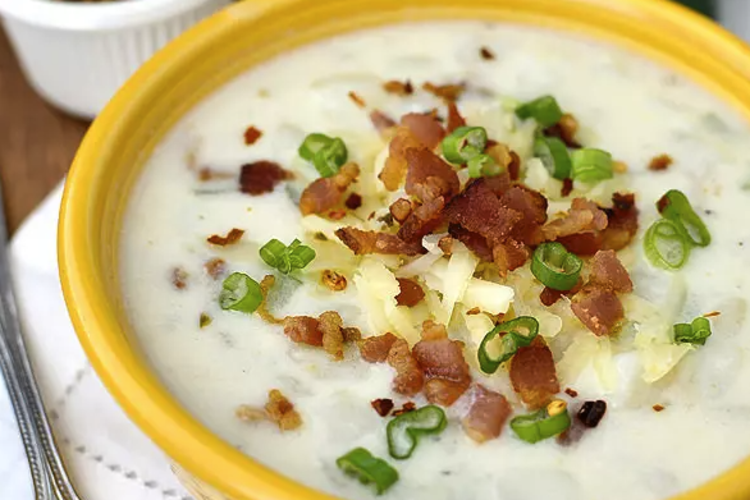 38. Funeral Potatoes
Also known as cheesy potato casserole among other names, Funeral Potatoes, like these ones by The Girl Who Ate Everything, are easy to make and extremely comforting potato side dishes often served at gatherings such as funerals, potlucks and holiday celebrations. Despite the somber name, cozy potato side dishes like these will put a smile on everyone's face.
39. Cheesy Potato Croquettes
The crunchy, gooey Cheesy Potato Croquettes by For the Love of Cooking are everything you could want from potato side dishes. The classic combination of creamy mashed potatoes, sharp cheddar cheese and fresh chives is rolled in crispy breadcrumbs and fried until golden brown.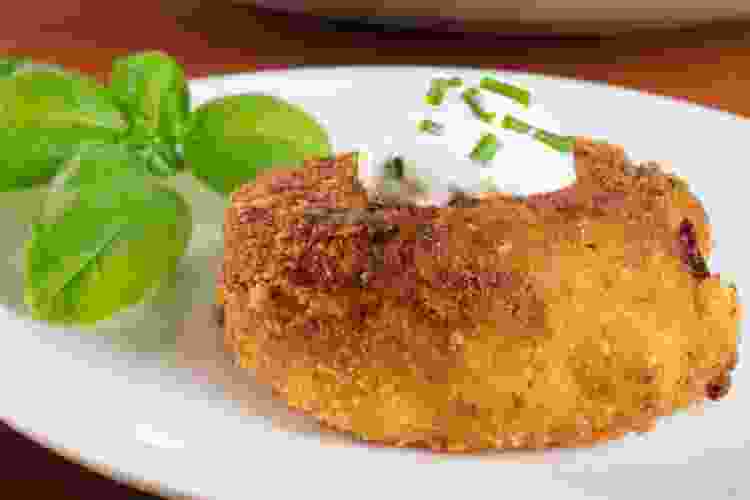 Healthy Potato Side Dishes
40. Vegan Potato Soup
This rich and creamy Vegan Potato Soup is full of fresh vegetables, herbs and spices for maximum flavor without the use of meat or dairy. Building from a classic mirepoix, this savory soup gets its silky texture from coconut milk and is topped with fresh parsley and crunchy croutons.
Try our Vegan Potato Soup recipe
41. Air Fryer Potato Wedges
Get those crispy edges without the excess oil by making these easy Air Fryer Potato Wedges. A dash of Cajun seasoning takes this classic potato side dish to the next level.
Try our Air Fryer Potato Wedges recipe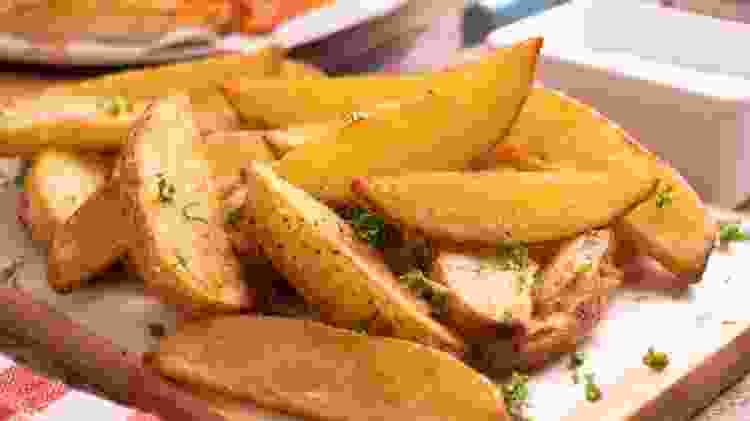 42. Cauliflower Potato Salad
Inspired by the flavors and aromas of east Asian cooking, this Cauliflower Potato Salad combines fragrant spices with tender cauliflower and potatoes for a fresh, nutrient-rich side dish. This colorful dish features ground turmeric, green peas and red onion for a unique contrast of flavors and textures.
Try our Cauliflower Potato Salad recipe
43. Irish Colcannon
Get an extra dose of greens with this creamy Irish Colcannon by Homemade Hooplah. In addition to the cabbage, you can add even more greens such as spinach or kale and swap the whole milk for a lower fat alternative or an even healthier version of this traditional potato side dish.
44. Air Fryer Baked Potatoes
These Air Fryer Baked Potatoes from Natasha's Kitchen are a simple potato side dish that can be made in about half the time of the oven baked version. This classic side can be dressed up with your favorite toppings from sour cream and chives to hearty chili.
45. Patatas Bravas
These vibrant Patatas Bravas by Ahead of Thyme draw inspiration from traditional Spanish tapas. This baked version of the classic potato dish is served with a veggie-packed, sweet and smoky tomato sauce.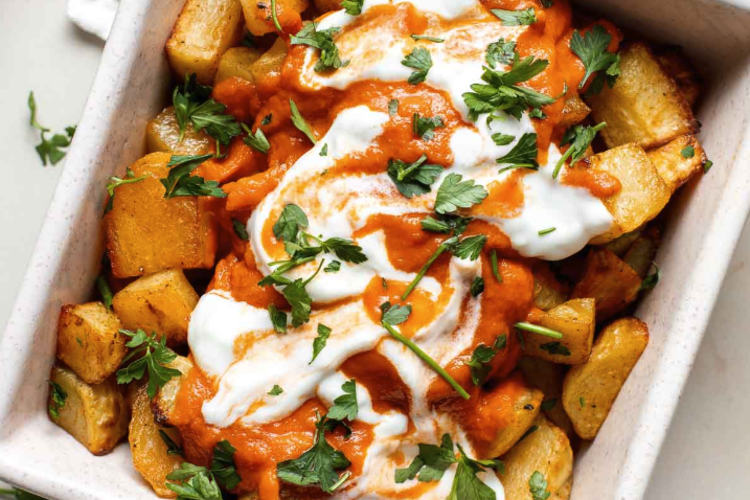 46. Homemade Tater Tots
Lighten up oily, fried potato side dishes with recipes like these air fried Homemade Tater Tots by Spend with Pennies that can also be made in a conventional oven. It is also easy to sneak extra vegetables into the potato mix for a healthy nutrient boost.
47. Roasted Sweet Potato Hummus
Traditional hummus is enhanced with the lightly sweet, caramelized flavors of roasted sweet potatoes in this healthy side dish. This Roasted Sweet Potato Hummus by Bowl of Delicious is creamy, fragrant, easy to make and bursting with flavor.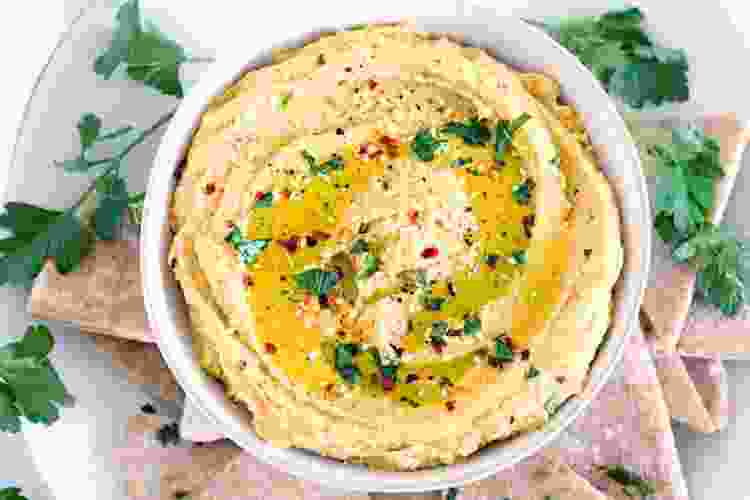 Sweet Potato Side Dishes
48. Sweet Potato Hash Browns
These vibrant Sweet Potato Hash Browns are colorful potato side dishes that pair well with a variety of proteins. The zesty yogurt chipotle topping adds a creamy texture with a touch of heat that perfectly contrasts with the crispy edges.
Try our Sweet Potato Hash Browns recipe
49. Baked Candied Sweet Potatoes
These Baked Candied Sweet Potatoes are one of the most festive potato side dishes for fall or winter gatherings. With tender potatoes, tart cranberries and crunchy walnuts, this comforting side dish is the perfect addition to a cozy meal.
Try our baked Candied Sweet Potatoes recipe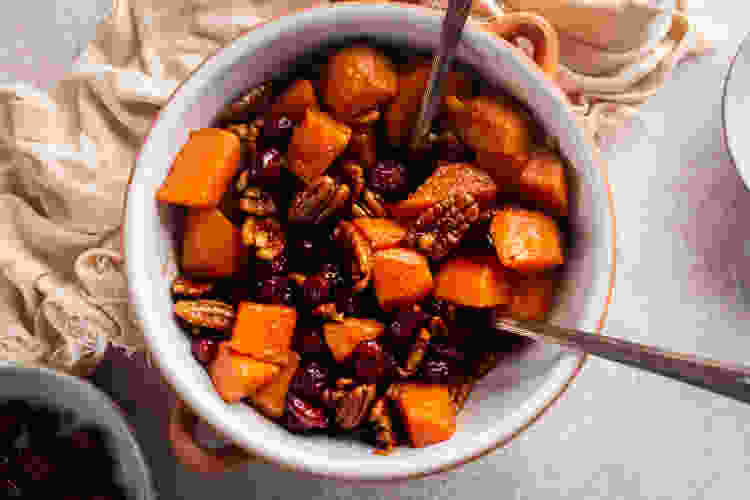 50. Hasselback Sweet Potatoes
These versatile Hasselback Sweet Potatoes are a simple potato side dish that can be served either savory or sweet. Preparing these potatoes for baking is quick and easy with the help of a pair of chopsticks to achieve even slices without going all the way through the potato for the classic hasselback presentation.
Try our Hasselback Sweet Potatoes recipe
51. Loaded Sweet Potato Skins
These Loaded Sweet Potato Skins by Sally's Baking Addiction put a delicious twist on a classic sports bar side dish. Swapping tender sweet potatoes for the classic spuds create crispy potato skins that are a perfect balance of savory and sweet.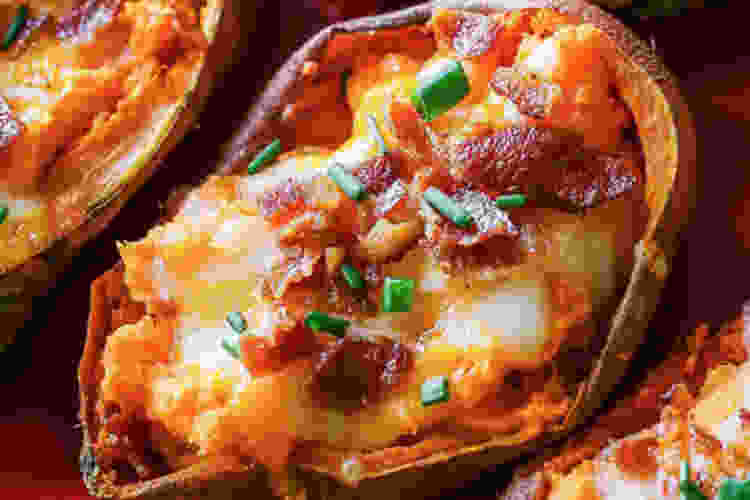 52. Roasted Sweet Potato Stacks
With crispy edges and a buttery center, these Roasted Sweet Potato Stacks by RecipeTin Eats are the perfect balance of savory and sweet. Grab a mandolin to prepare quick potato side dishes like this with ease.
53. Smoky Chipotle Sweet Potato Soup
This Smoky Chipotle Sweet Potato Soup by Flavour and Savour puts a Southwestern spin on traditional potato soup. Balancing sweet, savory and spicy, this creamy soup is one of the best potato side dishes to help warm you up on a cold day.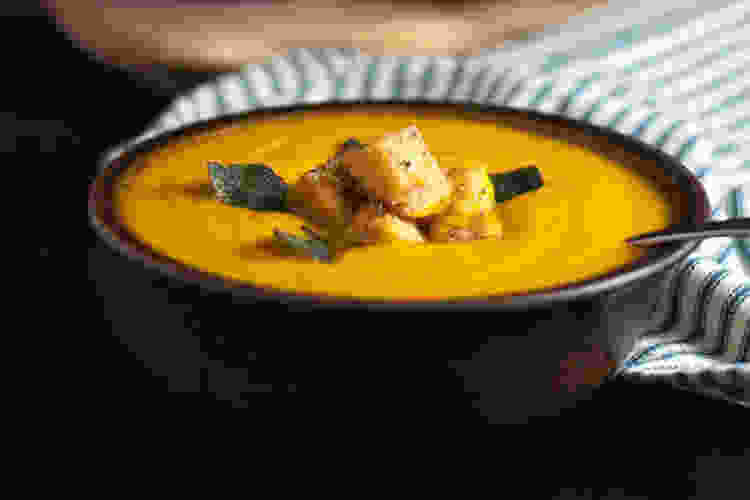 From cool and creamy potato salad to crispy potatoes covered in cheese, potato side dishes are classic comfort foods that complement practically any meal. The ubiquitous potato serves as a canvas for culinary creativity, taking on bold flavors, luscious sauces and irresistible textures. They can be cooked in an air fryer or oven, on a stovetop or over a grill and even in an open fire.
Explore the Cozymeal shop to find helpful tools for preparing your favorite potato side dishes and check out Cozymeal recipes for more exciting ways to enjoy potatoes.