How to Make Crepes
Oh là là! Learning how to make crepes can become your new hobby once you discover how easy it is and its many variations. While it seems like a fancy dish, you can achieve the perfect golden crust and buttery-flavored crepes with just a few ingredients and the right techniques.
The best part of knowing how to make crepes at home is that this dish is handy for any occasion or preference. Breakfast? Brunch? Lunch? Dinner? Crepes work like a charm for every meal as you can adapt them with sweet or savory fillings and toppings.
Here's our complete guide on how to make crepes, including the best tips and a step-by-step recipe that will help you achieve a chef's kiss worthy plate.
Jump to Section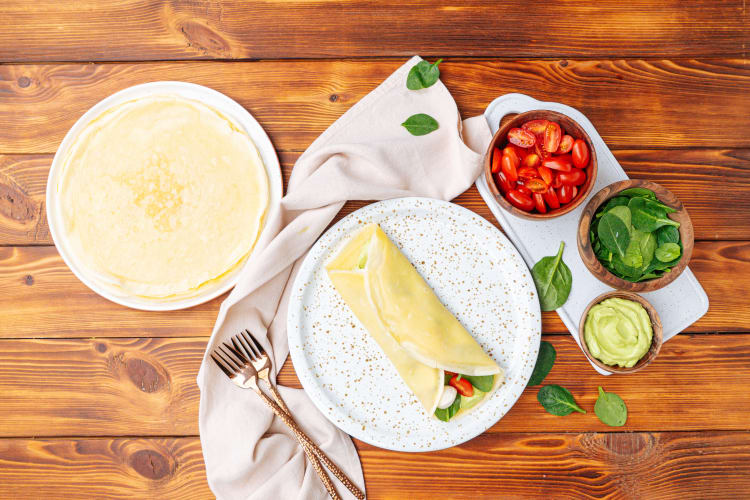 What are Crepes
Before giving you the tips and recipes to learn how to make crepes you may be wondering about what these are and where they come from.
Crepes are part of traditional French cuisine and consist of thin and delicate pancakes. The word "crepe" is derived from the Latin phrase "crispus", which means curled.
Originating in Brittany, the northwest region of France, they were initially produced in the 12th century when buckwheat was introduced in the region. The first crepe recipes combined water, salt and buckwheat for the batter. Modern recipes use white flour and other variations.
Most crepe recipes use just a few ingredients. To learn how to make crepes, you'll only need water (or milk), salt, flour and butter. And while restaurants cook them with a special round pan to create the perfect texture and size, you can learn how to cook crepes with a regular non-stick skillet or pan at home.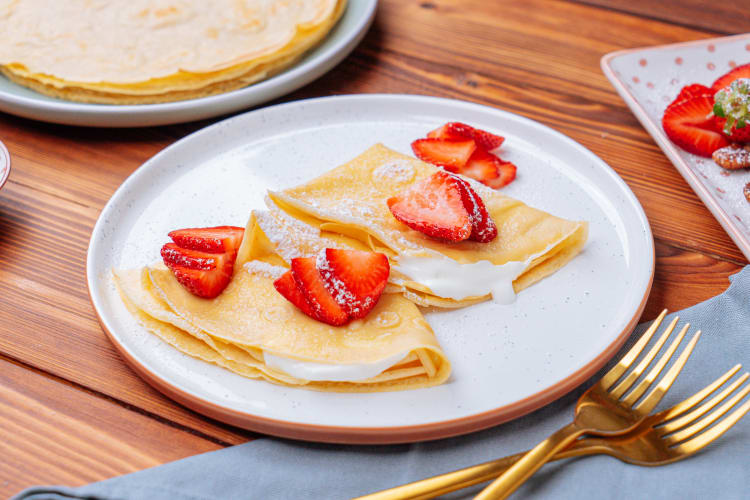 Types of Crepes
When it comes to crepes and their flavors, the limits are in your imagination. When you master the art of making crepes, you'll realize the endless combinations, fillings, and toppings that transform these simple thin pancakes into a gourmet masterpiece.
Additionally, learning how to make crepes is great because of their versatility. If you want to honor your cravings, impress guests or have the ultimate brunch, learning how to cook crepes is the way to go.
Before learning how to cook crepes with only one recipe, keep in mind there are different variations and versions. In France, there are two kinds of crepes: crêpes sucrées (sweet crepes) and crêpes salées (savory crepes).
Sweet crepes are made with wheat flour, while savory crepes are usually made with buckwheat. Buckwheat gives crepes a darker appearance and makes them taste less sweet. However, you can use the same recipe for the batter and what makes them sweet or savory is truly the toppings and fillings.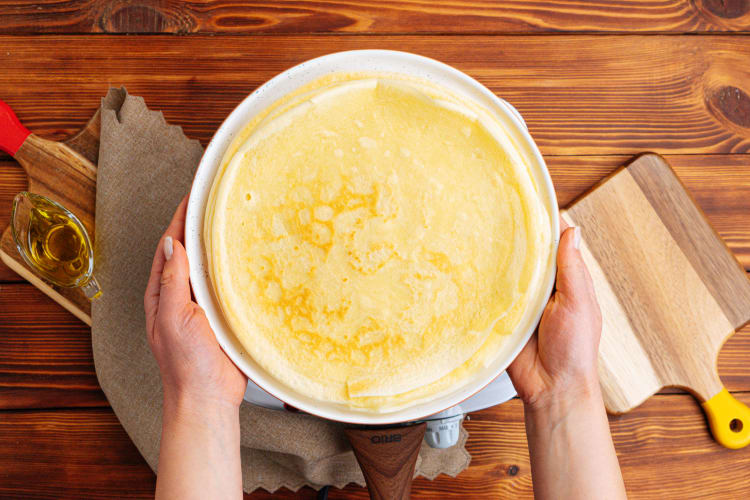 How to Make Sweet Crepes
Learning how to make crepes from scratch is easier than it seems. However, to get the perfect airy texture with crispy golden edges, certain tips and tricks go beyond fresh ingredients and equipment. The base of sweet crepes and savory crepes is essentially the same. The only difference is that for the sweet crepes, you add sugar.
To make sweet crepes, you will need:
2 tablespoons melted butter
½ cup of milk
½ cup of water
1 cup of all-purpose flour
2 eggs
¼ teaspoon of salt
1 tablespoon of sugar
1½ teaspoons of pure vanilla extract
Start by melting the butter. Let it cool for a few minutes before adding it to the batter. Then, add all the ingredients to a blender and blend until it's well mixed.
Once all the ingredients are blended, let the batter rest for at least 30 minutes to 1 day in the refrigerator. This is key as it gives the flour a chance to hydrate and enhance its flavor. You'll notice that the batter no longer has bubbles.
Heat an 8-10 inch skillet to medium heat. You can also use a non-stick pan. Once it's heated, coat it with nonstick cooking spray or melted butter (to avoid the batter from sticking). Pour ¼ cup of the batter into the pan, and then quickly pick the pan up and swirl the batter to the outsides of the pan so it evenly coats the bottom of the pan.
Cook between 1-2 minutes, then carefully flip it to the other side and cook for 20-30 seconds. Repeat the same steps with the remaining batter.

How to Make Savory Crepes
When it comes to learning how to make crepes at home, knowing how to make the batter is all it takes to turn this dish into a sweet treat or a full meal.
Savory crepes are a perfect idea for lunch or dinner. You can play with different ingredients and flavors and transform these simple, thin pancakes into a full meal.
To make the batter, you can use the recipe above and omit the sugar and vanilla extract. However, another common alternative in France is using buckwheat or adding olive oil to the regular batter.
To cook savory crepes, you'll need the following ingredients:
1 cup of all-purpose flour
2 eggs
1½ cups of whole milk
1 teaspoon of salt
3 tablespoons of olive oil
Start by combining all ingredients in a bowl and whisk until it's smooth. Let the batter chill for at least 30 minutes.
Next, heat a crepe pan or nonstick pan over medium-high heat. Add a small amount of butter or cooking spray to the pan. Once hot, add the batter to the pan and swirl to cover the entire pan. Wait between 1-2 minutes, until golden. Run a rubber spatula around the edges and flip it over to cook the other side for 20-30 seconds. Repeat with the remaining batter.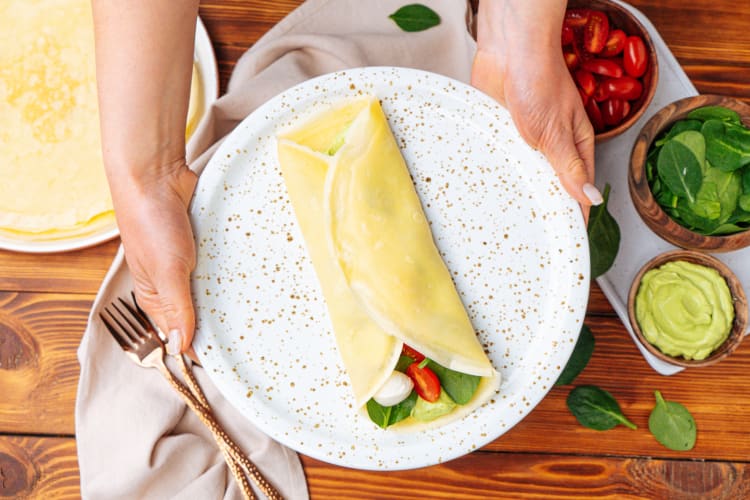 How to Make Gluten-Free Crepes
When learning how to make crepes from scratch, you'll notice there are many different variations. Usually, an easy crepes recipe involves refined flours, but if you can't consume these, buckwheat is a great ingredient to make gluten-free crepes. These nutritious crepes and earthy and flavorful. You can enjoy them with both sweet and salty flavors.
To make crepes for those who can't have gluten, you will need:
1¼ cups of milk or vegan milk
3 large eggs
4 tablespoons of unsalted melted butter (you can use olive oil as a substitute)
¾ cup of buckwheat gluten-free flour
¼ cup of all-purpose gluten-free flour mix
½ teaspoon of salt
Start by pouring the milk, eggs, and melted butter into a blender and mix until everything is combined. In a separate bowl, mix the flour and salt. Add the dry mixture to the liquid mixture in the blender and pulse until combined.
Let the batter rest for 2 hours.
Next, heat a crepe pan, skillet or non-stick pan over medium-high heat. Add ¼ teaspoon of oil to the pan. Do this before every crepe to avoid the batter from sticking.
Pour ¼ cup of batter into the skillet, and swirl the skillet until the bottom is covered with batter. Cook the crepe for about 1 minute (it should be barely moist on top).
Use a thin spatula to loosen the edges, slide it under the crepe and flip it upside down.
Cook until it's slightly browned, approximately 30 seconds. Repeat with the rest of the batter.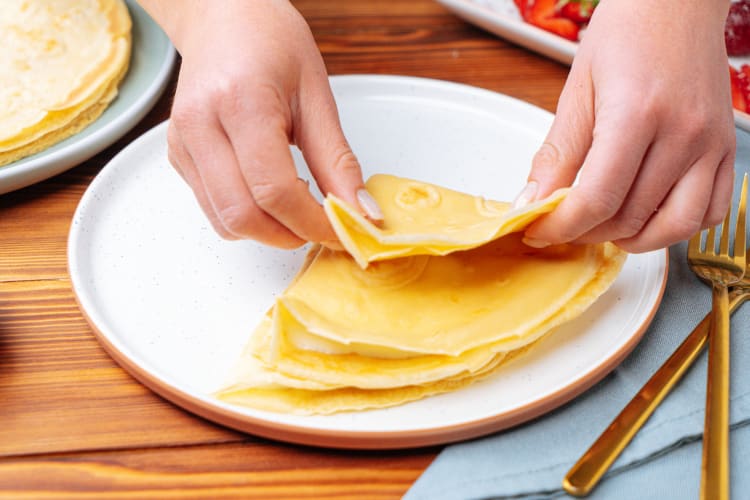 10 Crepe Filling and Topping Ideas
Now that you've learned different ways to make crepes, you'll probably be wondering what fillings or toppings will take your airy and crispy crepes into a sweet or salty dish.
The best thing about crepes is their versatility. When learning how to make crepes, you'll also want to know its best pairings. Here are ten different ways to prepare your crepes, whether you want them sweet or savory.
1. Lime Curd
A great way to pair sweet crepes is with this lime curd. You can make it using only limes, kosher salt, sugar, eggs and butter. In just 15 minutes, you'll create this silky lime curd that matches perfectly with homemade crepes.
2. Walnut Pesto
When learning how to make crepes, make time to explore different flavors. Enhance savory crepes with this rich and flavorful walnut pesto. Start by toasting the walnuts for 5-7 minutes. In a food processor, process the toasted walnuts, garlic, basil, olive oil, salt and pepper. In less than 10 minutes, you've created a delicious crepe filling.
3. Apple Cranberry Sauce
Crepes with a taste of holidays? Perfection! Fragrant cinnamon, warm brown sugar, fresh apple and cranberries are the main characters of this tasteful apple cranberry sauce. This sweet filling has the spirit of Thanksgiving.
4. Churrasco Steak
Churrasco and crepes? When learning how to make crepes, it's also about taking risks. Crepes are a perfect main dish when prepared with the right ingredients. Opt for unique savory flavors such as this churrasco steak recipe. You can create this Argentinian-inspired dish and use it as a filling for savory crepes.
5. Avocado Crema
Pair this avocado crema recipe with chicken or meat, and add it to your homemade crepes for a complete main dish. This avocado sauce only needs avocados, garlic, Mexican crema, cilantro, lime juice, sugar and salt. Add everything to a blender, mix, and enjoy.
6. Honey Roasted Pecans
If you don't want to go overboard when preparing toppings for your sweet crepes, these caramelized pecans are the way to go. Make this delicious treat with only three ingredients and minimal preparations. You can pair these honey roasted pecans with other ingredients like fresh fruit or whipped cream as well.
7. Green Goddess Dip
For a healthier version of crepes, this green goddess dip is filled with fresh vegetables. In a blender, combine garlic cloves, avocado, yogurt, baby spinach, lemon and lime juice, extra-virgin olive oil, basil leaves and thyme. Season with salt and pepper.
8. Blueberry Crepes
How to make crepes with a simple but tasty filling? Make these blueberry crepes sauce with fresh blueberries, sugar, lemon juice and vanilla extract. This juicy and tangy sauce pairs perfectly with whipped cream as well. In less than 15 minutes, you can make them and have a tasty breakfast, brunch or dessert.
9. Bourbon Sauce
Level up your crepes with this bourbon sauce that goes beyond traditional sauces and flavors. With butter, brown sugar, heavy whipping cream and bourbon, you can create this warm cream sauce and drizzle it on top of your crepes.
10. Hot Fudge Sauce
You can't go wrong with chocolate and crepes. Especially if you make this rich hot fudge sauce that is a match made in heaven with any dessert. All the ingredients you need are unsalted butter, heavy whipping cream, light corn syrup, dark brown sugar, fine sea salt, dark chocolate, cocoa powder and vanilla extract.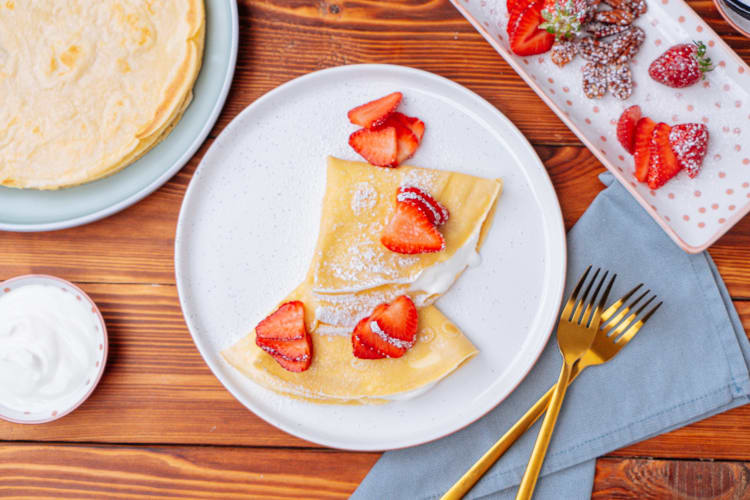 Crepe Recipe and Tips
If you want to learn how to make crepes keep in mind that even an easy crepe recipe needs the right techniques and ingredients. While the steps are simple, it's important to learn how to cook them properly.
Tip: One of the best secrets to making airy and thin crepes is to let the batter chill for a minimum of 30 minutes and up to a day. This allows the flour to hydrate and enhance the batter's flavor. Another secret to achieving crisp golden edges is to butter the pan each time you add batter.
Ready to make the best homemade crepes? Follow the detailed Cozymeal video at the top of the page and the step-by-step recipe we provide below.
How to Make Crepes Recipe
Learn how to make crepes in your very own kitchen. In this video, we'll show you how to cook thin, buttery crepes with a non-stick pan in just a few minutes.
Ingredients
unsalted butter, plus more for greasing
whole milk, room temperature, see notes 1
large eggs, room temperature
Directions
8 steps | 55 Minutes
Step 1
Measure and prep all ingredients.
Step 2
Melt the butter on the stove or microwave. Let it cool for a few minutes.
Step 3
In the bowl of a blender or food processor, combine the butter with all-purpose flour, granulated sugar, salt, whole milk, water, eggs and vanilla. Blend the ingredients on medium speed for 30 seconds, or until everything is well combined. The texture should be smooth and creamy. (See notes 2.)
Step 4
Transfer the mixture to a bowl and let it rest in the refrigerator for at least 30-60 minutes or up to 24 hours.
Step 5
Place an 8-inch skillet or non-stick pan on medium heat and grease it with butter.
Step 6
Do Once the skillet is hot, pour three tablespoons of batter into the center of the pan. Delicately twirl the pan so the batter stretches as much as it can. Cook for 1-2 minutes.
Step 7
Flip it once the bottom is set. Cook the other side for 30 seconds.
Step 8
Repeat until you finish the batter. Add your desired toppings and fillings. Serve and enjoy!
Notes:
For better results, use whole milk. You can also use half-and-half or heavy cream for a crepe with a stronger flavor.
If you don't have a blender or food processor, you can whisk it by hand by adding the ingredients to a large bowl.
You can fold or roll the crepes as you like.
Cooked crepes without filling or toppings can last in the refrigerator for 1 day and in the freezer for 1 month.
You can use this recipe to make savory crepes. Just omit the vanilla and sugar.