How to Cook Filet Mignon
There are many reasons why learning how to cook filet mignon is a good idea and easier than you think. Maybe you had a hard day at work and need to cheer up with a mouthwatering treat. Or you have something big to celebrate, such as an anniversary, raise or birthday. Even on regular days, the idea of a juicy steak paired with a good red wine sounds like the perfect plan.
Filet mignon is just a small percentage of the meat of the whole cow, which makes it one of the rarest cuts and the reason it's so expensive. Steakhouses overinflate the price, making it a dish you can only eat once every blue moon. The good news is that with the right ingredients and techniques, you can ditch the steakhouse in a heartbeat and learn how to cook filet mignon in the comfort of your home while saving money.
This step-by-step guide will teach you how to cook filet mignon. Oven? Air fryer? Pan? Don't worry, we've got you covered.
Jump to Section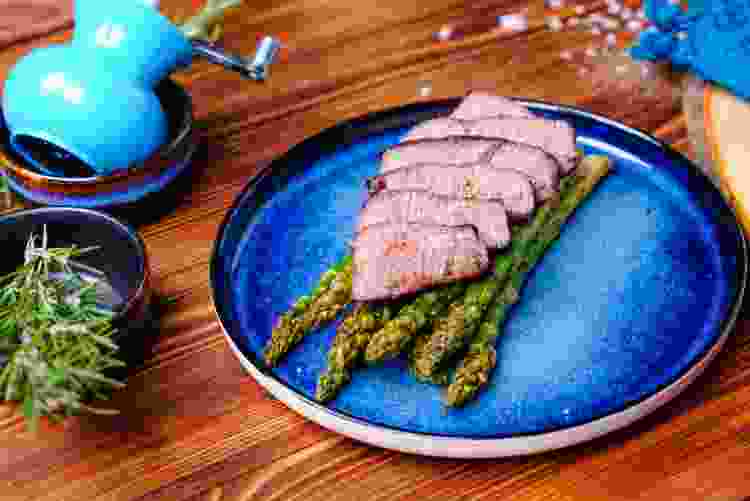 Best Way to Cook Filet Mignon
Filet mignon is considered the king of steaks because of its tenderness and buttery texture. Due to its mildness, the way you cook it dramatically impacts the flavor and texture.
The perfect way to cook filet mignon truly depends on what you're after or what equipment you have. The traditional method starts with pan frying the steak and finishing it off in the oven, which creates a beautiful crust and juicy, flavorful center.
Other methods can create similar flavors or textures but have slight variations. For example, cooking filet mignon on the grill can add a nice smoky flavor.
Generally, there are four ways you can cook filet mignon: oven, pan, grill or air fryer. These methods can transform your steak into an unforgettable meal worthy of a top restaurant or even better. The following are the best techniques to learn how to cook filet mignon.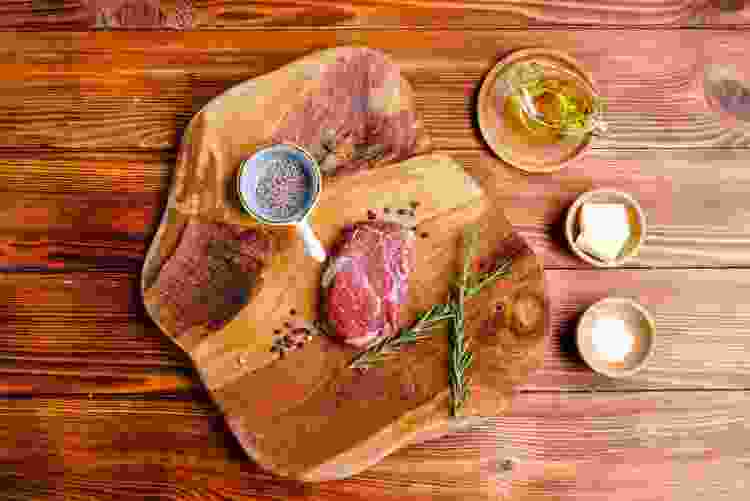 How to Cook Filet Mignon in a Pan
If you want to achieve the perfect golden crust with a soft and juicy center, then cooking filet mignon in the pan is the way to go. The key to achieving a good sear is to cook the steak in a super hot pan or preferably a cast iron skillet.
What's needed to cook filet mignon in a pan?
6-8 oz filet mignon
kosher salt
black pepper
fresh rosemary
olive oil
butter
First, preheat the oven to 400°F. Then, ensure your steaks are at room temperature and gently pat them with a paper towel until they are completely dry.
Combine salt and pepper and season all sides of the filet. Place your cast iron or oven-proof pan on high heat and add oil. Wait up to 5 minutes and add butter. Next, add the steak and cook it for 2 minutes per side, making sure not to disturb it as this creates the perfect crust.
Once you flip the steak, use a spoon to baste the steak with the butter and olive oil in the pan. Here you can add fresh rosemary herbs to add extra flavor. Sear the edges of the steak for 20 seconds. Finally, transfer the pan into the oven for a final 5 minutes. We recommend using a meat thermometer to make sure it reaches the desired temperature.
Remove the pan and let it cool for about 5 minutes before serving.
How to Cook Filet Mignon in the Oven
How to cook filet mignon in the oven is essentially the same as the previous recipe. You first pan-sear the steak and then finish it in the oven. But, if you're trying to avoid using the stovetop, another oven method is by using the broiler.
The broiler is like an indoor grill that helps you to achieve that crispy crust effect on your steak.
To learn how to cook filet mignon using the broiler method, first preheat the broiler for 15 minutes until it comes to full temperature. After drying your steaks, brush them with olive oil and season with salt, pepper and rosemary.
Place steaks under the broiler in a cast iron skillet or oven-safe pan. Cook them for 4 minutes. Then, remove them from the oven, flip them, and give them another layer of olive oil. You can also add butter. Cook them for another 4 minutes.
Remove the steaks from the oven. Check with the thermometer if they have reached the desired temperature. If they are ready, let them rest for 5 minutes before slicing.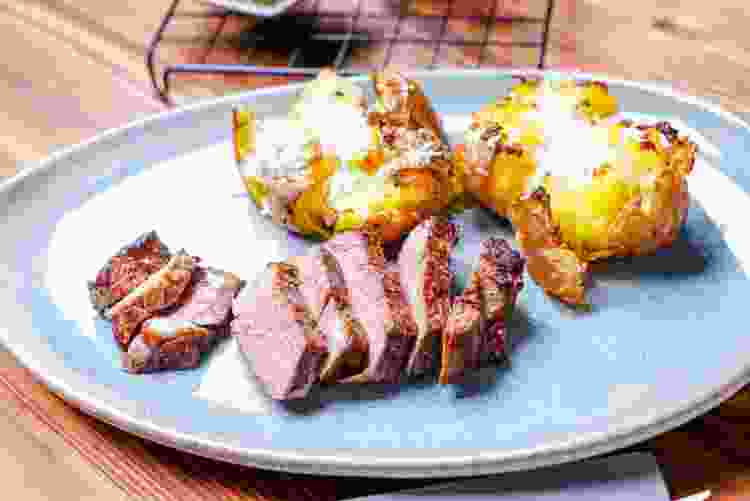 How to Cook Filet Mignon on the Grill
Another method for how to cook filet mignon is the grill. Some chefs even debate whether it is better to cook it pan-seared or grilled. It all comes down to personal preference.
Regarding how to cook filet mignon on the grill, one thing is key: time. It's the fastest method. However, you must be careful not to overcook it, as 1 or 2 minutes can completely ruin your steak. Let's go over the steps.
Start by preheating the grill to high heat. Keep the lid closed so the internal temperature rises, reaching around 500°F.
After patting your steaks dry, generously season with salt, pepper and fresh rosemary. Rub olive oil and let the steaks rest until the grill is at the right temperature.
For medium rare, place the filets face down for 5 minutes and do not move them (this will create the perfect sear). Then flip the filets and sear for another 5 minutes. Add butter on top of the steak.
If you want rare steaks, sear them for 4 minutes and for medium-well steaks, more than 8 minutes.
Finally, remove the steaks from the grill and let them cool for 5 minutes before serving.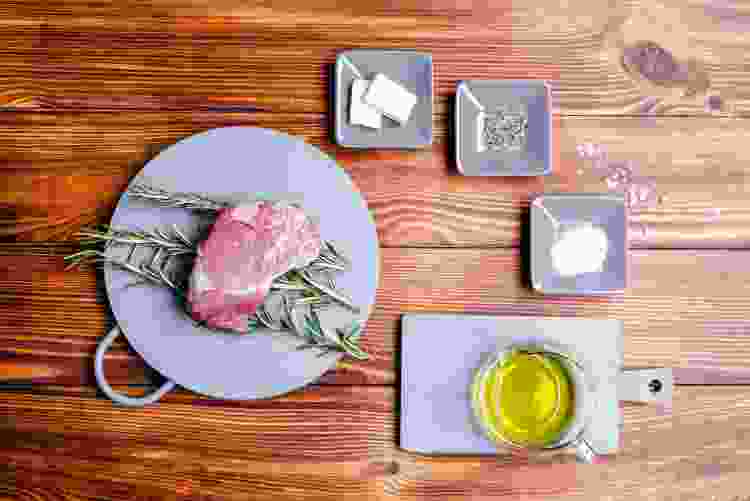 How to Cook Filet Mignon in an Air Fryer
If you want to master how to cook filet mignon with an easier alternative that doesn't create smoke in your house, then cooking filet mignon in an air fryer is the way to go. You'll get a crusty and moist steak filled with flavor.
When it comes to how to cook filet mignon, the first step is always the same: dry the steaks with paper towels. Place the filets in a big bowl and season with pepper, salt and olive oil. Let it marinate for about 10-15 minutes.
Preheat the air fryer to 450°F. Place the steaks and cook for 6 minutes. Flip and cook for an additional 4 minutes. You can also add a bit of butter and rosemary for an extra flavor boost.
Finally, transfer the filets to a plate and let them rest for 2-5 minutes. Enjoy!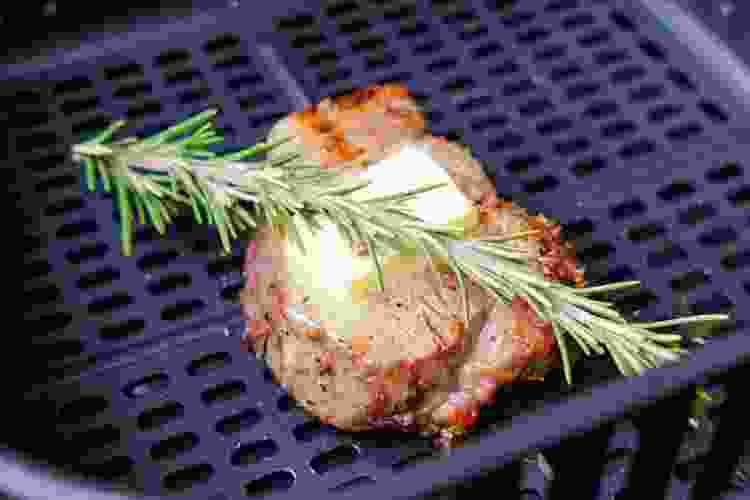 15 Enticing Sides to Serve with Filet Mignon
Learning how to cook filet mignon is also about knowing what side dishes to serve with it. Imagine tasting a delicious smoky steak with creamy potatoes or a fresh summer salad. Below are 15 sides that go perfectly with filet mignon:
1. Mashed Potatoes with Sour Cream
You can't go wrong by serving a juicy filet mignon with the fluffiest mashed potatoes with sour cream. All you need are potatoes, sour cream, milk, butter, chives, salt and pepper, and voilá, a match made from heaven!
2. Air Fryer Green Beans
Air fryer green beans are an easy-to-make and healthy side that goes perfectly with filet mignon. In a bowl, combine the greens with avocado or olive oil, salt, and pepper. Add them to your air fryer for 5 minutes. Remove the air fryer basket, add garlic powder and toss with tongs. Air fry them for another 5 minutes and serve.
3. Citrus Salad
If you want to level up your salad game, try this citrus salad. You'll not only have unique flavors combined but a great filet mignon match. For this one, you'll need fresh ingredients like ruby grapefruit, blood oranges, mint, arugula and avocado.
4. Smashed Red Potatoes
Try this delicious alternative to mashed potatoes. These smashed red potatoes are soft on the inside and crispy on the outside. Finished with garlic butter and Parmesan cheese on top, it's the perfect pairing with filet mignon.
5. Korean Cucumber Salad
The great thing about filet mignon is that you can pair it with endless options. While it has a strong flavor, it's not limited to only one type of serving. Even spicy sides like this Korean cucumber salad make a great combo. To make it, you´ll need to marinate cucumbers in a vinegar-based sauce with Korean red chili flakes (gochugaru) and sesame oil, among other simple ingredients.
6. Cilantro Chimichurri
Transform your filet mignon into a fresh tangy dish with this cilantro chimichurri. This simple side only requires a herbaceous combination of parsley, cilantro, and Thai basil leaves with a simple dressing of red wine vinegar, olive oil, fresh lemon juice, garlic, salt and red pepper flakes.
7. Shoestring Fries
French fries with steak is another classic steak combination. These crunchy shoestring fries are a fun and delicious way to give regular french fries a twist! You only need russet potatoes, white vinegar, oil, garlic salt and parsley.
8. Quinoa Salad with Feta
Quinoa, besides being delicious, is a healthy alternative to have as a side dish. This quinoa salad with feta features a nutritious combination of quinoa, olive oil, salt, pepper, plum tomatoes, cucumber, red onion (or scallions), avocado, basil and crumbled feta cheese.
9. Lemon Kale Salad
If you're craving refreshing lemony flavors, this lemon kale salad is for you. All you need to do is remove the kale stems and chop them into small pieces. Then, in a separate bowl, whisk together lemon juice, olive oil, salt and mustard (preferably Dijon). Add the chopped kale and hot pepper to the bowl, toss them all together, and let it marinate for 30 minutes. Top the salad with pine nuts and cheese.
10. Air Fryer Asparagus
This air fryer asparagus is perfect for those looking for a healthy and easy-to-make side dish for filet mignon. You only need four ingredients and it takes 10 minutes to make. Start preheating the air fryer to 400°F. Rinse and dry the asparagus. Trim the tough ends and place them in a bowl. Toss with oil, salt, pepper and garlic powder. Simply air fry for 5-7 minutes until done.
11. One Pot Mac and Cheese
A filet with creamy mac and cheese is another classic that's hard to miss. Think about the combination of flavors between the juicy steak and the creamy richness of the mac and cheese. For this one pot mac and cheese recipe, you'll only need water, salt, macaroni, shredded cheddar cheese and butter. You can also try other mac and cheese alternatives, such as this pumpkin mac and cheese.
12. Maple Glazed Carrots
A savory, sweet flavor that perfectly matches your filet mignon are maple glazed carrots. To make this colorful side dish, you first need to peel the carrots and chop them into thick ovals. Heat the butter in a skillet and whisk until it foams up and brown bits form. Add garlic and carrots to the skillet. Then, add maple syrup and cook until carrots are crisp tender. For a nutty finish, add chopped pecans.
13. Air Fryer Potato Wedges
Nothing can go wrong with filet mignon and potato wedges. Even for picky eaters, this combination is divine. For this air fryer potato wedges recipe, you'll need to soak potato wedges in ice water for 30 minutes and pat dry with a paper towel. For crispy potato wedges, make sure they are completely dry. In a mixing bowl, add the potatoes and combine them with olive oil, Cajun seasoning and salt. Air fry between 15-20 minutes, making sure to toss the potatoes every 5 minutes until perfectly browned and crispy.
14. Spicy Edamame
This spicy edamame side is a great choice if you're looking to spice up your steak dish with a different flavor. Bonus, it's also one of the easiest side dishes to make. All you need are edamame, salt, sugar and ichimi togarashi. You only need to boil the edamame, and once they are ready and hot, add the seasonings!
15. Roasted Beets and Carrots
Another healthy alternative that brings color and a lot of nutritional value to your dish is roasted beets and carrots. With ground black pepper, salt and olive oil, season your carrots and beets and roast them in the oven for 30 minutes (when it comes to the beets, make sure to roast them separately covered in foil).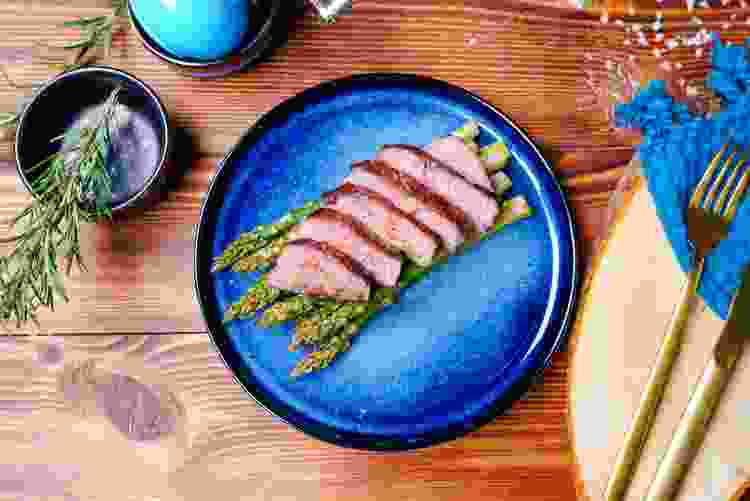 Filet Mignon Recipe and Tips
Knowing how to cook filet mignon at home is a great option for experimenting with flavors. But, as it's one of the most expensive cuts, it's important to learn how to cook it properly. At first, it can be a bit intimidating, but by following the recipe step by step, you'll realize that it's easier than it looks.
Tip: When learning how to cook filet mignon, always use a thermometer and timer. This is the best way to ensure that your steak won't be overcooked and will reach the perfect temperature.
Ready to make a filet mignon better than the one you eat at your favorite steakhouse? Check out our easy and delicious filet mignon recipe below.
How to Cook Filet Mignon Recipe
Learning how to cook filet mignon only takes a handful of ingredients and a few steps. In this video, we'll show you how to achieve a juicy and tender filet mignon at home.
Ingredients
6-8 oz filet mignon, about 2 inches thick, see notes 1
kosher or sea salt, see notes 2
freshly ground black pepper
Directions
7 steps | 85 Minutes
Step 1
Measure and prep ingredients. Remove the steaks from the refrigerator for at least 1 hour to bring your filet mignon to room temperature.
Step 2
Preheat the oven to 400°F. Gently pat the steaks with a paper towel until they are completely dry. (See notes 3.)
Step 3
In a bowl, combine the salt and pepper. Season all sides of the steak with salt and pepper.
Step 4
In a cast iron skillet or oven-proof pan over high heat, add the olive oil. Wait up to 5 minutes until the oil is hot and wisps of smoke come off of the pan. Add the butter and the filet mignon. Sear for approximately 2 minutes. Be sure not to disturb the meat as it sears, as this is what creates the perfect golden crust. (See notes 4.)
Step 5
Flip the filet mignon. Add the fresh rosemary to the pan. Use a spoon to baste the steak as it sears for another 2 minutes.
Step 6
Sear the edges of the steak for 20 seconds. Then use a thermometer to check the temperature. If you're within ten degrees of your desired temperature, transfer the skillet to the oven for another 5 minutes and check the temperature. If the desired temperature is not reached, check every 2 minutes to avoid overcooking.
Step 7
Remove from the pan and let the filet mignon cool for about 5 minutes. Serve and enjoy!
Notes:
Be sure to buy a good quality filet mignon.
To achieve a better and more elevated flavor, avoid using table salt.
This prevents the salt from melting and steam from forming.
This will create smoke, so make sure to open windows or vent your kitchen.