Toxic Restaurant Culture: A Recipe for Chef Stress and Burnout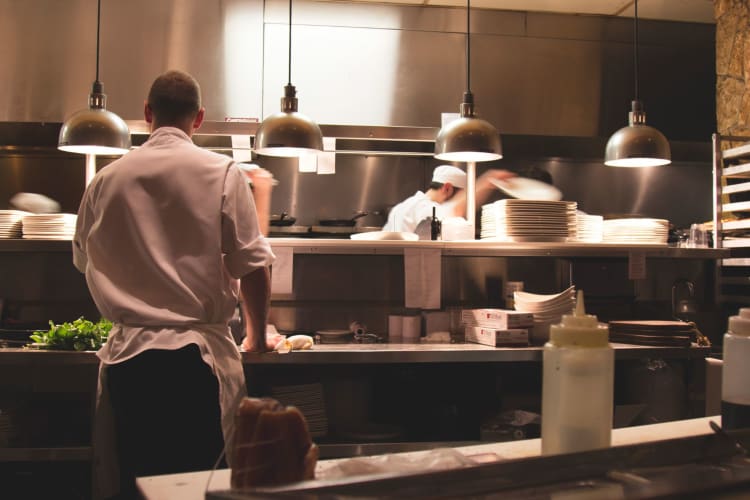 With Hulu's recent release of season two of The Bear, toxic restaurant culture and chef mental health has risen to the forefront of many people's minds.
For those who haven't seen the critically acclaimed series, the plot centers around a young award-winning chef, Carmen, who takes over his deceased brother's sandwich shop in their hometown. Throughout the series, Carmen struggles with grieving his brother's untimely death, running a chaotic restaurant and dealing with his own traumatic memories of toxic restaurant culture.

While The Bear may be a fictional TV series, its brutal themes represent a dark reality. The show has triggered many viewers who have had experience in the food service industry, especially fine dining establishments. Toxic restaurant culture, grueling employee expectations and chef burnout make restaurants an incredibly difficult place to work long-term.
Learn more about the shocking restaurant industry mental health statistics and how Cozymeal and Sesame Health are working together to make a difference.
Jump to Section
Gourmet Cooking Classes Near You
Take your culinary skills to new levels with guidance from five-star chefs.
The Data Speaks: Chef Burnout and Stress Are Serious Issues
The term "toxic restaurant culture" doesn't refer to any poisonous food or dangerous cooking methods. Unfortunately, it's far more sinister. Toxic restaurant culture involves a social hierarchy and employee expectations that leave chefs feeling constantly exhausted, ignored and undervalued.
To shed more light on toxic restaurant culture, Cozymeal surveyed 140 chefs, all of whom have had experience working in restaurants. We started by exploring their experiences with chef stress and toxic restaurant culture. We then welcomed them to elaborate further on their experiences.
Of all the chefs who participated in our survey, nearly half (44%) said that working at a restaurant had a negative impact on their mental health. More specifically, 38% of participants said they had dealt with depression, 49% suffered from sleeping disorders and a shocking 70% said that they'd experienced anxiety as a result of working in a restaurant.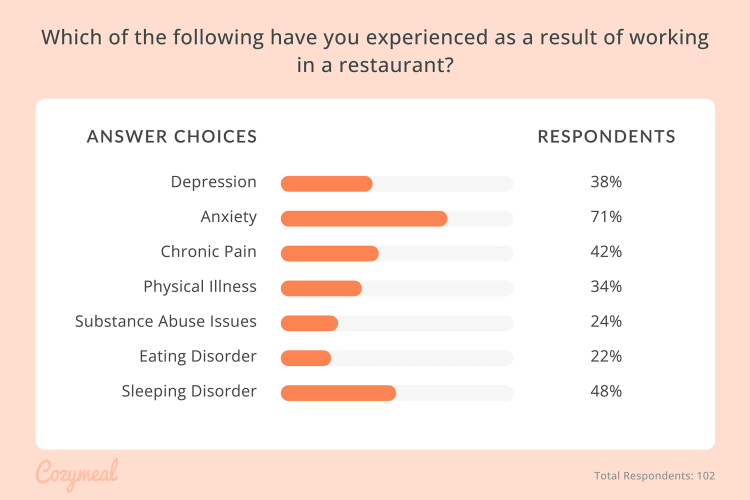 Damaged Relationships and Emotional Isolation
With statistics like these, chef stress, chef burnout and toxic restaurant culture should be serious concerns for restaurants and their workers, but how do these numbers translate on a larger social level?
Toxic restaurant culture, poor mental health and busy schedules can also take a toll on chefs' relationships with their friends and family. Close to half of our survey respondents (45%) said that they'd lost friendships due to the stressful demands of their workplace, and 43% said that they had even lost a spouse or romantic partner.
Because so many relationships are affected by stress in the restaurant industry, perhaps it should come as no surprise that many chefs struggle with loneliness. Nearly two-thirds (65%) of chefs surveyed by Cozymeal said that toxic restaurant culture has made them feel isolated from the outside world.
As Chef Logan put it, "Isolation and cheffing go hand in hand; you're married to the workplace. Birthday parties, special events, weddings, family reunions, day trips — most of these things happen on weekends. As a chef, you are committed to weekends, and if you're not there, things don't run smoothly."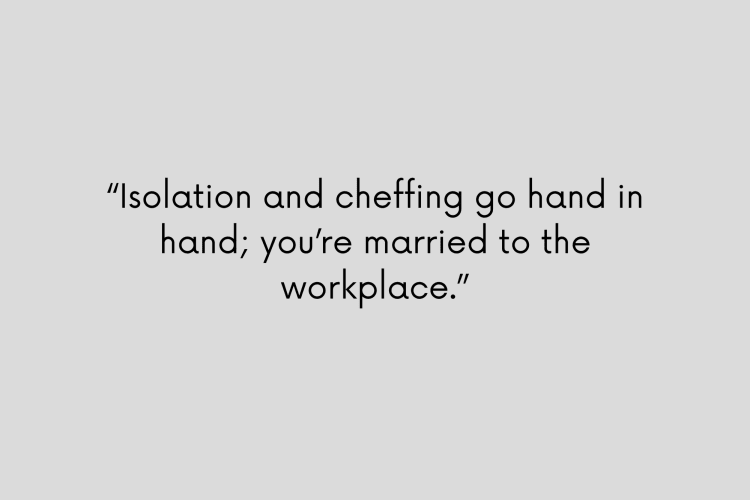 Problems with poor chef mental health in the restaurant industry don't end when chefs clock out either; toxic restaurant culture tends to leach its way into every aspect of life. Even when they have some time away, restaurant workers are often consumed by thoughts of their work.
"I didn't have time for self-care," Chef Logan explained, "because I was obsessed with the restaurant in my off time."
Chef Tess also described the constant mental pressure of working in a toxic restaurant culture:
"If it's not extremely delicious and beautiful, customers won't return. The chef has to have good reviews and they need to keep the customers coming back… [At restaurants with Michelin stars], there is extra pressure to keep the stars you have or to try and get another. It never stops."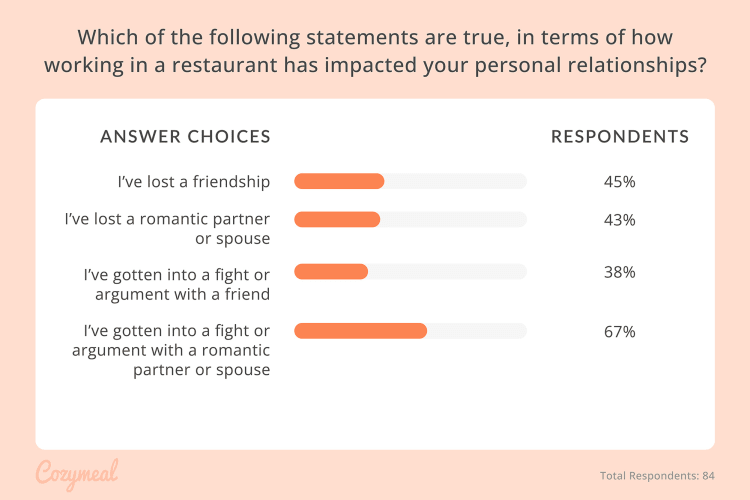 Physical Health Consequences of Toxic Restaurant Culture
Working in a toxic restaurant culture isn't just dangerous for chefs' mental health; it can also take a severe toll on their physical health. In our survey, more than three out of every five chefs (61%) said that they had been asked to come to work despite being sick with a cold or the flu.
Chef Tess reported coming to work on separate occasions with a high fever, full-body bed bug bites, lacerations and even walking pneumonia. "I was shamed for that and told that I was going to be fired if they found out I was making it up," she said. "In a big city, you are expendable."
When they aren't able to rest, workers can stay ill for longer and put others at risk of becoming sick. "You always have the option not to go," said Chef Logan, "but if that's what you decide, you are condemning the team, and that builds resentment."
Hardly any illness or injury is an acceptable reason to call out from work in a toxic restaurant culture — not even surgery.
"I remember my appendix burst one day at work," recalled Chef Pierre C. "They took me in an ambulance to the hospital, and I had an emergency operation. I was in the hospital for a week, and they made me come to work when I still had stitches in me. It was horrible."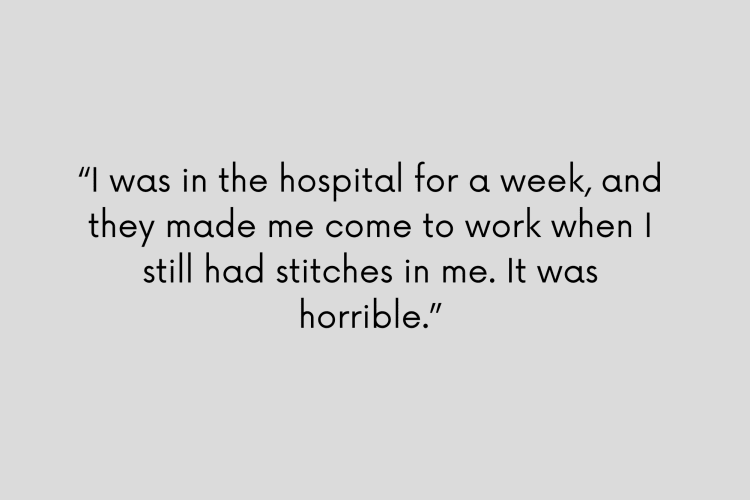 The Rigid Kitchen Hierarchy
No matter where you work, you should feel encouraged, supported and valued by your team. Most modern workplaces are understanding the importance of employee well-being and healthy work-life balance, but toxic restaurant culture remains notoriously far behind.
Some theorize that stress in the restaurant industry stems from hierarchical chef working conditions, known as the "kitchen brigade." In the kitchen brigade, the executive chef rules the kitchen with a cast iron fist, overseeing all operations, making final decisions and giving orders to anyone below them.
Chef Kenneth experienced this. "There is definitely a hierarchical society in the kitchen," he said. "There is a lot of hazing, bullying and overall toxicity. In both my experiences in the sushi chef world and traditional kitchens, I had to go through a rite of passage, so to speak, before I was accepted as part of the team."
Raising one's status in that kitchen hierarchy is incredibly difficult, often requiring a level of inhuman perfection. One mistake could lead to hours of beratement from superiors and instantly bump someone down on the social ladder. In fact, this type of shaming is incredibly common — and even expected — in kitchen environments.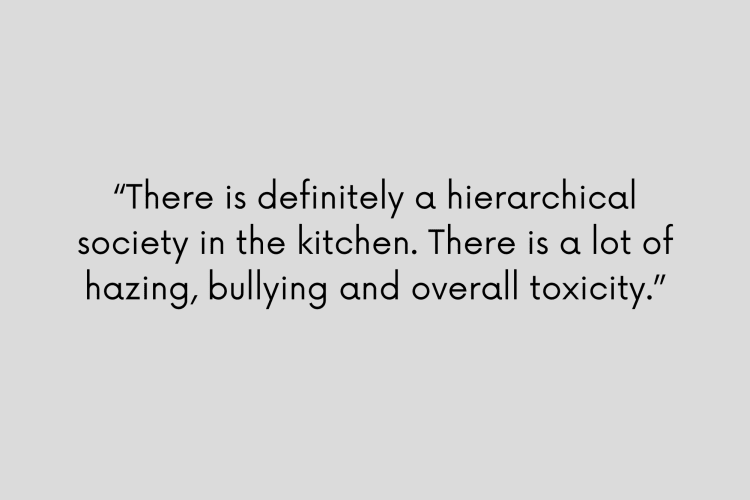 Gourmet Cooking Classes Near You
Take your culinary skills to new levels with guidance from five-star chefs.
Punished for Speaking Up
The militaristic structure of toxic restaurant culture leaves little room for emotional well-being. In a highly critical and fast-paced environment, taking care of one's mental health is often seen as a weakness.
While the stigma against mental health issues has lessened in recent years, employees can still face serious consequences for seeking help, especially chefs and cooks. Despite the prevalence of toxic restaurant culture, less than one-third (32%) of our chef survey respondents reported that they had sought out professional help or therapy.
If they're struggling to stay afloat, why would chefs avoid professional help? Ironically, the reason appears to stem from self-preservation. Data from our survey showed that employees who try to advocate for better chef working conditions can face backlash from their co-workers and superiors.
Besides risking their social status in the kitchen hierarchy, chefs who seek help could even suffer cuts to their pay or working hours. When the restaurant feels like your whole life, the last thing you'd want to do is risk your status.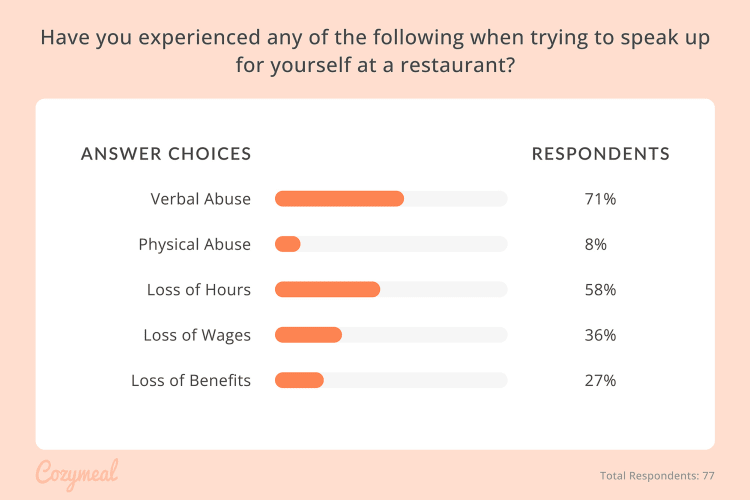 Gender Equality and Toxic Restaurant Culture
It wouldn't be accurate to discuss toxic restaurant culture without mentioning the additional struggles that women and gender non-conforming people face. Culinary work is a largely male-dominated field, especially in fine-dining establishments.
Because of this, women and gender non-conforming people tend to be ignored and belittled more than their cisgender male counterparts. In addition to the stressors every chef faces in the kitchen, many female chefs feel they must compete harder to stand out in their field and climb the social ladder.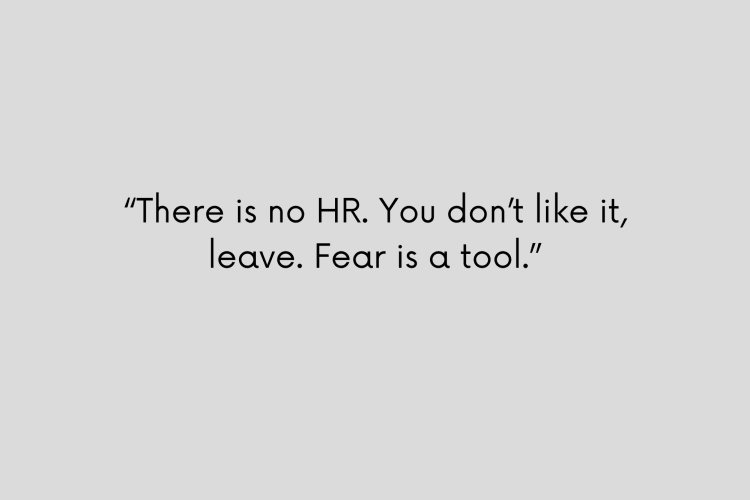 The lack of emotional transparency can also make restaurants unsafe for workers, especially female chefs. Many may face sexual harassment and abuse at the hands of their male co-workers, adding to the mental burden they must bear. One survey participant explained that co-workers would often touch her inappropriately or make offensive comments about her, her clothing and her body, despite the fact she wore the same chef whites as everyone else on the line.
In a toxic restaurant culture where emotions are viewed as a weakness, female chefs often choose not to report cases of sexual harassment for fear of backlash. Being outnumbered by men in the kitchen makes it extremely difficult to speak up for oneself. In some cases, superiors may know that female chefs won't say anything, and they'll use this to their advantage.
"There's no HR. You don't like it, leave," Chef Tess summed it up. "Fear is a tool."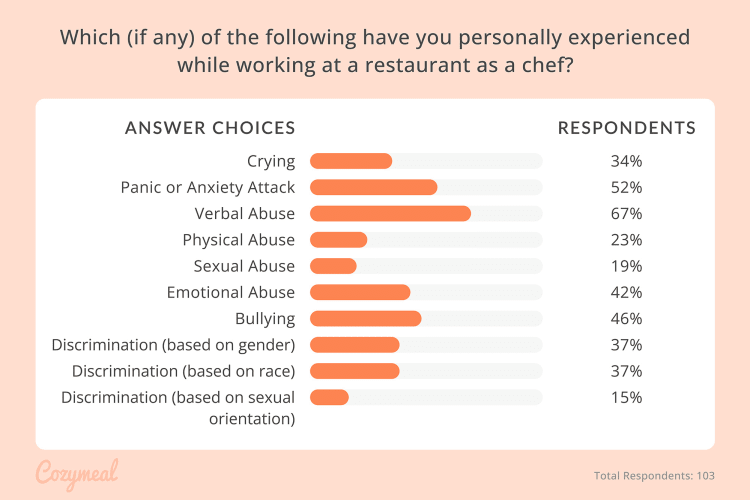 Book a Gourmet Cooking Class Now
Kick-start your culinary confidence with help from a world-class chef. See what's cooking in your city today.
Toxic Restaurant Culture and Harmful Coping Mechanisms
All of the mental and physical strain can cause chef burnout and even lead chefs to make some desperate decisions. In the season two finale of The Bear, one of the restaurant workers is found using drugs in the alley behind their restaurant. The scene is not merely a dramatic fabrication to pull at the viewers' emotions: Drug and alcohol abuse is a saddening reality for many chefs and restaurant workers. Some may depend on substances to relieve the stress of toxic restaurant culture or stay alert during busy hours. Others may use them to avoid seeking professional healthcare.
"After training in France," said Chef Pierre C., "I got a job in a French restaurant, one of the most famous restaurants on the West Coast of the United States. The executive chef was strung out on cocaine."
While it might feel like their only escape, abusing drugs and alcohol can cause more problems with chef depression, anxiety, mental health and physical health.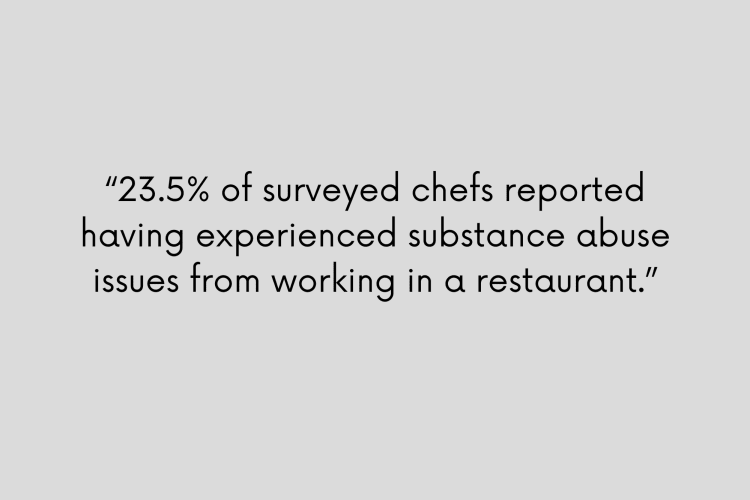 Striving Toward a Healthier Workplace
Poor mental health in the restaurant industry doesn't have to be a permanent problem. As the world becomes more aware and accepting of mental health struggles, there is increasing hope that the restaurant industry will catch up.
"Fortunately, [toxic restaurant culture] doesn't have to be like that," says Chef Maggie. "I have my own business, and we create a team atmosphere and encourage downtime to avoid workplace sickness and encourage each other to put our own health and wellness first."
Promoting mental health awareness, building supportive teams and fostering a healthy work-life balance are just some of the ways that restaurants can improve chef mental health and dispel toxic restaurant culture. With more people willing to speak up and advocate for themselves and others, chefs and other restaurant workers may finally be able to focus on the creative, delicious and unifying aspects of cooking.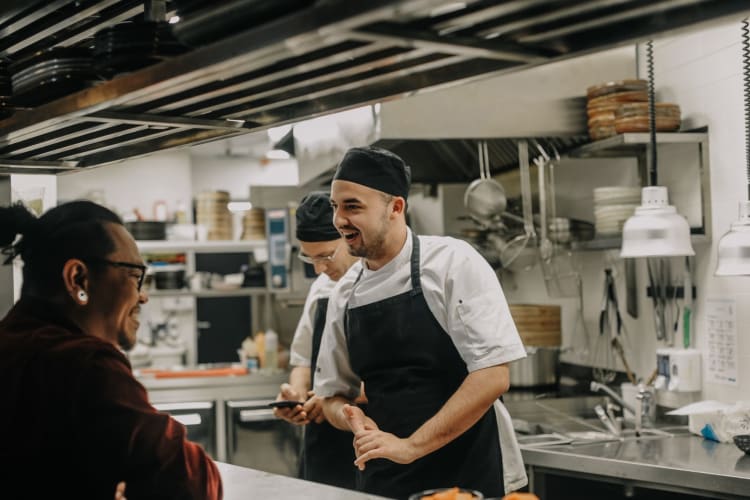 Gourmet Cooking Classes Near You
Take your culinary skills to new levels with guidance from five-star chefs.
Sesame Health and Cozymeal: Partnering in Support of Chefs and Their Families
Spreading awareness about toxic restaurant culture is just the first step in improving chefs' well-being. As a company that values chef mental health, safety and happiness for all, we want to do more than just share restaurant industry mental health statistics.
That's why Cozymeal has partnered with Sesame Health to make mental health resources more accessible to those in need.
Sesame Health helps people connect directly with doctors and specialists nearby or online. Regardless of their income, insurance status or place of residence, Sesame Health's unique platform allows patients to select their own healthcare providers, obtain and refill prescriptions, order lab tests and more. Video mental health consultations can start as low as $29 through Sesame Health, and can help people manage a wide range of conditions including anxiety, depression and PTSD.
In response to concerns about toxic restaurant culture and chef mental health, Sesame Health is offering a 20% discount to chefs on Cozymeal and their families. Visit Cozymeal Powered by Sesame Health to learn more and discover a care provider near you.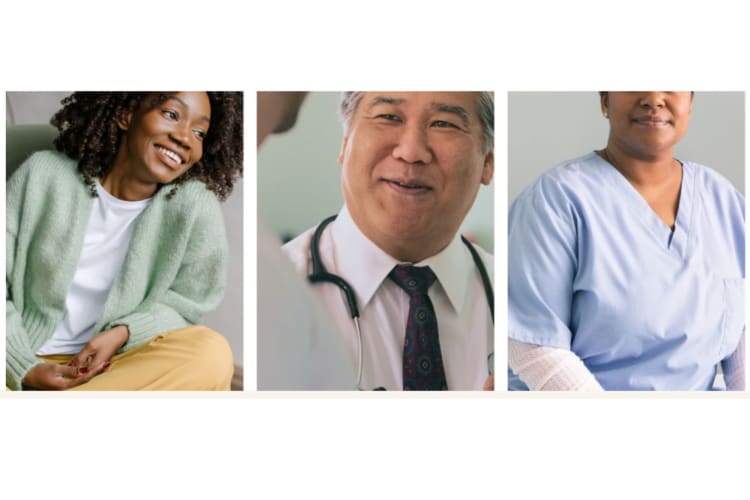 Join 200,000+ Culinary Enthusiasts
Exclusive deals, recipes, cookbooks, and our best tips for home cooks — free and straight to your inbox. PLUS: 500 Rewards Points.
Cozymeal values the relationships we have with an incredible number of chefs all around the world. We are extremely excited to be partnering with Sesame Health, and we look forward to connecting chefs and their families with the resources they need.
Together, we hope to forge a future free from toxic restaurant culture, where chefs can live wholeheartedly, work safely and continue to make beautiful dishes that bring humanity closer together.