Interviews With Chef Terry and Chef V: The Origins of Their Recipes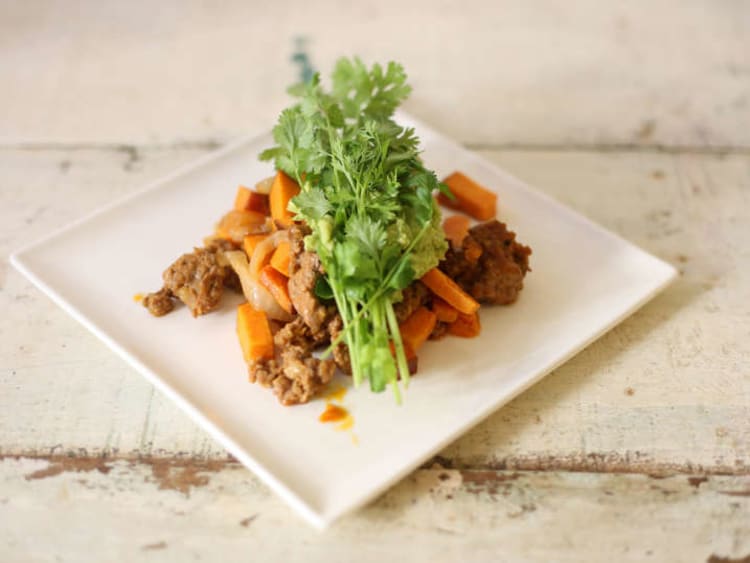 We see people's stories in their food: Their histories, their cultures, their loves and their loved ones. The dash of red pepper that Dad always used, the extra sea salt from your Italian host mom, the aversion to pepper because your brother threw it in your face that one time — all of these determine the recipe, which determines the taste, which determines the shape of the food and the plating.
Food is unique in the combination of its necessity and its intricate, artistic elements. At Cozymeal, we're set on understanding the latter in service of the former.
How can we see the whole story? Is there something in the preparation that's even more reflective of the passions that go into the food? What we're really asking is: What's the story of the recipe? We interviewed two world-class chefs — Chef Terry and Chef V — about the recipes that mean the most to them. Keep reading for raspberry buttermilk cake, paleo chorizo hash and the beautiful histories behind them.
GET UP TO $50 IN COZYMEAL

CASH™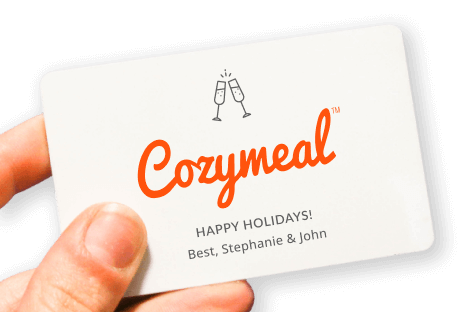 GET UP TO $50 IN COZYMEAL

CASH™

$100 or more, get $10 Cozymeal Cash™

$250 or more, get $25 Cozymeal Cash™

$500 or more, get $50 Cozymeal Cash™
Chef Terry's Recipes and Memories
Raspberry Buttermilk Cake
1 cup all-purpose flour
1/2 tsp baking powder
1/2 tsp baking soda
1/4 tsp salt
2 ounces butter
1/3 cup sugar, plus 1 1/2 tbsp sugar
1/2 tsp vanilla
1 large egg
1/2 cup well-shaken buttermilk
1 cup fresh raspberries or blueberries or peeled peaches
Preparation:
Cream sugar and butter for two minutes. Add egg, mix well. Add vanilla. Alternating, add 1/3 flour, then 1/2 buttermilk…repeat. Bake in an 8 or 9-inch pan at 400 degrees F for 25-30 minutes. Allow to cool before serving.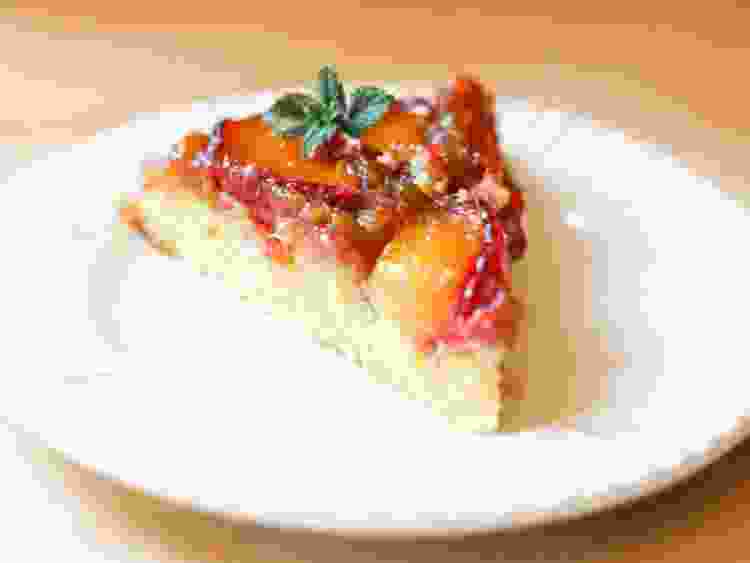 Gourmet Cooking Classes Near You

Take your culinary skills to new levels with guidance from five-star chefs.

Book Now
Where did you first see this recipe?
My mom has made this raspberry buttermilk cake for years, and she passed it down to me. My grandmother came from Germany, where cakes are popular in the late afternoon with coffee. We grew up enjoying lots of different cakes.
I first had this cake in St. Louis at my parents' house 20 years ago. It was a backyard party. My whole family was together — my family gravitates around food, as do so many others. We all love to cook except my dad, who tends the bar!
I like to serve this cake with whipped cream. My Mom loves to serve whipped cream. It's a German thing. I was once at a huge breakfast buffet, and there was a giant bowl of whipped cream that we didn't know what to do with. That was one of the most German things that has ever happened to me.
I speak a little bit of German, and my favorite word is schlagsahne, which means whipped cream. I studied German in school because I loved German literature and because I wanted to understand where her mom comes from.
The recipe for the cake calls for raspberries on top, but you can use any berries throughout the spring and summer. In the fall I use thin slices of apple or pear.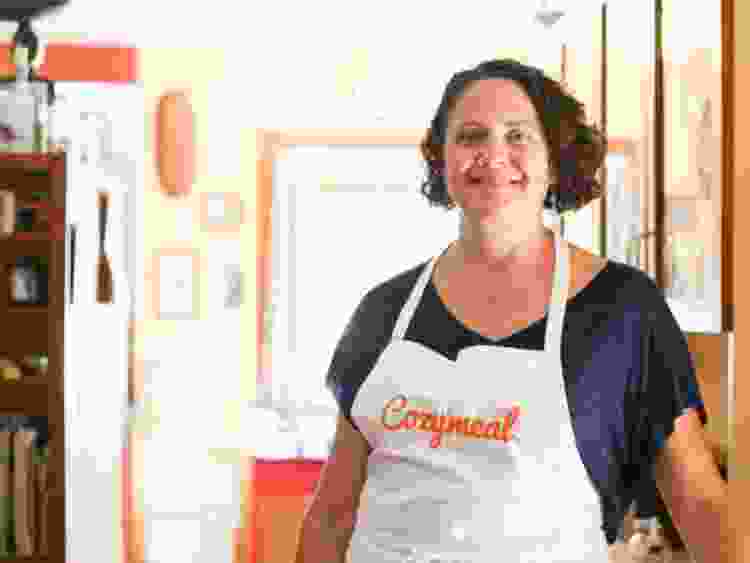 Braised Duck Legs With Olives and Fennel
4 servings
4 whole duck legs
3/4 cup Castelvetrano olives
2 cups chicken stock
1 cup flour
2 medium red onions, diced ½ inch
2 medium fennel bulbs, diced ½ inch
1 large carrot, diced ½ inch
1 medium leek, halved the long way and cut in ⅓ inch strips
1/2 cup olive oil
2 tsp fennel seeds, ground
1 cup dry white wine
Join a Live Online Cooking Class Today
Your kitchen is now your own culinary classroom. Connect with chefs from around the world right from the comfort of home.
Preparation:
Preheat the oven to 375 degrees F. Trim the duck legs of any excess fat along the inner thighs, and season with salt and pepper. In a 6 to 8-quart Dutch oven, heat the olive oil over medium-high heat until smoking. Dredge the duck legs in flour, carefully place in the hot oil and brown well on both sides, 8-10 minutes. Transfer to a plate.
Add the onions, leek, carrot and fennel to the pot and cook until lightly browned and softened, 8-10 minutes. Add the stock and white wine and bring to a boil. Place the duck legs in the pot, submerging them in the liquid and cover the pot tightly. Place the pot in the oven and cook for about 1½ hours, until the duck is tender.
Transfer the duck legs to warmed plates. Season the braising liquid with salt and pepper, and spoon over the duck.
Tell us about this recipe.
This is a newer recipe, but it's so simple. It's tasty, moist and versatile. I use a lot of seasonal ingredients. That's where my inspiration comes from. It's about fresh, flavorful, local produce and what to do to enhance the natural flavors. It's difficult to get a handle on good quality produce — how to know when it is super fresh and picking the right variety. When you do, though, you don't need to do much with them. The cooking becomes about awakening their natural flavors. There is also so much to gain, healthwise, when you include a lot of fresh vegetables in your diet. I work to incorporate a good amount of vegetables into my food.
It's also a healthy way to eat, though I try not to say the H-word too often. It makes people run away. With my personal chef clients, I use a lot of vegetables. Even when I make I make many desserts with fruit — cobblers, crisps, pies.
Book a Gourmet Cooking Class Now
Kick-start your culinary confidence with help from a world-class chef. See what's cooking in your city today.
The reason I started making this dish is because I love braised meats. They're easy to prepare ahead of time, and you can take an inexpensive piece of meat and make it special. I was introduced to this recipe by a friend of 15 years and his wife. He and I cook together all the time. We both take on lots of European influences. This is mostly a French recipe with the duck legs. I've prepared this with him many times and on my own, but it's his recipe at the end of the day. The duck melts in your mouth, falling off the bone with the really nice sauce. It works really well with polenta. I love duck, and so does my husband Albert. Duck is his favorite dish.
I make this dish throughout the winter. In San Francisco, July could be as cold as February, but the seasons are subtle here. Certain small things like the magnolia trees blooming in January say "Oh! Winter is ending." It's a great dish for winter because it's filling. Duck is a rich meat. On a cold winter night, it really warms you up. I don't think about it during the summer because I do a lot of grilling, and duck on the grill can be a mess because it's so fatty.
This dish is pretty simple and very versatile. I've made it Chinese style with a five-spice blend and oranges; Italian style with tomatoes, pancetta and red wine; and Northern California style with wild mushrooms and dark beer. This cooking technique and these flavors also work well with chicken and cornish hens.
Where do you buy the duck?
I often go down to Chinatown for the cheapest, freshest duck. Many Chinese people shop for their food every day, and they scrutinize the meat. They won't buy just anything, so I can get good quality things from the Chinatown markets.
How do you modify these recipes?
I modify the cake recipe with the different seasonal fruit. The duck comes in different styles. I can cacciatore with tomato sauce, Chinese-style with Chinese five-spice and star anise. Because I cook a lot at home for catering or other jobs, the modifications depend on what I see in the fridge. The duck is a more flexible recipe. You can use anything to braise it.
Book an Online Cooking Class Now
Ready to perfect your homemade pasta, paella or pad thai? Join a world-class chef from the comfort of your kitchen.
The Chinese-style is amazing with beer. I'm a big beer fan. I love IPAs and the hoppiest as well as dark beers. When I was a child, there was always Guinness around the house because my granddad needed to gain weight. The doctor told him to drink a Guinness a day. There was a four-pack of Guinness in the hospital when I was breastfeeding my baby because brewer's yeast is apparently very good for children. That's very old school; the recommendations keep changing.
Chef V's Recipes and Memories
Chorizo Hash
1 pound of chorizo
3 sweet potatoes, diced
1 large onion, chopped
3 avocado, smashed
Extra virgin olive oil
Bunch of cilantro
Arugula or desired greens
Coconut oil
Salt and pepper
Preparation:
Heat a skillet to medium-high heat adding about one swirl of olive oil. Add onions for about 5 minutes until golden, then add diced sweet potatoes. Cook for another 5 minutes over medium heat, then add the chorizo by breaking it up into nickel-size pieces. Mix them with the onions and sweet potatoes cooking for an additional 5-7 minutes until desired done.
Plate a handful of arugula on a plate and drizzle with olive oil. Next, add a scoop of the hash in the middle of the mound of arugula. Add a dollop of smashed avocado topping with a nice bunch of fresh cilantro. Sprinkle entire dish with salt and pepper to taste. Enjoy this paleo-perfect meal anytime of day or night. Add a fried egg on top for a truly memorable addition.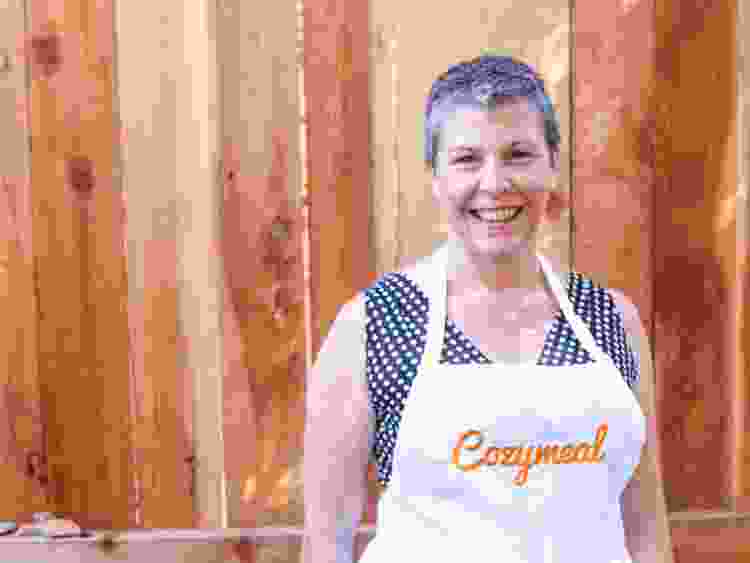 Tell me about your food and where it comes from.
I was raised deeply culturally Italian, so the first time I ever saw Chinese or Mexican food I was 20. I was at least 20 years old before I knew about anything other than Catholicism. I lived in Philadelphia in a really dense Italian community. We didn't ever leave or socialize with anyone outside of our family. I went to Catholic school with all the other families from the neighborhood, who were also all very Italian. Food was central to my entire upbringing and culture.
But I started questioning the status quo of my upbringing when diagnosed with multiple sclerosis. I had to make a major shift because of what I could eat. I had to eliminate so many classically Italian ingredients.
For example, my grandmother always made Italian sausage hash. It was a staple. And I couldn't eat it anymore! So during my major shift, I reworked it with chorizo and sweet potatoes so that I could retain that amazing dish in a healthy, mindful way."
Gourmet Cooking Classes Near You
Take your culinary skills to new levels with guidance from five-star chefs.
You make that same hash with Cozymeal. Could you talk about the other dishes you make?
I also make a fish dish that incorporates very Italian influences with fennel. Italians put fennel in everything, but they never eat fluffy white fish like halibut, which is what I make this is with.
Halibut has to be wild-caught. Italians eat much heavier seafood like shellfish that doesn't have to be immediately fresh or caught wild — clams, calamari and the like. So I work to marry a paleo world with my Italian cultural heritage. I recently put sardines on a salad, which is very Italian, but I skip many other ingredients that would conflict with my health. My culture is in a lot of these dishes, but my culture now has expanded to include my paleo diet and way of life.
Could you talk about how you became paleo and why it was such a huge shift in your life?
Paleo and clean eating are a huge part of my life, but so was traditional Italian food.
Doctors told me to cut out nightshades, and I said, "What are nightshades?" They are tomatoes, peppers and eggplants. I would eat all three of those things at every meal. I found myself asking, what else is there? Then they said I had to eliminate gluten — I ate pasta three times a week! I had pizza every Friday! They asked me to gut my entire diet!
Food has been an expression of my culture ever since I can remember. My family did nothing if not eat, and they ate very traditional Italian food at exact times.
As a professional chef, cooking is my passion, self-expression and my identity. When so much of it was forbidden by doctors, I didn't know what to do. During my first year of being paleo, I had to embark on a restructuring of that identity. I took all of my family's Italian recipes and made them paleo. Especially around the holidays, I couldn't think of a meal without my culture in every bite. It took a hugely conscious effort to adapt those recipes and bring them with me into my new life.
Book an Online Cooking Class Today
Five-star chefs. Step-by-step coaching. Flexible menus. Come see what's cooking in a live online cooking class.
What are some examples of that effort?
Like I said before, the halibut with fennel is a marriage of those two. I don't think an Italian would think of that, but here I am! I made it!
I also recently modified the hash for my daughter. I used Italian sausage and white potatoes, whereas if I were eating it, I would use chorizo and sweet potatoes. My daughter doesn't eat sweet potatoes. It's still my grandmother's recipe, but it's not so culturally Italian. There are a lot of people in this world, and every one of us relates to food in a different way. Not everybody likes Italian food, but everybody needs to eat good food. Italian food may be the number one food that people go out to eat, but that also doesn't mean it's healthy for each of us.
In order to be paleo relevant, I have to be culturally relevant. I have to understand where people are coming from and what food means to them just as I expect people to do the same for me.
Tell me more about this restructuring of your identity.
Well, in concrete terms, pasta and pizza were staples, but they had to go. I couldn't eat gluten, and at the time I didn't understand how I could replace pasta and pizza with healthy alternatives. Pizza was the hardest. I love pizza! I ate it so often! I didn't know how to replace them and maintain my identity as an Italian cook. People loved coming to my house because I had this reputation as a fabulous Italian cook. What was I going to do about that?
So I took 10 days to go to Italy with my family's recipes and recreate them. I went into cultural immersion with my sister. I believe that I needed to be in the thick of things, right there breathing the Italian air, to truly understand how I could meld my new life and who I wanted to be — a healthy woman dedicated to clean eating — and culturally Italian.
My self-expression happens in the kitchen. I worked and wrote about different ways to create food. I have found that a lot of it isn't the ingredients but what goes into the making of the dishes: How you're cooking and why you're cooking. People can taste that. I realized the replacements were just as good and even better for me. I can make the same meals I ate growing up, but they don't fit our traditional sense of pasta. I can use the same sauces — meatballs and the like — though they will be different in a way that emphasizes clean eating and food as my medicine.
Book a Gourmet Cooking Class Now
Kick-start your culinary confidence with help from a world-class chef. See what's cooking in your city today.
How did this restructuring of your relationship to your heritage recreate your relationship with your body?
It really did that. I follow Dr. Terry Wahls and the paleo protocols. The protocols took me outside of my cultural norms. My culture is stereotypical male-dominated. Men had a say in times of the day and what foods were eaten. I eat different foods than the people I grew up with. I make the same dishes, but they are different foods. I had to free myself from the notion that I wasn't eating real food because it wasn't what the men in my family said we should eat! How crazy is that?
One example was that I had to eat around nine cups of veggies a day, which meant I had to incorporate smoothies. Meals had to go, and I had a hard time justifying not sitting in the community and eating food we cooked together. How am I going to have a smoothie? That's not food, I didn't cook that. Some of the norms of when and how we ate were harmful. Dealing with this made me realize it's not just about eating, it's about the ceremony of eating.
How does Cozymeal fit into this philosophy?
I love Cozymeal because it is about sharing a table, sharing how to cook and eating together. It combines so many of the things I cherish. Sitting back, watching people eat around your table and participating in the bounty together — that's the core of my culture. It's not what you're cooking, it's why, and the act of eating that brings people together. That's what I love so much.
Any time I tell this story, it still strikes me that if someone had said this is what food represented in my life, that this is the person I would be today, I would have never believed you. Never in so many lifetimes.
When I was at rock bottom with my MS, I had full-time care and I had lost my life savings. I was struggling because there is no help for this disease in America. I didn't have a future. That's what brought me to food as medicine. I didn't know I would, that I could, be this person and heal myself. No one recovers from MS — you move to an institution or you die. The fact that I healed from this disease is amazing and proves that food is a culturally relevant relationship.
Book an Online Cooking Class Now
Ready to perfect your homemade pasta, paella or pad thai? Join a world-class chef from the comfort of your kitchen.
Ever since, I've spent four years studying the relevance of food across cultures, trying to understand how many different people relate to food. I try to structure my methods and ways to offer inspiration so I can transcend the difficulties and barriers between people. I spend time in food banks, homeless shelters to understand how to make my cooking a culturally relevant medicine. I can only teach people using food this way, and I'm driven by a moral obligation to work on this seven days a week. I had to uproot myself from my culture and our food culture to see my life and my cooking through a non-judgmental lens.
What does your family think of you uprooting yourself from your culture?
My daughter is proud of me and supportive. The initial response was that no one believed in me. My first announcements were met with deafening negative responses. Every important conversation that my daughter had with me was either around the table or as she's jumping out of the car. She had my undivided attention in both cases.
My changes in diet changed the landscape of the table and how we communicated. That was tough, but she saw how much I was improving and understood how important that was. Other people were not as perceptive. When you're telling people about how you're changing your diet to be healthier, they hear, "Stop poisoning yourself with that crap you eat every day," even if that isn't the case.
After six months, I looked 15 years younger, and my disability was under control, but still people were confused as to why I was doing it. They would still question my "weird diet." Since I had no support, I retreated. I locked myself into the house for four and a half months. I didn't leave unless it was for appointments or something else I couldn't miss. My family is least supportive. They're still rooted in their culture, and they think that I've left it. When you tell people you've healed yourself with food, they only hear that you're calling them out.

Join 200,000+ Culinary Enthusiasts
Exclusive deals, recipes, cookbooks, and our best tips for home cooks — free and straight to your inbox. PLUS: 500 Rewards Points.
Cooking for the sick is the first thing we do. They think you're pushing them away when you can't eat their food. My sister is a nurse, but I was visiting her, and she didn't prepare anything that I could eat. I said to her, "You understand food is my medicine." "Yes." "Then why is there nothing I can eat here?" She told me that the nearest grocery store with food for me was an hour away, and that she would be happy to go with me to get it so I could cook it. My family has adopted the attitude of "We're happy for you but we don't want this in our lives."
That's where Paleo Boss Lady came from. I developed the brand because I had no one. I turned to social media for my community. I resonated with people there, and now I'm seen by a million people per week.
But back to my family: My daughter is the last Italian generation in my family, her children may have much less of that heritage.
Herb Crusted Lamb Lollipops
French cut rack of lamb
Bunch fresh rosemary
Bunch fresh thyme
1 head of garlic
Coconut oil or desired cooking fat
Salt and pepper
Preparation:
If and when time allows, take the lamb chops out for one hour let sit to room temperature. Slice chops into individual pieces and line on a cookie sheet covered in parchment paper.
While you are waiting for the hour, smash cloves of garlic and put in a bowl. Chop up bunches of herbs and add to garlic. Combine salt and pepper to taste and mix all the ingredients well.
Take garlic-herb mixture and press on both sides of each chop. Allow the herb-covered chops to sit for anywhere from 30 minutes to 4 hours.
15 minutes before serving, take a skillet and add desired fat to cover the pan and set to medium-high heat. Once heated, add chops. Set a timer and sauté for approximately 3-4 minutes on each side, covering skillet with a lid each turn.
Place finished chops on parchment paper-covered cookie tray and let rest for at least 5 minutes before serving.
Tell us about this recipe.
My father is a WWII medaled hero. There are two things he would never eat because of the war: No rice and no lamb. We never had those things in my house growing up. I think it was part of his PTSD. He saw the Japanese as the enemy. Maybe while he was fighting, he was laying in rice paddies. I don't know.
I do know that in my culture if a man says no, you can be sure that food isn't coming into the house. When I was writing my holiday cookbook, I switched the beef to lamb with the same herbs and made each serving into a single chop because it's an individual choice to eat this.
My daughter asked if everything is about making a point. Yes. I am an activist. The lamb is making the point to say that it's acceptable to eat anything you want. I want to end this cultural war that's traveled through my family. This is the holiday meal that I make a dinner out of. I'm trying to bust out of the norms. I'm marrying two cultures together, unlike how my family grew up. Where I come from, when you got married, you had to buy a house on the same street as your in-laws or your family. My daughter's father is Italian, he's one of seven. They still live the same way as my family does. Tight-knit, densely packed. He doesn't really spend time outside of his family.
Anyway, I want to end on a hopeful note: Everything I do is to help a light bulb go off in someone's head and make his or her life more wonderful.