How to Use a Dutch Oven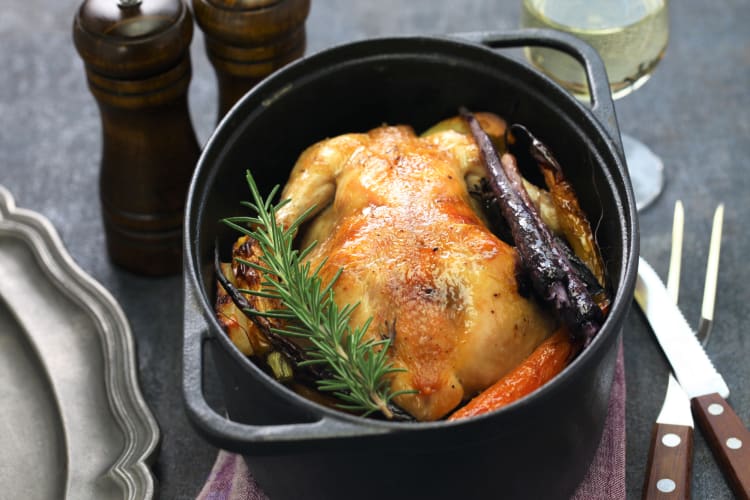 Our editorial team recommends the best products through independent research, selection and careful review. Prices are subject to change.
While you've likely heard that Dutch ovens are an essential kitchen appliance with many excellent uses, do you actually know how to use a Dutch oven? It can certainly feel a bit intimidating when you first want to start cooking with one of these heavy cast iron pots, but it's actually not as complicated as you might think.
In fact, learning how to use a Dutch oven is pretty simple, especially once you know a bit more about what they are used for and how they work.
We're going to break down everything you need to know about how to use a Dutch oven and explain the different types, how to braise, sear and roast with a Dutch oven, how to take care of it and also how to use a Dutch oven to bake bread. Pretty soon you'll feel confident and prepared to start cooking all sorts of delicious dishes with your Dutch oven.
Jump to Section
Shop Like a Chef in the Cozymeal Shop
Update your kitchen with top-rated cookware. Beloved brands, easy returns and guaranteed price-matching.
What Is a Dutch Oven?
Dutch ovens are heavy-duty cooking vessels that consist of a pot and matching lid. They are almost exclusively made from cast iron, which is why they are able to reach high temperatures and retain heat for long periods of time. What do you use a Dutch oven for? Well, since they transition easily from stovetop to oven, they are often used to sear, braise and roast vegetables and meats. There are many other uses when it comes to how to use a Dutch oven, including slow cooking soups, stews and braises, deep-frying and baking bread.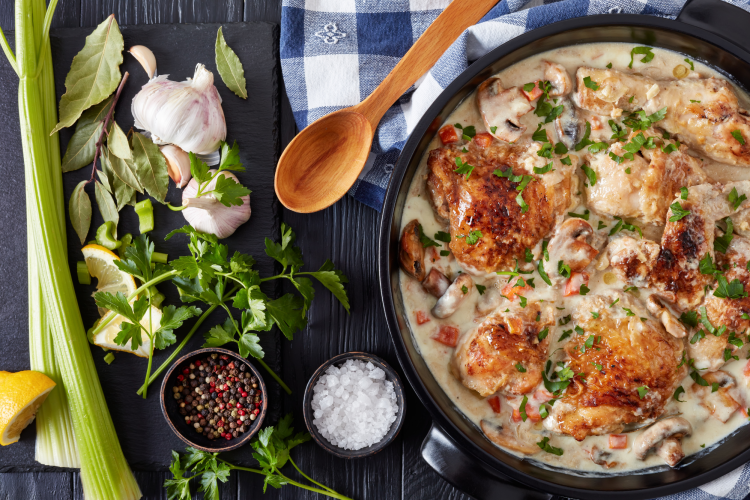 Types of Dutch Oven
Most Dutch ovens are made of cast iron, but you can find them both with and without enamel coating. Enameled cast iron is easier to clean and also usually more aesthetically pleasing; it's this coating that gives these Dutch ovens the vibrant colors, like this classic cherry-red Staub Cocotte Round 4Qt.
When it comes to non-enameled Dutch ovens, you'll likely want to opt for one that's pre-seasoned, like the Finex Cast Iron Dutch Oven - 5 Qt, as this will save you significant time and help you cook with even more flavor. The best cast iron pans and Dutch ovens can last you a lifetime.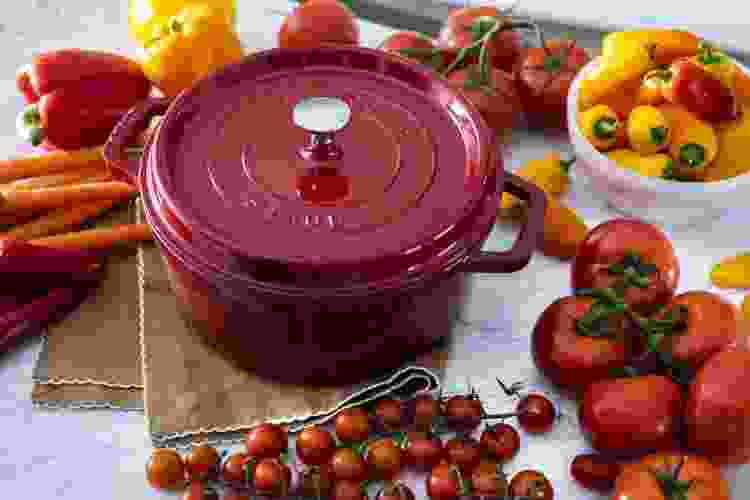 There are select Dutch ovens made from aluminum, stainless steel and ceramic. These materials are usually lighter, but if you do opt for something other than cast iron, make sure you find a non-stick option, such as the Calphalon Signature Nonstick 5 Qt Dutch Oven With Lid.
Dutch ovens come in all shapes and sizes, with a 5.5 quart capacity being the most popular size for beginners. If you're just learning how to use a Dutch oven, the black Staub Round Cocotte 5.5 Qt is an excellent first-time model. This size is big enough for family-sized dishes, but not so big that it's difficult to handle. As for shape, Dutch ovens are usually round or oval with side handles for gripping and metal knobs on the lid for lifting.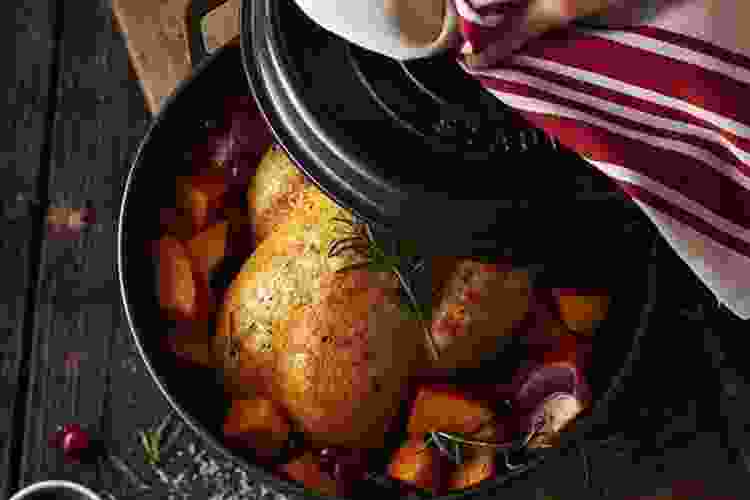 Shop Chef-Approved Cookware
Beloved brands. Easy returns. Price-match guarantee. Kick your kitchen confidence up a notch with cookware loved by chefs.
How to Use a Dutch Oven
Braising
The two most important things to remember regarding how to use a Dutch oven for braising meats are long cooking times and low temperatures. Slow cooking your meats in a Dutch oven over low heat will result in "fall-off-the-bone" tenderness, but keep in mind that some cuts of meat work better than others.
In general, you'll want to select cuts that are higher in fat and cartilage, like short ribs and lamb shanks. Root vegetables tend to go best with braised meats. Don't forget to secure the lid on tight as your meats are slow cooking!
Baking Bread
The best Dutch ovens for bread will certainly elevate your homemade loaves to the next level, especially sourdough.
You'll still have to mix and roll out your dough in the same way, as well as let your dough rise for the appropriate amount of time. Then, apply a small coating of non-stick spray (or parchment paper) to the Dutch oven, place your bread loaf in the Dutch oven, put on the lid and bake it in the oven. Many artisan bread makers recommend pre-heating your Dutch oven, usually for about 30 minutes prior to baking your loaf. This helps trap the steam and give your bread that crispy, golden crust.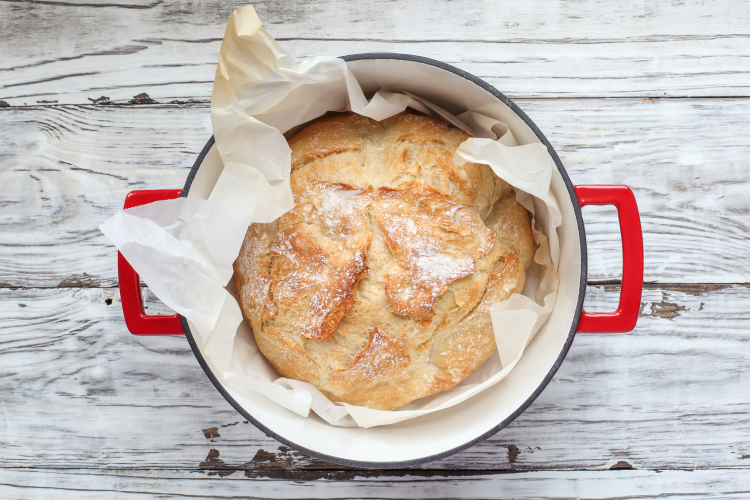 Searing
When it comes to how to use a Dutch oven for searing, you'll want to start by heating the pan to high heat on the stovetop. Then, when the pan is hot, add a bit or oil before adding the meat. You can also oil the meat instead.
Once the meat is browned and seared, remove it before lowering the heat and adding your vegetables and other ingredients. A helpful prep tip for how to use a Dutch oven to sear is to use Kosher salt to lightly salt the meat and vegetables, as this will help release moisture and capture flavor.
Roasting
Since a Dutch oven can go right in the oven, it's pretty easy to learn how to use a Dutch oven to prepare roasts. Depending on the kind of roast, you may want to brown or sear the meat and/or vegetables on the stovetop before adding broth and placing it in the oven to cook.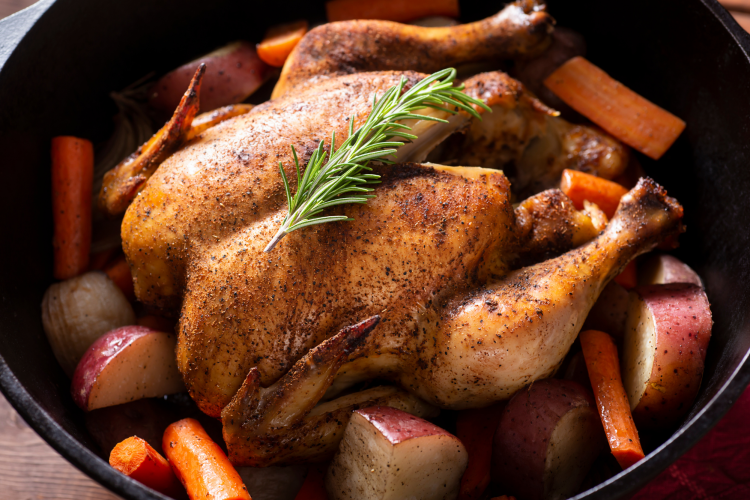 Shop Like a Chef in the Cozymeal Shop
Update your kitchen with top-rated cookware. Beloved brands, easy returns and guaranteed price-matching.
Caring for a Dutch Oven
Learning how to use a Dutch oven involves knowing how to clean it and take care of it after cooking with it. It's a similar process to learning how to clean a cast iron skillet.
One of the most important things is to avoid cleaning it with soap. Use only water because otherwise, the cast iron will absorb the cleaning agent a bit, resulting in somewhat soapy-flavored food next time. Be delicate with your Dutch oven and avoid slamming the lid on it, particularly if it's enameled cast-iron, as it is possible for the coating to chip. You may want to re-season your cast iron periodically, if it's non enameled.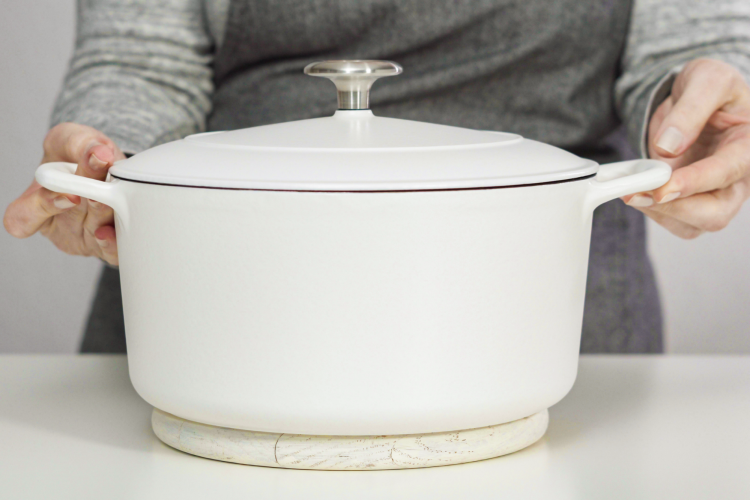 Now that you know how to use a Dutch oven in a variety of ways, you're ready to head to the kitchen and start cooking up something delicious. From baking a crispy loaf of sourdough to preparing tender braised beef and everything in between, you're about to discover how simple and incredibly worthwhile it is to cook with a Dutch oven.
For even more ways to elevate your kitchen, check out chef-recommended cookware in the Cozymeal Shop.