37 Perfect Gifts for Steak Lovers in 2023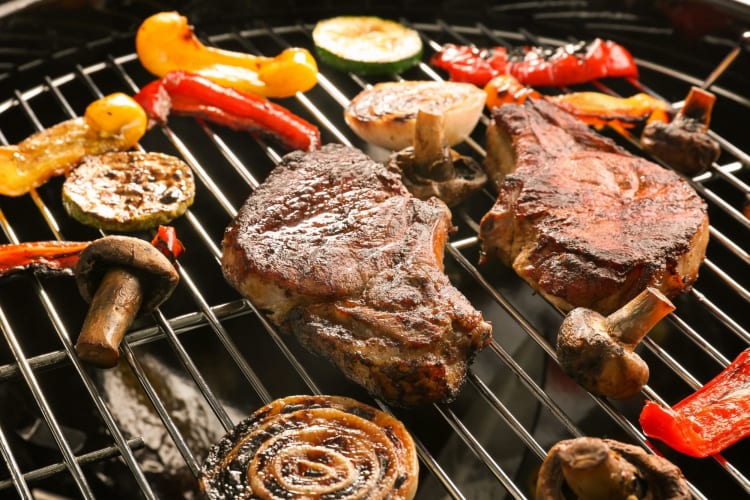 Our editorial team recommends the best products through independent research, selection and careful review. If you make a purchase through one of our affiliate links, we may earn a commission. Prices are subject to change.
The best steaks in the world are famously tender, but shopping for gifts for steak lovers is undeniably tough. Whether they've already tried the world's rarest meats or they're exploring a newfound love for steaks, these curious carnivores can have some notoriously picky tastes.
Are you looking for the best gifts for steak lovers? Not sure what to get for your meat-loving mate? Check out our list of awesome steak lover gift ideas to discover stunning cookware, impressive cuts of steak, scrumptious sauces and more.
Jump to Section
Gift a Local Cooking Class Now
Give your favorite gourmand the gift of world-class cooking lessons with the best chefs in their city.
Experience Gifts for Steak Lovers
1. Interactive Cooking Class
Any passionate meat lover knows that there's more involved in a good steak than just the meat itself. Cooking methods can play a huge role in whether a steak sizzles your taste buds or melts in your mouth. That's why cooking classes in NYC, cooking classes in New Orleans or cooking classes near you make one of the best gifts for steak lovers! Whether they attend in-person or through online cooking classes, your steak lover is sure to savor every part of the interactive cooking experience — including their delicious final product.
Price: $65+, $29+ for online classes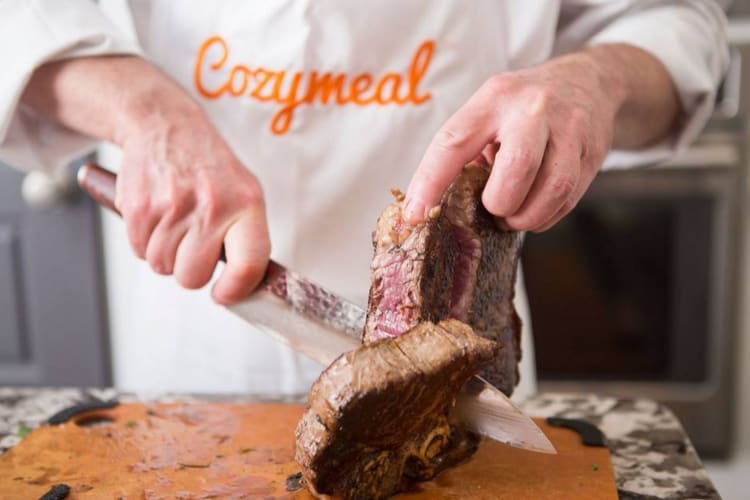 2. Steak-Centric Food Tour
If you need gifts for steak lovers who are willing to go to the ends of the earth for the perfect bite, take them on steak-centric food tours near you! From food tours in Boston to food tours in San Francisco, chances are you won't have to go far to discover the perfect steak. Plus, your recipient will get to learn more about their city, check out the hottest steakhouses and discover hidden gems.
Price: $59+
3. Private Chef Meal
What could be a more luxurious gift for steak lovers than a private chef meal in your own home? There are dozens of private chefs in Seattle, private chefs in Scottsdale or private chefs in a city near you who would be delighted to treat your steak lover to a stellar meal — and you won't even have to do the dishes! Just sit back, enjoy and let the meaty goodness wash over you.
Price: $49+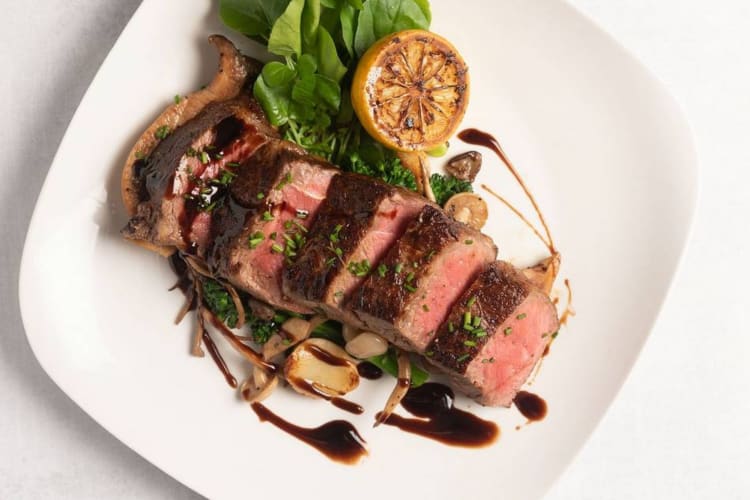 4. Online Beverage Tasting
The perfect steak deserves to have the perfect beverage. A virtual wine tasting or online mixology classes are some of the best steak lover gift ideas because they'll help your giftee enhance their favorite dish. In interactive classes, they'll learn from trained professionals how to craft, pour and pair beverages to complement all the rich and savory flavors of steak.
Price: $25+
Cookware Gifts for Steak Lovers
5. A Versatile Non-stick Pan
Non-stick pans are some of the best pans for steak because they give the meat a nice sear without ruining their shape or leaving behind any messy residue. The KitchenAid 10.25-Inch 3-Ply Stainless Steel Non-stick Round Grill Pan makes one of the best gifts for steak lovers, with deep sides, stainless steel construction and raised grooves for perfectly seared grill marks. Plus, it's dishwasher-safe and oven-safe up to 500°F.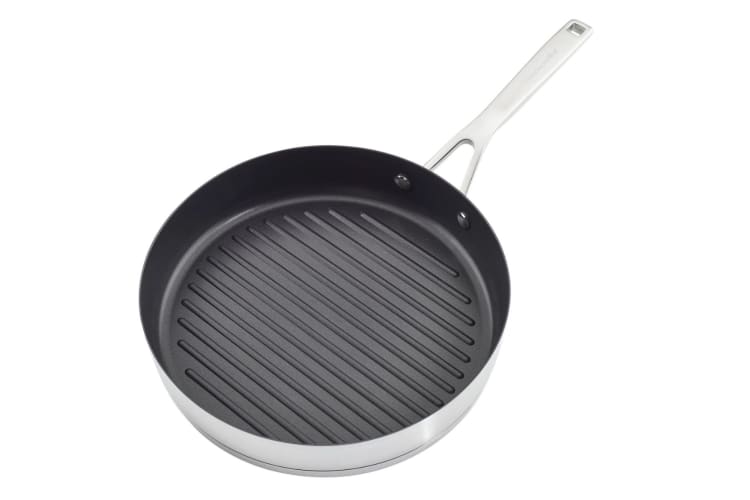 Gift an Online Cooking Class Now
Give your favorite gourmand the gift of world-class cooking lessons right from the comfort of their own kitchen.
6. A Premium Steak Knife Set
The Zwilling Four Star 4-Pc Steak Knife Set is more than just your average Joe's set of steak knives. Each knife is forged from a single sheet of stainless steel and ice-hardened for pristine sharpness and strength, making this knife set one of the best gifts for steak lovers. The handles are carefully balanced with modest finger bolsters so your steak-lover can cut their meat safely and enjoy it as fast as possible.
7. Sturdy Grilling Skewers
Forget flaky bamboo skewers; the best meats deserve the best skewers, and a set of four Harold Import Co. Chrome 15" Skewers is an awesome utilitarian gift for steak lovers. Each chrome-plated steel skewer can hold an impressive amount of meat and can withstand the heat over the griddle, on an open flame and even in the oven.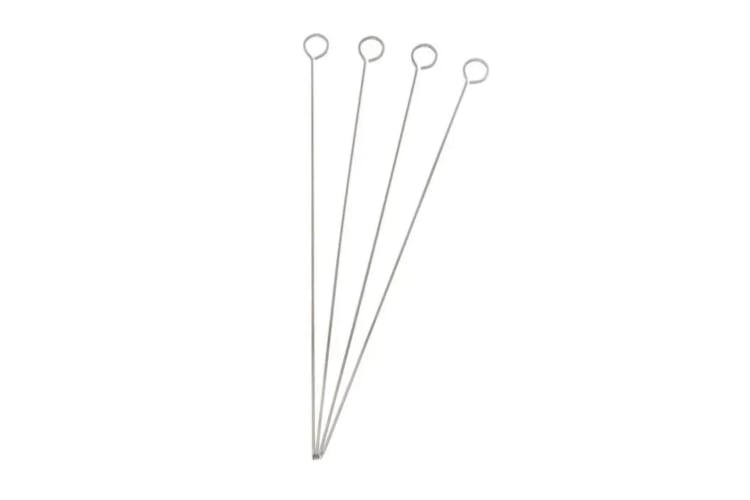 8. A Sleek Meat Fork
Zwilling is known for making some excellent knives, but their gifts for steak lovers extend beyond basic cutting tools. For the dedicated steak chef, there's the Zwilling Pro Tools 13" Stainless Steel Meat Fork, a weighty tool to help them lift, turn and flip their steaks and ensure they're perfectly even. This beautiful meat fork also stands out from the crowd with its sleek satin steel handle and sharp tines.
9. A Portable Propane Grill
With the Coleman Roadtrip 225 Portable Stand Up Propane Grill, your steak lover can take their favorite foods on the go, anywhere they go. From the neighborhood barbecue to your next beach vacation, this propane grill quickly folds and rolls easily to make transportation a breeze. With up to 11,000 BTUs, this modestly sized grill still packs a powerful and flavorful punch.
Luxury Steaks
10. BMS12 Miyazakigyu A5 Strip Steak
Miyazaki wagyu, also called miyazakigyu, is a special type of Japanese wagyu beef prized for its exceptional tenderness, melting buttery flavors and rich fat-marbling. Miyazaki wagyu is regarded as the most decadent beef in the world, something that you may only get to enjoy once in a lifetime. These rare 14-ounce BMS 12 Miyazaki A5 wagyu steaks from Holy Grail Steak Co. are undeniably some of the best gifts for steak lovers with a luxurious palate.
11. A5 Japanese Kobe Wagyu Manhattan
Like Miyazaki wagyu, Kobe beef is another strict type of Japanese wagyu, and A5 refers to the highest possible grade of Kobe beef. For reference, there are only about 1,000 head of Kobe cattle harvested every year. These 4-ounce A5 Kobe wagyu Manhattan steaks from Holy Grail Steak Co. are guaranteed to delight as a gift for steak lovers.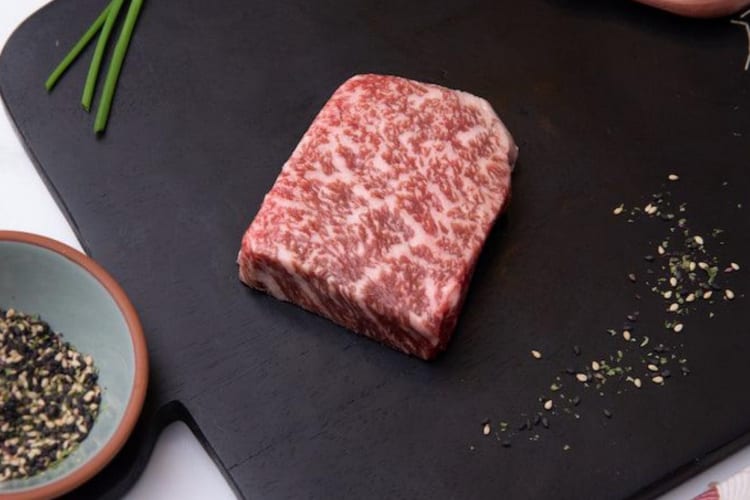 Gift a Virtual Wine Tasting Now
The ultimate gourmet gift for any wine lover on your list. Virtual wine tastings bring a virtual vineyard experience right to you.
12. A5 Japanese Kobe Wagyu Ribeye
When it comes to gifts for steak lovers, you really can't go wrong with a cut of Kobe beef. Any cut of Japanese A5 wagyu is a real treat, but perhaps none more so than an exceptionally tender Kobe ribeye steak. The 13-ounce Kobe wagyu ribeye steak from Holy Grail Steak Co. tastes incredible when salted and pan-seared on both sides to a golden, caramelized finish.
13. A5 Japanese Maesawa Wagyu Filet Mignon
The filet mignon is already known as one of the most tender cuts of beef. Combine that with the luxurious nature of wagyu, and you've got the Ogata Farms Japanese A5 wagyu filet mignon. Ogata Farms steak is sourced from stress-free cattle which are fed a premium diet of local beer, whiskey and soy to ensure that their meat is luxuriously tender and even slightly sweet.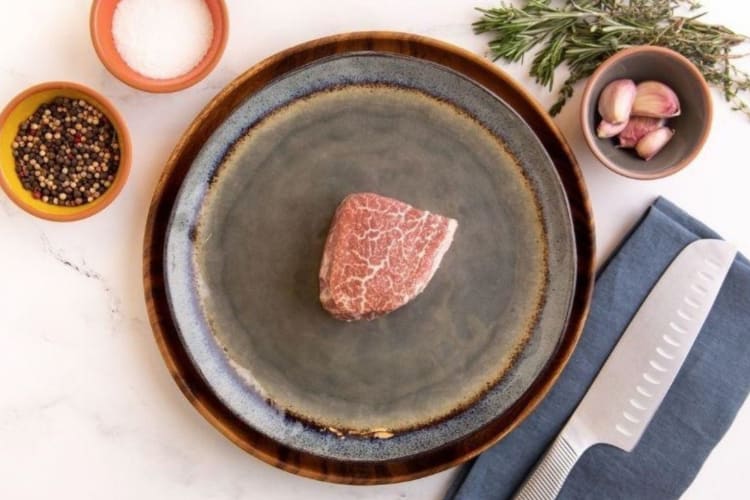 Steaks Under $100
14. 4-Ounce Australian Wagyu Filet Mignon
Australian wagyu refers to the descendants of original Japanese wagyu which were brought to Australia at the end of the 20th century. The Carrara Jade full-blood Australian wagyu filet mignon from Holy Grail Steak Co. comes from cattle with 100% Japanese wagyu lineage, carefully bred and raised in Australia for an authentic wagyu experience. The Carrara Jade wagyu exceeds expectations for the best Australian wagyu but still keeps a more approachable price point, making the 4-ounce option one of the best gifts for steak lovers.
15. Santa Carota Prestige Filet Mignon
With a name that means "holy carrot" in Italian, Santa Carota are a type of cattle that are raised on a grass-fed diet but finished with a carrot diet before butchering. This gives the meat an extra plump and moist edge with extra vitamin A and no hormones. The Santa Carota prestige 8-ounce carrot finished filet mignon from Holy Grail Steak Co. is one of the best gifts for steak lovers who appreciate balanced, healthy meals.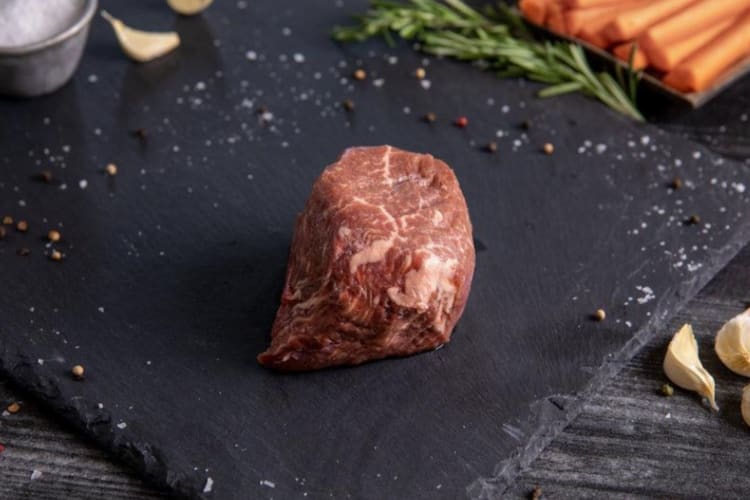 Gift an Online Mixology Experience
Raise a toast to the perfect gift. Enjoy craft cocktails, bartending basics and more taught by five-star mixologists.
16. A5 Japanese Maesawa Wagyu Manhattan
This Manhattan steak is a trimmed and thick-cut portion of the New York Strip, making it one of the best gifts for steak lovers who seek out classy and timeless meals. The Ogata Farms Maesawa 4-ounce Japanese A5 wagyu Manhattan from Holy Grail Steak Co. is cut to sear perfectly on all sides, creating a beautiful caramelized crust while remaining tender and buttery on the inside.
17. American Akaushi Wagyu Ribeye
The term "American wagyu" can refer to a wide range of domestically raised cattle, but these American Akaushi wagyu ribeyes from Holy Grail Steak Co. come from the rare Japanese Red cattle. Akaushi beef is one of the healthiest meats on the market and has a well-balanced flavor profile with intense fat marbling and a coveted deep, meaty flavor. As a rare and highly sought-after type of beef, any cut of Akaushi makes great gifts for steak lovers, but especially a tender and generously portioned ribeye.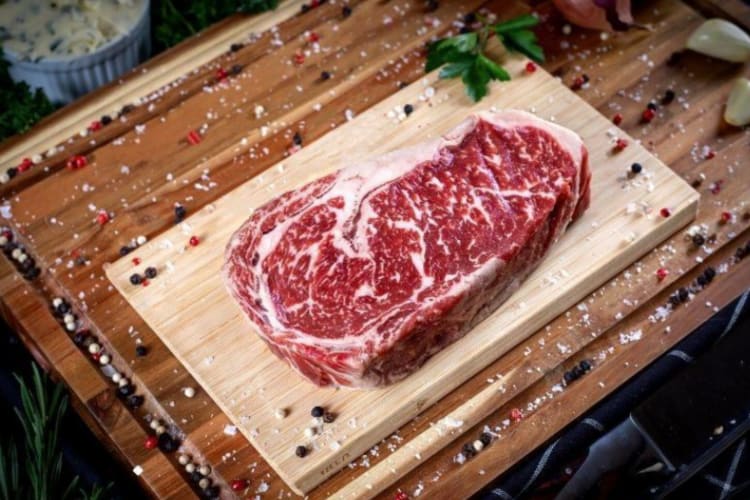 18. Extra Dry-Aged Korean Ribeyes
COTE Korean Steakhouse is famous for its ribeyes, but you don't have to live in New York to deliver delicious gifts for steak lovers from this classic spot. The 45+ Day Dry-Aged Ribeyes kit from COTE Korean Steakhouse comes with two 16-ounce ribeyes, essential Gastronome's Salt, pickled daikon and the restaurant's signature ssamjang sauce. The entire kit from Goldbelly boils down to less than $100 per steak, making it one of the best all-inclusive gifts for steak lovers.
19. Black Grade American Wagyu New York Strips
Looking for gifts for steak lovers that will treat the whole family? The four-pack of boneless black grade American wagyu New York strip steaks from Snake River Farms comes out to about $65 per steak. Snake River Farms, located on the Snake River in Idaho, provides American wagyu beef to some of the best Michelin-star-rated restaurants in the country, so you can depend on them to serve up some impressive gifts for steak lovers.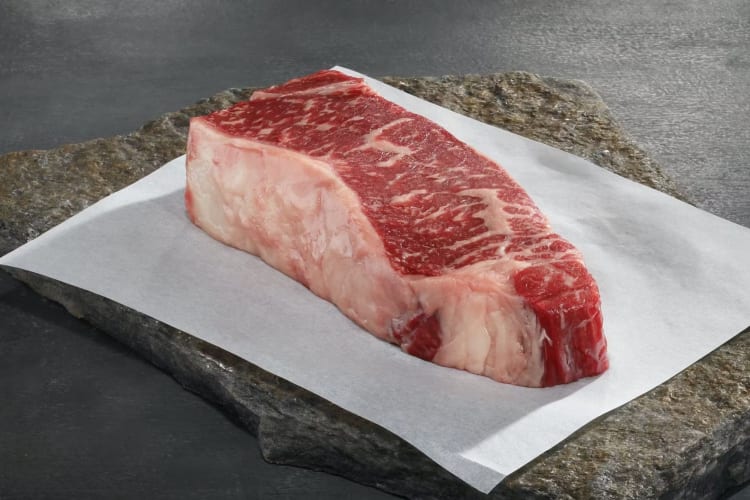 Steaks Under $50
20. Australian Carrara Wagyu Filet Tips
Filet mignon tips come from the "tail" end of the tenderloin, but they are just as succulent and savory as center-cut filet mignon. Eight-ounce Australian Cararra wagyu filet tips from Holy Grail Steak Co. score an M8-9 on the Australian fat marbling scale, roughly equivalent to a Japanese A5 BMS 8-9 wagyu. Pan-seared, skewered and grilled or served with a light, herbaceous sauce, these Carrara wagyu filet tips make delicious gifts for steak lovers.
Gift a Local Cooking Class Now
Give your favorite gourmand the gift of world-class cooking lessons with the best chefs in their city.
21. Upper Prime Black Angus Filet
Steaks are graded differently depending on where the meat is grown and harvested. In the United States, "Upper Prime" refers to steaks that score in the upper echelon of USDA prime beef, the highest category below wagyu. If you need gifts for steak lovers who prefer a more meaty, traditional bite, upper prime USDA black Angus filets from Holy Grail Steak Co. offer good fat-marbling roughly equivalent to Japanese A4 wagyu.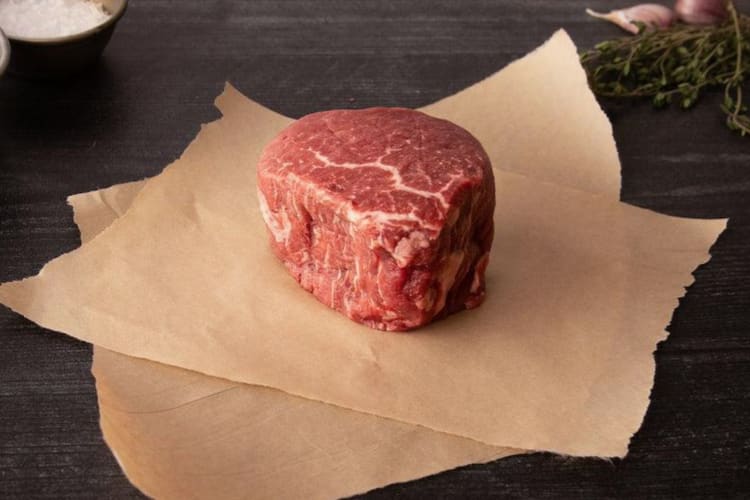 22. Grass-Fed Bone-in Ribeye Steak
A 16-ounce bone-in ribeye steak from Crowd Cow comes from pasture-raised and 100% grass-fed cows, and is the perfect gift for steak lovers who really know their meats. Any dedicated steak enthusiast knows the theory that cooking steak bone-in allows the flavors of the marrow to melt with the meat, giving it a more buttery and intense flavor. Send your recipient this gift for steak lovers and let them put that theory to the test!
23. Grass-Fed Cowboy Cut Ribeye
The cowboy cut ribeye steak from Crowd Cow weighs in at a whopping 1.25 pounds, a perfect gift for steak lovers who dare to go big or go home. The glorious cowboy steak is a thick, bone-in, 100% grass-fed ribeye with superior marbling and a hand-cut frenched bone. This hefty gift for steak lovers is large enough to share between two people — or savor all to oneself.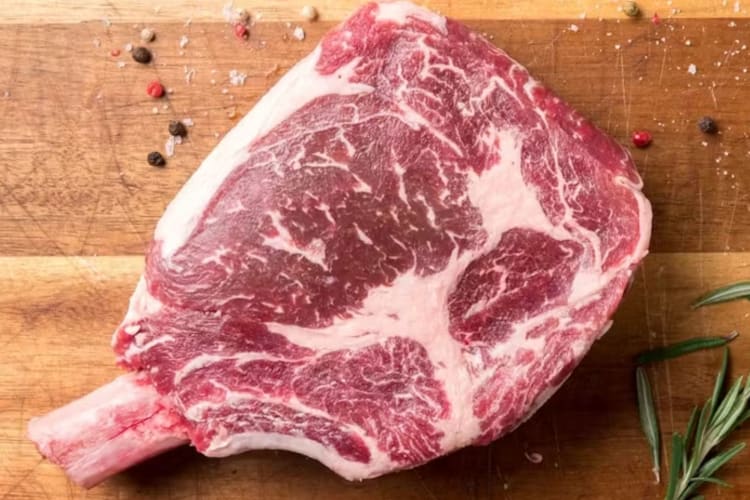 Steaks Under $30
24. Tender Top Sirloin Steak
The sirloin steak is one of the most classic cuts of meat, and sirloin steaks are great gifts for steak lovers at any occasion. The 8-ounce top sirloin steak from Crowd Cow features a tender, juicy flavor profile ideal for a barbecue or classy steak dinner served with fresh herbs and homestyle potatoes. Because it comes from 100% grass-fed and pasture-raised cattle, this gift for steak lovers is also leaner and more sustainable than some other popular steak options.
25. Carrot-Finished Prestige Sirloin
Another classic from Santa Carota Beef, the carrot-finished prestige sirloin steak from Holy Grail Steak Co. is cut from the sirloin primal, near the hips of the cow. An excellent gift for steak lovers, this lean and juicy cut of meat is ideal for serving in classic roasts and soaking up buttery sauces. Plus, Santa Carota beef is high in B12 and beta carotene and low in saturated fats.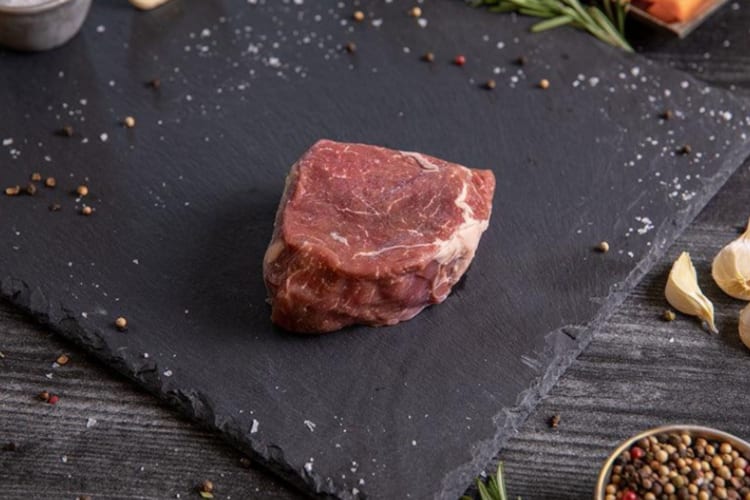 26. Classic New York Strip Steak
Shopping for gifts for steak lovers but unsure how they like their meat cooked? The 12-ounce New York strip steak from Crowd Cow is a versatile cut of beef that tastes delicious whether pan-fried, grilled or roasted. While this is a leaner cut, it still features good fat-marbling, giving this steak a robust and intense meaty flavor perfect for a hearty meal.
Gift an Online Cooking Class Now
Give your favorite gourmand the gift of world-class cooking lessons right from the comfort of their own kitchen.
27. Juicy Filet Mignon
When you need gifts for steak lovers to commemorate a special occasion, you can never go wrong with tender filet mignons. Sourced from 100% grass-fed beef, an 8-ounce filet mignon from Crowd Cow is an excellent choice for anniversaries, birthdays or any time your steak lover deserves to feel spoiled.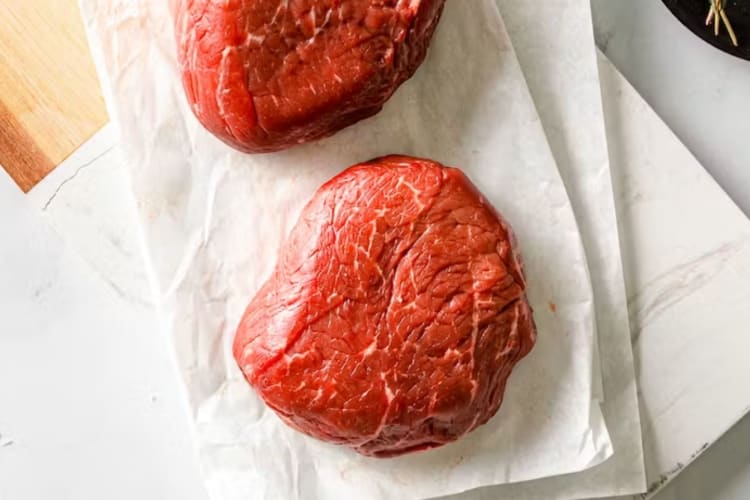 28. Pasture-Raised Denver Steak
The Denver steak, also known as a boneless short rib, is a cut of beef that comes from one of the most tender parts of the chuck. Unlike some other cuts of chuck, the Denver steak muscle isn't worked much, helping it retain an exceptionally tender and juicy texture. Because its name is relatively "new" to the scene, an 8-ounce Denver steak from Crowd Cow makes an excellent gift for steak lovers who have tried almost everything!
Steak Gift Boxes
29. The Pinnacle A5 Wagyu Flight
The Japanese A5 wagyu pinnacle flight from Holy Grail Steak Co. is like the golden ticket to taste bud heaven when it comes to gifts for steak lovers. This luxurious flight features three of the best steaks in the world, including a 14-ounce A5 Kobe wagyu strip steak, a 14-ounce Sendai A5 wagyu strip steak and a 14-ounce Ogata Farm A5 Maesawa strip steak. All three of these steaks are incredibly rare and indescribably delicious, offering a true once-in-a-lifetime experience for any steak lover.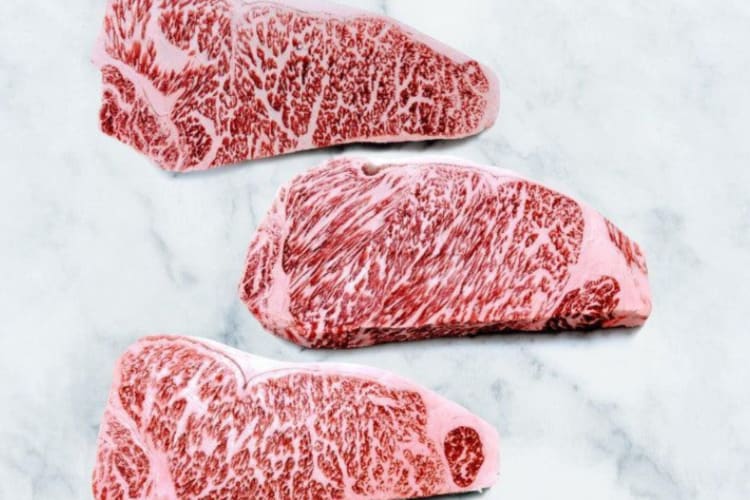 30. Premier Steak Trio Box
Do you know a steak lover who deserves to have it all? The premier steaks box from ButcherBox comes with three unique and tasty cuts: a 1.875-pound tomahawk steak, a 40-ounce porterhouse and a 14-ounce dry-aged bone-in strip. With three tender steaks to choose from, this gift for steak lovers can be enjoyed as a flight or savored in three separate meals!
31. California Reserve Ribeye Steak Gift Box
When you need gifts for steak lovers who have a world traveler's taste buds, send them the California Reserve ribeye steaks gift box from Flannery Beef, a famous family-owned butcher shop located in San Francisco, California. Meats from Flannery Beef are served at some of the best Michelin-starred restaurants in the nation and have been featured in a handful of popular food and wine publications. Two prime, all-natural, 28-day dry-aged ribeyes are sure to please the pickiest palates.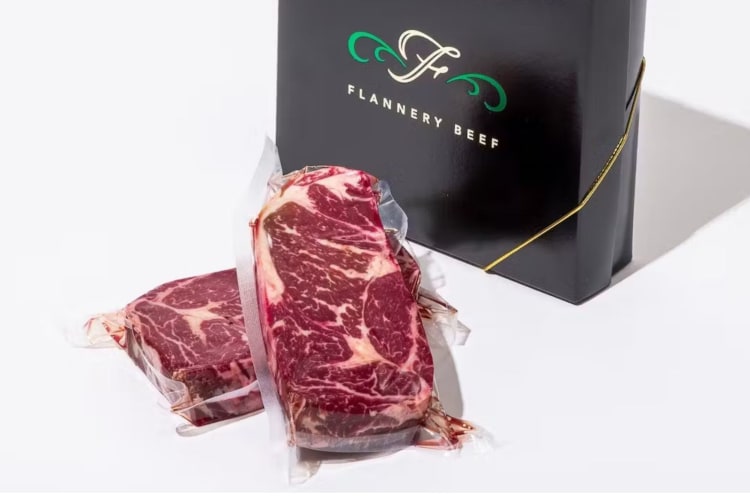 32. Best of the Best Beef Bundle
Finding the best gifts for meat lovers can be a challenge, but with the Best of Beef box from Crowd Cow, your recipient is sure to receive something they'll love. This bundle box comes with over five pounds of meat in total, including two New York strip steaks, one ribeye, two tenderloin steaks and two pounds of fresh ground beef.
Gift a Private Chef Experience Now
Treat someone special to gourmet fine dining at home. Gift a private chef experience starting at $59/person.
33. Butcher's Feast Steak Dinner for Four
COTE Korean Steakhouse, located in New York City, is another world-famous restaurant known for serving unforgettably delicious steaks, ribs and more. The Original Butcher's Feast for Four is a gift for steak lovers that will give them a generous taste of the best items on COTE's menu, including one USDA prime hanger steak, one USDA prime dry-aged ribeye, one American wagyu steak and a sweet and savory prime marinated galbi short rib, plus dry-aged beef fat for additional flavor. The luxurious dinner for four also comes with house-pickled vegetables, lettuce, Gastronome's Salt and COTE's famous ssamjang sauce.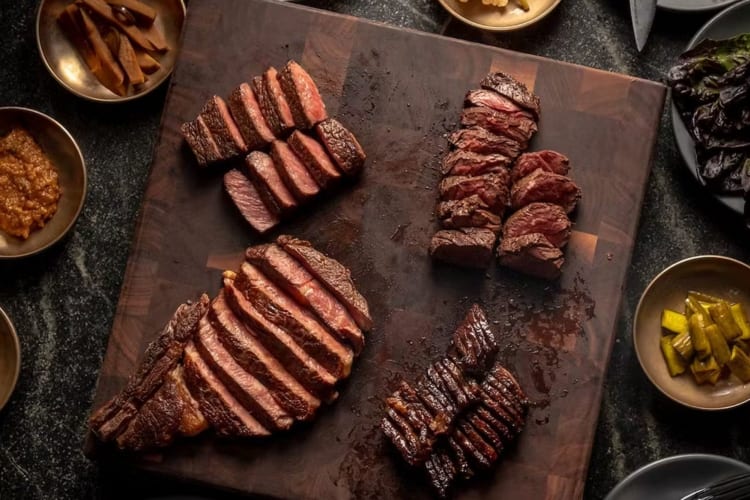 34. Old Homestead Steak Dinner Kit for Two
Since 1868, Old Homestead Steakhouse has made a name for itself as one of the most famous steakhouses in New York City and the world. If you need gifts for steak lovers on an anniversary or romantic occasion, Old Homestead's steak dinner kit for two is sure to set their hearts aflutter. The dinner includes one prime dry-aged sirloin, one prime super filet mignon, crispy sherry potato cakes, creamed spinach and a bottle of famous Old Homestead steak sauce.
Other Superb Steak Gifts
35. Classic Condiments and Rubs Set
Need gifts for steak lovers who love to cook up their own meats? With the St. Elmo Steakhouse gift set,you can bring the authentic Indianapolis experience to their dining room table! This gift set comes with St. Elmo's world-famous steak sauce, horseradish, shrimp cocktail sauce and seasoning rub — perfect for hosting the ultimate St. Elmo's-inspired meal or full-course at-home steak dinners time and time again.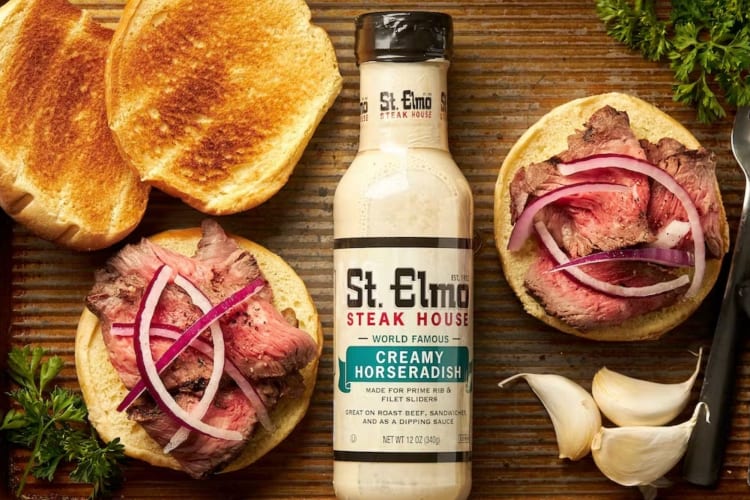 36. Keens Steakhouse Famous Steak Sauce
Founded in 1885, Keens Steakhouse is one of New York's most famous historic restaurants — and they've kept their reputation going for a good reason. This restaurant doesn't just serve up some of the world's most incredible dinners; people also come from miles around to get a taste of the Steak sauce from Keens Steakhouse. This sauce is one of the best gifts for steak lovers that they can use to take everyday steaks up to the height of luxury.
37. Smart Dry-Aging Refrigerator
Gifts for steak lovers don't always have to be edible; for the tech-savvy meat enthusiast in your life, there's the Steak Locker Home Edition 23-Inch 5.23 Cu. Ft Smart Dry Aging Refrigerator from BBQ Guys. With app compatibility, a real-time digital monitor, germicidal UV lights and more, this smart refrigerator will allow your steak lover to perfectly dry-age their own meats so they can come up with their own ingenious steak recipes.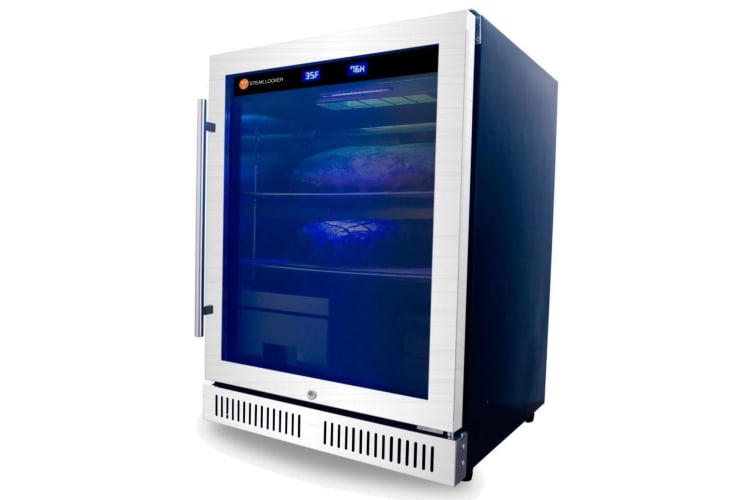 Understanding the wide world of steaks is no small feat, but if you're lucky enough to have a steak lover in your life, you know how amazing it can be to watch someone explore their culinary passions. Whether they've traveled the world for a taste of wagyu or they're testing their taste buds with a Denver steak, any one of these gifts for steak lovers is sure to amuse and delight.
For even more ways to explore your favorite foods, check out other experiences happening on Cozymeal.