10 Most Famous Pizza Styles From Around the World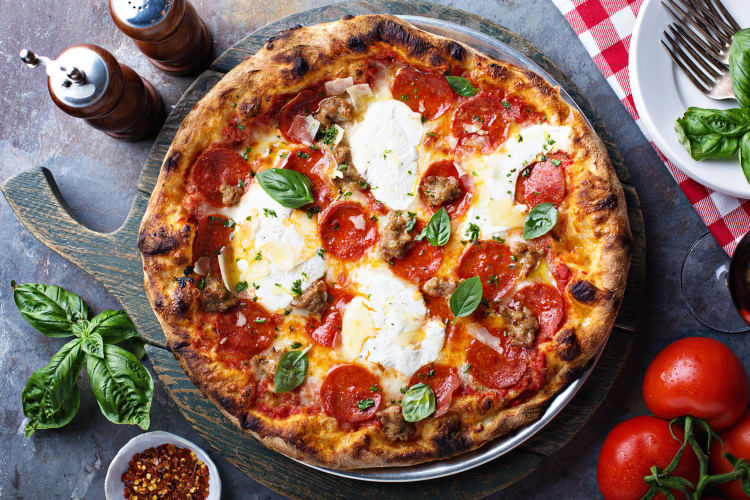 Everyone loves a simple slice of cheese pizza, but the culinary world offers a plethora of famous pizzas worth trying. So, how do you broaden your pizza horizons? If you want to expand your pizza knowledge, you can start by exploring some of the most famous pizza styles.
Popular pizzas range from thin, crisp flatbreads to indulgent, savory deep-dish pies. As for toppings, only your imagination is the limit when it comes to pizza innovations. If you're a pizza fan, you may have already begun to investigate artisanal pizzas by taking cooking classes near you or signing up for online pizza making classes. However, tasting authentic dishes is the best way to learn more about pizza culture. Here are the famous pizza styles that every foodie should try at least once.
Jump to Section
Book a Gourmet Cooking Class Now
Kick-start your culinary confidence with help from a world-class chef. See what's cooking in your city today.
10 Most Famous Pizza Styles From Around the World
1. Neapolitan Pizza
Begin your pizza education with the pie that started it all: the Neapolitan. Modern pizza originated in Naples, Italy, where working-class Neapolitans frequently ate flatbread for lunch. People in Italy and throughout the world still make this famous pizza today.
Although Neapolitan pizza looks quite a bit like mainstream Italian-American pizza, it has some key distinguishing characteristics. True Neapolitan pizza features special dough made with Neapolitan flour. A Neapolitan pizza has a thick, bready crust and a slightly soft texture in the center. The crust should be slightly burnt on the edges. Traditional toppings include fresh tomato sauce and slices of mozzarella cheese.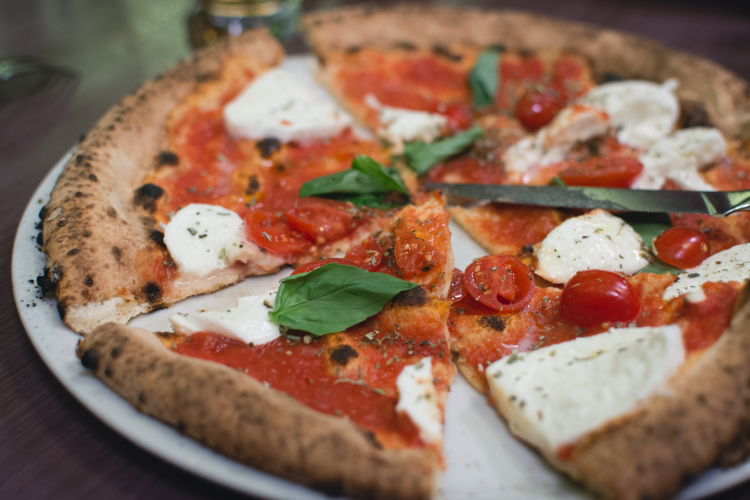 2. New York Style Pizza
When most Americans think of famous pizza, they imagine New York style pizza. Developed by Italian immigrants in New York during the 20th century, the New York style pizza is in close dialogue with its Neapolitan origins.
New York style pizza is primarily designed to be served by the slice, an innovation that began when pizzeria customers couldn't afford an entire pizza. Fans of this famous pizza style love the thin, stretchy crust — a result of chefs hand-tossing the dough to create massive pies that can be sliced into many servings. At pizza making classes in New York, tossing and stretching pizza dough is an essential skill.
Authentic New York pizza has a relatively thin layer of tomato sauce and a generous helping of grated mozzarella cheese. Pepperoni is also a popular topping for modern New York pizza. Be sure to prepare your pizza slice with red pepper flakes and oregano before taking a bite.
Keep in mind that if you go on any NYC pizza tours, you'll find that pizza styles vary from borough to borough in New York City. For example, the best pizza in Brooklyn could be slightly different from the best pizza in Manhattan.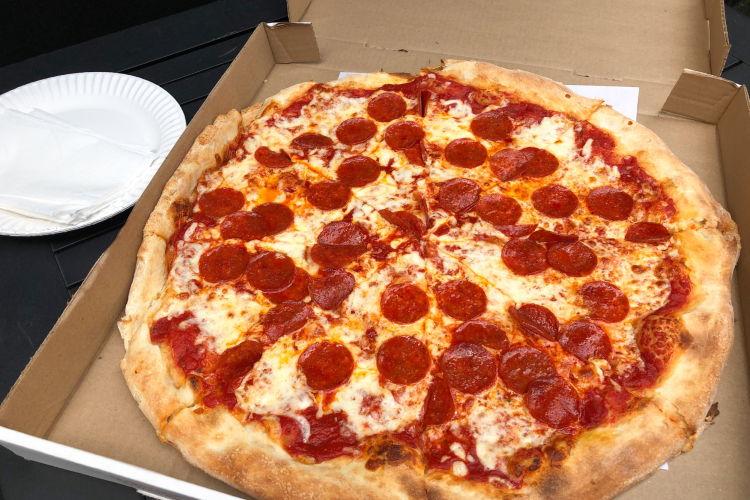 3. Chicago Deep-Dish Pizza
Chicago-style pizza, or deep-dish pizza, is the classic counterpart to New York pizza. It's not entirely certain who invented the deep-dish pizza — it may have been produced by Pizzeria Uno in the 1940s, or possibly by other pizzerias as early as the 1920s.
Deep-dish pizza is much more like a pie than a flatbread. Chefs prepare the dough to have tall crusts on the side and a wide, deep space in the center. The pizza dough is filled with cheese and topped with a layer of sauce. Popular toppings for this famous pizza include sausage, onions and pepperoni.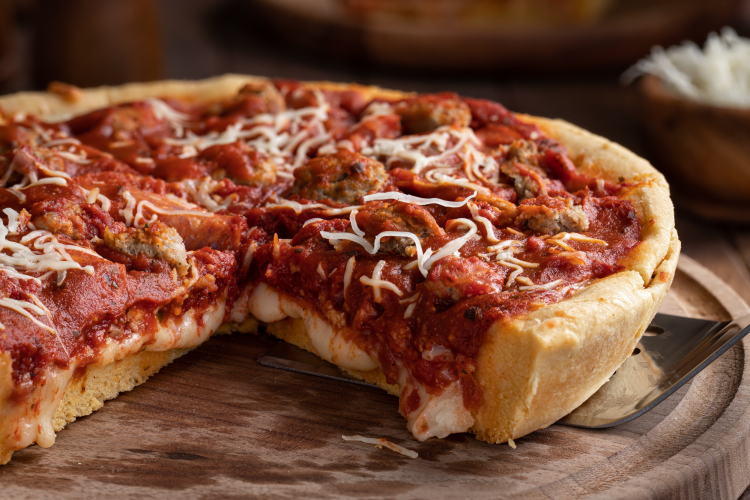 Book a Gourmet Cooking Class Now
Kick-start your culinary confidence with help from a world-class chef. See what's cooking in your city today.
4. Margherita Pizza
Margherita pizza, or pizza Margherita in Italian, is a famous pizza style from Naples, Italy. While a Neapolitan pizza has a special crust and basic toppings, Margherita pizza has a specific topping combination that appears frequently on Italian pizza menus.
Invented in 1889, Margherita pizza was named after the queen of Italy and celebrated Italian unification. Margherita pizza honors Italy by incorporating the colors of the Italian flag: red tomatoes, white mozzarella cheese and green basil leaves.
The colors make it easy to differentiate this famous pizza from mainstream cheese pizza. While a regular cheese pizza will be covered entirely with white or yellow cheese, Margherita pizza has a spotted pattern with alternating patches of white cheese and red tomatoes, as well as a smattering of green from the basil.
Many restaurants will call a pizza a Margherita pizza because it has tomatoes and mozzarella, but if you want an authentic Margherita pizza you should look for pizzerias that use real Neapolitan pizza dough.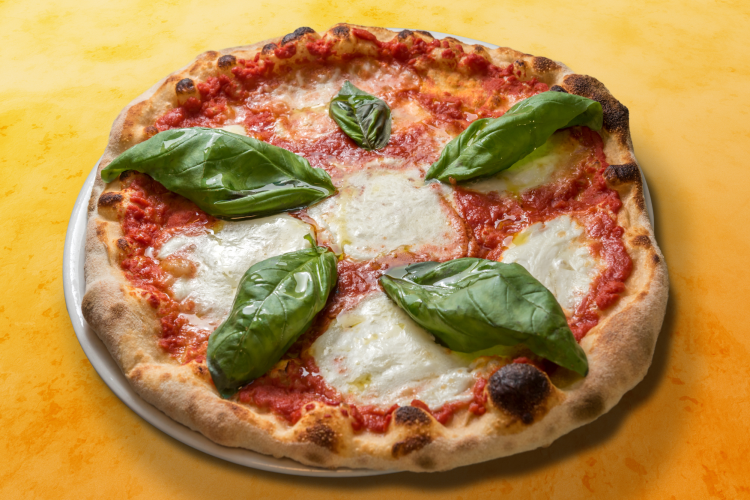 5. Sicilian Pizza
Sicilian pizza is another famous pizza style that often gets overlooked by pizza novices. This Sicilian-American dish comes from a Sicilian food called sfinciuni, a focaccia-style bread topped with tomato sauce, onions and sometimes anchovies.
Sicilian immigrants introduced sfinciuni to American cuisine, thus creating Sicilian pizza. Sicilian pizza is shaped like a rectangle or square and has a thick crust that's crispy on the outside and fluffy on the inside. This famous pizza also has generous layers of tomato sauce and cheese.
You'll regularly come across Sicilian pizza in regions with high Sicilian-American populations, particularly in the Northeast. Sicilian pizza is such a famous pizza in some communities that it's considered the default style. For example, people from Massachusetts or New Hampshire might call Sicilian pizza "beach pizza" due to its popularity in coastal towns.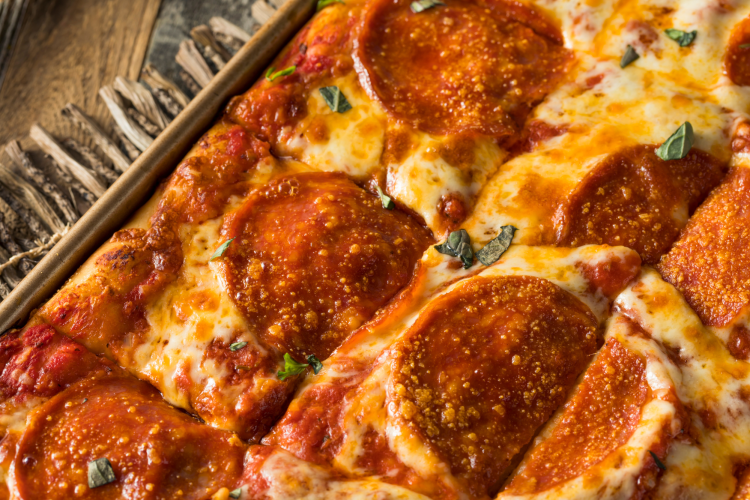 6. Hawaiian Pizza
Hawaiian pizza may be one of the most controversial and famous pizza styles. The iconic topping combination of pineapple and ham usually either delights or disgusts diners.
Contrary to a popular misconception, Hawaiian pizza was invented in Canada, not Hawaii. A Canadian chef took inspiration from other sweet and savory dishes to create the pineapple and ham combination. Hawaiian pizza has gained popularity over time and is now a typical menu item at many pizzerias.
The toppings may sound off-putting to some, but the natural sweetness of the pineapple pairs excellently with salty ham. Some renditions of Hawaiian pizza swap out the ham for bacon, while others use pulled pork and barbecue sauce for a more Southern-style dish.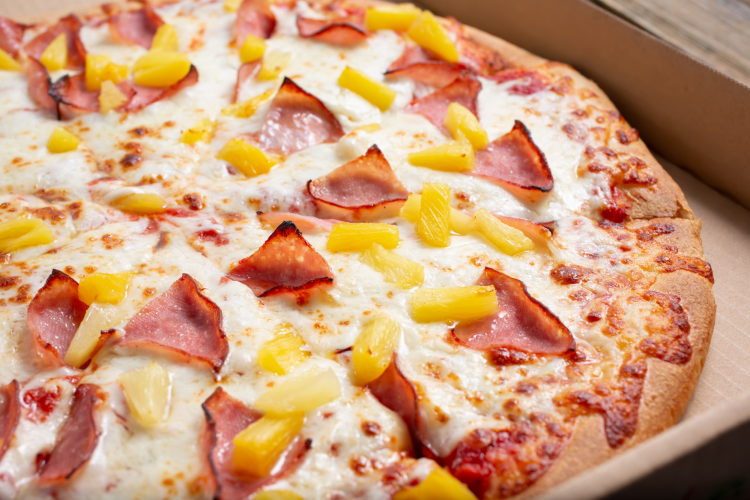 Gourmet Cooking Classes Near You
Take your culinary skills to new levels with guidance from five-star chefs.
7. California Pizza
California pizza is a slightly less famous pizza than other iconic types of pizza, but pizza fans know that California offers its own special twist. California-style pizza is a relatively newer pizza category, mostly developing in the 1980s from celebrity chefs such as Wolfgang Puck.
California pizza typically has a New York-style crust, although the fluffiness of some California-style pizzas leans closer to a Neapolitan dough. Like Neapolitan pizzas, California pizzas are cooked inside a wood-burning stove, producing a charred, smoky finish.
This famous pizza gets attention for unique, artisanal toppings. If you take pizza making classes in Los Angeles, for instance, you'll discover that most of the emphasis is on preparing extensive toppings, rather than the dough or sauce.
Chefs take inspiration from a wide range of cuisine and often use fresh, local ingredients. Many California-style pizzas will have fancy toppings such as goat cheese, prosciutto or scallops. California pizzas are traditionally single-serving pizzas, and with so many decadent toppings, they're perfect for a big lunch or dinner.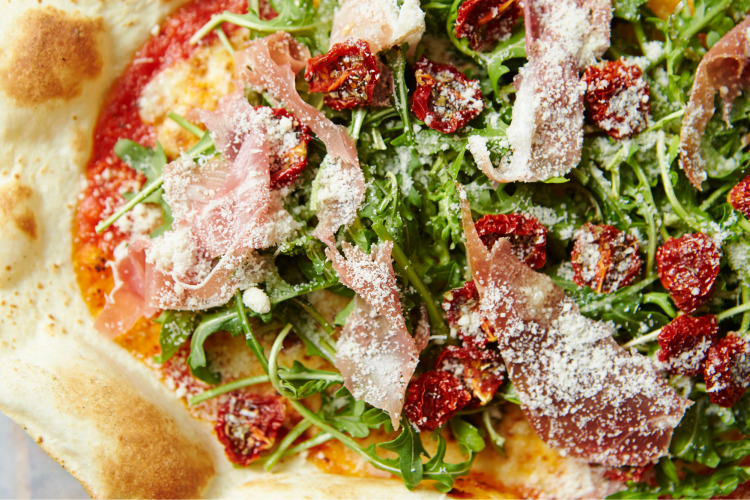 8. Greek Pizza
Greek pizza, a famous pizza style in New England, is somewhat similar to Sicilian pizza in terms of texture but has a distinctive preparation process. As the name suggests, Greek-style pizza originated with Greek immigrants in New England. Greek pizza is quite popular in the region and some of the best pizza in Boston is Greek style.
Unlike other famous pizza styles, which are placed directly into a wood-burning stove, Greek pizza is made in a metal pan. This technique produces a light and crisp crust with no burnt sections. Greek pizza is also extremely oily, with olive oil coating both the baking pan and the dough. Even the tomato sauce contains olive oil.
Greek pizza can have all types of toppings, but the most popular pizza toppings for this famous pizza style usually relate to Greek foods, such as feta cheese and black olives.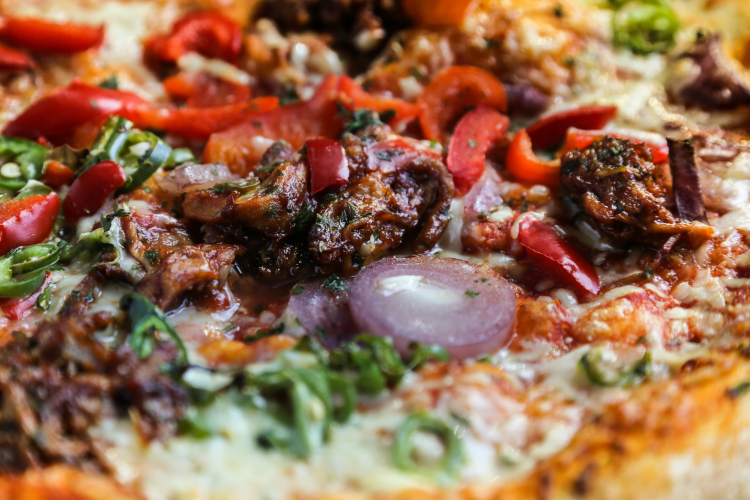 9. Detroit Style Pizza
Detroit pizza is a beloved famous pizza known for its impressive height and intense amount of cheese and toppings. Much like Sicilian pizza, Detroit-style pizza originated with Sicilian immigrants experimenting with a new variation of sfinciuni, or Sicilian flatbread.
For Detroit-style pizza, the dough and other ingredients are placed inside a metal pan with high sides, similar to a rectangular bread pan. The crust is chewy and extremely crispy. Detroit-style pizza is filled entirely with cheese, typically Wisconsin cheese. This famous pizza also has pepperoni, traditionally placed before the cheese, directly on the crust.
To match the indulgent nature of the big block of melted cheese, Detroit pizzas often have a ton of meat and veggie toppings. Tomato sauce plays a minimal role in this cheesy treat, with only a few drizzles added to the top as a finishing touch.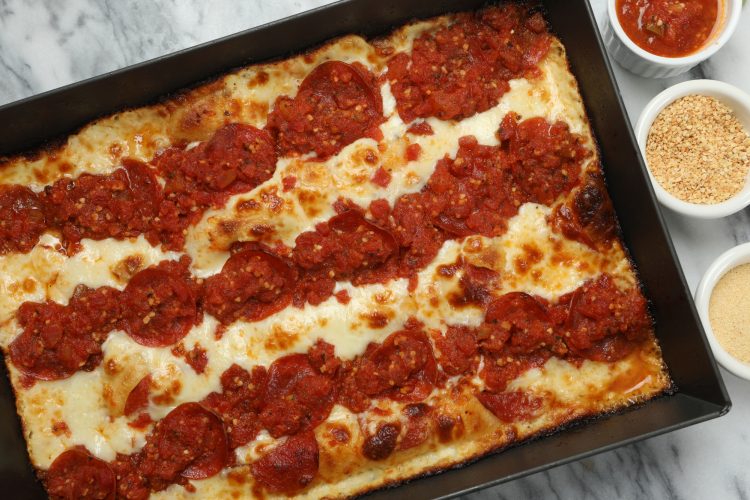 Book a Local Food Tour Now
Explore your city's best bites, esteemed eateries and hidden gems with a top-rated tour guide.
10. Tavern Style Pizza
Many pizza experts argue that all legitimate Chicago pizza tours should include tavern pizza, the beloved pizza style for Chicago locals. This famous pizza is the inverse of deep-dish pizza: Tavern style pizza has an extra thin flatbread crust, almost like a cracker.
Chefs achieve the abnormally thin pizza crust by rolling the dough out into a flat sheet, rather than tossing it or stretching the dough by hand. Tavern pizza usually has the most popular pizza toppings we all recognize, such as cheese, pepperoni and onions.
Old-school tavern pizza gets cut into strange-looking uneven square slices. Originally served in Chicago bars to a working-class crowd, tavern pizza's square slices are a bit of a mystery. Most people believe the unusual shape is a product of convenience — customers would share a pizza with a round of drinks, quickly cutting it up into pieces that would fit onto bar napkins.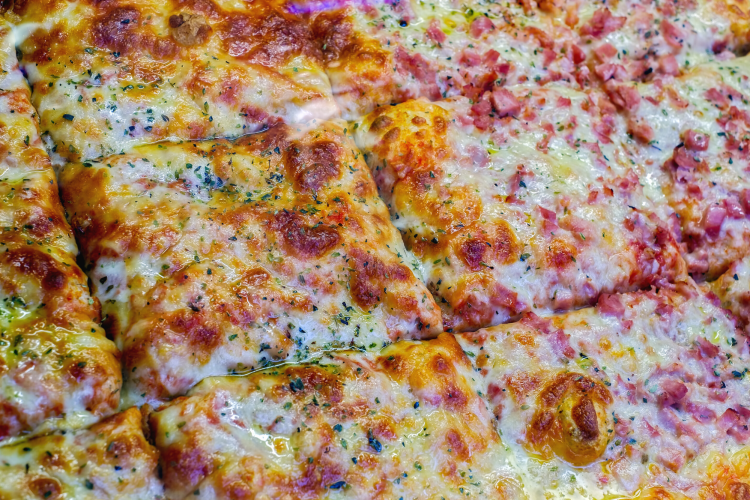 Our Favorite Pizza Making Tools
Ready to take homemade pizza night to the next level? Shop our favorite pizza making tools for every cook's kitchen:

Join 200,000+ Culinary Enthusiasts
Exclusive deals, recipes, cookbooks, and our best tips for home cooks — free and straight to your inbox. PLUS: 500 Rewards Points.
As these famous pizzas demonstrate, pizza is so much more than greasy cheese on a generic flatbread. For hundreds of years, people have been inventing new ways to enjoy this savory treat. With so many delicious types of pizza out there, everyone can discover the slice they love most.
For even more fun ways to explore your favorite foods, check out other experiences happening on Cozymeal.