9 Best Milk Frothers for Your Home Coffee Bar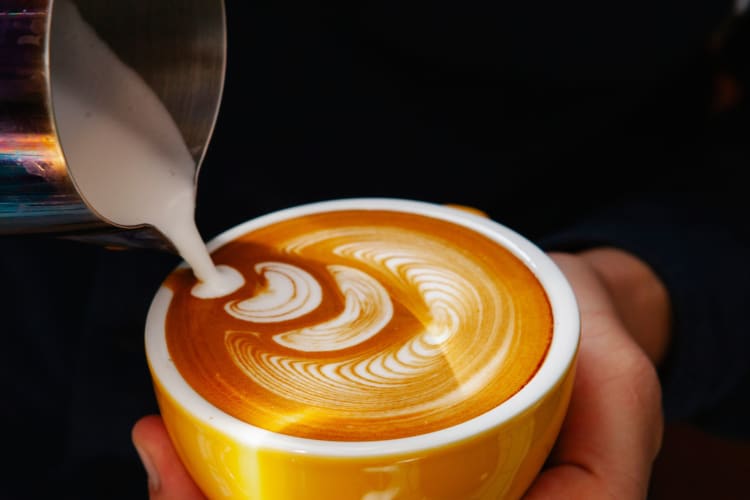 Our editorial team recommends the best products through independent research, selection and careful review. If you make a purchase through one of our affiliate links, we may earn a commission. Prices are subject to change.
Choosing the best milk frother for your home coffee bar can enhance your experience of hot and cold foamy beverages, ranging from rich lattes to ultra-creamy milkshakes. The simple addition of a quality milk frother turns your regular brew into a luxurious barista-style treat as it creates frothy microbubbles to achieve the signature texture and taste of a café drink. Whether handheld, manual or electric, these small kitchen appliances will make a big difference in your coffee routine.
What is the best milk frother for your kitchen? When selecting the best milk frother to meet your preferences and needs, consider the quality of foam, versatility of the appliance and, of course, its design. Is it easy to use and clean? Does it work with different types of milks? Does it need a stovetop or outlet? With the right milk frother, you can elevate a variety of hot or cold beverages. Find the best milk frother for you or your favorite coffee aficionado with these nine best milk frothers for your home coffee bar.
Jump to Section
1. Best Electric Milk Frother: Zwilling Enfinigy Milk Frother
One of the easiest ways to create your favorite coffee shop classics at home is with the Zwilling Enfinigy Milk Frother. This compact appliance aerates hot or cold dairy milk or plant-based alternatives into creamy foam with the touch of a button. This best milk frother includes attachments for stirring and frothing to help you customize your perfect café-style beverage. The sleek design and integrated features allow for convenient storage, and the device automatically turns off when finished for ease of mind.
Why This Product Is Cozymeal-Approved
We love the Zwilling Enfinigy Milk Frother for its modern, stylish and innovative design. Plus, it's easy to clean.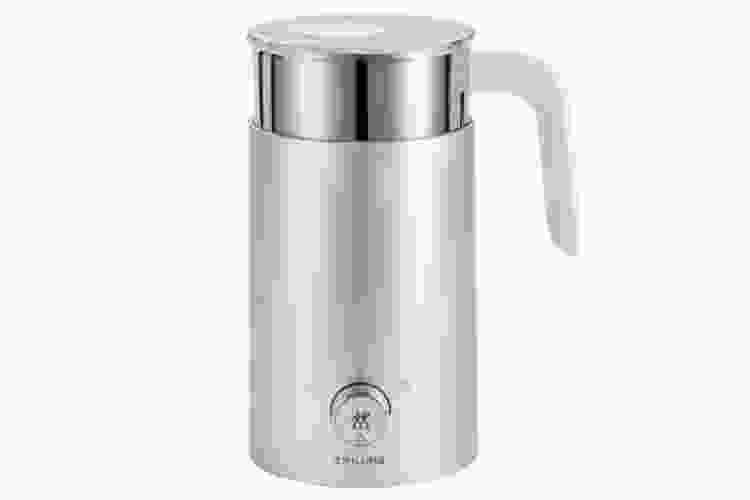 Shop Like a Chef in the Cozymeal Shop

Update your kitchen with top-rated cookware. Beloved brands, easy returns and guaranteed price-matching.

Shop Now
2. Best Handheld Milk Frother: Aerolatte Milk Frother With Stand
The battery-operated Aerolatte Milk Frother With Stand is simple, compact and easy to store with a convenient matching stand. This sleek, handheld milk frother is also lightweight and practically effortless to clean. Create foamy hot or cold beverages by adding milk to a deep container, then turn the frother on and plunge the whisk end into the milk with an up and down motion. This best milk frother will have you easily transforming your usual morning coffee into luxurious lattes and more. It makes a great gift for coffee lovers, too.
Why This Product Is Cozymeal-Approved
If you're low on space, this handheld frother is perfect. We love how simple it is to use; all you need are two AA batteries!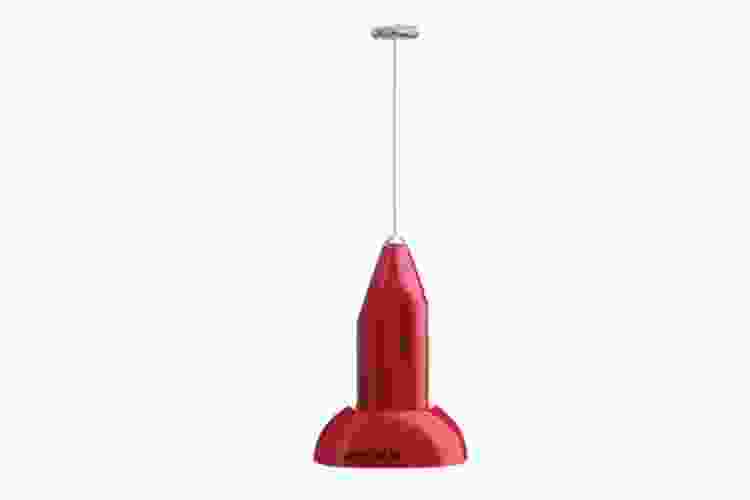 3. Best Manual Milk Frother: Fino Kitchen Milk Frother
The classic Fino Kitchen Milk Frother combines simplicity and style in this manual appliance for making foamy, coffeehouse-quality beverages in your own kitchen. With no need for batteries or electricity, this is the best frother for bringing along on camping trips or for those who prefer the hands-on approach to crafting their rich morning lattes.
The attractive tempered glass structure is held in place by a non-skid base that makes using this manual milk frother quick and easy. Measure your favorite type of milk into the carafe and secure the lid before pumping the plunger until reaching the desired consistency of foam. Pour the un-frothed milk into your coffee or espresso and finish by gently pouring the foam on top for an easy, creamy, café-style beverage.
Why This Product Is Cozymeal-Approved
We love that the Fino Kitchen Milk Frother doesn't need an external power source to create café-quality foam. All it takes is a few pumps of the handle.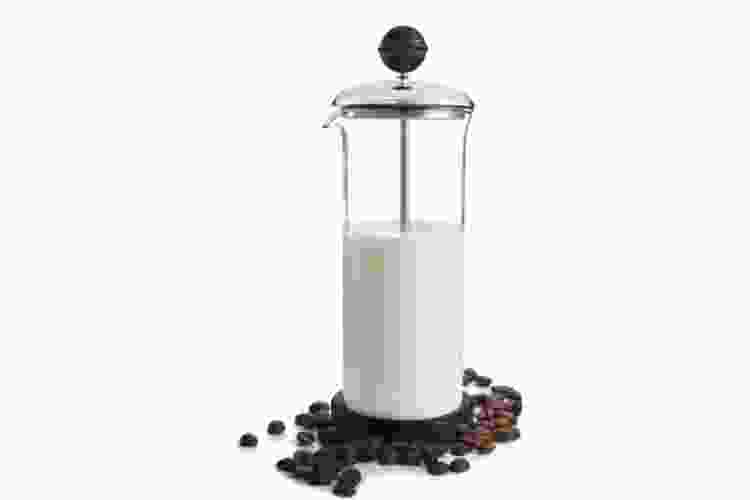 4. Best Milk Frother for Making Coffee Art: Fino Stainless Steel Frothing Pitcher
Elevate your morning latte with signature works of coffee art with the Fino Stainless Steel Frothing Pitcher. Durable enough for daily use, you can perfect a variety of latte art patterns and designs in hot or cold beverages with the easy-to-control, no-drip spout of this stainless steel pitcher. Treat yourself and impress your friends with beautiful works of coffee art with the help of this best milk frother accessory. You can even get creative decorating egg nog, hot chocolate, chai lattes and more with festive foam finishes.
Why This Product Is Cozymeal-Approved
Channel your inner barista with this one! This fun addition to your home coffee bar is a unique way to elevate your coffee-drinking experience.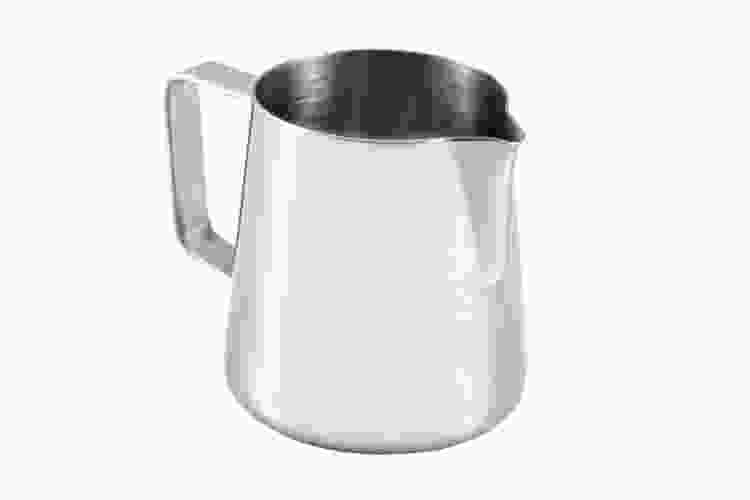 Gift Cookware Loved by Chefs
Shop gourmet gifts for your favorite foodie. Chef-beloved brands. Easy returns. Price matching guaranteed.
5. Best Stovetop Milk Frother: Bellman Stovetop Steamer
The barista-style Bellman Stovetop Steamer makes some of the best microfoam for velvety lattes, cappuccinos and more without taking the space of a full espresso machine. This portable steamer offers impressive steaming power for its size and is compatible with electric and gas stovetops. Using heat from the burner to build pressure in a chamber filled with water, the steam is released directly into a cup of milk to create smooth, creamy microbubbles for a café-quality beverage experience. For the quality and versatility alone, this is one of the best small kitchen appliances for anyone in love with lattes, cappuccinos and the like.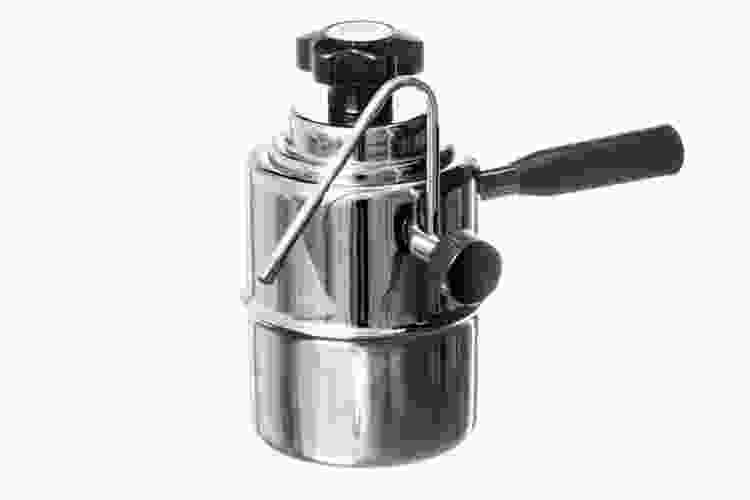 6. Best Milk Frother Upgrade: Breville Milk Café Electric Frother
The Breville Milk Café Electric Frother offers unparalleled control, making it the best milk frother upgrade for even the most discerning coffee drinkers. In addition to latte and cappuccino frothing discs, this thoughtfully designed appliance features temperature controls ranging from gently warmed to scalding hot and automatically turns off when the preferred temperature is reached. With a large 25-ounce capacity and designed for easy clean-up, you can happily prepare frothy beverages for the whole family.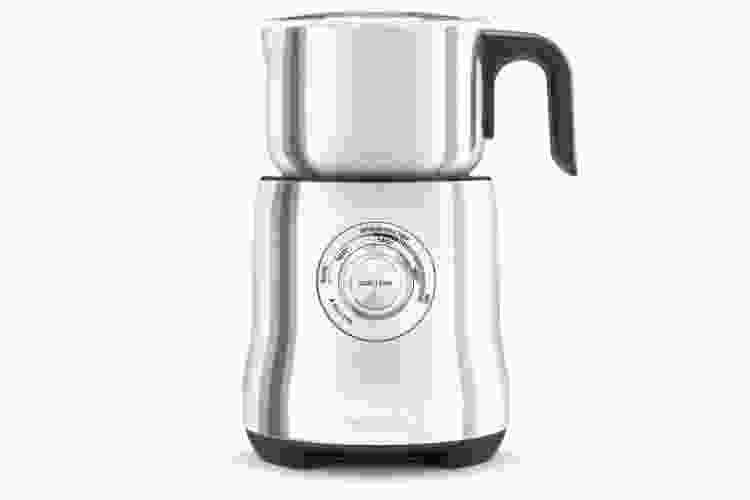 7. Best Milk Frother for Travel: Golde Superwhisk
The USB-rechargeable Golde Superwhisk is the perfect travel accessory for coffee lovers who are always on the go. This compact device whisks up everything from foamy lattes to frothy matcha with convenience in mind. With this best milk frother, you won't have to worry about running out of batteries, and the sturdy cap protects the whisk whether it's tucked in a drawer, suitcase or backpack. Two speed options help you control the texture of the foam, and the detachable whisk makes clean-up a breeze.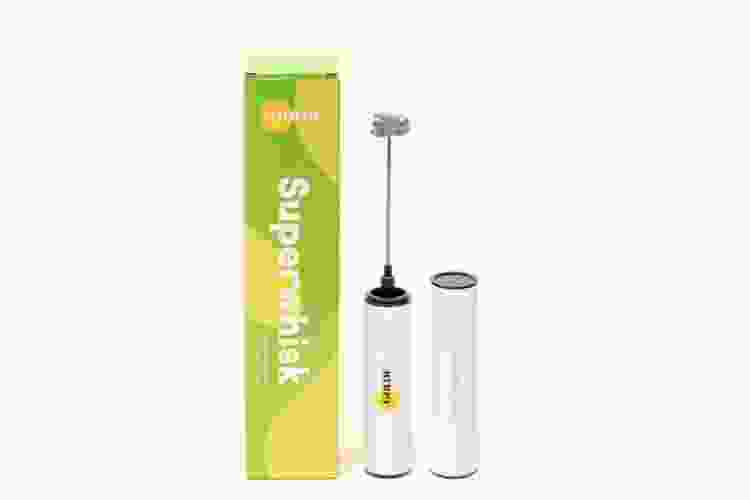 8. Best Automatic Milk Frother: Nespresso Aeroccino4 Milk Frother
For those who prefer a hands-off experience with their morning brew, the Nespresso Aeroccino4 Milk Frother offers plenty of choices to craft your ideal foamy beverage with little oversight. With four settings to choose from, this versatile machine easily prepares rich cappuccinos and creamy lattes as well as cold foam and hot milk. The single whisk and dishwasher-safe features make this one of the best milk frothers for convenience and ease of use.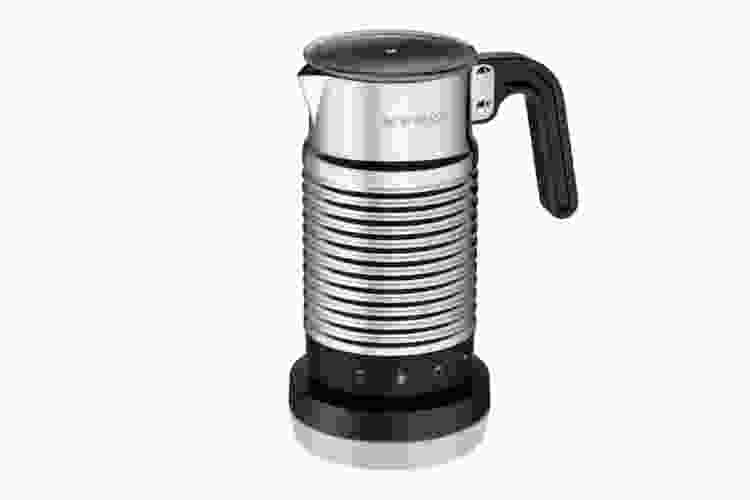 Shop Chef-Approved Cookware
Beloved brands. Easy returns. Price-match guarantee. Kick your kitchen confidence up a notch with cookware loved by chefs.
9. Best High-End Milk Frother: Smeg Milk Frother
Combining modern features with retro style, the award-winning Smeg Milk Frother elevates hot and cold beverages from lattes and hot chocolate to milkshakes and smoothies. In addition to a manual function, this best milk frother offers six pre-set programs to easily customize your beverage. Available in a variety of cheerful color options, the Smeg frother is made of dishwasher-safe stainless steel as well as an innovative recycled material for the lid. The ergonomic handle and drip-free carafe allow excellent control for creating delightful latte art with fresh, creamy foam.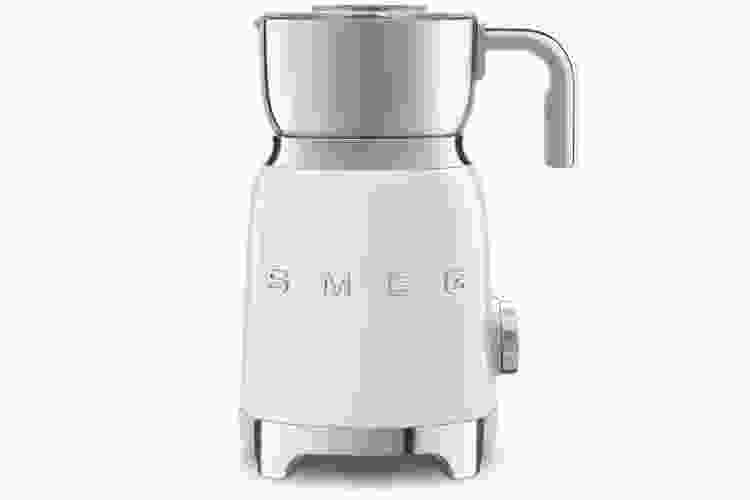 Join 200,000+ Culinary Enthusiasts
Exclusive deals, recipes, cookbooks, and our best tips for home cooks — free and straight to your inbox. PLUS: 500 Rewards Points.
From the best handheld milk frother for those on the go to innovative, high-end machines that create just the right amount of bubbles, selecting the best milk frother for your home coffee bar allows you to easily craft luxurious lattes, rich hot chocolate and so much more. Whether you prefer simplicity or love to finesse your beverage with foamy art, adding these best milk frothers to your collection opens up a world of possibilities for upgrading your favorite coffees or teas.
For even more ways to elevate your kitchen, check out other chef-approved appliances in the Cozymeal Shop.