5 Best Kitchen Scales for 2023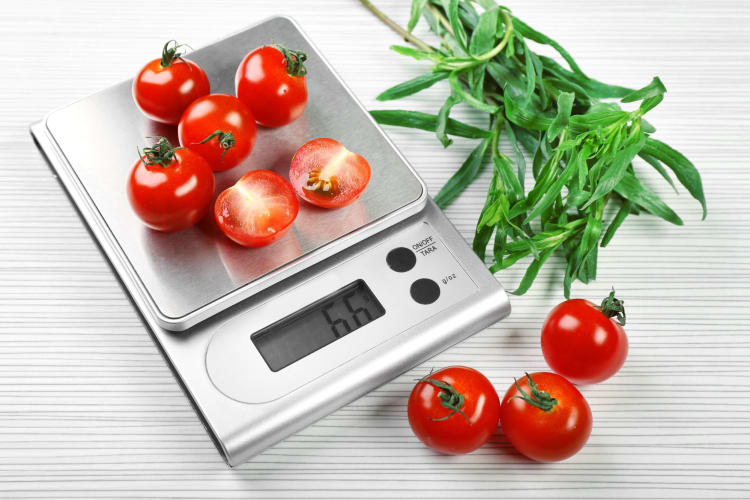 Our editorial team recommends the best products through independent research, selection and careful review. If you make a purchase through one of our affiliate links, we may earn a commission. Prices are subject to change.
If your baking skills fall flat, then it's time to start weighing your ingredients and invest in the best kitchen scale for that kind of job. Are you skeptical about the need to use a scale? Finding the best kitchen scale might not be at the top of the list of tools you'd like to add to your kitchen, but maybe it should be. If you're still using the plastic measuring cups your mom handed down, you may find that your baking results are inconsistent. That's when it's time to consider making the switch from measuring cups to the best digital scale for baking so your confections are perfections.
Kitchen scales aren't just for bakers. If you are implementing a stricter diet, finding the best kitchen scale for weight loss will help keep you on target. Kitchen scales are also convenient for adjusting measurements, like when cutting a recipe in half and your measuring cups no longer measure up. Coffee-lovers will also delight in having a scale to assist in crafting the perfect pour-over. It's time to weigh in on the best digital kitchen scales so that you can find the one that's right for you.
Jump to Section
Shop Like a Chef in the Cozymeal Shop
Update your kitchen with top-rated cookware. Beloved brands, easy returns and guaranteed price-matching.
1. Best Looking: Zwilling Kitchen Scale
The sleek and attractive design of the Zwilling Kitchen Scale isn't the only reason it's one of the best digital kitchen food scales available. It's also one of the most precise scales on the market accurate to 0.1oz/1g. It includes a tare button to account for whatever container you are using to hold your ingredients, and it's cordless. But if you plan to use your digital kitchen scale regularly enough to leave it on the counter, it doesn't hurt that the best kitchen scale looks nice too.
Why This Product Is Chef-Approved
Chef Sharon loves this scale for its simplicity and also because the glass top makes it easy to clean. Not having to replace batteries is an added bonus.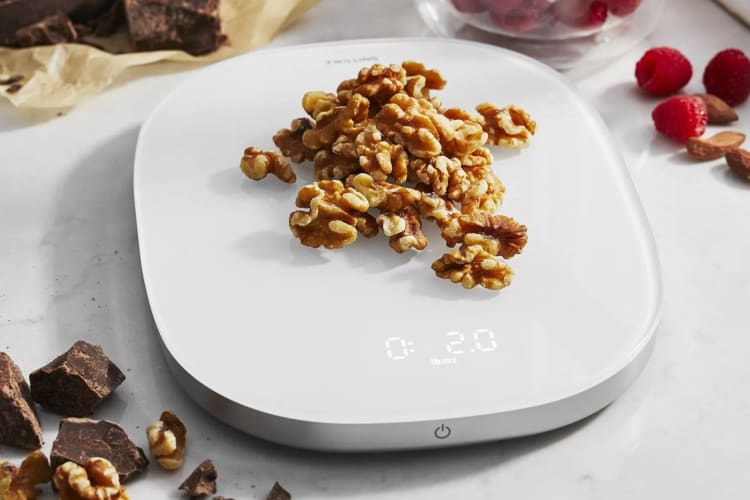 2. Best Multipurpose: Cuisinart PrecisionChef Bowl Digital Kitchen Scale
The best kitchen scale is the one that can be used for the most things, right? That's why we've rated the Cuisinart PrecisionChef Bowl Digital Kitchen Scale as a top pick for a multipurpose user. It has a flat tray for small jobs plus a stainless steel bowl for larger ones. It also made our best kitchen scale list because it has an add-on feature that allows you to weigh multiple ingredients together vs. weighing them one at a time.
Why This Product Is Cozymeal-Approved
The team at Cozymeal agreed that this is one of the best kitchen scales because of its unique add-on feature. We also loved the large LCD screen that makes readouts easy.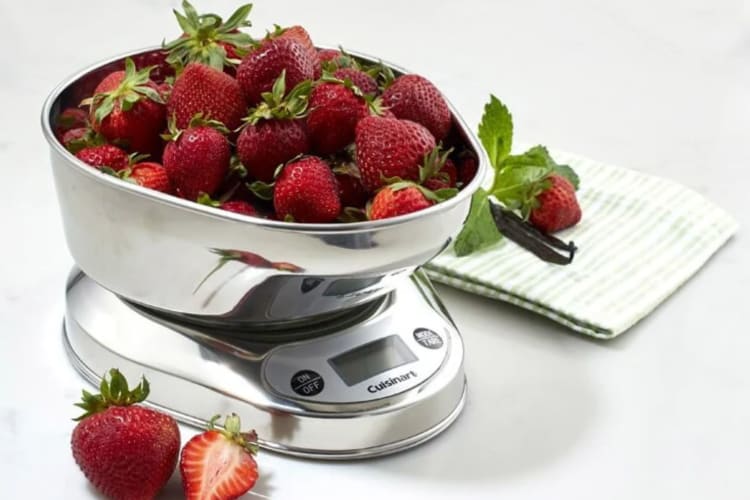 3. Best Value: Escali Primo Digital Food Scale
The Escali Primo Digital Food Scale is a good choice for those who are new to kitchen scales and don't want to spend a ton to get one. This scale only has two buttons for simplicity of use, and it's fairly compact for storage purposes. If you forget to turn it off, it automatically powers down after a few minutes. The price tag is easy to digest, making this the best kitchen scale for those on a budget. Plus, it comes in a variety of colors.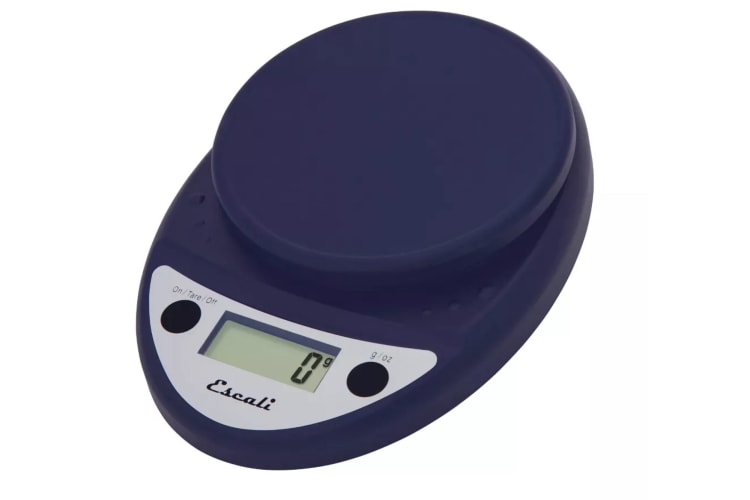 Shop Chef-Approved Cookware
Beloved brands. Easy returns. Price-match guarantee. Kick your kitchen confidence up a notch with cookware loved by chefs.
4. Best for Big Jobs: OXO Good Grips 11-Pound Stainless Steel Scale
The best kitchen scale for big baking jobs is the OXO Good Grips 11-Pound Stainless Steel Scale. One of the challenges of a more compact kitchen scale is that when you set a bowl on top, it hides the readout display. OXO came up with a solution. The display on this scale pulls out from the device, allowing for better ease of use. It's really genius. If you need the best baking scale that accommodates your largest mixing bowl, this is your winner.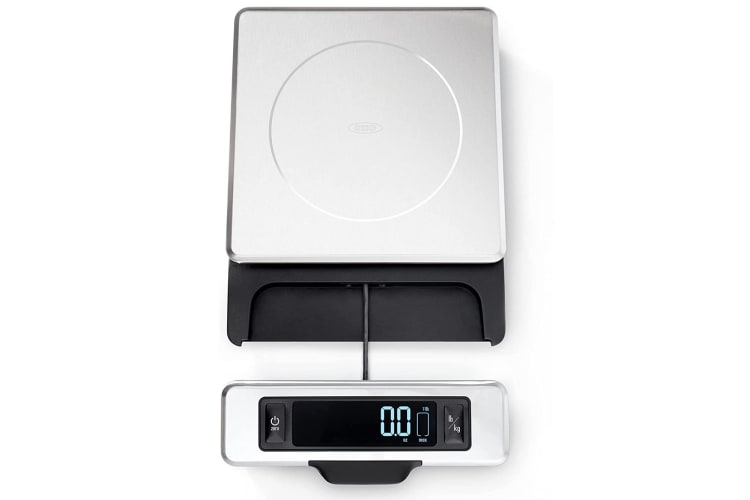 5. Best Space Saver: GreaterGoods Digital Kitchen Scale
If you want to get professional results but your kitchen can't handle another gadget, the best kitchen scale to select is the GreaterGoods Digital Kitchen Scale. It is one of the most compact products out there, so any size kitchen has room for it. Smaller doesn't mean sacrificing on function, though. This scale may only be ⅜ of an inch thick, but it measures up as well as any other scale in terms of quantity and precision.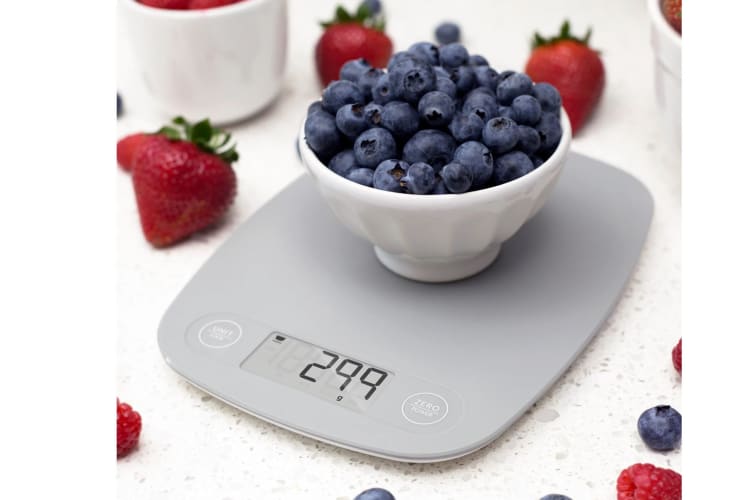 Join 200,000+ Culinary Enthusiasts
Exclusive deals, recipes, cookbooks, and our best tips for home cooks — free and straight to your inbox. PLUS: 500 Rewards Points.
The idea of measuring your food may sound a little extreme, especially for those who are more "a pinch of this, a dollop of that." But if you want that birthday cake to come out perfect and those fresh-baked chocolate chip cookies to be just right, then you might want to try it.
Finding the best kitchen scale is easier than researching other small kitchen appliances because they are a pretty basic tool. Once you embrace the possibilities of the kitchen scale, you'll wonder how you ever lived without it. Ultimately, the best kitchen scale is the one that replaces those beat-up plastic measuring cups once and for all.
For even more ways to elevate your kitchen, check out chef-recommended cookware in the Cozymeal Shop.