The Best Sushi in Chicago: Top 10 Restaurants for 2023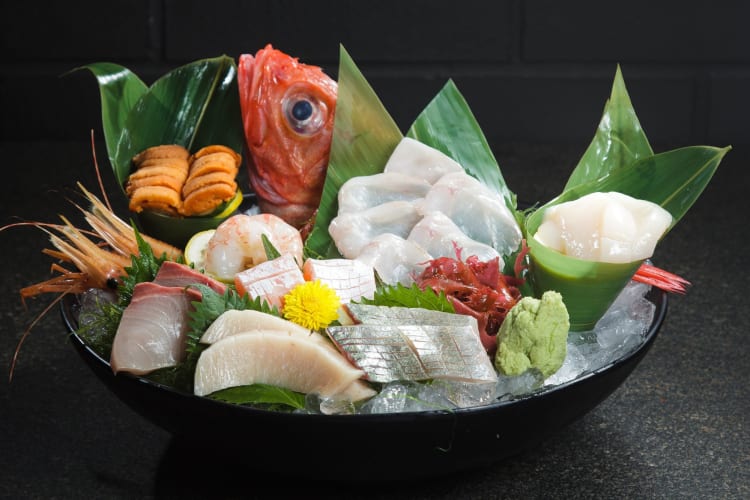 Whether you are a sushi aficionado or a beginning connoisseur, Chicago's sushi eatery selection has something for everyone. From casual grab-and-go selections to signature and luxurious full-evening omakase (or "chef's choice") menus featuring a revolving array of fresh ingredients and combinations, you can find the perfect rolls and small plates for any palate. Local sushi eateries are often some of the best restaurants in Chicago, and a number of them look so laid-back and unassuming that you wouldn't even know it!
Looking for the perfect date spot in Chicago or an unforgettable night out with friends? A sushi experience, whether casual dining or a formal affair, sets the stage for intimate dining experiences or raucous dinners with ample cocktails in busier, more lively venues. These 10 sushi spots in Chicago offer these and everything in between, all with amazing flavor combinations and fresh, innovative ingredients.
Jump to Section
Book a Chicago Food Tour Now
Explore Chicago's best bites, esteemed eateries and hidden gems with a top-rated local guide.
Find the Best Sushi in Chicago
If you are a beginner or don't quite know where to start in your Chicago sushi explorations, there are a number of food tours in Chicago to get you started and allow sampling from a vast array of eateries all over the city. With focuses on specific Chicago foods, international and domestic cuisines, and local Chicago neighborhoods, you can find a host of delicious options near you, including the best spots for sushi and one-of-a-kind dining experiences.
Top 10 Sushi Restaurants in Chicago
1. Omakase Takeya
Chicago has a handful of sushi places offering an omakase or "chef's choice" series of courses. Omakase Takeya is a West Loop favorite located in the basement of Ramen Takeya. They offer an amazing selection of chef-chosen sushi for an affordable price.
The Vibe
This intimate underground dining experience is perfect for a romantic dinner or a date idea in Chicago. With only seven seats for dining and four seatings per evening, reservations for Omakase Takeya are in high demand.
What to Order
The omakase experience offers a 15-course selection of nigiri, sashimi and Japanese small plates for around $100 along with a full educational experience in sushi from knowledgeable staff. While courses vary according to the chef's desires and availability of ingredients, diners recommend the excellent salmon nigiri and the miso soup, as well as a rotating selection of unique hand rolls.
Omakase Takeya | 819 W. Fulton Market, Chicago, IL 60607 | $$$$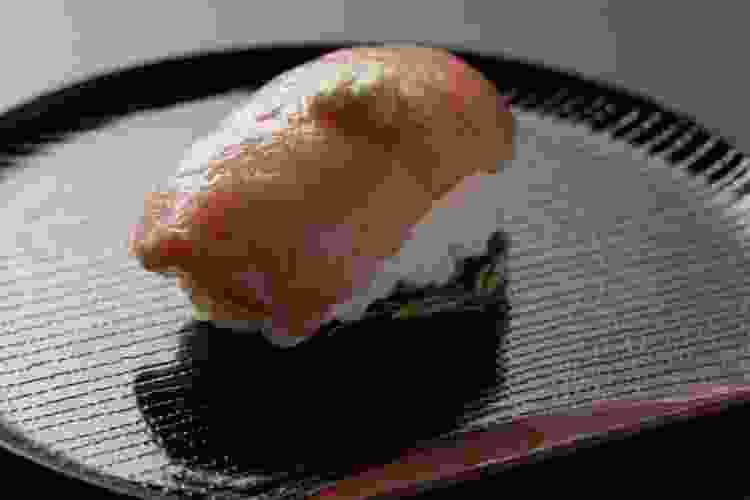 2. 312 Fish Market
This casual eatery located in Chinatown offers Chicago sushi for takeout or dine-in at its location in the food court of the 88 Marketplace.
The Vibe
312 Fish Market boasts limited seating and a sushi counter with affordable a la carte options as well as grab-and-go platters. The interior is sleek and modern but cozy, and stopping here for a bite while shopping is one of the essential things to do in Chicago.
What to Order
The Market is known for a delicious selection of sashimi, nigiri and hand rolls, including their Tiger Roll, featuring crunchy spring salmon over fresh salmon. Also try the kobujime medai, a cured snapper with seaweed and a citrus-heavy topping, or the aburi salmon topped with truffle salt.
312 Fish Market | 2105 S. Jefferson St., Chicago, IL 60616 | $$$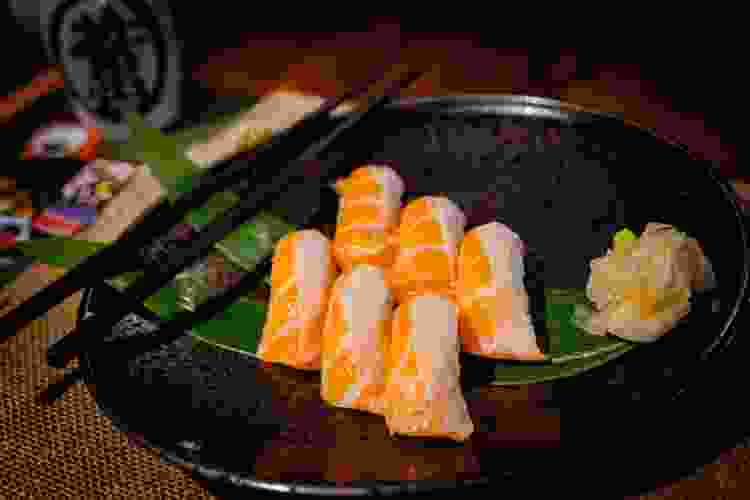 Top-Rated Cooking Classes in Chicago
Master the art of gourmet cuisine with the help of Chicago's best chefs.
3. Sunda
Located in the touristy area of River North, this bustling Chicago sushi spot regularly makes the favorites list of even die-hard locals for its fresh ingredients, large menu and some of the best nigiri in Chicago.
The Vibe
While it can get crowded and a little rambunctious and loud, particularly over the weekends, Sunda offers a large and thorough menu of East Asian and Southeast Asian cuisines, including a wide selection of sushi with unique flavor medleys that draw diners in again and again. This makes it perfect for a night out with friends for cocktails and sushi.
What to Order
Diners rave about the uni and toro nigiri, as well as a selection of artfully made hand rolls that are as visually appealing as they are delicious. The Sweet Potato Caterpillar, with flavors of pear, avocado and roasted red pepper, is a special favorite. In addition to sushi, diners also recommend the lobster wagyu, which features lobster, scallions, crispy eggs, ghost pepper and wasabi aioli.
Sunda | 110 W. Illinois St., Chicago, IL 60654 | $$$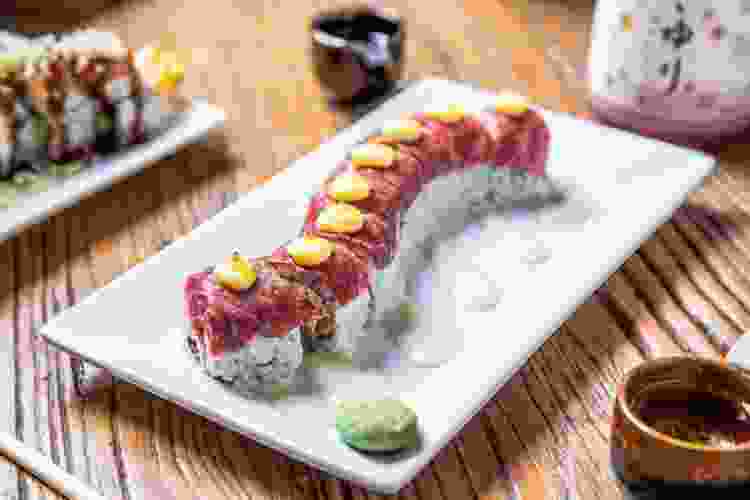 4. Juno Sushi
This Lincoln Park Chicago sushi favorite is known specifically for its smoked specialties, intimate dining experience and friendly service.
The Vibe
Juno Sushi is perfect for a date night, boasting a quieter, relaxed dining experience and a clean, contemporary interior. Juno excels in both service and presentation, presenting the diner with unique compositions of flavor and visual delight.
What to Order
Try the smoked nigiri presented steaming under glass, one of the dishes they are most known for. Other favorites include signature maki like the tako maguro, with spicy octopus, tuna, pineapple and potato crunch. Add an order of the Junomono Japanese seaweed salad and one of their signature cocktails.
Juno Sushi | 2638 N. Lincoln Ave., Chicago, IL 60614 | $$$$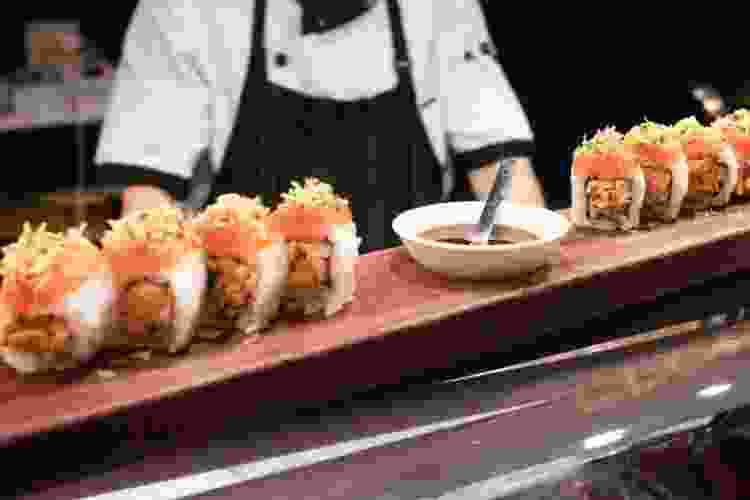 5. Momotaro
Named after a Japanese delicacy, this Fulton Market Chicago sushi eatery is known for its upscale feel with affordable options, as well as its large menu.
The Vibe
With its expansive menu, Momotaro is perfect for a night out with friends with a modern but cozy interior inspired by post-WWII Japan. In addition to great sushi in the main restaurant, Momotaro also features a basement bar, Izakaya, serving up both cocktail and Japanese-influenced pub fare.
What to Order
Favorites include the purple sea urchin and the hamachi salmon. Momotaro features a chef's choice sushi meal for around $80 as well as numerous a la carte selections.
Momotaro | 820 W. Lake St., Chicago, IL 60607 | $$$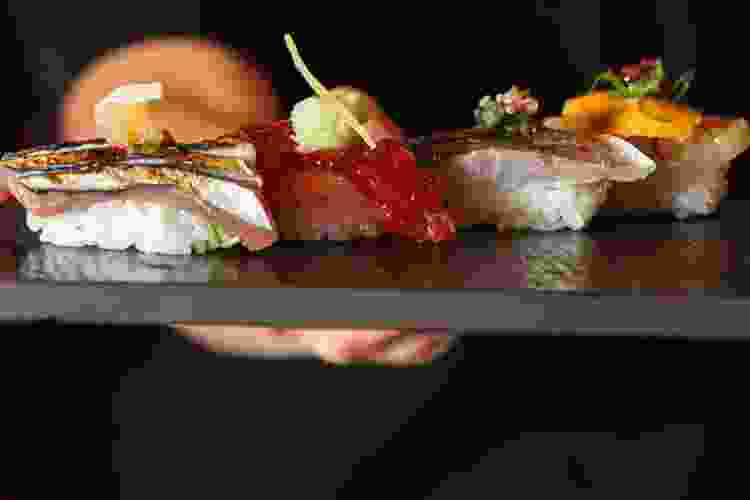 Book a Chicago Food Tour Now
Explore Chicago's best bites, esteemed eateries and hidden gems with a top-rated local guide.
6. Kai Zan
This Humboldt Park Chicago sushi spot was the brainchild of local sushi chefs Melvin and Carlo Vizconde, known as the "Sushi Twins."
The Vibe
The light-filled, very zen interior of Kai Zan offers a signature omakase experience for one of the lowest prices found in the city, with 10 courses of sushi and Japanese small plates for around $85.
What to Order
While options change nightly, diners recommend the scallop or oyster shooters, the Dynamite Mussels and the unique variations of nigiri and sashimi available.
Kai Zan | 2557 W. Chicago Ave., Chicago, IL 60622 | $$$$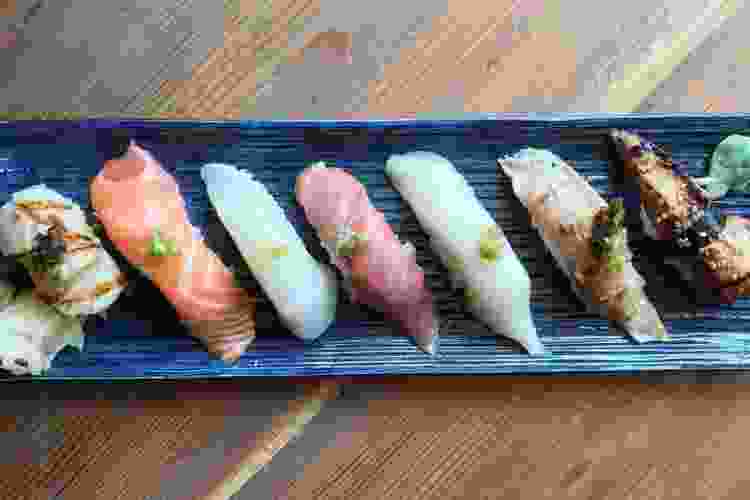 7. Raisu
Located in Albany Park, this Chicago sushi eatery offers one of the most affordable omakase experiences in the city starting at around $50.
The Vibe
A neighborhood favorite, Raisu offers a spacious and modern interior with a very casual vibe, making it a welcoming intro to the omakase experience for sushi newcomers. They also offer numerous vegan and health-conscious options.
What to Order
Raisu offers a selection of signature nigiri and sashimi, including an excellent hamachi nigiri with jalapeño, cilantro and garlic. Other menu highlights include the Black Widow, made with tempura shrimp with flavors of cucumber and avocado, and the Snow White, featuring fried smoked salmon with asparagus, king crab and chives.
Raisu | 2958 W. Irving Park Rd., Chicago, IL 60618 | $$$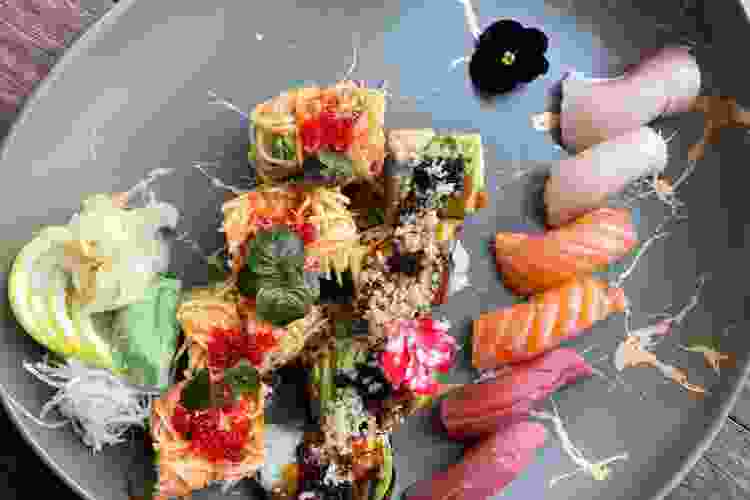 8. Kyoten
This Logan Square sushi favorite has one of Chicago's highest price tags for a local omakase experience but is highly recommended as a destination for special occasions like birthdays and anniversaries.
The Vibe
With a 20-course sushi experience running you around $440 for 20 courses, Kyoten's stark modern interior tucked inside and understated exterior building belies the culinary delights found within. Reservations are in high demand, so plan far ahead.
What to Order
Created and chosen by chef Otto Phan, the menu shifts daily. Kyoten is celebrated by some as the best sushi in Chicago while others find it overpriced, but all agree it is a delicious experience nonetheless. Kyoten is known for its unique larger-grained inochi-no-Ichi rice, as well as harmonious balances of flavors in their plentiful nigiri and assortment of Japanese small plates.
Kyoten | 2507 W. Armitage Ave., Chicago, IL 60647 | $$$$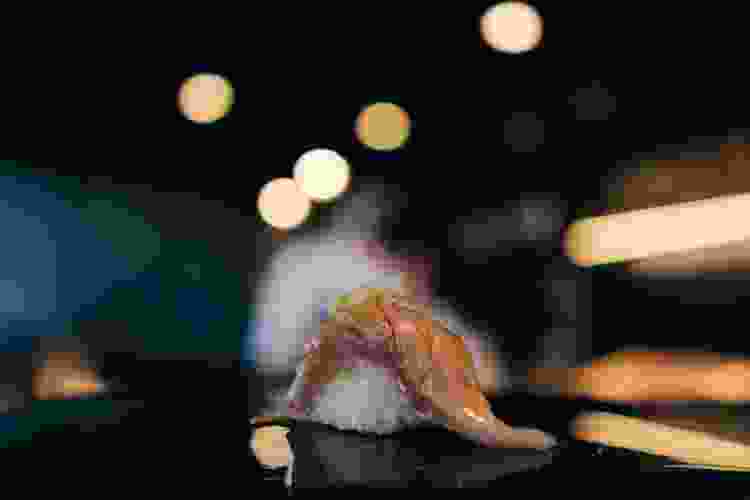 Top-Rated Cooking Classes in Chicago
Master the art of gourmet cuisine with the help of Chicago's best chefs.
9. Mako
Named after the cunning and intelligent shark, this sushi spot in Chicago is located in the West Loop and offers an omakase experience for a larger group, seating up to 22 at a time.
The Vibe
The interior of Mako is sleek and modern, with beautiful presentations of nigiri, sashimi and Japanese small plates. Because of its large capacity, it makes an excellent place for larger group outings.
What to Order
The chef-select menu includes 15 courses for $185, featuring a mix of sashimi, nigiri, seasonal hand rolls and small plates. They are also known for their great cocktails, including the famed yuzu granita.
Mako | 731 W. Lake St., Chicago, IL 60661 | $$$$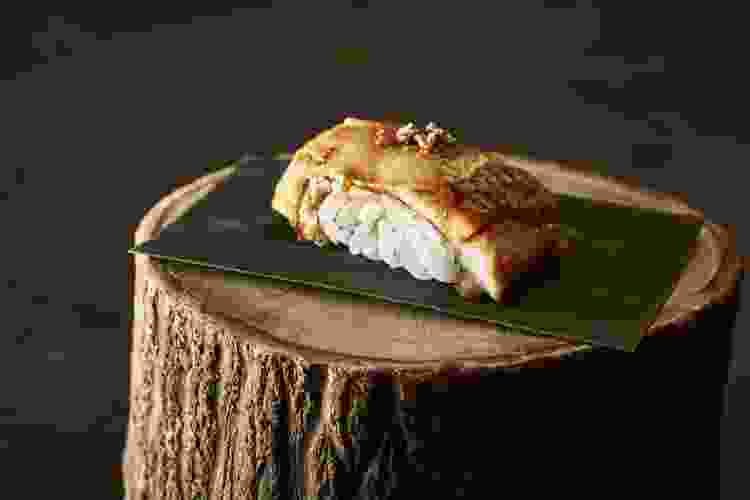 10. UMAI
This Chicago sushi favorite located in the South Loop prides itself on the combination of traditional sushi preparation with modern flavors and techniques.
The Vibe
UMAI has a cozy, wood-paneled interior that is both inviting and calming with a laid-back environment.
What to Order
UMAI's menu boasts a variety of innovative hand rolls, including the Spider roll made with soft shell crab and the Chicago roll featuring cream cheese. In addition to excellent sushi, UMAI features a number of Japanese dishes on the menu not found in other establishments, including soba and katsu curry.
UMAI | 730 S. Clark St., Chicago, IL 60605 | $$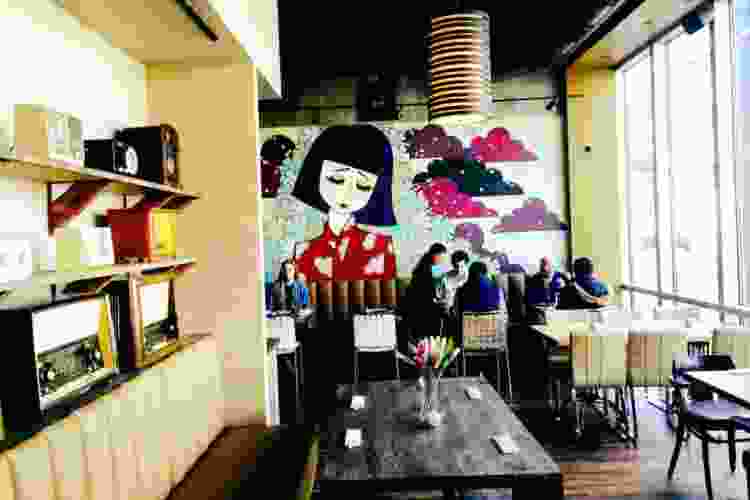 Join 200,000+ Culinary Enthusiasts
Exclusive deals, recipes, cookbooks, and our best tips for home cooks — free and straight to your inbox. PLUS: 500 Rewards Points.
Whatever your experience and level of knowledge around sushi and Japanese cuisine, Chicago offers a great number of options from the affordable to the highly luxurious, as well as a host of signature and unique dining experiences for all kinds of outings.
For even more fun ways to explore Chicago and beyond, check out other experiences happening on Cozymeal.