Goldbelly Review for 2023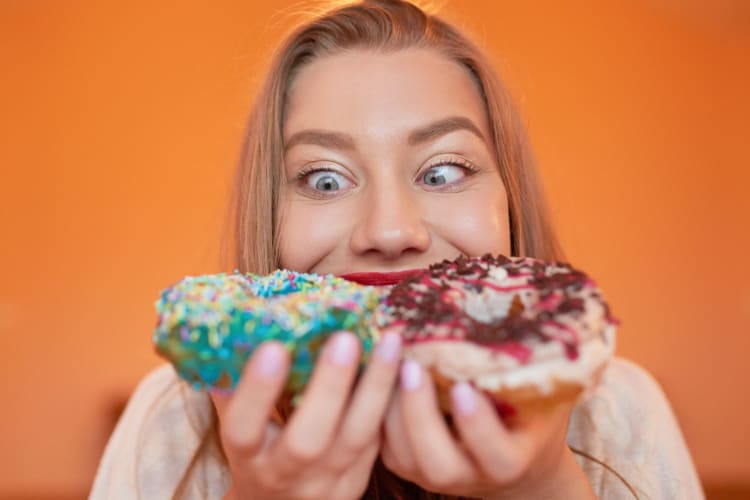 Our editorial team recommends the best products through independent research, selection and careful review. If you make a purchase through one of our affiliate links, we may earn a commission. Prices are subject to change.
You don't have to go out to enjoy the best pizza in Brooklyn or Italian restaurants in Chicago; according to Goldbelly reviews, gourmet dishes from around the country can be delivered right to your doorstep. Fresh Philly cheesesteak, steamed pork bao, vegan chocolate truffles, barbecue brisket from the best grill in Texas — you name it, Goldbelly has it!
But what's included in a Goldbelly subscription? How does it work, and what are customers honestly saying in their Goldbelly food reviews? We've broken it all down in our own Goldbelly review so your taste buds can travel the world without ever leaving the house.
Jump to Section
Gourmet Cooking Classes Near You
Take your culinary skills to new levels with guidance from five-star chefs.
What is Goldbelly?
Founded in 2013 by entrepreneur Joe Ariel, Goldbelly's mission is to bring the "emotional power of food" to your table. Goldbelly empowers local communities by partnering with small businesses and personal chefs, delivering their one-of-a-kind creations to foodies throughout the United States, including Alaska and Hawaii.
Goldbelly's online marketplace features mailable treats, meals and more that are sourced from local artisans, restaurants and small chain companies. They also offer meal kits and subscription services with minimal preparation required, so you can enjoy amazing foods from around the globe as soon as they arrive at your door.
After just a decade of service, the internet has already gathered hundreds of positive Goldbelly reviews, with selection, food safety and customer service being some of their best qualities.
How Does Goldbelly Work?
Despite all the amazing Goldbelly reviews, Goldbelly's website itself may seem a little daunting at first, but the subscription process is really quite simple. Browse for whatever you're craving by searching for locations, restaurants, chefs, foods, meal kits and more. Then, choose your delivery date, submit the order and relax.
To ensure that every bite stays fresh, your order will be prepared and shipped directly from the restaurant, chef or small business — not necessarily from Goldbelly itself. When applicable, boxes are packed with dry ice to keep everything cool. Some dishes may come with separated ingredients and preparation instructions (such as a pizza from your favorite Brooklyn pizzeria).
Still feeling a little confused? It may help to think of Goldbelly as kind of like Uber Eats or DoorDash, except that unlike instant delivery services, you can order from anywhere in the country, not just your neighborhood, and the food is always guaranteed to be fresh.
Goldbelly also has Care Packages, which make excellent gifts for out-of-town friends and family. In fact, a good portion of Goldbelly reviews are from gifters and recipients who loved their boxes. Find a new local barbecue restaurant you're dying to share? Send your family a BBQ sampler package. Sister feeling homesick during her first semester at college? Send her cookies from her favorite local bakery.
Goldbelly Subscription Review
Alongside their marketplace goodies and care packages, Goldbelly also offers subscription boxes. You don't have to sign up for a subscription service to enjoy foods through Goldbelly, but subscriptions offer an awesome way for true foodies to explore the absolute best foods from across the country.
One benefit frequently mentioned in Goldbelly reviews is that Goldbelly makes it incredibly easy to give subscriptions as a gift. If you're looking for a unique gift for someone you know, consider signing them up to receive delicious cookies, barbecue, pizza, pies or the "Best of Goldbelly" boxes! All you have to do is input their address when signing up, and Goldbelly will take care of the rest. A Goldbelly subscription could also be an awesome wedding gift for a couple that you love!
Book a Gourmet Cooking Class Now
Kick-start your culinary confidence with help from a world-class chef. See what's cooking in your city today.
Goldbelly Subscription Options
Goldbelly carefully curates several subscription box options, so there's sure to be a mouthwatering choice that you'll love. For example, the monthly cookie subscription will send hand-selected cookies from a different bakery every month. Some of the most highly praised boxes in Goldbelly reviews include the monthly pizza, cookie, pie and barbecue subscriptions.
For dedicated foodies, there are also the "Best of Goldbelly" subscriptions. These boxes feature a variety of foods from the nation's most highly sought after bakeries, chefs and restaurants.
For example, one "Best of Goldbelly" subscription may include ice cream from Humphry Slocombe Ice Cream in San Francisco, lobster rolls from Hancock Lobster Company in Maine and much more. One thing that customers mention in their Goldbelly reviews is that they love the element of surprise with each box!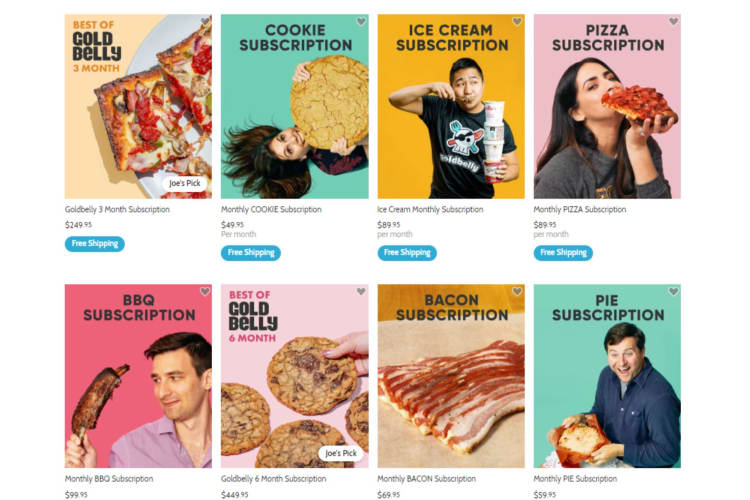 How Much Does a Goldbelly Subscription Cost?
It wouldn't be a complete Goldbelly review if we didn't get down to the numbers. Subscriptions for a specific food or city (like cookies or restaurants in New Orleans) range from $49.95 to $99.95 per month. Each box typically contains at least four servings, but some can contain as many as 10 servings.
"Best of Goldbelly" subscriptions range from $249.95 for three months to $899.95 for a whole year. You can also elect to go month-to-month for $84.95 per month. Each box will bring something new and unique from Goldbelly's most sought-after partnerships, from pastrami sandwiches to artisan bagels to gourmet macarons and more. These boxes always include enough food for at least four people to enjoy — another plus often mentioned in Goldbelly reviews.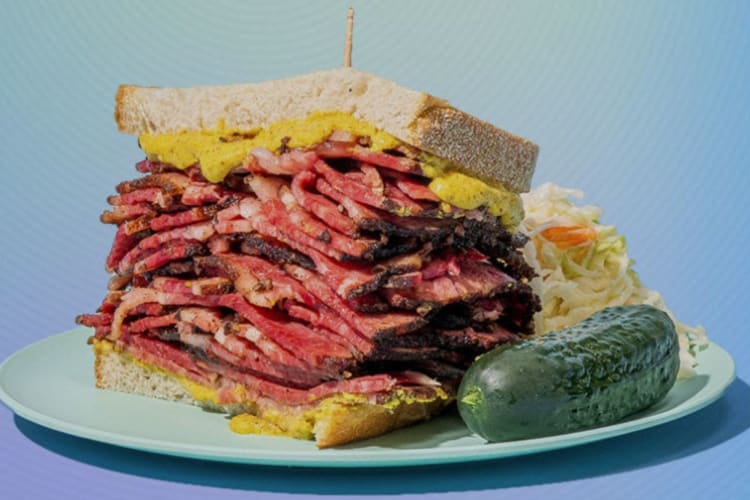 Modifying and Skipping Goldbelly Boxes
At this time, Goldbelly's boxes are not customizable, but with all the great Goldbelly food reviews, you can rest assured that every bite will be delicious. According to some Goldbelly reviews, Goldbelly may not be the right subscription service for picky eaters, but it's an awesome experience for people with adventurous taste buds.
At this time, subscribers are also not able to skip their monthly subscription delivery, another negative sometimes mentioned in Goldbelly reviews. Month-to-month subscriptions are charged per shipment and may be canceled at any time. Pre-paid subscriptions (the three, six or 12-month options) cannot be canceled before their scheduled end date.
However, you will receive a notification email when your Goldbelly package is on its way. If you won't be home to pick up your Goldbelly box, consider having a neighbor or family member enjoy it on your behalf! According to some Goldbelly reviews, a few customers have successfully rearranged their shipment date by contacting customer service.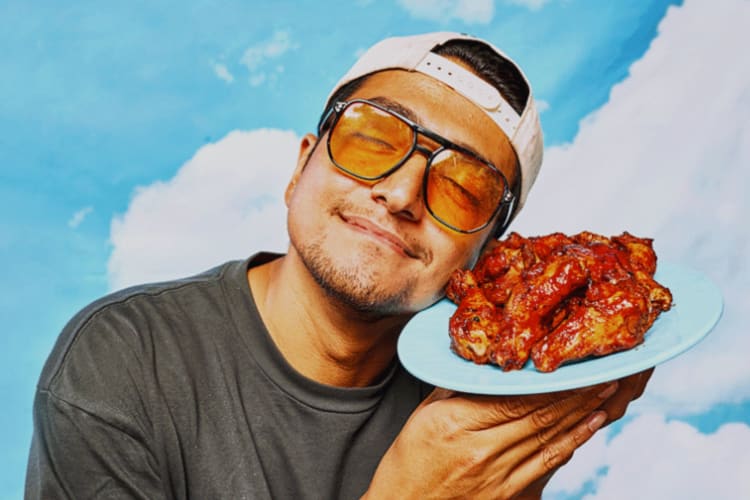 Gourmet Cooking Classes Near You
Take your culinary skills to new levels with guidance from five-star chefs.
What People Are Saying About Goldbelly
Both the Goldbelly food reviews from their online marketplace and Goldbelly subscription reviews are overwhelmingly positive. Customers love the variety of great foods that come in subscription boxes, as well as the reliable picks they can get from the online marketplace.
The vast majority of Goldbelly subscription reviewers say that their food arrived on time, fresh and more delicious than they even imagined. For anyone who is craving a nostalgic bite from back home or something new and highly rated, Goldbelly offers unbeatable service and selection.
Prices may seem a bit high to anyone who isn't used to having foods delivered to their home. However, Goldbelly reviews recognize that Goldbelly only offers the best of the best, and they ship from all around the country, so a few extra dollar signs seems trivial.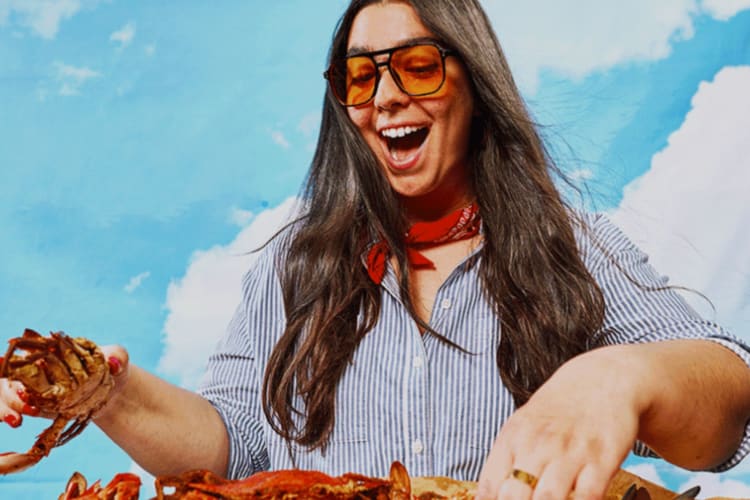 While they are few and far between, some Goldbelly reviews have claimed to have had a negative experience with shipping or food quality. Goldbelly does its best to ensure that all food arrives quickly with freshness and safety in mind, but some factors in the mailing system are simply beyond their control.
With that being said, Goldbelly reviews generally feel that the support team promptly and fairly addresses any questions or concerns that they may have. Issues are solved on a case-by-case basis, especially when it comes to problems with delayed shipping or products damaged by mishandling or high temperatures.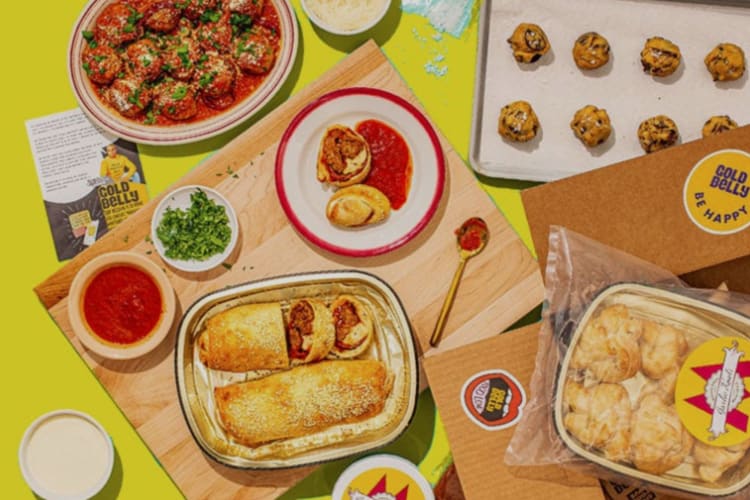 Is Goldbelly Worth It?
Overall, we believe that Goldbelly is an innovative company with a huge range of products, expertly handled shipping and attentive customer service. Goldbelly offers a brilliant idea for people feeling nostalgic about a certain dish or restaurant, as well as those who are dying to try a famous dish. In other words, our Goldbelly review concludes that it's worth it!
The only considerable drawbacks mentioned in Goldbelly reviews were that boxes aren't customizable or skippable, and there are no food allergy or preference options at this time. But being the innovative and attentive company that they are, Goldbelly may listen to these concerns and consider adding subscription features like these in the future.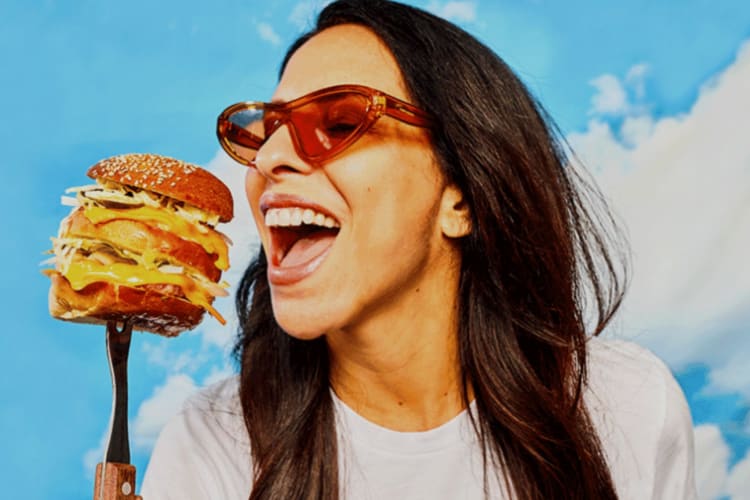 Join 200,000+ Culinary Enthusiasts
Exclusive deals, recipes, cookbooks, and our best tips for home cooks — free and straight to your inbox. PLUS: 500 Rewards Points.
In conclusion, Goldbelly may not be for you if you have food allergies or are hoping to save money with a meal kit subscription service. However, with their adventurous selection and fresh packaging, Goldbelly is an awesome choice if you're looking to expand your culinary horizons, send treats to a friend or indulge in some of the best foods from around the country! Give it a try, and perhaps you'll want to write a Goldbelly review of your own.
For even more ways to explore your favorite foods, check out fun experiences happening on Cozymeal.