What's Worth Buying at Erewhon and What's Not
Health-conscious shoppers and foodies are already on a first-name basis with Whole Foods and Trader Joe's, but only a handful know about Erewhon — unless you live in Los Angeles, in which case you've definitely heard about Erewhon. Maybe you've already investigated one for yourself. Erewhon is a boutique grocery retailer found only in California. It's like your eccentric West Coast cousin — hip, a little over-the-top at times and maybe a little too focused on status and image. And as with most things in California, it has the price tags to match.
Why is Erewhon so expensive? Do they really offer a better shopping experience for healthy lifestyles than Whole Foods? Food prices are at all-time highs, and saving money on groceries is on everyone's mind, except for those who have the good fortune to be immune from budget constraints. They are shamelessly shopping at Erewhon while the rest of us are at Costco and Walmart.
That said, even when times are tight, you've got to live a little, right? Erewhon is the trip to Disney that you splurge on every now and then because you deserve to (and because you might see an A-list celebrity in the prepared foods aisle.) It's not all that different than choosing to pay a little more at Whole Foods, because you'll have access to higher-quality products. So if you get a chance to check out Erewhon, definitely do it. And do it guilt-free. Just do your homework first, which is what this article is all about.
Jump to Section
Best Cooking Classes in Los Angeles
Master the art of gourmet cuisine with the help of world-class chefs.
What Is Erewhon?
The first thing you're probably trying to understand about Erewhon is how to pronounce it. It's not the most intuitive name for a high-end grocery store, but that just adds to the mystique. Once you get past that (some people say "ERI WON", some say "ER WON"), you can start asking the more important questions.
What is Erewhon? Is it a new concept? Are they really offering something unique when it comes to products or foods? And most importantly, does it live up to the hype?
Erewhon is a luxury grocery store concept, and it's not new at all. The original store was opened in Boston in 1966 by Michi and Aveline Kushi (that location no longer exists), a Japanese couple who were interested in bringing the fundamentals of a healthy Asian diet to the United States.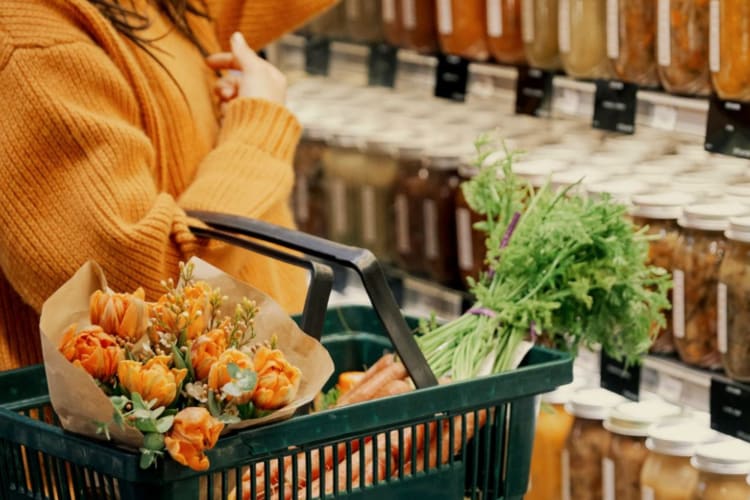 The name "Erewhon" comes from the title of a 19th-century novel depicting a world where getting ill was a crime. Can you imagine? If getting sick could land you in jail, would that change your approach to healthy lifestyle choices? The Kushis opened Erewhon as a market that specialized in sourcing organic foods and the key components of a macrobiotic diet (high fiber and the complex carbohydrates in grains and vegetables), which is known to be far better for the body than the standard American diet.
The original founders of Erewhon were way ahead of their time and way ahead of John Mackey, who didn't open Whole Foods until 1980. Michi and Aveline embraced the entire concept of a healthy lifestyle, and not just the diet part. They had their own version of a wellness resort, where they offered everything from educational lectures to spa services. The Kushis have also authored more than seventy books on the subject of healthy living.
Erewhon was a successful business through the 1970s, which led to the opening of the first California location on Beverly Boulevard in Los Angeles. In addition to selling dried grains and beans, Erewhon was also one of the first retailers to introduce traditional Asian foods like soy sauce, tofu and miso to the U.S. consumer. And like Whole Foods, Erewhon has a policy of not selling foods that contain ingredients like canola oil, high-fructose corn syrup, processed sugars and other artificial colors and sweeteners.
Join a Live Online Cooking Class Today
Your kitchen is now your own culinary classroom. Connect with chefs from around the world right from the comfort of home.
Michi and Aveline Kushi focused on relationships with both local and international suppliers, which led to a wholesale arm of the business and even included a catalog at one point. In the late '70s, the business struggled financially and was taken over by Tony Antoci, an experienced food distributor. It was under Antoci's leadership that Erewhon converted to a more traditional community grocery store but with a luxe and upscale appeal. Erewhon now has more than a dozen locations throughout southern California with many more in the works.
Erewhon prides itself on still being a local market that offers both a more personal shopping experience as well as access to lesser-known, up-and-coming products. They work hard to offer brands that you simply won't find at your standard big-box grocer.
Then there's the celebrity endorsements and collaborations with influencers. Want to know why Erewhon is so expensive? Now you know. Plus it's just downright gorgeous. Anyone who says looks don't matter hasn't shopped at Erewhon.
What People Are Saying About Erewhon
If you're just learning about Erewhon for the first time, you may not know what people are saying about it. Beware: There are strong opinions.
The thing most people want to know is why is Erewhon so expensive. And is it worth it? Anyone who shops at Whole Foods (affectionately known as "Whole Paycheck") already knows that sometimes quality comes at a price. If organic, gluten-free, cruelty-free or regenerative are words that mean something to you, then you are probably okay with spending a little more on your groceries. But would you be okay with spending $23 on a bottle of water? You can at Erewhon (it's a special water, but still).
Some will cheer on the luxe retailer for their commitment to community and for giving start-up brands an opportunity to get on the shelves. If you want to learn how to start eating healthy and want small-batch, locally sourced foods that didn't travel overseas in a freighter to reach your pantry, paying more just comes with the territory. And that might not be a bad thing.
If no one is willing to pay more to support sustainable farming practices, the impact on the quality of our overall food supply is huge. That could lead to even more of the watered-down, sugared-up products with endless shelf lives. Groceries will be cheaper in that scenario, but what is the sacrifice? Will your family be getting the essential vitamins and nutrients they need from foods that are made in factories and contain very few ingredients that are actually identifiable foods? Maybe, as some suggest, we should all be applauding Erewhon, who is giving us the opportunity to do something for the social good when we are willing to spend what it actually costs to put quality on the table.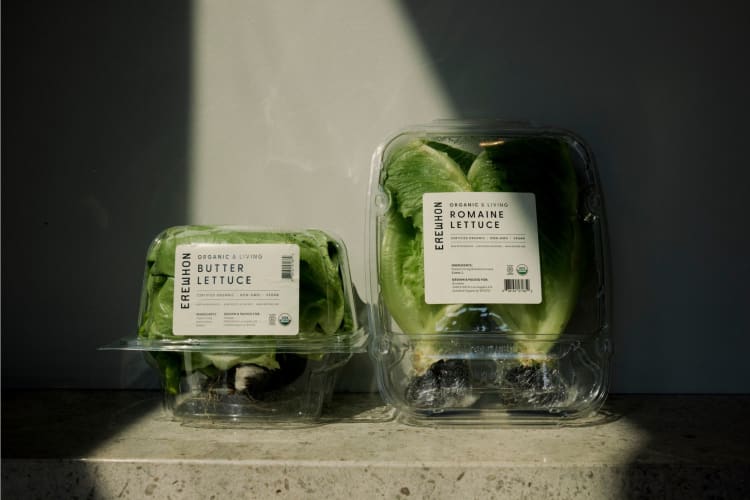 Book a Los Angeles Food Tour Now
Explore LA's famed eateries, hidden gems and acclaimed culinary culture with a top local guide.
But there is a second side to the Erewhon story. Our culture has a somewhat convoluted belief that anything that costs more is just better. It's not just cars, watches, houses and vacations anymore. Food is right there in the mix.
So this leads many people to wonder: Is Erewhon just taking advantage of our propensity for all things that are built on the image of exclusivity? On the impossible pursuit to become the ideal human who is perfect in shape, size and mind with the ideal life where everything is clean and camera-ready? Can you really say you are supporting your community when you engage in deliberate marketing strategies designed to justify significantly inflated prices (celebrity collaborations)? This is an especially important question in a city where only a select few can actually afford them and where you've created peer pressure to buy even when you can't afford it.
How does it help a community if you create societal pressures that give status to someone who can showcase your $50 reusable branded grocery tote (the fancy Erewhon bag is $135)?
As with most things, the truth lies somewhere in the middle. While there are definitely some extreme examples of products that are just not worth their price tag at Erewhon, there are plenty of reasons to feel good if you shop there. Let's break it down.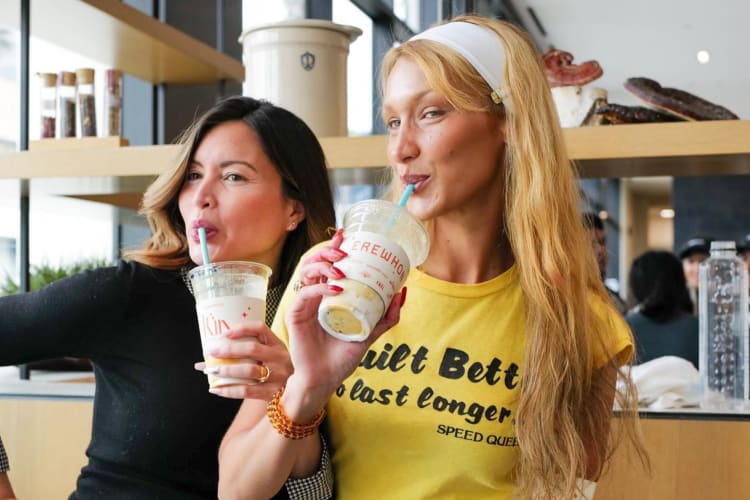 What's Worth Buying at Erewhon
Admit it. Your curiosity has been piqued. If you're headed to the West Coast, a field trip to Erewhon is one of the best things to do in Los Angeles.
Smart shoppers make lists and do their homework in advance, so this is a good strategy to employ if you are planning to visit Erewhon. Otherwise, you could become a victim to the magic of food marketing and end up breaking the bank.
The Hot Bar
Consumers unanimously agreed that the Hot Bar Café at Erewhon is the best place to dish out a few extra bucks. There was a time when Whole Foods Hot Bar was all the rage, but sadly those days are over. Since Amazon acquired Whole Foods, there has been a noticeable and steady decline in the quality and consistency of the fresh and pre-prepared foods that they offer.
Not the case at Erewhon. Word is that the Hot Bar foods rival restaurant quality pretty much across the board. The Buffalo cauliflower has already earned cult status, and the wood-fired roasted mushrooms with chili are well on their way.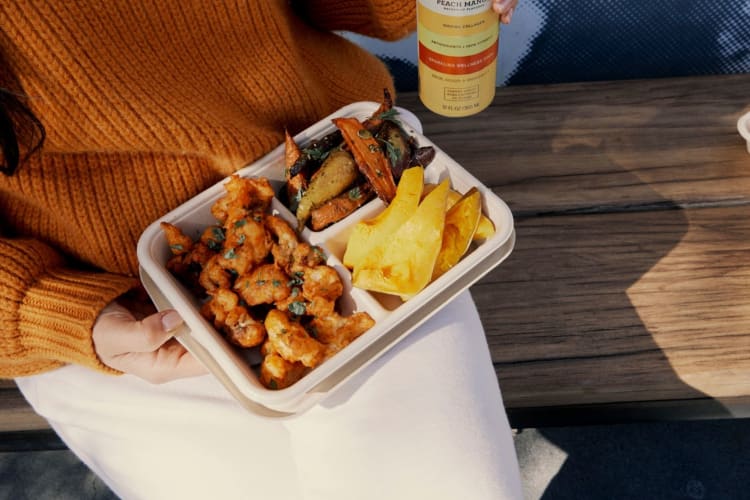 Malk Smoothies
When you go to Disney, you don't blink at spending $20 on an ice cream cone shaped like Mickey Mouse. It's the same thing at Erewhon. Yes, $20 is a lot for a smoothie, but getting to post on social media that you got a Hailey Bieber Strawberry Glaze is worth the extra money, isn't it?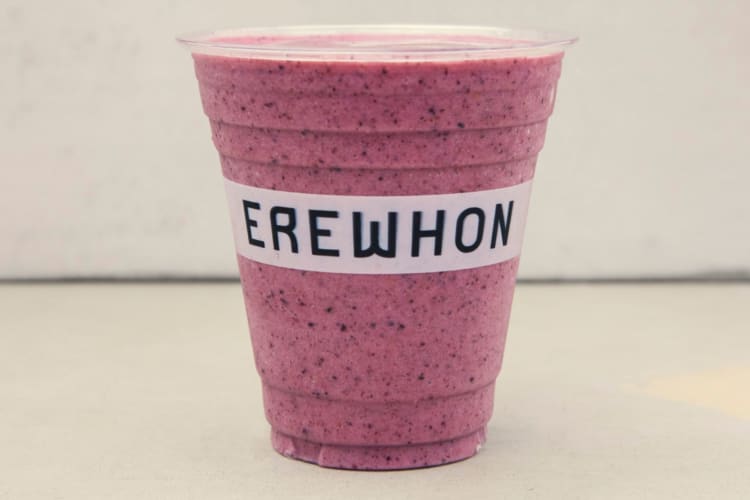 Best Cooking Classes in Los Angeles
Master the art of gourmet cuisine with the help of world-class chefs.
Organic Juices
As with smoothies, juices just taste better when they are made fresh and you don't have to make it yourself. It's all about the recipe. Somehow juicing at home never yields the right blend of flavors the way it does at the juice bar. Erewhon offers some unique organic juice blends that are worth the splurge.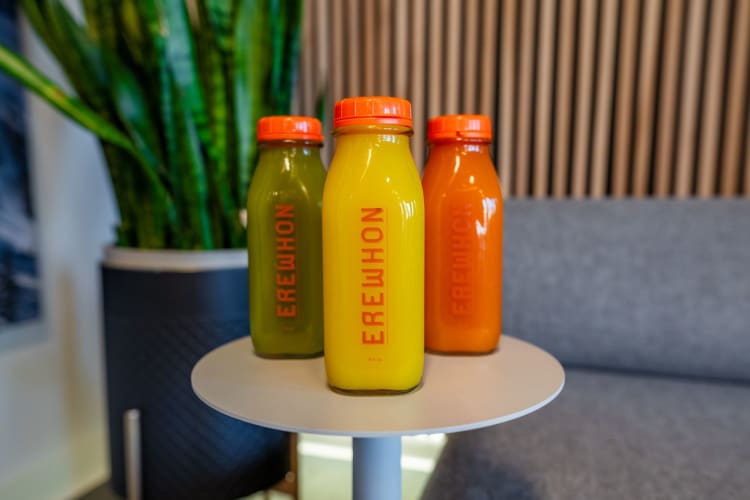 Erewhon Soups
There's something about soup. It's homey and comforting, and it will obviously taste better if it comes in a rustic glass Mason jar with the Erewhon logo on the front. Erewhon's endless selection of jarred soups are priced between $15 and $16, which is somewhere between double and triple what you'd spend on the equivalent amount of soup if the jar said Campbell's or Rao's. But Campbell's doesn't make organic bone broth broccoli purée, dahl, mulligatawny or mighty greens. Erewhon does. If you recycle the jar for another use, it will help you feel better about the cost.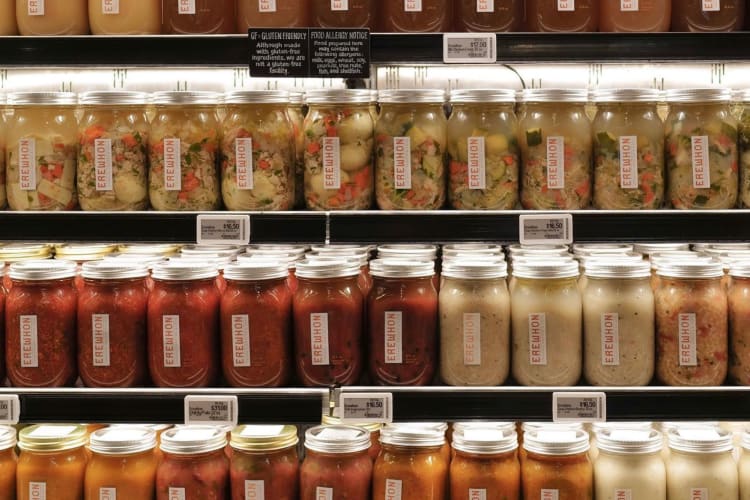 Canned Seafood
It's an acquired taste, but for the sardine or anchovy lover, Erewhon delivers on canned seafood. Tuna counts as canned seafood too, by the way. The reason Erewhon is a good choice for canned seafood products is that they carry a wider selection than nearly any other market. You'll find familiar and sustainable brands like Wild Planet, Tonino, Safe Catch and more. But also check out the Ramon Pena canned octopus in olive oil or small scallops in sauce for something off the beaten path. This is the kind of unique product that you'd expect to pay more for, so don't sweat it.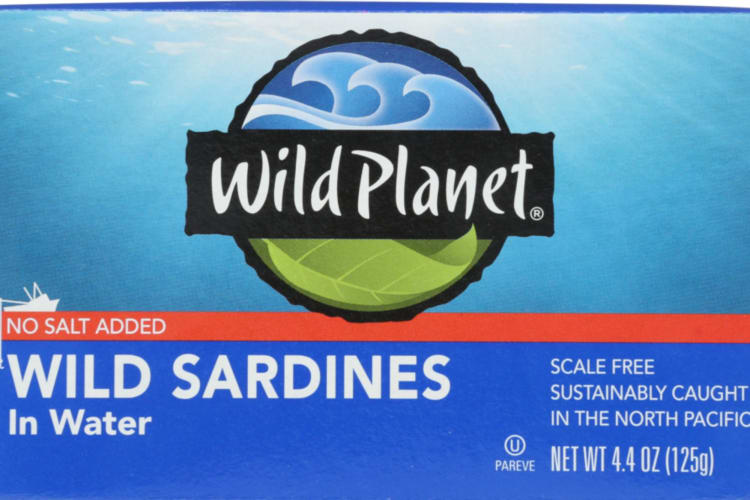 What's Not Worth Buying at Erewhon
There are some products that just don't warrant the price tag at Erewhon. When looking at staple items like eggs or frozen foods from equivalent brands, Erewhon's prices don't match up.
Vital Farms Organic Pasture-Raised Extra Large Eggs 12-Ct.
It's the same brand you see at Whole Foods. It's a good brand. You can feel good about eggs from this brand. But can you feel good paying $3 more per dozen at Erewhon than at other stores? Probably not.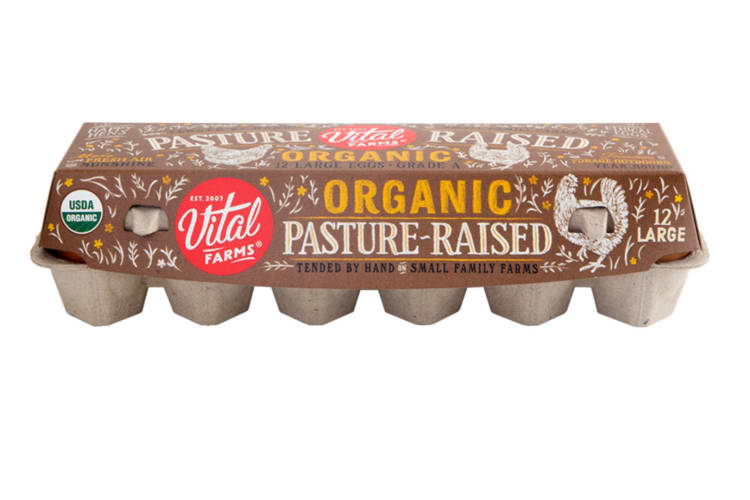 Amy's Frozen Foods
Everybody loves Amy's, and you'll find the brand at Erewhon. You'll also find that for almost every Amy's product, Erewhon charges $2 more than Whole Foods. The cheese pizza is $11.99 at Erewhon and $10.49 at Whole Foods. Amy's Gluten Free Burrito is $5.49 vs. $4.79, and the Tortellini Pesto is $8.99 vs. $6.99. Same product, inflated prices.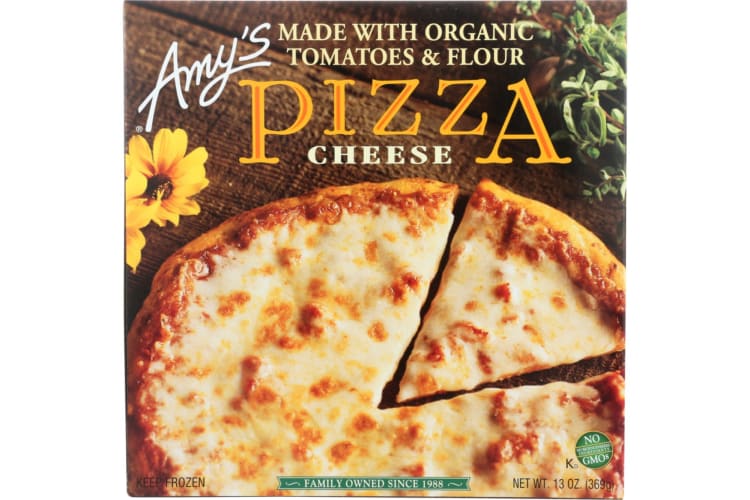 Book a Los Angeles Food Tour Now
Explore LA's famed eateries, hidden gems and acclaimed culinary culture with a top local guide.
Specialty Milks
Erewhon boasts about their Malk Smoothies, which come with a hefty price tag. But even if you buy Malk and make your smoothie at home, it will cost you more than Whole Foods. Malk is $1 more per container on average at Erewhon. Califia's popular Barista Blend is also $5.69 at Erewhon vs. $4.49 at Whole Foods.
Chicken
Pricing on chicken is all over the road depending on whether you're buying organic, boneless or rotisserie. The price of rotisserie chicken at Erewhon is about the same as Whole Foods at $9 per bird. That's substantially higher than traditional grocery stores, but not unreasonable considering how far you can stretch a whole chicken in terms of meals.
Raw chicken is another story. Boneless skinless organic chicken is $10.99/lb at Whole Foods, but Erewhon charges $12.49 for the same thing. Erewhon may be sourcing their chicken from a smaller batch farm than Whole Foods though, so it's a matter of personal opinion on whether it's worth the extra cost.
Manuka Honey
Manuka honey is a hot product in the health market. Manuka is sourced from Australia and New Zealand, where the bees pollinate the native tea tree plant. Known for its antibacterial and healing properties, tea tree oil has been a go-to homeopathic product for a long time. Now you can get some of those benefits in delicious honey.
It's no surprise that a honey that travels halfway across the world to reach your store shelf will be more expensive than the one you can get at your local farmers market. Depending on the concentration, manuka honey can exceed $80 per jar.
Erewhon has its own label for manuka honey and carries many different varieties. But the popular Manuka Doctor Bio MGO 80 sells for $26.99 at Erewhon, while the same jar sells for less than $14 at Whole Foods.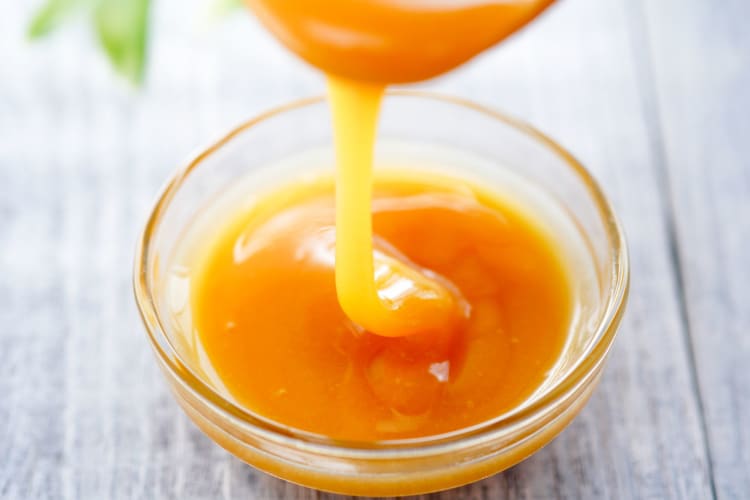 Join 200,000+ Culinary Enthusiasts
Exclusive deals, recipes, cookbooks, and our best tips for home cooks — free and straight to your inbox. PLUS: 500 Rewards Points.
If grocery shopping is your favorite sport, you'll definitely want to experience Erewhon when your travels allow. Beyond their food products, Erewhon sells other feel-good products like candles and essential oils. They are also a candy store for those who love to discover the latest beauty products. Just remember to be a discerning shopper and to make your selections wisely so that you don't have to get a second mortgage to pay your grocery bill.
For even more ways to explore your favorite foods, check out other experiences happening on Cozymeal.