What Is Endive and How Do You Use It?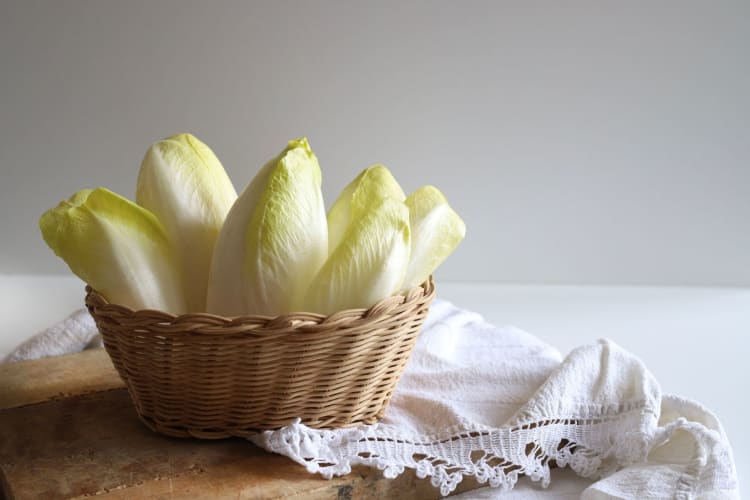 Endive often makes an appearance in salads and crudité platters, but what else can you do with this leafy green? This guide will tell you everything you need to know about this versatile ingredient, from what different flavors you can expect to where to find this unique member of the chicory family.
Jump to Section
Gourmet Cooking Classes Near You
Take your culinary skills to new levels with guidance from five-star chefs.
What Is Endive?
If you've ever eaten a salad Lyonnaise or seen an unfamiliar leafy green on a salad bar, it could be endive. What are endives? Endives are leafy green vegetables that come from the chicory family. You'll typically find the different varieties of endive in salads, but they are sturdy greens and can also be cooked. You may see them grilled or used in dips. You might even see the cup-shaped leaves of the white endive used as a chip or cracker substitute with dips and spreads.
Another place you'll often find endives is as an ingredient in cooking classes. If you'd like to learn to cook like a chef and make the most of this leafy green, one great way to do so is by taking cooking classes near you. Look for cooking classes in NYC, cooking classes in New Orleans or quality lessons in your area to improve your skills in the kitchen.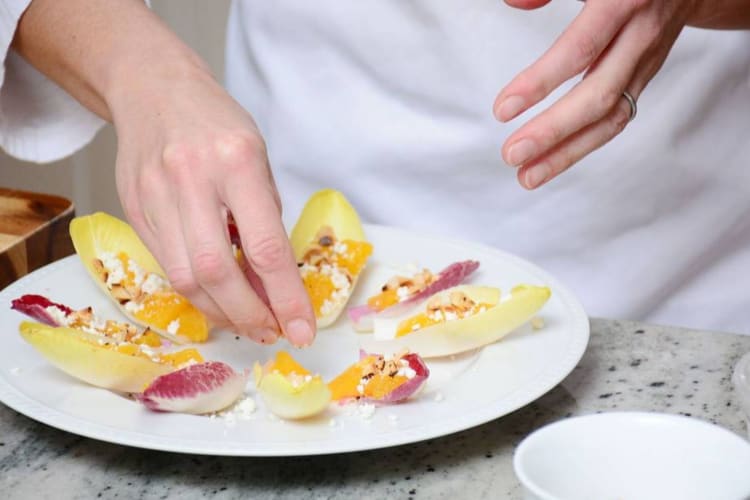 What Does Endive Taste Like?
Understanding the flavor profile of endives isn't as simple as it might seem. This is because there are several different types of endive to choose from, ranging from the white (or Belgian) endive to the broad leaf endive, also known as escarole.
White Endive
Also known as Belgian endive, white endive features a tight cylinder shape with crunchy leaves in a cream or white color. The flavor of white endive is the typical bitter taste you might expect from a member of the chicory family when eaten raw. You might be surprised to learn, however, that Belgian endive is not technically an endive! It is actually a type of radicchio. Don't let that technicality confuse you at the supermarket or farmers market; white endive or Belgian endive is still the most common variety that you will find available for purchase.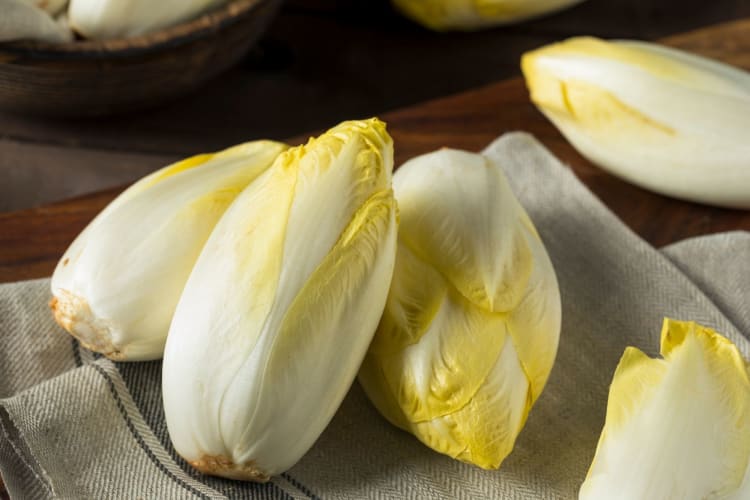 Red Endive
A mix between white endive and radicchio (a more cabbage-like member of the same chicory family), red endive has a milder taste than other varieties of endive.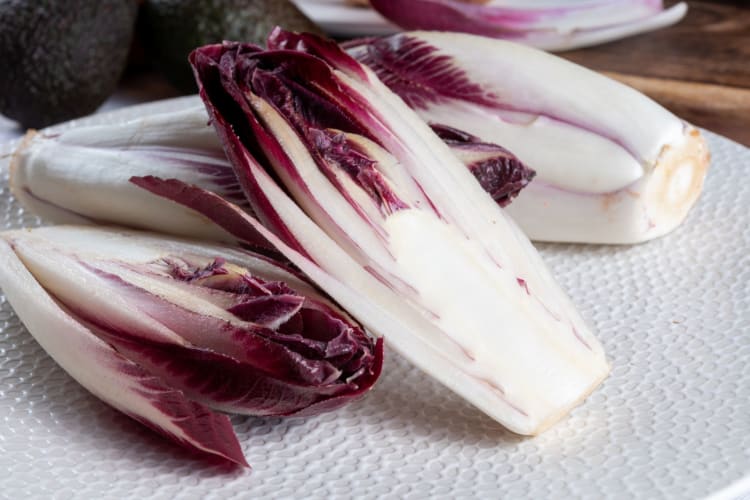 Curly Endive
The French name for curly endive is frisée, and it features a completely different appearance and flavor than other endive varieties. Frisée is marked by its signature curly — almost fluffy looking — leaves. The flavor of curly endive is even more mild than the previous two varieties.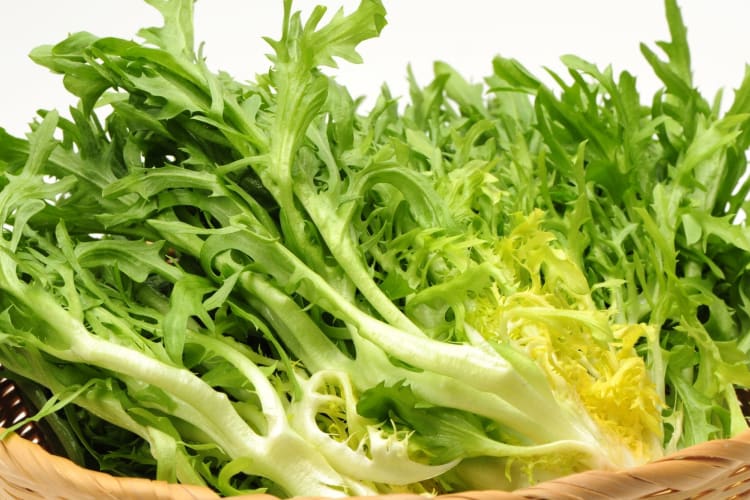 Broad Leaf Endive
This endive variety is also known by the name escarole. On the opposite end of the bitterness spectrum from white endive, escarole is very mild and has wider green leaves that have a curlier shape.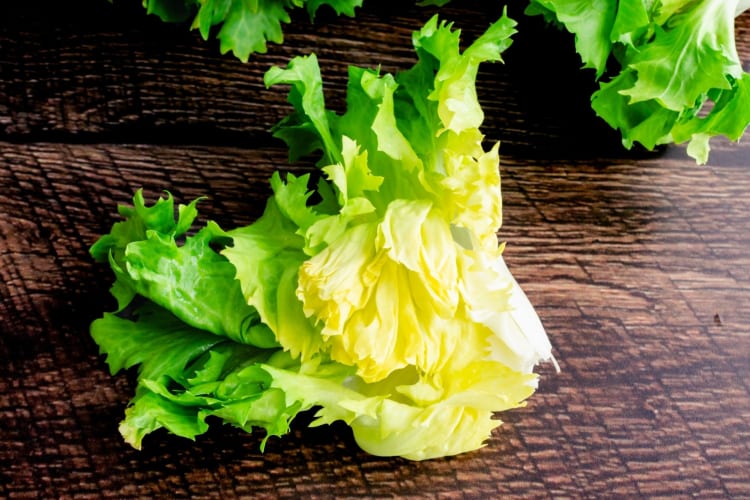 Join a Live Online Cooking Class Today
Your kitchen is now your own culinary classroom. Connect with chefs from around the world right from the comfort of home.
Buying and Storing Endive
You can typically find endives year-round at your local supermarket or farmers market, but it might be helpful to note that they are a cool weather crop. For this reason, they are typically freshest during the fall and winter months.
If you are searching for endive for your next dinner party or as an ingredient for online cooking classes, there are a few key things to look for. With white or Belgian endive, look for a head that is tight and still closed. You should avoid leaves that look brown, mushy or even fuzzy.
Curly endive, or frisée, should have a bright green color. Be sure to note that curly endive will wilt more quickly than other varieties because of its shape. One way to store it is by refrigerating it in a loose bag with a damp paper towel to keep it moist.
One great thing about endive is that its leaves aren't exposed to soil during growing, so it often doesn't even need to be washed before you use it! Any residue you do see can be removed by scrubbing gently with a soft, wet brush and then lightly rinsing. Don't be tempted to soak endive; this can cause the leaves to wilt.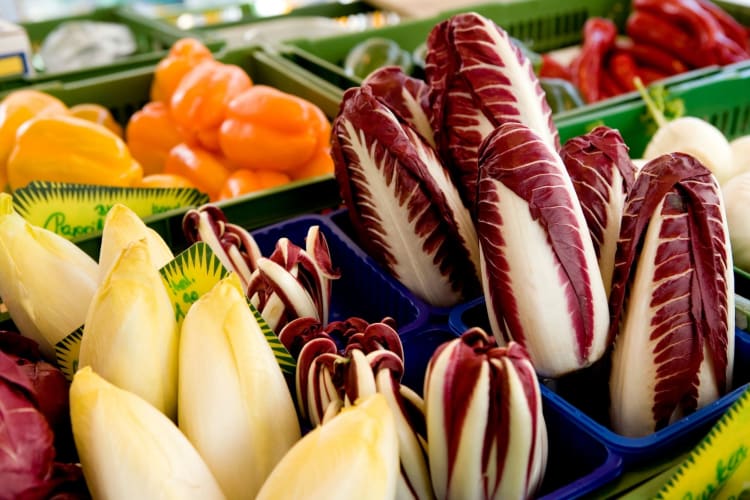 Uses for Endive
For anyone wondering how to start eating healthy, salads are often a good starting place. And it just so happens that salads are the most common recipes that call for endives. For most salads, you can include whole leaves of the endive or cut them into smaller, more aesthetic strips. You'll typically see curly endive, or frisée, in salads, especially salad Lyonnaise, with its signature topping of bacon and egg.
Don't just stop at salads, though. Endives can also be great additions to entrées. Wrap your fish or beef in an endive leaf like a lettuce wrap, or even include it on your next appetizer platter in place of chips. This healthy and wholesome leafy green truly is a versatile ingredient to have in your kitchen.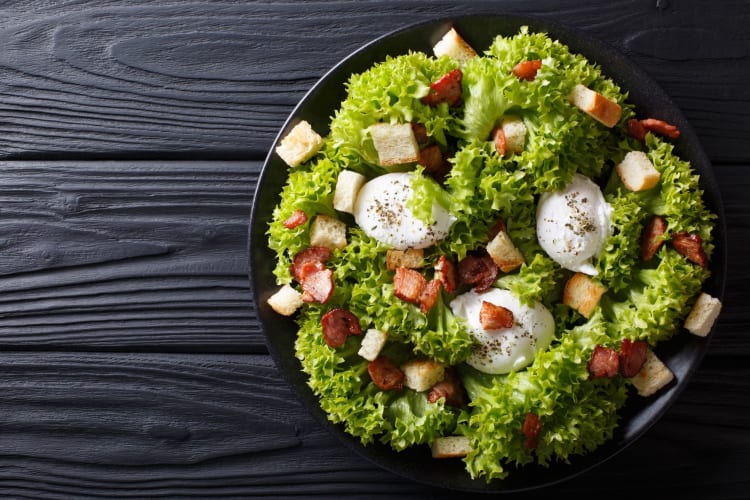 Join 200,000+ Culinary Enthusiasts
Exclusive deals, recipes, cookbooks, and our best tips for home cooks — free and straight to your inbox. PLUS: 500 Rewards Points.
Next time you hear someone ask "What are endives?" we hope this guide comes to mind. This leafy green is versatile and lends a great flavor to salads and appetizers.
For even more ways to explore your favorite foods, check out other experiences happening on Cozymeal.