Complete Guide to The Best Oils for Frying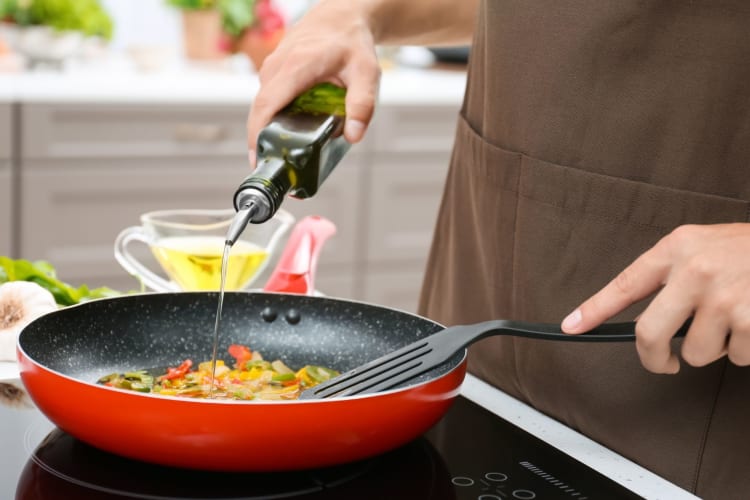 Our editorial team recommends the best products through independent research, selection and careful review. If you make a purchase through one of our affiliate links, we may earn a commission. Prices are subject to change.
If you know how to pick the best oils for frying, you can fry almost any food imaginable. Do you love your chicken fried? Of course you do. And your pickles, potatoes and onion rings too. While it's very easy to hit the drive-thru when you need your fried fix, sometimes there's nothing like homemade. Putting a little attention toward choosing the best oils for frying is the first step to deep-fried heaven at home.
Hot and crispy, battered or bare, fried food is oh-so-bad but oh-so-good. Which oils do restaurants use when they fry? What are the healthiest oils for frying? What's the best oil for the air fryer? Let's take a dip into the best oils for frying avocados and zucchini and everything in between.
Jump to Section
Gourmet Cooking Classes Near You
Take your culinary skills to new levels with guidance from five-star chefs.
What to Consider When Choosing Oil for Frying
Smoke Point
Smoke point is the first thing to consider when choosing the best oil for frying. Safety first! You can't impress the guests with your finest fried chicken if you burnt the house down trying to make it.
Smoke point refers to the temperature at which an oil stops shimmering and starts to smoke. Frying food in an oil heated above its smoke point means burnt food, a stinky kitchen and a real mess to clean up later. Choosing the best oil for frying is key to avoiding any of that.
High Smoke Point Oils: vegetable oil, peanut oil, corn oil, canola oil, avocado oil

Medium Smoke Point Oils: coconut oil, extra virgin olive oil

Low or No Heat Oils: flavored oils like walnut or hazelnut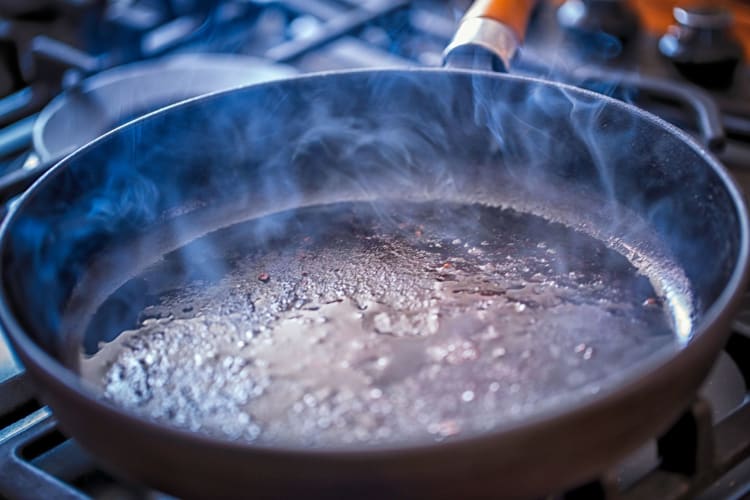 Flavor
Now that you've picked the best oil for frying safely by understanding smoke points, you'll also want to consider whether the oil has a flavor. Everyone has made a trip to the local olive oil shop and test-tasted oils ranging from orange-infused floral to coffee-flavored. Those little bottles are fun to collect and experiment with as long as you don't try to fry with them.
There is a reason that fancy oils come in small bottles. They are for drizzling, not filling your Fry Daddy. The best oil for deep frying is one that can be used safely at high heat but also doesn't spoil the food it's cooking.
Strongly Flavored Oils: toasted sesame oil, extra virgin olive oil, coconut oil, nut oils

Neutral Flavored Oils: vegetable oil, peanut oil, canola oil, corn oil, avocado oil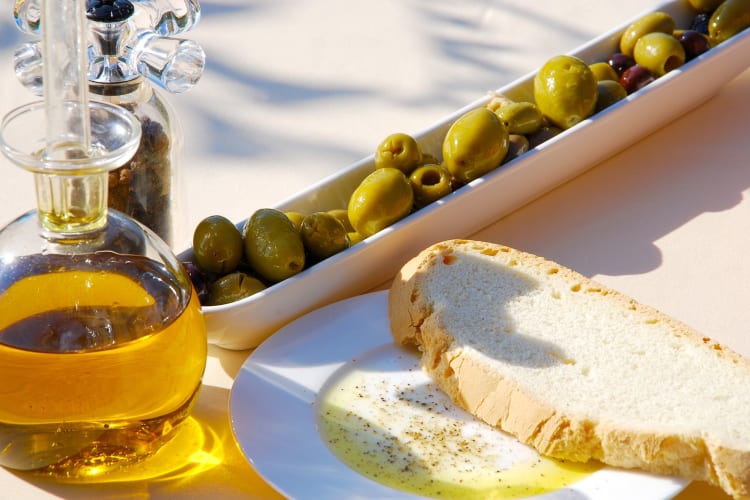 Price
There are a lot of products to choose from when you want the best oil for frying. Price is worth considering depending on the type of frying you plan to do. If you're making homemade french fries or a couple of batches of fried chicken, you're going to need several cups of oil, and that can get expensive if you choose certain kinds of oils.
Good news! One of the best oils for frying is also one of the cheapest. Vegetable oil is a blend of various other oils like corn or canola. Because it's a blend of leftovers, it's cheap. Extra virgin olive oil and fancy oils made from flax seed, avocado or hazelnuts are the most expensive. Save those for drizzles and dressings where you only use a small amount.
$0.07-$0.14 per ounce: vegetable oil, peanut oil, corn oil, canola oil

$0.30-$0.80 per ounce: coconut oil, extra virgin olive oil, avocado oil

$0.90+ per ounce: toasted sesame oil, pure nut oils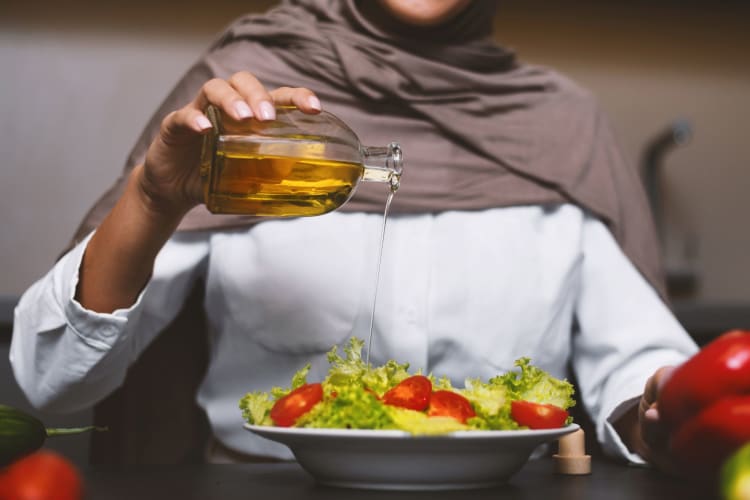 Join a Live Online Cooking Class Today
Your kitchen is now your own culinary classroom. Connect with chefs from around the world right from the comfort of home.
The 8 Best Oils for Frying
1. Best Oil for Deep Frying: Vegetable Oil
The gold standard best oil for frying is vegetable oil. This is your most versatile oil and can be used for mom's fried chicken, fish and chips, doughnuts or whatever else your little heart desires to fry. With a smoke point of 400° to 450°F, it can handle whatever you decide to dunk in it. It is one of the best oils for the air fryer too.
Smoke Point: High, 400°- 450°F

Flavor: Neutral

Price: The cheapest option available, $0.04-$0.08 per ounce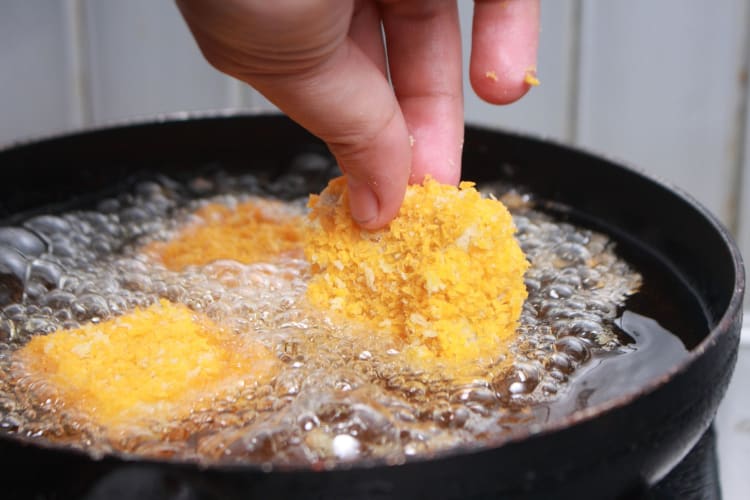 2. Best Oil for Fast Food at Home: Peanut Oil
You may not have a bottle of peanut oil in your pantry, but guess who does? Chick-Fil-A, Jimmy John's and Five Guys. These popular fast-food joints all use peanut oil for their fried goodies.
Peanut oil has one of the highest smoke points (about 450°F) and is very neutral in flavor, so it makes a great substitute if you don't have vegetable oil on hand.
Many Southerners believe peanut oil is the best oil to fry turkey in, so if you're having Thanksgiving on the Bayou, you'll likely have peanut oil to thank for that Cajun-injected bird.
Smoke Point: High, 450°F

Flavor: Neutral, with subtle nuttiness

Price: Almost double the cost of vegetable oil, roughly $0.14 per ounce.
3. Best Oil to Fry Fish: Corn Oil
It's right up there with vegetable oil when it comes to the best oils for frying chicken. Its high smoke point (450°F) means there's wiggle room if you are making several batches and need to keep bringing the oil back to temperature. Corn oil also has a neutral flavor, so it's one of the best oils to fry fish with.
Smoke Point: High, 450°F

Flavor: Neutral

Price: More expensive than vegetable oil but cheaper than peanut, averaging $0.12 per ounce.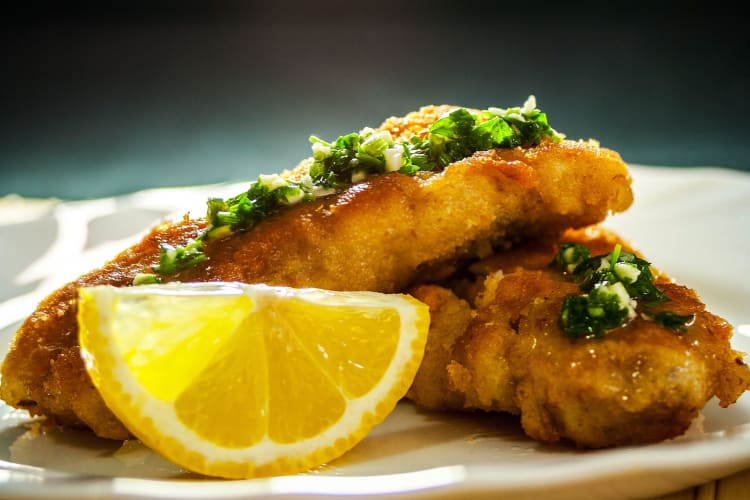 4. Best Oil for Sautéing: Canola Oil
Next on the list of best oils for frying is canola oil. Canola oil has a slightly lower smoke point (400°F) than vegetable, peanut and corn oil, so while you can deep fry with it, this is your go-to oil for shallow pan frying or sautéing. And it has a neutral flavor, so it does double duty as a key ingredient in your favorite box mix cake.
Canola oil is higher in monounsaturated fats than vegetable, peanut or corn oil, which makes it a little healthier. That's great news because canola oil is the best oil for french fries. Just ask McDonald's.
Smoke Point: High, 400°F

Flavor: Neutral

Price: Similar to corn oil, averaging $0.11 per ounce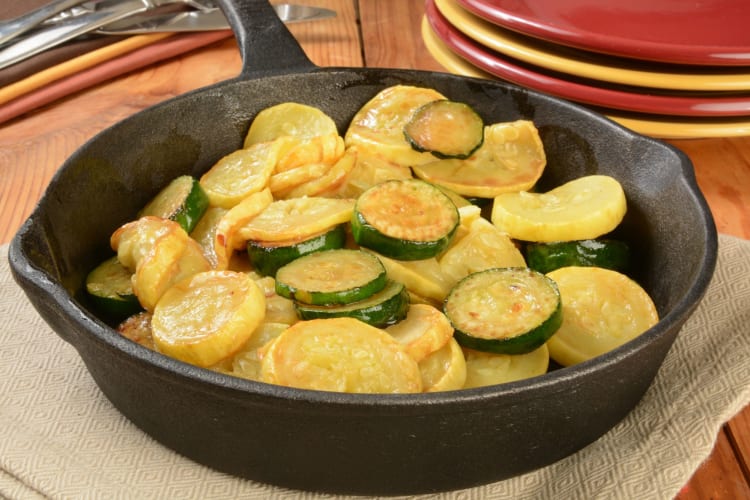 Book a Gourmet Cooking Class Now
Kick-start your culinary confidence with help from a world-class chef. See what's cooking in your city today.
5. Best Oil for Vegetarians: Coconut Oil
What is the best oil for vegetables? Coconut oil has a medium smoke point of around 350°F, so it is not the best oil for deep frying. It has a reasonably strong coconut flavor which works well with some foods but not others. Coconut oil is not the best oil for french fries, but it is one of the best oils for stir-frying vegetables and works great with tofu and tempeh dishes.
Smoke Point: Medium, 350°F

Flavor: Subtle to moderate coconut flavor

Price: Much higher than your deep fry oils, $0.50-$0.68 per ounce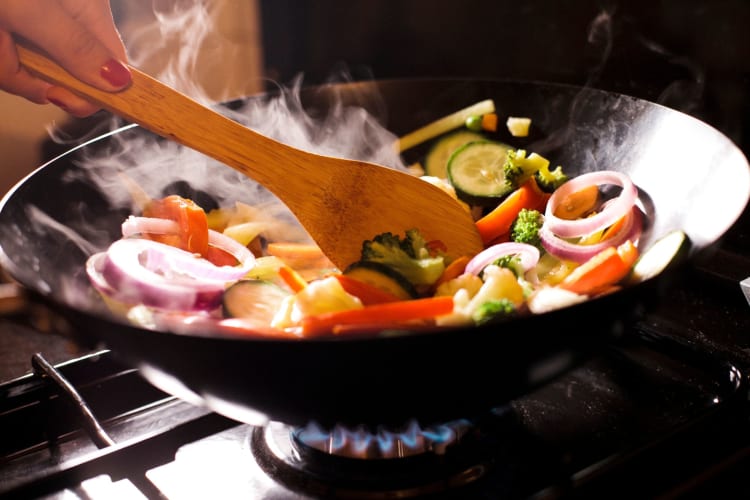 6. Healthiest Oil Overall: Extra Virgin Olive Oil
There's a reason why the Mediterranean diet works. Olive oil. Did you know that people in Mediterranean countries like Greece and Italy consume as much as 75 liters of olive oil per year per person? Yet these populations carry some of the lowest rates of obesity and cardiovascular disease in the world. Per Nature, the chemical makeup of olive oil is almost identical to ibuprofen, so it's got powerful anti-inflammatory properties, making this the healthiest oil for frying.
When it comes to choosing the best olive oils for cooking jobs, consider that there is a wider range of smoke points depending on the olive oil you choose. Extra virgin olive oil is the least refined type of olive oil and has a low smoke point, so it's best to only use it for short sauté jobs at moderate heat. It's not the best oil for frying foods that need to get completely submerged. Regular olive oil has a range of roughly 400°F, so it will stand up to shallow frying better than extra virgin. Highly refined olive oils can have a smoke point as high as 470°, which means one of these could be substituted in a pinch for deep frying.
The best place to use a premium olive oil (Murray's Italian EVOO being a prime example) is in applications that don't involve heat at all. Olive oil has a pleasant grassy taste that works great in vinaigrettes when combined with vinegar and other acids like citrus. Try drizzling olive oil over cooked meats, mashed potatoes or roasted vegetables as a finisher. It adds luxurious richness to any dish.
Smoke Point: Low, 375°F

Flavor: Fresh grass with a hint of pepper

Price: Less than healthy coconut oil, $0.30-$0.40 per ounce depending on organic vs. non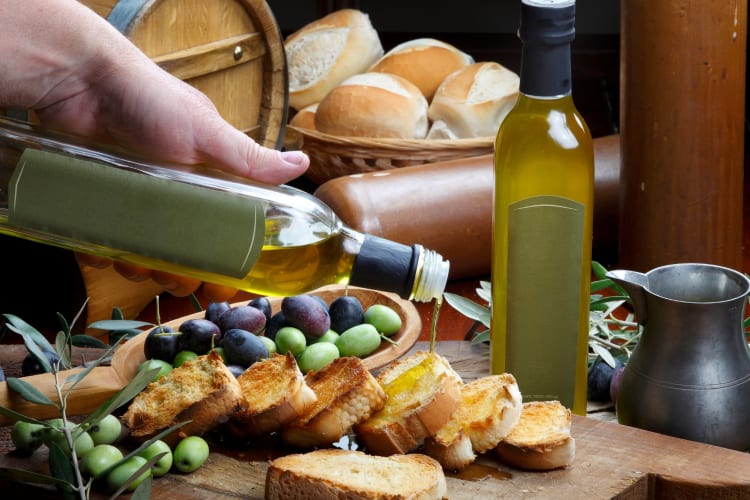 Book an Online Cooking Class Today
Five-star chefs. Step-by-step coaching. Flexible menus. Come see what's cooking in a live online cooking class.
7. Healthiest Oil for Deep Frying: Avocado Oil
While vegetable oil is most people's go-to for deep frying, it isn't the healthiest option out there and is part of what gives fried food a bad rep. Lesser-known avocado oil is actually the secret sauce to no-guilt (or at least less guilty) fried food.
It is high in monounsaturated fats and also has the highest smoke point (500°F) of any oil we've looked at so far. That means you can not only feel better about choosing avocado oil as the best oil for frying chicken, but you can also feel good that it's the safest.
Smoke Point: High, 500°F

Flavor: Just a hint of creamy avocado, heavier than other oils

Price: Varies widely, $0.43-$0.79 per ounce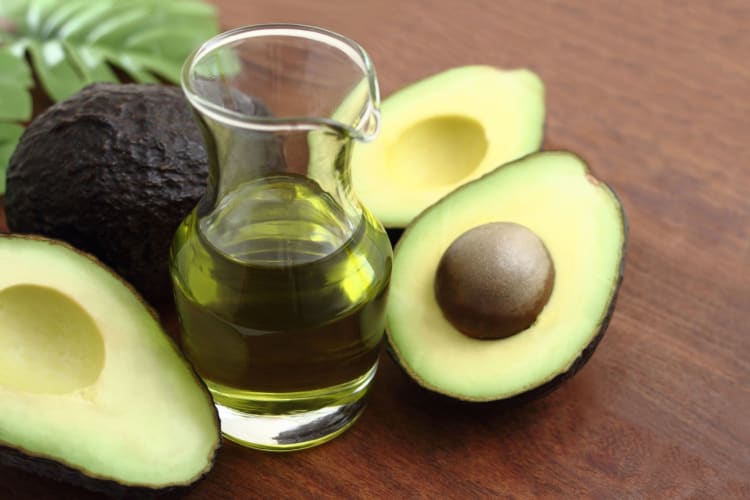 8. Best Oil for Stir-Fry: Toasted Sesame Oil
Sesame oil has a high smoke point and neutral flavor, so it is an option for frying. But the best type of sesame oil is toasted sesame oil, which gives a signature Asian zing to stir-fries or shrimp. It's on the pricier side, but a little goes a long way, so it's worth the splurge.
Smoke Point: High, 410°F

Flavor: Strong flavor of toasted nuts; a little goes a long way

Price: Most expensive option, from $0.90 to $1.30 per ounce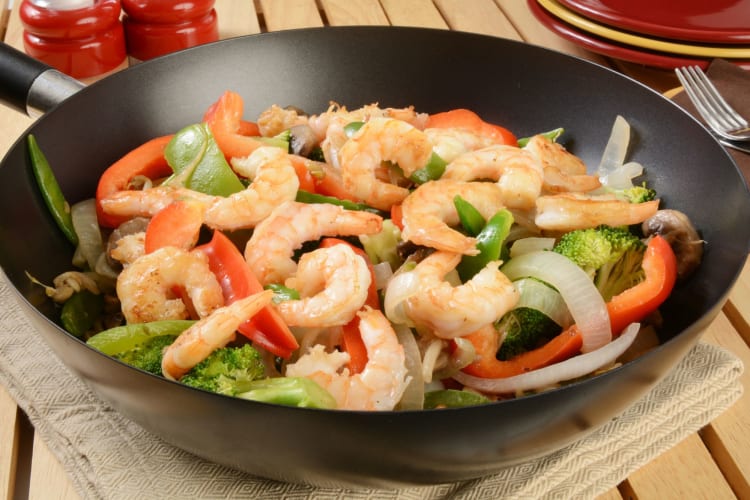 5 Tips for Frying Food
1. Take a Cooking Class
Nothing beats a professional lesson when you want to learn how to cook food properly. Never attempted deep frying at home? A cooking class might be a good idea. The experts that offer cooking classes in NYC or cooking classes in New Orleans can make sure your fried chicken comes out finger-lickin' good. Check out cooking classes near you for other deep-fried ideas or sign up for online cooking classes if you can't find something local.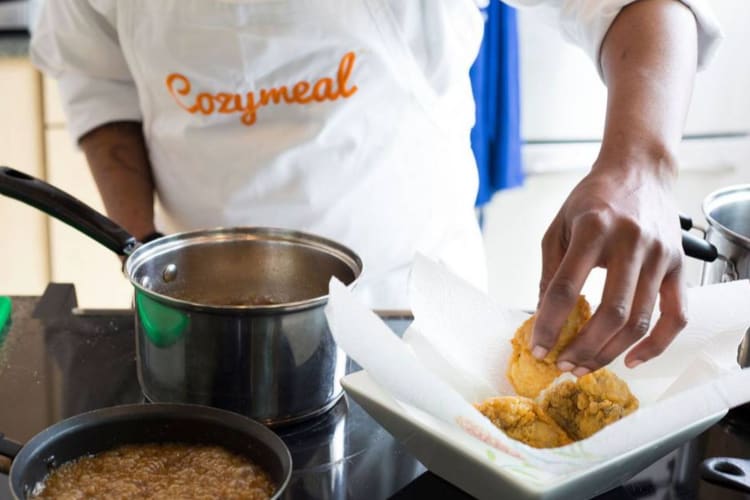 2. Choose the Right Oil
Scroll up to review the best oils for frying depending on whether you are going deep or shallow or just pan sautéing. If you are planning to cook something delicate like fish, you don't want something too heavy or an oil that will impart flavor.
3. Get the Oil Nice and Hot
One of the easiest mistakes to make when frying at home is not getting the oil hot enough, so make sure you have a thermometer on hand that can safely measure up to 400°F. For most foods like chicken or fish, you'll want the oil to be at least 325°F before you drop. If you are frying battered food, you might want to shoot for something a tad higher to make sure the batter will cook instantly versus sliding right off.
Gourmet Cooking Classes Near You
Take your culinary skills to new levels with guidance from five-star chefs.
4. Start With a Sample Size
It's a good idea to have a few smaller or imperfect pieces of whatever you plan to fry that you can use as a tester to make sure the oil is hot enough (and not too hot). It's worth the extra few minutes to make sure you only ruin a bite-sized portion and not an entire serving.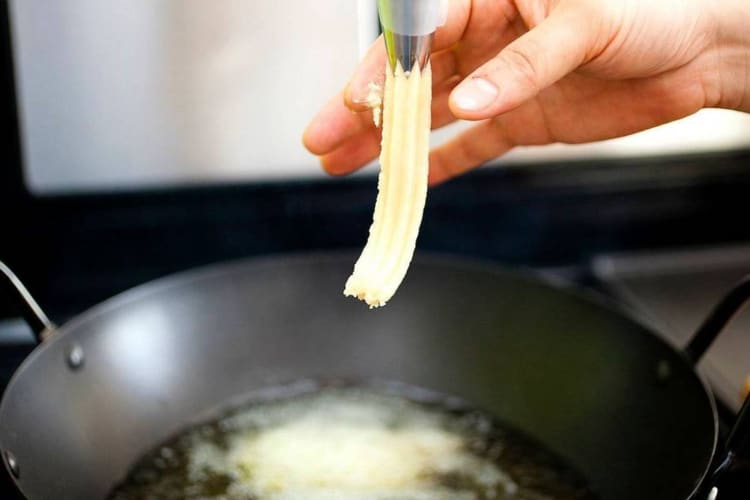 5. Have the Right Tools
We started with safety, so let's end the same way. Having appropriate tools when working with hot oil is key. Obviously, you don't want to ruin good cookware, but you also don't want to use something that might melt or catch fire. This includes not only the pot you're frying in but also the tools you use to drop and collect your food. Be sure to check the heat-safe temperature on all cookware before you heat up your oil.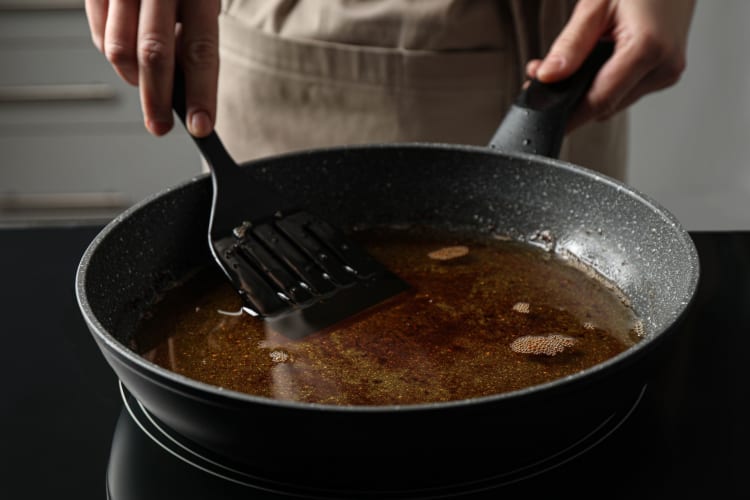 Join 200,000+ Culinary Enthusiasts
Exclusive deals, recipes, cookbooks, and our best tips for home cooks — free and straight to your inbox. PLUS: 500 Rewards Points.
Some of our favorite comfort foods are fried foods, and learning how to make them at home means you can nourish your family with their favorites any time. Frying at home doesn't have to be intimidating. Choosing the best oil for frying is a key step to making sure you can get the job done right.
For even more fun ways to explore your favorite foods, check out other experiences happening on Cozymeal.