Where to Find the Best Breakfast in Miami in 2023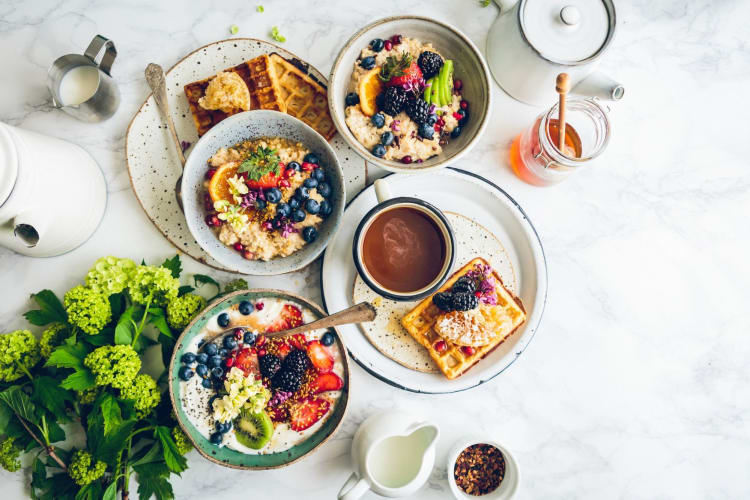 You can take advantage of the early morning dining scene in Florida's hottest metropolis by tracking down the best breakfast in Miami. This energetic city is peppered with amazing eateries serving everything from flavor-filled breakfast burritos to pancake stacks of all shapes and sizes. In addition to the delicious diversity found in the Miami breakfast menu, you'll discover many restaurants providing affordable fare from sun-up to sundown.
If breakfast in Miami is such a hot commodity, where can eager diners find the best and brightest options? Our guide to Miami's best breakfast spots will show you the way to table after table filled with delicious dishes for early eaters of all appetites. Whether you tend toward a sweet bite in the morning or favor something from the savory side of the menu, this super selection of the top Miami breakfast spots covers it all.
Jump to Section
Book a Miami Food Tour
See Miami's famous food scene in a whole new light. Explore the best restaurants, hotspots and more with top local guides.
Find the Best Restaurants in Miami
By ordering up food tours in Miami, you can skip to the head of the line for the hottest Miami breakfast spots. Enjoy expert-led excursions into the local dining scene and locate your best bets for brilliant Miami breakfasts without wasting a moment or a morsel.
The 19 Best Breakfast Places in Miami
1. Café Bastille
Fans of Parisian-style cafes have a Miami breakfast spot in Café Bastille. You'll find a blend of classic pastries, healthy juices and bistro dishes to take care of your morning hunger, no matter what you're craving.
The Vibe
Fresh and calm, with airy indoor spaces and a sunny patio to settle on.
What to Order
Begin with classic croissants to give your day a charming French accent. Follow up with a Parisian omelette, a bit of Europe disguised as breakfast in Miami.
Café Bastille | 248 SE First St., Miami, FL 33131 | $$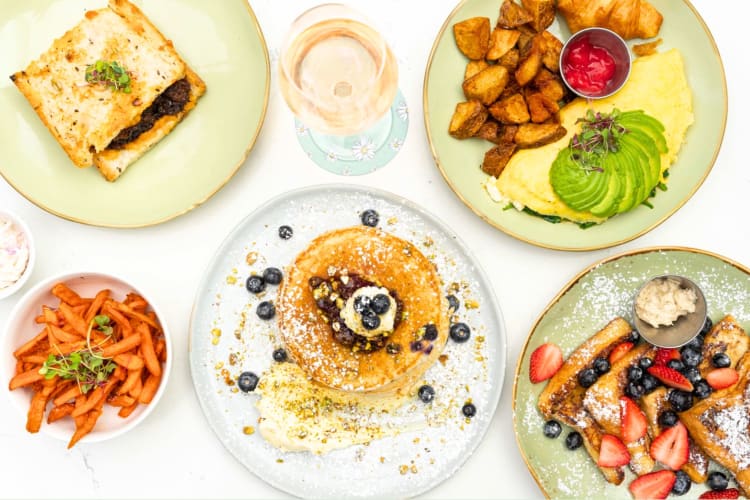 2. The Daily Creative Food Co.
With a name as loaded as The Daily Creative Food Co., this eatery sets a high bar for itself on the Miami breakfast scene. Luckily, the creative chefs have a delicious handle on the idea of how fabulous breakfast dining can be.
The Vibe
This bright spot on the Miami breakfast landscape resembles a modern urban deli.
What to Order
Loaded home fries make roasted potatoes the star of the dish, topped generously with eggs, bacon and cheddar. Alternatively, grab a Bodega egg sandwich for a Miami breakfast you can enjoy on the go.
The Daily Creative Food Co. | 2001 Biscayne Blvd. #109, Miami, FL 33137 | $$
3. MIAM Café
The name "MIAM'' is a play on the city's name that uses a French take on the English word "yum," clueing you in on what to expect from MIAM Café. Located in the vibrant Wynwood Art District, this contemporary Miami breakfast eatery serves up fresh food prepared simply, with undeniable creativity.
The Vibe
Dizzying striped walls on the outside give way to a lush and lovely dining room within.
What to Order
All-day breakfast means you can dig into a MIAM stuffed avocado brimming with chicken and potatoes. For something a bit lighter, opt for a tropical chia jar with all the sweet elements plant lovers adore in a Miami breakfast.
MIAM Café | 1040 Biscayne Blvd., Miami, FL 33132 | $$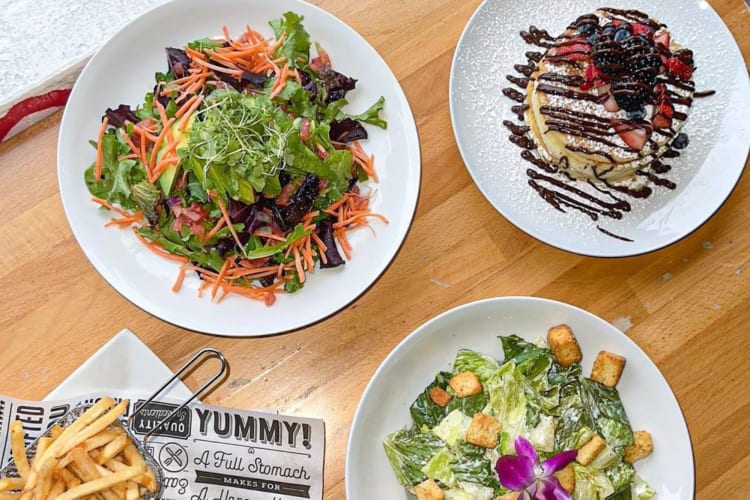 Top-Rated Cooking Classes in Miami
Master the art of gourmet cuisine with the help of Miami's best chefs.
4. B Bistro + Bakery
Get an energizing start to your day with a bite from B Bistro + Bakery. Specialty bakes and unique savory dishes represent some of the best breakfast Miami has waiting.
The Vibe
Vaulted ceilings and artful lighting transform this urban space into a modern minimalist paradise.
What to Order
Take a chance on French toast using a croissant loaf in place of the usual bread, topped with fresh cream and berry compote. If you're still a little peckish afterward, add chilaquiles for a dose of delicious protein.
B Bistro + Bakery | 600 Brickell Ave. #175, Miami, FL 33131 | $$
5. Greenstreet Café
At Greenstreet Café, breakfast places in Miami become an excuse to slow down rather than a reason to speed up. Maybe that's why so many well-known figures stop by to mingle with the locals over tasty fare!
The Vibe
Attention to detail is on display, from the canopied terrace lined with vines to the woodsy, industrial interior.
What to Order
Caramelized banana pancakes are a tasty experiment in eating dessert for breakfast. If smaller bites sound more appealing, explore continental breakfast options like bagels and organic oatmeal.
Greenstreet Café | 3468 Main Highway, Miami, FL 33133 | $$
6. Bistro Café
Bistro Café's deceptively simple name hides the reality of a Miami breakfast restaurant with range that will boggle your taste buds. The menu, printed in both Spanish and English, promises an international spread with something for everyone in your party.
The Vibe
Upscale comfort with a super friendly spirit invites you to stay a while.
What to Order
A skirt steak omelette awaits anyone looking for a hearty meal to start the day. The Romeo and Juliet is actually French toast stuffed with Nutella, cream cheese and bacon; it's a treat-and-a-half breakfast that aficionados of sweet and smoky breakfast in Miami can't pass up.
Bistro Café | Multiple Locations | $$
7. Morgans Restaurant
Late risers can get their share of Miami's breakfast magnificence at Morgans Restaurant. Breakfast here is a brunch-level affair, an excellent choice for friends meeting up before a big day.
The Vibe
Southern Coastal décor fills the space with authentic Florida feels.
What to Order
Have a house-cured salmon plate that presents an array of savory bagel toppings charcuterie-style. For a sweet breakfast in Miami, go for the chocolate-dipped waffle topped with strawberries and ice cream.
Morgans Restaurant | 28 NE 29th St., Miami, FL 33137 | $$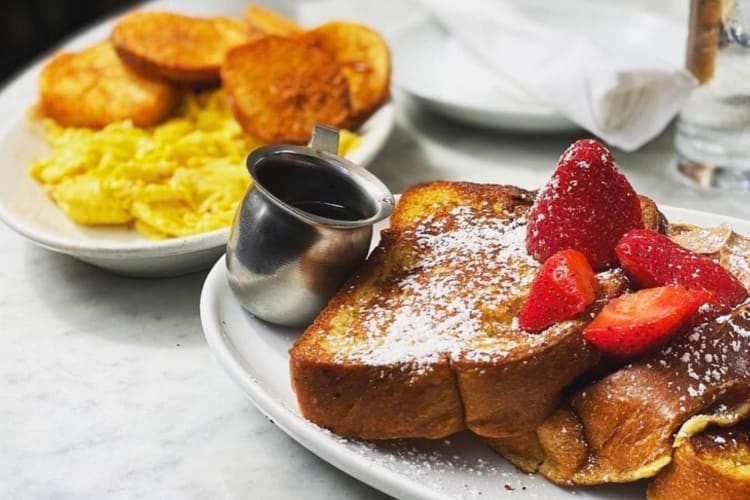 Top-Rated Cooking Classes in Miami
Master the art of gourmet cuisine with the help of Miami's best chefs.
8. Little Hen
The luxe-and-lovely floral freshness of Little Hen may convince diners looking for Miami breakfast they've entered another country. But don't let the delicate décor convince you that this salon-style eatery takes the morning meals they serve anything less than seriously.
The Vibe
An eccentric and elegant tea room that adds a touch of England to the best breakfast places in Miami.
What to Order
With bourbon batter French toast and rose petal pancakes available, Miami breakfast lovers are in for an undeniably unique dining experience. Familiar dishes like steak and eggs and ham and Gruyère omelette keep things in balance.
Little Hen | 3451 NE First Ave. Ste. 100/102, Miami, FL 33137 | $$
9. Local House
In an 18-room hotel in Miami Beach, you'll find Local House, a stylish restaurant where relaxation always makes the daily menu. Breakfast may be served at brunch time here, but the array of dishes is worth waiting for.
The Vibe
Resort living in a dining room with a breezy openness everyone will enjoy.
What to Order
Famished vegetarians can find satisfaction with an egg white and veggie scramble, light and filled with protein and phytonutrients. Get more indulgent with Key lime French toast topped with coconut sauce, a tropical creation served with a tip of Miami's Panama hat.
Local House | 400 Ocean Drive, Miami Beach, FL 33139 | $$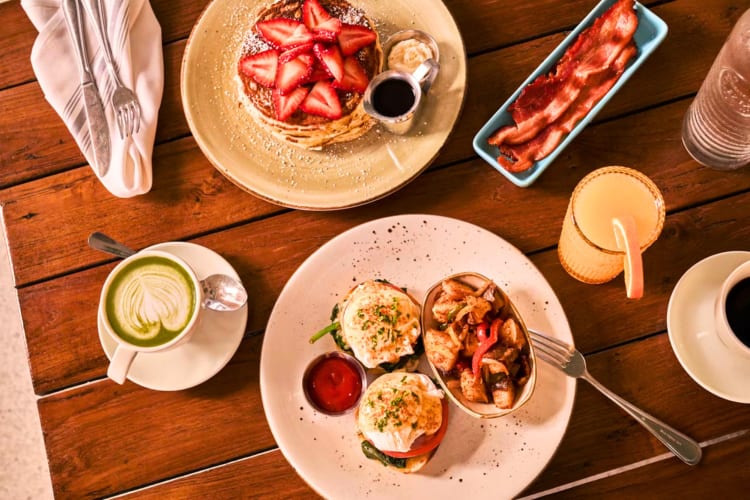 10. Blue Collar
As the name proclaims, Blue Collar is an earthy diner offering some of the most hearty weekend brunch and breakfast Miami has to offer. If there's a neighborhood diner spirit anywhere in the city's food scene, this restaurant has the market cornered.
The Vibe
Clean and unfussy, with a cheery energy that welcomes everyone in.
What to Order
Get onboard with a royal red shrimp Benedict to find out how seafood and breakfast staples can share a dish. A veggie scramble puts broccoli, asparagus and mushrooms in an egg sandwich to make sure you get your healthy eating in.
Blue Collar | 6730 Biscayne Blvd., Miami, FL 33138 | $$
11. Ol' Days
As a farm-to-table bistro with locations in NYC and Buenos Aires, Ol' Days adds a touch of international flair to your Miami breakfast choices. Head in with your besties for fun moments and fantastic food in a place custom-made for photo ops!
The Vibe
Influencers will love the boho chic themes and washed wood furnishings.
What to Order
Grab a spoon and sample the homemade yogurt, filled with fruit, coconut and granola made from scratch. For a more continental plate, choose the Sunrise, a mix of fruits, cheeses, toast and fresh toppings.
Ol' Days | 3301 NE First Ave., Miami, FL 33137 | $$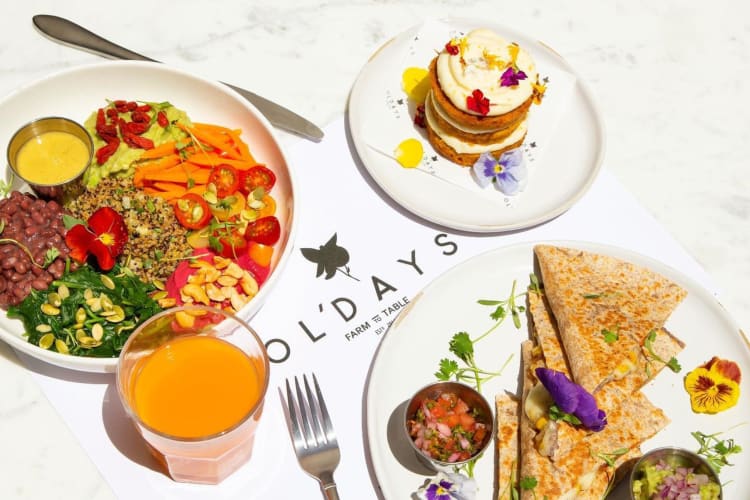 Book a Miami Food Tour
See Miami's famous food scene in a whole new light. Explore the best restaurants, hotspots and more with top local guides.
12. Jimmy's Eastside Diner
Jimmy's Eastside Diner may be the best example of old-school Miami breakfast eateries. Families looking for a familiar and easygoing spot will be pleased with a visit to this down-to-earth diner.
The Vibe
Throwback booths and counter dining give the space a vintage feel.
What to Order
Eggcetera is Jimmy's take on a classic egg-and-hashbrown breakfast, available with your choice of meats, including New York-style corned beef hash. Waffles, banana pancakes and French toast bring baked beauty to this diner's early eating options.
Jimmy's Eastside Diner | 7201 Biscayne Blvd., Miami, FL 33138 | $$
13. Crema Gourmet Espresso
Crema Gourmet Espresso is a premier coffee bar offering hip java drinks and delightful daybreak dishes that make enjoying breakfast in Miami a buzzworthy activity. With reimagined classics served daylong, you can get elevated caffeine and inventive Miami breakfasts in the same place! This is a great locale for holding team building activities in Miami to get your crew revved up for success.
The Vibe
The interiors are fresh, funky and designed for happy interaction.
What to Order
The ham and Swiss croissant gives a simple sandwich a global makeover for a stylish comfort food order. Chocolate chip pancakes show off this restaurant's playful side.
Crema Gourmet Espresso | Multiple Locations | $$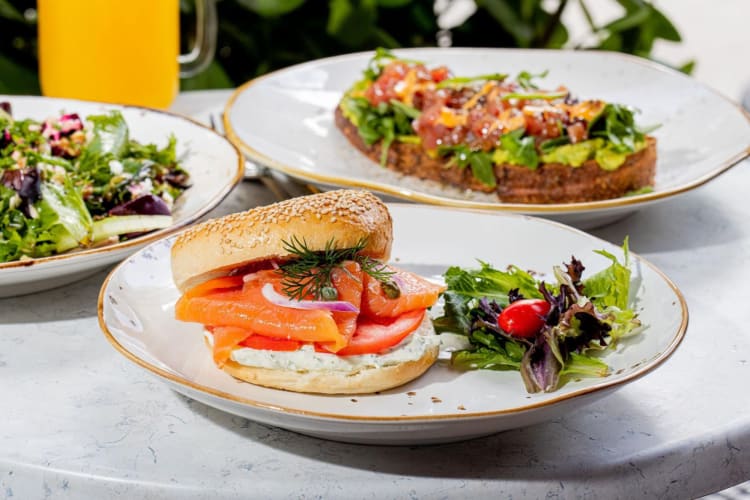 14. Sadelle's
Sadelle's serves up breakfast infused with the spirit of a traditional Jewish deli. There's no time limit for ordering your favorite dishes, so head in early or come in late—breakfast will be waiting for you either way!
The Vibe
Steeped in warm elegance and a healthy amount of panache that makes the dining room feel special.
What to Order
Up the ante on your Miami breakfast with soft scrambled eggs served with a caviar topper. A salami omelette features caramelized onions and mustard for an intriguing twist on a familiar dish.
Sadelle's | 3321 Mary St., Miami, FL 33133 | $$
15. Pura Vida
Pura Vida means "pure life" in Spanish, an excellent way to describe a restaurant serving health-minded breakfast Miami residents and visitors can feel good about. Quality ingredients combined in flavorful recipes are at the heart of this thoroughly modern diner.
The Vibe
Pastels and natural textures make this relaxing diner feel like a spa serving breakfast in Miami.
What to Order
An organic açaí bowl is just the kind of clean energy you need to set your morning in motion. Pescatarians can dive into the New Yorker, toasted sourdough slathered with seasoned house cream cheese and layers of smoked salmon.
Pura Vida | Multiple Locations | $$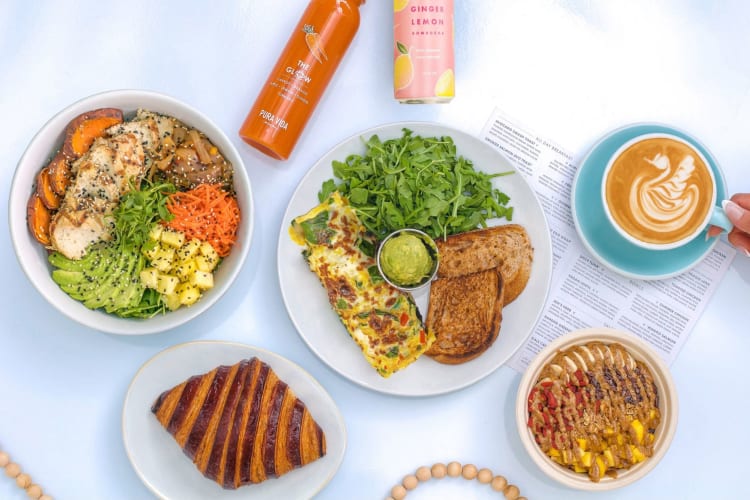 Top-Rated Cooking Classes in Miami
Master the art of gourmet cuisine with the help of Miami's best chefs.
16. The Front Porch Café
Bringing upscale breakfast to diners in South Beach for more than 30 years, The Front Porch Café offers affordable bites crafted with style. This spot is highly popular with South Beach eaters who like their breakfast served with a side of ocean groove.
The Vibe
Laid-back and colorful, with an airy openness that keeps the good energy flowing.
What to Order
A matcha breakfast pudding with chia seeds offers a nutrient-centered meal for guests after a healthy yet delicious first meal of the day. Looking for something with more beef? A Philly cheesesteak omelette has your name written all over it!
The Front Porch Café | 1458 Ocean Drive, Miami Beach, FL 33139 | $$
17. Chug's Diner
Chug's Diner is a Michelin-starred restaurant serving Cuban food in Miami in an American diner atmosphere. Owner Michael Beltran, otherwise known as Chug, recreates heritage recipes for a hungry audience eager to expand their definition of Miami breakfast.
The Vibe
The familiarity of the décor blends nicely with the sweet surprises on the menu.
What to Order
The Chef's Breakfast lets you savor a trio of eggs served atop seasoned rice. A cast iron pancake prepared in clarified butter sounds more like a dessert than breakfast, but who's complaining?
Chug's Diner | 3444 Main Hwy. Ste. 21, Miami, FL 33133 | $$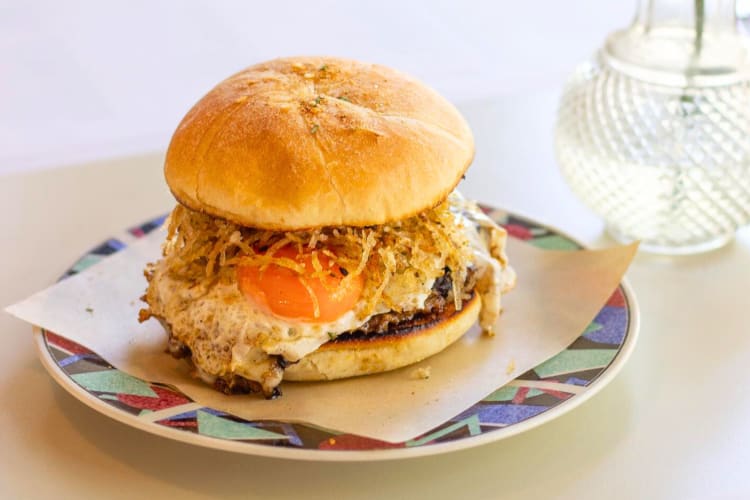 18. Chicken and the Egg
Chicken and the Egg lets you answer the age-old question by ordering both to see which comes first! Also known as The Egg Spot, this father-and-son-owned eatery serves a Miami breakfast made with cage-free eggs.
The Vibe
A farm-style dining space and an old-fashioned butcher counter all in one.
What to Order
The Son of a Butcher is a too-tall-to-bite bagel sandwich stuffed with ham and fried eggs, a plateful of fantastic food that begs to be shared among friends. Oreo cookie pancakes served with buttercream and ice cream is a sweet way to get your Miami adventures underway.
Chicken and the Egg | 228 SE First St., Miami, FL 33133 | $$
19. La Ventana
Colombia puts a pin in the diverse Miami breakfast map with La Ventana. Every dish in this exciting restaurant pays tribute to the culinary traditions of South America.
The Vibe
Vibrant Latin touches fill this feel-good diner with artful magic.
What to Order
If you wake up extremely hungry, an arepa de choclo, a Colombian cornmeal cake filled with eggs and shredded beef to tame the ravenous inner beast. For a more spirited take on avocado toast, there's guacamole toast, topped with a fried egg duet and sliced tomatoes.
La Ventana | 710 Washington Ave., Miami Beach, FL 33139 | $$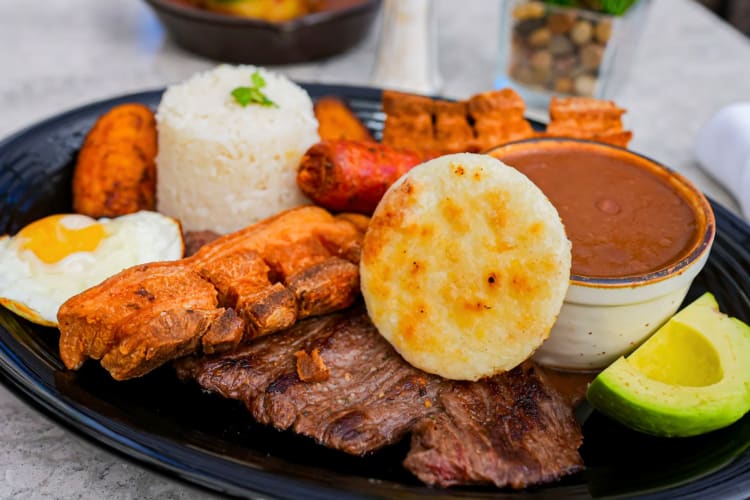 Join 200,000+ Culinary Enthusiasts
Exclusive deals, recipes, cookbooks, and our best tips for home cooks — free and straight to your inbox. PLUS: 500 Rewards Points.
There's a savory range among Miami foods that appears in every meal and menu, especially in the world of breakfast in Miami. Anyone looking to bite into the diversity of the local dining scene can launch an exploration of breakfast to find out how global the options really are.

From European pastries to Cuban classics and Colombian creations, the usual American fare is in fantastic company when breakfast in Miami is on the table! For even more ways to explore Miami and beyond, check out other experiences happening on Cozymeal.