23 Must-Try Restaurants in Houston for 2023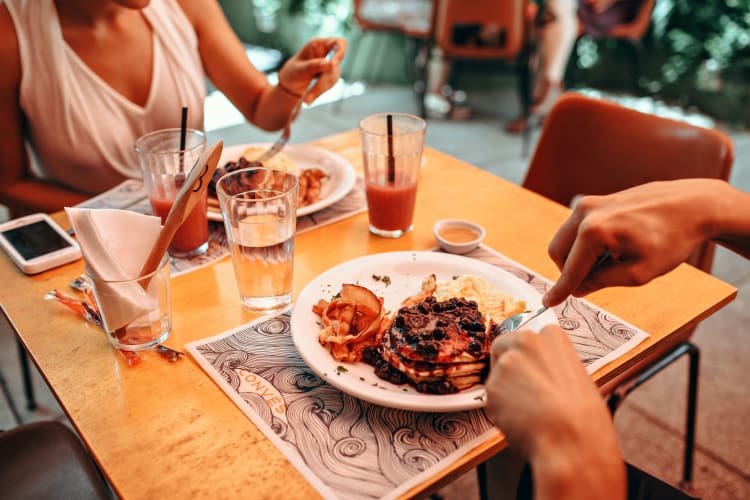 Looking for some of the best restaurants in Houston? Perched on the Gulf of Mexico, Houston is known for its excellent access to seafood, but that's not all this dynamic city has to offer. It's also one of the most diverse cities in the country, melding a variety of cultures and cuisines together beautifully. From Southwest and Tex-Mex flavors native to the region to contributions from large immigrant populations from all over the world, Houston and its environs have had a global restaurant explosion in the past few decades.
Whether you are looking for amazing Mexican fare, great barbecue or savory Indian fare, Houston has you covered. We've rounded up some of the most popular eateries that fully explore all that the city has to offer. Houston's restaurant life offers a perfect backdrop for date nights, celebrations, casual bites or fine dining experiences.
Jump to Section
Top-Rated Cooking Classes in Houston
Master the art of gourmet cuisine taught by Houston's best chefs.
23 Best Restaurants in Houston
1. Gatlin's Fins & Feathers
Tucked in the Independence Heights neighborhood, this Houston restaurant specializes in classic Southern fried chicken and seafood led by pitmaster Greg Gatlin, who has created several other Houston eateries of note.
The Vibe
Gatlin's Fins and Feathers is a casual and homey spot with cozy wood paneling, crisp green tiles and fun collage tablecloths. It's a perfect spot to linger or to grab a quick meal with a family feel but with decidedly elevated fare.
What to Order
Gatlin's is famous for their fried chicken, but you can also try the chargrilled oysters, the Clucker charcuterie board or the fried catfish. Regulars recommend both the gumbo and the homemade biscuits.
Gatlins Fins & Feathers | 302 W. Crosstimbers St., Houston, TX 77018 | $$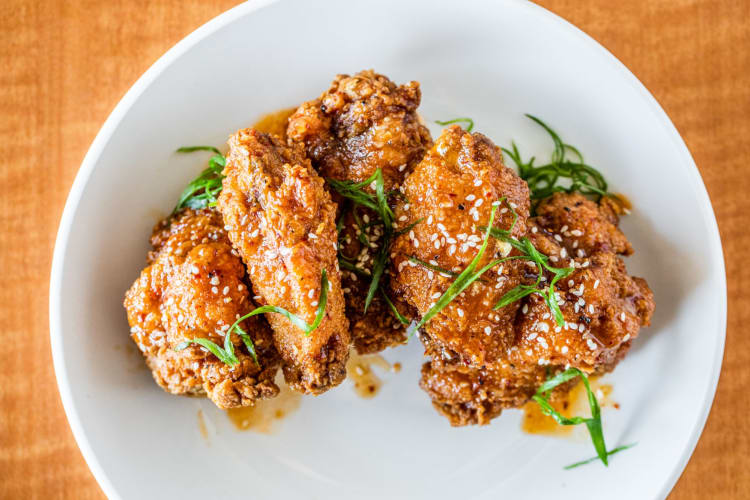 2. Amrina
Often named as one of Houston's best restaurants for Indian cuisine, Amrina is known for its playful and whimsical approach to classic Southeast Asian dishes and imaginative cocktails served in novelty glassware.
The Vibe
Amrina's elevated interior has a dramatic yet funky feel, complete with avant-garde lighting and art surrounding a mammoth bar serving cleverly named fun cocktails like Peaches, Peaches, Peaches and Cashmere and Lace. It's an equally perfect spot for group celebrations or romantic date nights.
What to Order
Amrina's menu boasts innovative takes on classic Indian food incorporating wagyu beef, seafood and vegetarian dishes. Try the Japanese A5 wagyu beef grilled with spicy butter, the chicken tikka or the butter chicken. For dessert, order the masala chai marble cake or cardamom chocolate mousse.
Amrina | 3 Waterway Square Pl., The Woodlands, TX 77380 | $$$
3. The Blind Goat
This Vietnamese Houston restaurant is courtesy of writer-turned-MasterChef-winner Christine Ha. Once a food stall in Bravery Hall, The Blind Goat now has its own space serving up a number of Vietnamese classic dishes and Ha's innovations.
The Vibe
The Blind Goat is a lively and casual spot with an open kitchen and a contemporary feel lush with plants and greenery, as well as a selection of Ha's line of cookware and cookbooks.
What to Order
Ha's innovative menu includes dishes like a Texas barbecue brisket fried rice, Saigon street corn, curry goat on a baguette and sticky wings. For dessert, order Ha's signature Rubbish apple pie à la mode.
The Blind Goat | 409 Travis St., Ste. 367, Houston, TX 77002 | $$
Top-Rated Cooking Classes in Houston
Master the art of gourmet cuisine taught by Houston's best chefs.
4. Tatemó
This masa-focused Houston restaurant from Chef Emmanuel Chavez boasts a multi-course, reservation-only gourmet dining experience with a constantly changing menu, as well as a Sunday first-come, first-served brunch with many of the same dishes.
The Vibe
Tatemó's style is rustic and elevated with a Spanish mission-style flair. The feeling is intimate and romantic, with very limited seating and a candlelit interior.
What to Order
While the tasting menu changes according to locally available supplies and season, occasional dinner and brunch offerings include a short rib quesadilla, corn mousse and masa cakes as well as a much-praised ceviche.
Tatemó | 4740 Dacoma St., Houston, TX 77092 | $$$
5. Feges BBQ
With a couple of branches in Texas, this restaurant in Houston is famous for a novel take on classic barbecue fare, including items like Moroccan spiced carrots, pimiento mac and cheese and sausage corn dogs.
The Vibe
Feges BBQ is bright and contemporary with touches of Southwestern flavor in the décor and artwork, including a wall of screens constantly showing Old West cinema classics.
What to Order
Try the Whole Hog Platter or the $50 BBQ Board that serves up to four people a selection of brisket, ribs, sausage and three sides. They also have a wide selection of burgers and other meat-centric dishes.
Feges BBQ | Multiple Locations | $$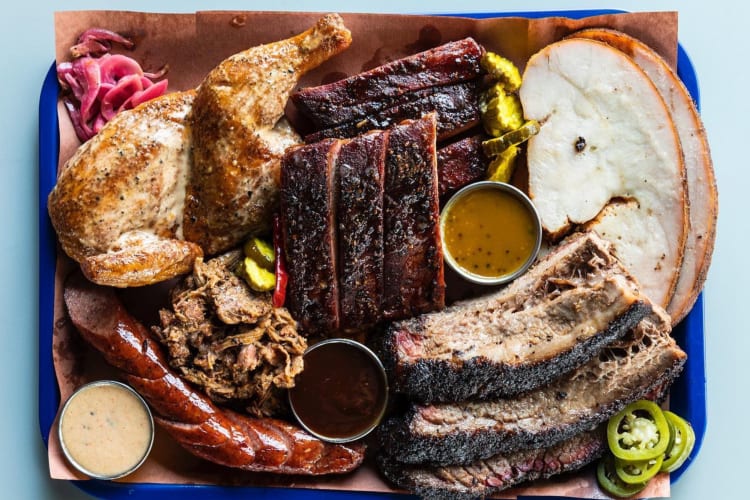 6. Phat Eatery
This Houston restaurant menu is inspired by Malaysian street food favorites like roti canai and satay skewers served up in a trendy, casual and affordable style. Phat, which means "highly attractive or gratifying," offers modern interpretations of regional Malaysian favorites.
The Vibe
Displayed among an interior of brick and neon, Phat Eatery's lit signage gives the restaurant a street-like feel amid a clean and contemporary bright space with ample seating and room for larger groups.
What to Order
Try the numerous satays or the house dim sum. Customer-favorite entrées include the curry laksa, curry spice crawfish or Hainanese chicken.
Phat Eatery | 23119 Colonial Pkwy., Katy, TX 77449 | $$
7. Xochi
One of Downtown Houston's best restaurants, Xochi offers regional Oaxaca cuisine led by award-winning chef Hugo Ortega. Named after the goddess of flowers, this affordable but elevated spot offers up unique items like house-made chocolates and homemade masas.
The Vibe
Sleek and sophisticated, Xochi also has a rustic Southwestern feel that celebrates Mexican culture via colorful décor and dynamic artwork.
What to Order
Try the memelas, a variety of masa-formed pancakes, and a flight of moles. They have an extensive menu of agave-based cocktails as well as typical Oaxacan favorites like enchiladas and taquitos dorados.
Xochi | 1777 Walker St., Houston, TX 77010 | $$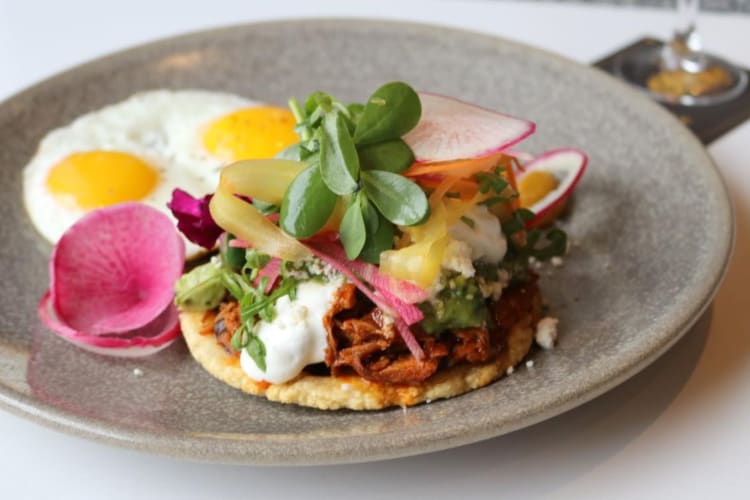 Top-Rated Cooking Classes in Houston
Master the art of gourmet cuisine taught by Houston's best chefs.
8. Ostia
Named after an Italian city, this trendy farm-to-table Houston restaurant features Mediterranean favorites like handmade pasta, brick oven pizzas and house-made focaccia.
The Vibe
Rustic yet contemporary, Ostia features an open kitchen and cozy atmosphere that includes a bright, light-filled contemporary interior with wood floors and lots of brick.
What to Order
Try their spaghetti with scallops, the shakshuka or the pork chop Milanese. For dessert, order their tiramisu tres leches, which blends two famous desserts with great results.
Ostia | 2032 Dunlavy St., Houston, TX 77006 | $$
9. Nancy's Hustle
Nancy's Hustle's bistro-style Houston restaurant is known for its famous griddle Nancy Cakes, as well as a menu filled with a rich wealth of creative gourmet dishes.
The Vibe
Laid-back and inviting, Nancy's Hustle is decked out in vintage décor, antiques and taxidermy. The overall dining experience is elevated but casual.
What to Order
In addition to the famous Nancy Cakes, try the lamb dumplings, the seared duck breast or an order of rabbit wings. For dessert, try their decadent profiteroles.
Nancy's Hustle | 2704 Polk St., Houston, TX 77003 | $$$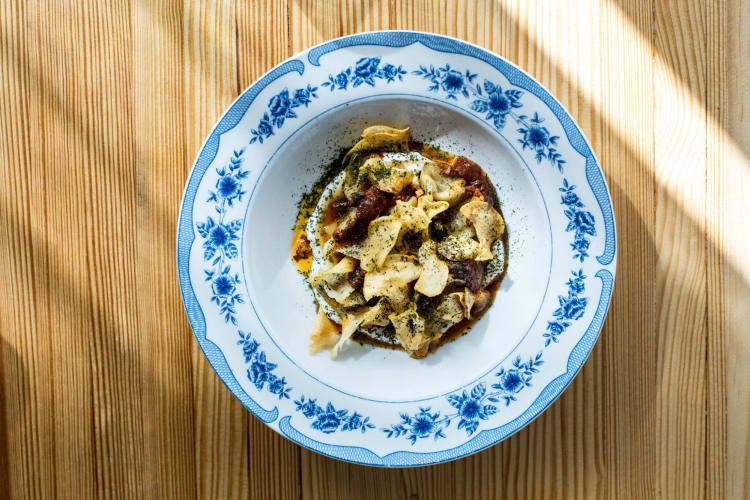 10. El Tiempo Cantina
A spin-off of the popular Ninfa's, this Tex-Mex eatery is known for its Mexican favorites and classic dishes as well as its superior service among all the great restaurants in Houston.
The Vibe
Colorful and filled with rustic Spanish-style accents like brick and wood beams, El Tiempo Cantina is great for both an intimate date night and more lively gatherings of several guests.
What to Order
Try the crab nachos, the barbecue brisket queso or their famous fajitas and enchiladas. They also have a large brunch menu as well as a selection of housemade tortillas and salsas.
El Tiempo Cantina | 5602 Washington Ave., Houston, TX 77007 | $$
11. Taste of Texas
This classic take on the American steakhouse opened in 1977 and serves up a selection of top-choice Angus beef and seafood as well as Texas specialties like pecan crusted chicken and jalapeño stuffed shrimp — very on-brand for a Houston restaurant!
The Vibe
Taste of Texas has the feel of an old lodge or library, complete with a massive fireplace, antique weaponry, taxidermy and pieces of Texas history. Formal yet accessible, it's a perfect spot for both family dining and special occasions.
What to Order
Try the Texas quail bites or the baked brie as appetizers, followed by one of their bacon-wrapped Angus cuts that you can personally select from a wide selection at their meat counter before you eat. For dessert, be sure to order their take on the Texas state dessert — a slice of pecan pie.
Taste of Texas | 10505 Katy Fwy., Houston, TX 77024 | $$$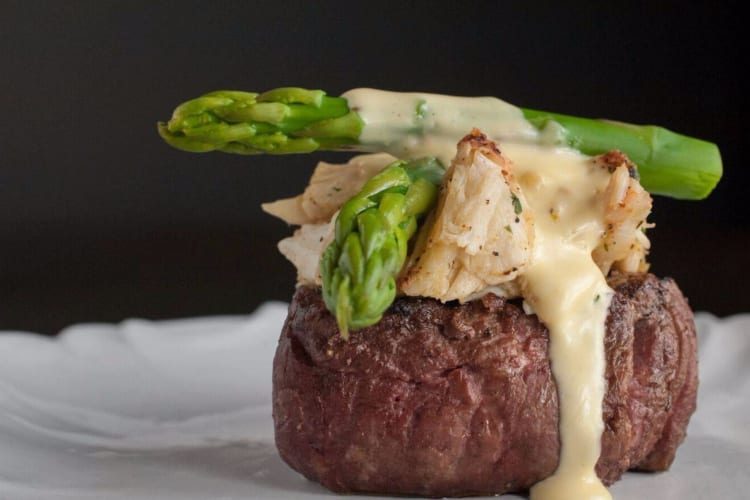 Top-Rated Cooking Classes in Houston
Master the art of gourmet cuisine taught by Houston's best chefs.
12. Kata Robata
While Texas may not be known for its sushi, this Houston restaurant gives other cities a run for their money by offering a selection of fresh fish imported daily from Japan.
The Vibe
Lined with counter seating and expansive sushi cases, Kato Robata's crisp green and brown interior feels fresh and contemporary and is perfect for a quick bite or longer meal.
What to Order
In addition to maki, sashimi and rolls, this Houston restaurant also features a number of grilled seafood selections and unique offerings like lobster mac and cheese and kimchi fried green tomatoes.
Kata Robata | 3600 Kirby Dr., Ste. H, Houston, TX 77098 | $$
13. Theodore Rex
Housed amid industrial buildings and artist lofts, this unique Downtown Houston restaurant offers an ever-changing dining experience and one of the city's most formidable wine selections.
The Vibe
While this is definitely a more small and intimate dining experience not ideal for larger groups, Theodore Rex makes a perfect spot for date night tucked amongst the art, décor and dishware courtesy of local artisans.
What to Order
While the menu changes seasonally and often, regulars love their Italian bread dumplings and seared pork shoulder.
Theodore Rex | 1302 Nance St., Houston, TX 77002 | $$$
14. The Gypsy Poet
This Houston restaurant is known both for its delicious pizza and for attracting the city's vast music crowd, both as a performance venue and hang-out spot.
The Vibe
Artsy and bohemian, this casual restaurant for Houston's music-lovers offers comfortable seating, lots of space for socializing and a lively atmosphere filled with artwork from local artists.
What to Order
The Gypsy Poet's famous pizzas sport innovative recipes and names like the Fancy Backpacker, Pepperoni Madness and The Dream Catcher.
Gypsy Poet | 2404 Austin St., Houston, TX 77004 | $$
15. March
This exclusive reservation-only Houston restaurant focuses on the distinct regions of Mediterranean cuisine across Spain, Corsica, Greece and Italy.
The Vibe
Elevated and exclusive, March prioritizes a distinctive and memorable experience exploring regional flavors. The dining experience is both creative and educational, the perfect spot for a special date idea in Houston.
What to Order
This elegant Houston restaurant has an ever-changing tasting menu that comes in six or nine courses with beverage pairings featuring top-quality seafood and other dishes made with premium ingredients.
March | 1624 Westheimer Rd., Houston, TX 77006 | $$$$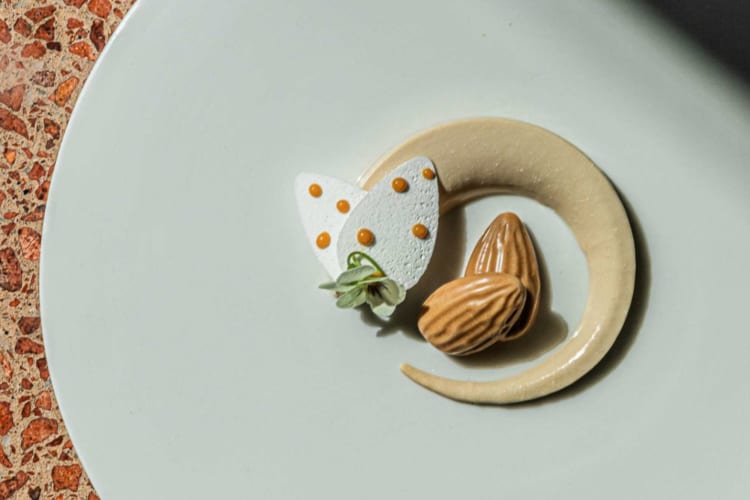 Top-Rated Cooking Classes in Houston
Master the art of gourmet cuisine taught by Houston's best chefs.
16. Pho Dien
Affordable and accessible, this pho restaurant in Houston is located in Asiatown, where it's a perfect stop for a Vietnamese coffee or steaming bowl of beef pho.
The Vibe
Laid back and casual, Pho Dien features a large dining room and high, lofted ceilings that create a refreshing space to grab a quick bite or linger with coffee.
What to Order
Try one of their bowls of pho along with a salted soda lemonade or melon tea.
Pho Dien | 11830 Bellaire Blvd., Houston, TX 77072 | $
17. Da Gama
Da Gama blends Portuguese and Indian flavors, offering up dishes that bring into focus the best aspects of both.
The Vibe
The bright and well-lit interior is filled with a luxurious feel that incorporates design aspects from both Indian and Portuguese cultures, including ornate arches and botanical accents.
What to Order
This unique Houston restaurant has a number of traditional Indian dishes like samosas, curries and seafood with Portuguese twists. Try the pani puri, the blacked mussels or the chili paneer.
Da Gama | 600 N. Shepherd Dr., Ste. 520, Houston, TX 77007 | $$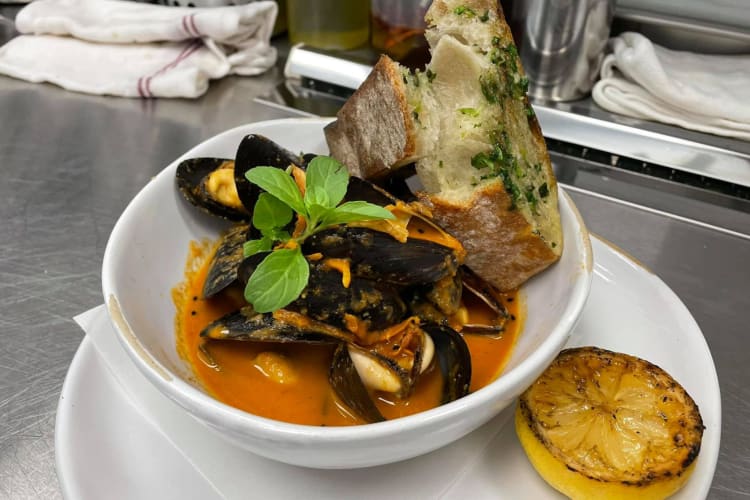 18. Mo Better Brews
Hip and casual, this Houston restaurant features an all-vegan menu and a sizable selection of vinyl records you can purchase to take home with you.
The Vibe
Located in a rustic and industrial space, Mo Better Brews offers a great spot to enjoy brunch or an early dinner.
What to Order
Try the Cajun croissant, the Hot Honey Shrooms or the breakfast quesadilla as well as their excellent coffee.
Mo Better Brews | 1201 Southmore Blvd., Houston, TX 77004 | $$
19. Étoile Cuisine et Bar
Inspired by the French countryside, this bistro-style Houston restaurant brings a number of French dishes to the South amid a beautiful elevated backdrop, making it one of the best Houston restaurants for impressing a date or out-of-town guests.
The Vibe
Posh and luxurious, Étoile Cuisine et Bar is definitely on the formal side, making it an excellent place for special celebrations and romantic dinners. Crisp linen tablecloths, velvet seating and chandeliers create a rustic country house feel.
What to Order
Étoile is a perfect place to seek out French delicacies like escargot and foie gras. This sophisticated Houston restaurant also features an excellent selection of wines.
Étoile Cuisine et Bar | 1101 Uptown Park Blvd., Ste. 11, Houston, TX 77056 | $$$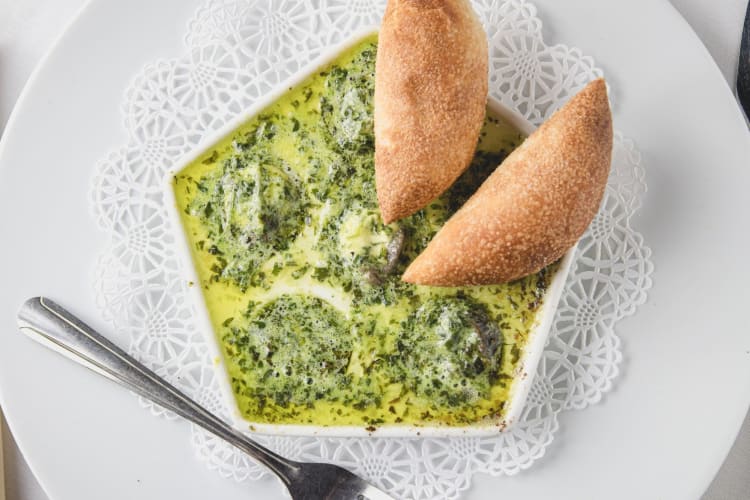 Top-Rated Cooking Classes in Houston
Master the art of gourmet cuisine taught by Houston's best chefs.
20. Lucille's
Located in the city's museum district, this family-run Houston restaurant features a number of classic Southern flavors like mac and cheese, fried chicken, gumbo and fried green tomatoes.
The Vibe
Lucille's has the homey and casual feel of your very own living room, complete with a brick fireplace and dynamic art.
What to Order
Try the oxtail tamales, the cheesy chile biscuits and the seared scallops.
Lucille's | 5512 La Branch St., Houston, TX 77004 | $$
21. Musaafer
This Houston restaurant is known for its chic and opulent décor that includes a palace of mirrors, an intricately carved bar and an abundance of ornate chandeliers.
The Vibe
The posh décor makes a fitting backdrop for a romantic date night or group celebration. Musaafer features a standard dining room as well as a cozy spot with traditional Indian floor seating.
What to Order
This popular restaurant offers a selection of contemporary takes on classic Indian dishes like butter chicken and lamb chops.
Musaafer | 5115 Westheimer Rd., Houston, TX 77056 | $$$$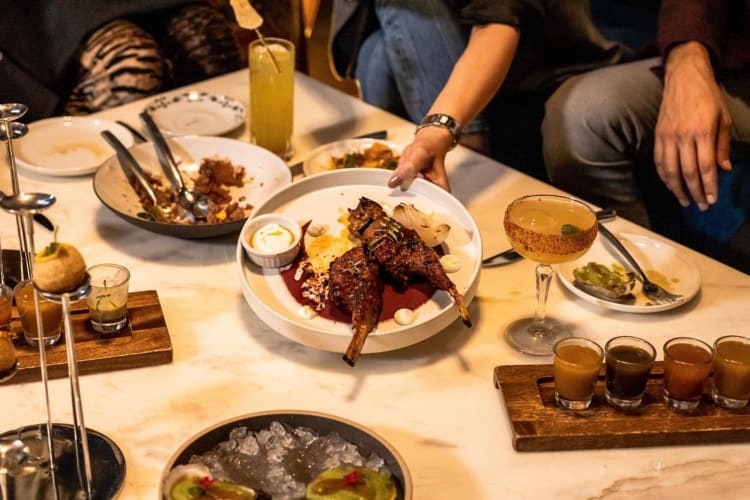 22. Taste of Nigeria
This African spot was created by two native Nigerian chefs seeking to bring their home country's unique flavors and dishes to the dynamic Houston restaurant scene.
The Vibe
Taste of Nigeria offers a sleek and casual space lined with wood paneling and room enough for large groups in their dining room. They also offer a brisk takeout and delivery service.
What to Order
Try their famous meat pies or the tilapia with ground mango seeds. They are also famous for their yam porridge.
Taste of Nigeria | 5959 Richmond Ave., Ste. 160, Houston, TX 77057 | $$
23. Albi
Melding the flavors of Lebanon, Turkey and Greece, this Houston restaurant and bar is as visually stunning as it is delicious. Their pink-lit interior is filled with opulent chandeliers, red velvet booths and ornate details.
The Vibe
Albi's posh interior features a lively yet upscale feel, often accompanied by belly dancers and musicians.
What to Order
The menu features a wide variety of Mediterranean and Middle Eastern fusion dishes, including mushroom shawarma and shrimp falafel.
Albi | 1947 W. Gray St., Houston, TX 77019 | $$$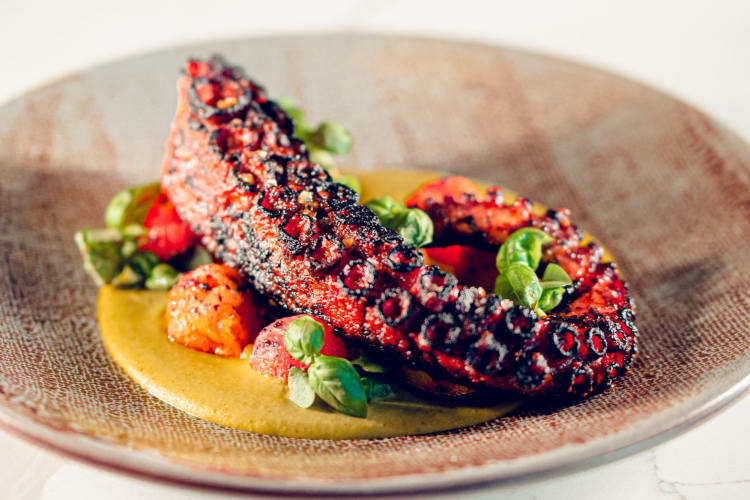 Top-Rated Cooking Classes in Houston
Master the art of gourmet cuisine taught by Houston's best chefs.
Try Cooking Houston Foods
Houston's array of flavors is widely available and abundant in its restaurants, but you can also enjoy creating some in your very own home. Looking to amp up your skills in the kitchen and create some amazing regional dishes or international cuisines? Try taking a cooking class led by a world-class chef who can teach you everything from how to prepare fresh seafood to Tex-Mex favorites. There's an abundance of great cooking classes in Houston that will start you on the path to creating the best regional dishes on your own.

Join 200,000+ Culinary Enthusiasts
Exclusive deals, recipes, cookbooks, and our best tips for home cooks — free and straight to your inbox. PLUS: 500 Rewards Points.
Whether you're looking for romantic date ideas in Houston, a quick lunch, a raucous night out or a gourmet experience, Houston's restaurants have a wealth of amazing food to offer. Luxurious or budget-friendly, casual or formal, this city by the gulf has everything.
For even more ways to explore Houston and beyond, check out other experiences happening on Cozymeal.