10 Peach Recipes for Peak Peach Season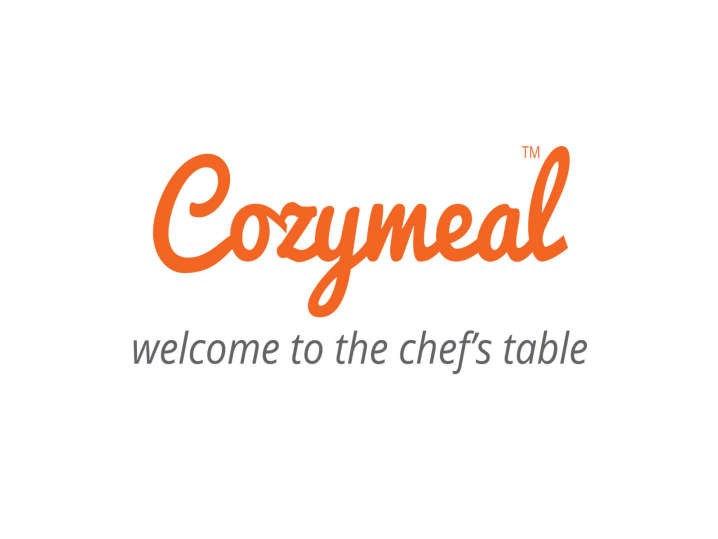 Oh the sweet, sweet aroma of fresh, ripe, still warm from the sun peaches. There really isn't anything like it. And now, it's time to celebrate the season's bounty because it's National Peach Month!
Peaches, perhaps more than any other fruit, belong purely to summertime. There's no out-of-season substitute for a truly glorious peach. And right now is the time to indulge, so we are bringing you a roundup of some of our favorite peach recipes.
Now that we're in the full swing of summer, you'll see plenty of peaches ripe for the taking everywhere from farmers markets to supermarkets to restaurant special boards. Maybe you'll buy a few to snack on or indulge in the pure bliss of a slice of peach pie with a hefty scoop of vanilla ice cream slowly melting on top. Life is just peachy, isn't it?
Without further ado, here are 10 peach recipes to celebrate National Peach Month and the peak of fresh peach season.
Gourmet Cooking Classes Near You

Take your culinary skills to new levels with guidance from five-star chefs.

Book Now
10 Peach Recipes for Peak Peach Season
1. Peach Burrata Basil Toast
Creamy burrata, garden fresh basil, and summer peaches stacked up on golden toast—this is a great summer appetizer that's as easy as an August breeze. You don't have to do much, just let the ingredients do all the work and the freshness and flavors will shine through. Learn this peach recipe in Chef Liz's Cheese Lover's Dream class.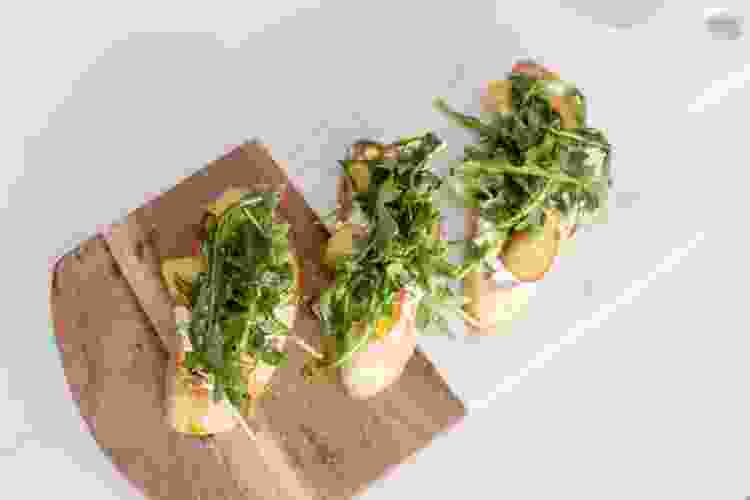 via Cozymeal
2. Peach Salad
This glorious salad is summer on a plate and makes for the perfect light summer lunch or prelude to an al fresco dinner. The combination of sweet peaches, salty feta, crunchy pecans, and a bright white wine vinaigrette all come together beautifully and simply atop garden fresh mixed greens.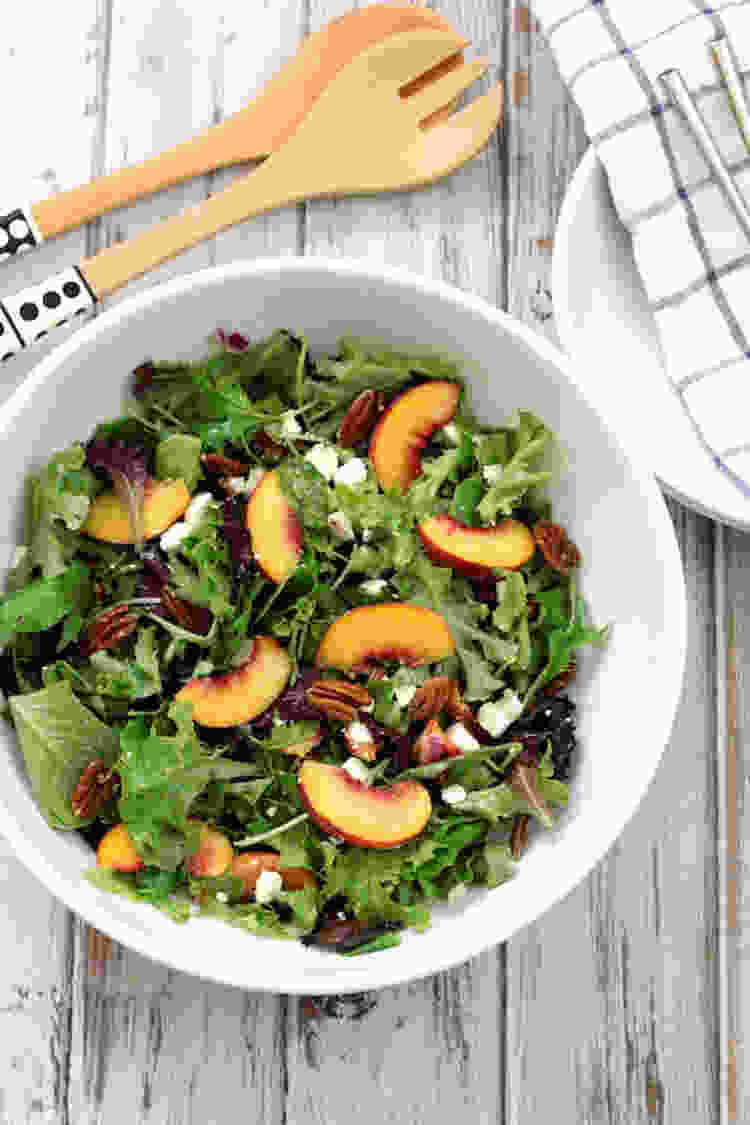 via Green Valley Kitchen
3. Peach Gazpacho
This peach gazpacho is sure to be a crowd-pleaser. The slight twang and bright sunny sweetness of the peaches along with the juicy, subtle sweetness from the tomatoes and a hint of spicy tarragon compliment each other in an unexpectedly delicious way. Leftovers keep well in the fridge—but there's rarely anything left to make it there.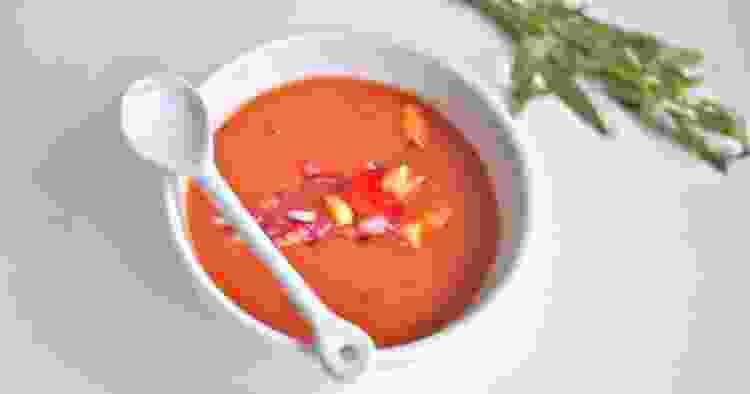 via Greatist
4. Peach Salsa
This peach recipe tells the seasonal love story of tomatoes and peaches. The addition of peaches makes for a less acidic salsa than a regular tomato salsa. And not only is this peach salsa delicious as an appetizer or afternoon snack with tortilla chips, but it also takes fish tacos to a whole new level.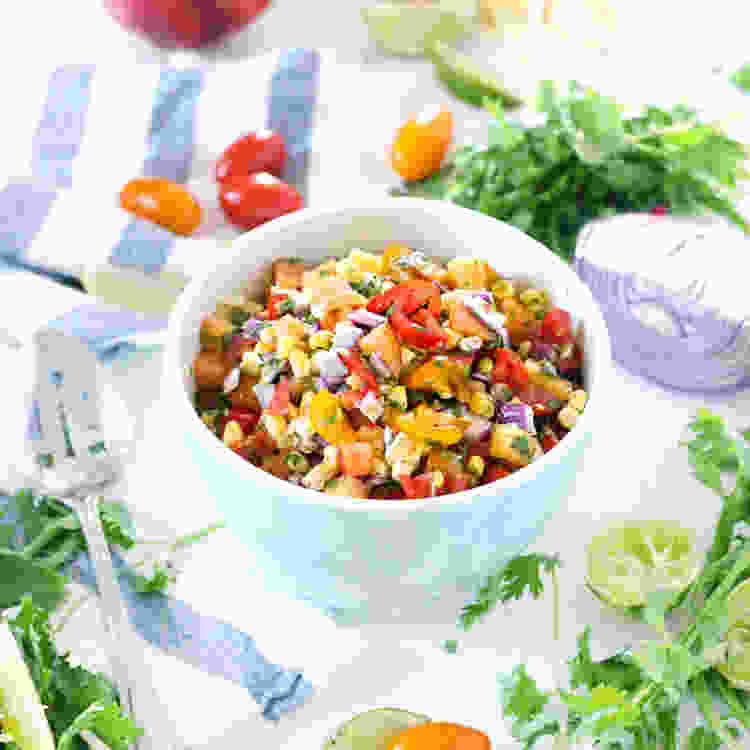 via Bowl of Delicious
5. Spicy Peach BBQ Sauce
Had your fill of traditional peach recipes? Try something outside of the box with this tangy peach barbecue sauce. Slather it on grilled pork, brush it over pan-seared chicken or serve it for dipping on the side.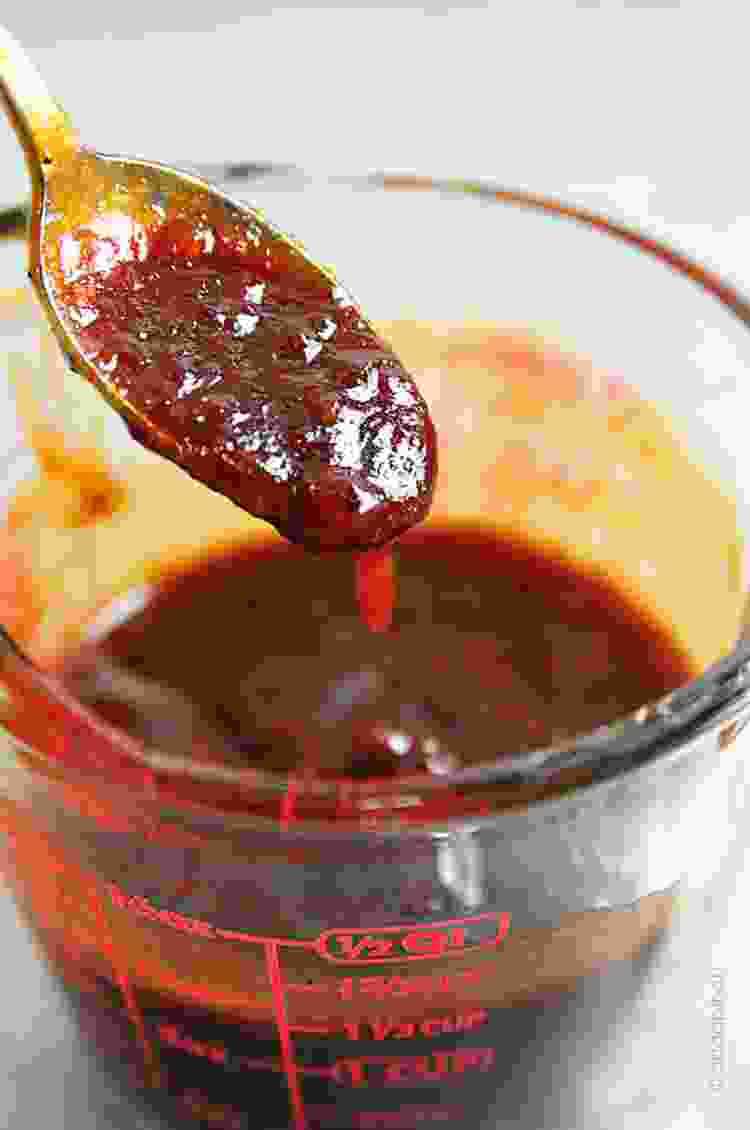 via Add a Pinch
6. Peach Cobbler
Peach cobbler may be the best reason to turn on the oven in the summer. This peach cobbler is rustic in flavor with major farmhouse vibes. The topping bakes up with a crisp crust that yields to a tender biscuit that greedily soaks up the rich fruit juices. Learn this peach cobbler recipe in Chef Chericia's Southern Soul Food class.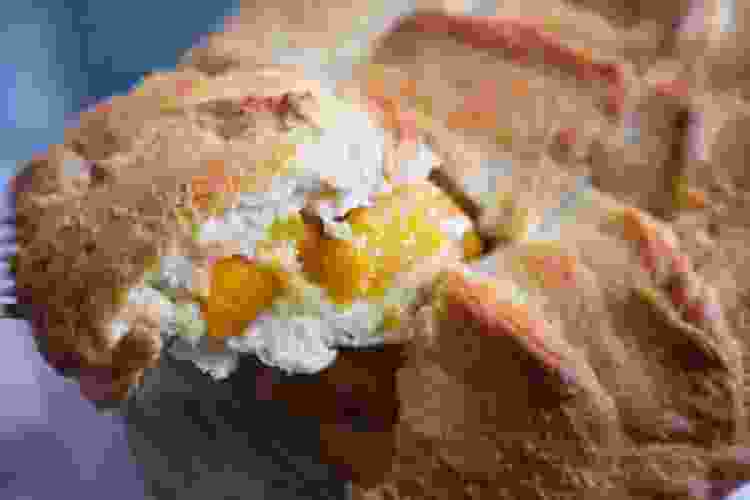 via Cozymeal
Book an Online Cooking Class Today

Five-star chefs. Step-by-step coaching. Flexible menus. Come see what's cooking in a live online cooking class.

Book Now
7. Peach Sorbet
Peach sorbet is a bowl of cool refreshment and warm summer sunshine all at the same time—and you don't even need an ice cream maker! This peach sorbet is creamy and melts evenly across your tongue. You can celebrate peaches in all their glory or get creative and infuse the sorbet with herbs and spices.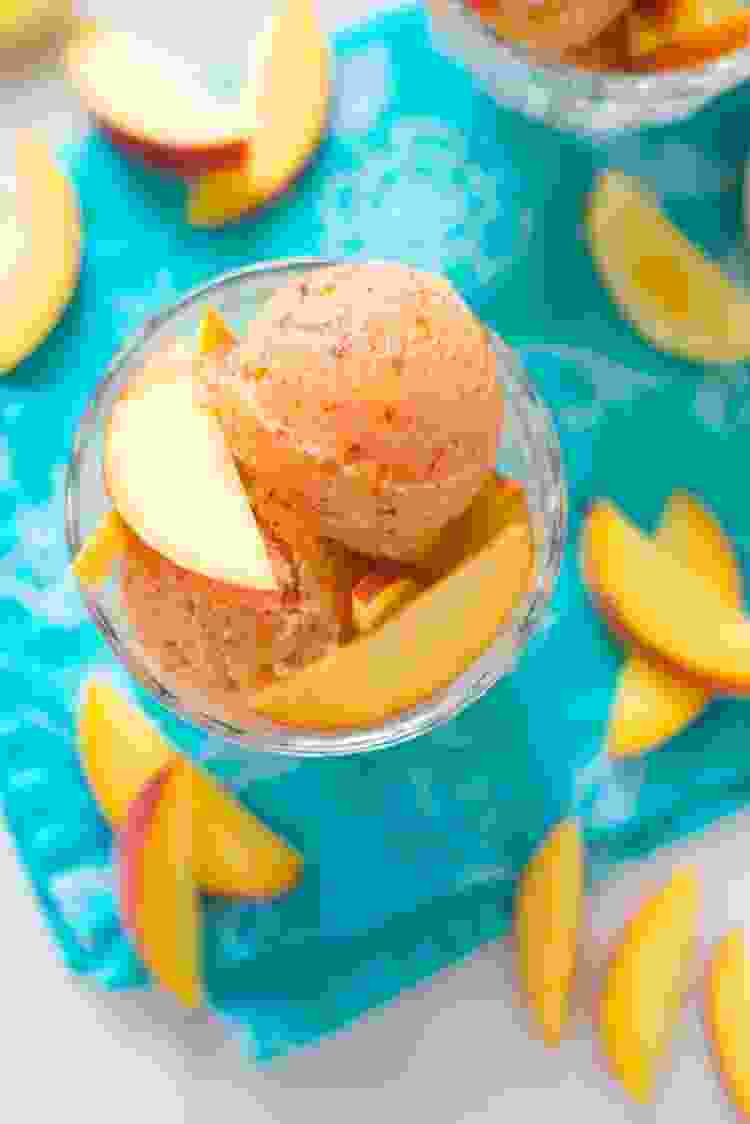 via A Sweet Pea Chef
8. Frozen Peach Bellini
These peach bellinis are a frozen twist on the traditional Italian recipe. All you need is a couple ingredients and five minutes and you will have a blender full of wonderfully light, refreshing, and bubbly peach bellinis. You can even freeze the leftovers into a granita for the perfect summertime patio dessert.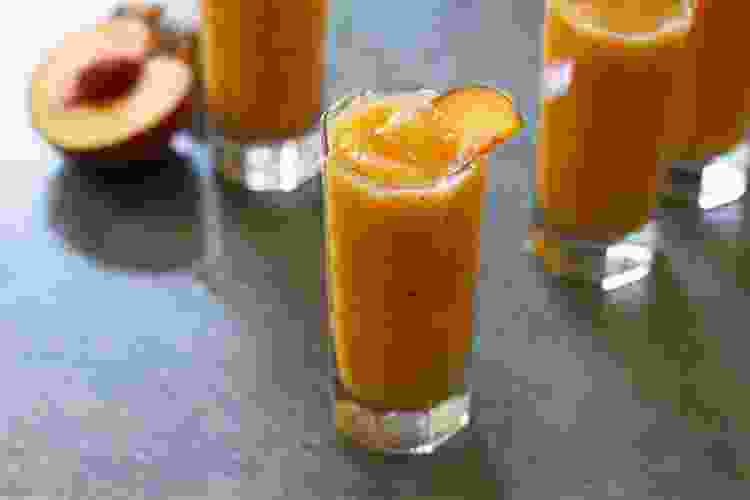 via Salt and Wind
9. Grilled Peaches
Grilled peaches are the kind of magic that happens in a hot grill's twilight. The truth is that grilled peaches are stunningly simple—they only require fresh peaches and olive oil. They can play side dish to grilled meats or become a knockout summer dessert paired with vanilla ice cream.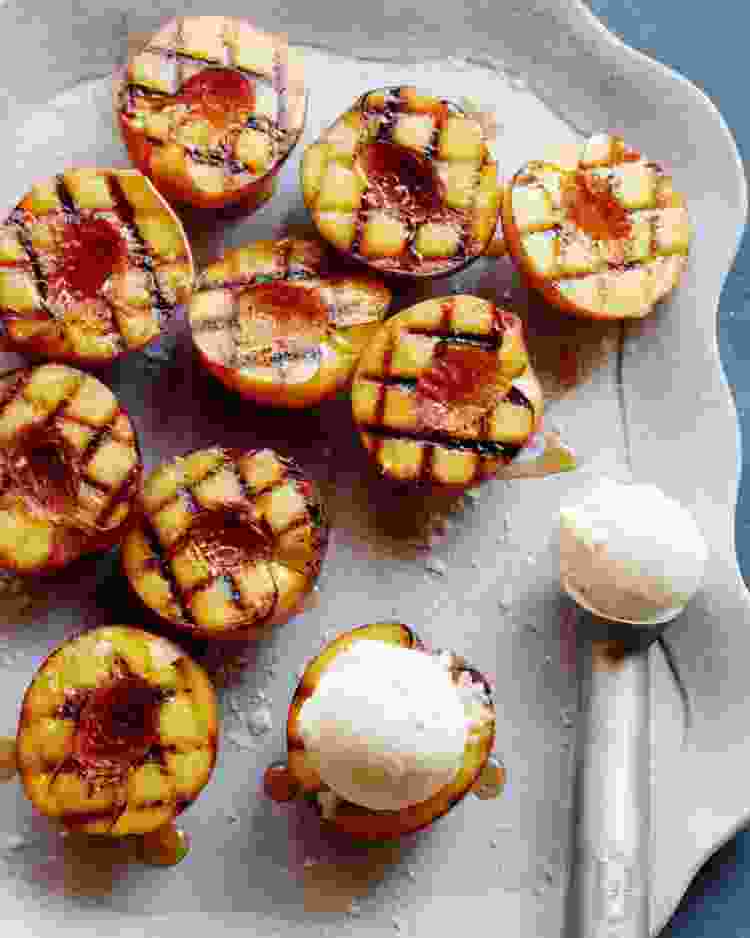 via What's Gaby Cooking
10. Pickled Peaches
You will fall in love with the balance of sweet, sour, and spice in this pickled peach recipe. These pickled peaches will keep in the refrigerator for up to two months, so you could pull them out for Thanksgiving or when you're ready to welcome that autumnal vibe back into your kitchen. Though we doubt you will resist them for that long.
via Saveur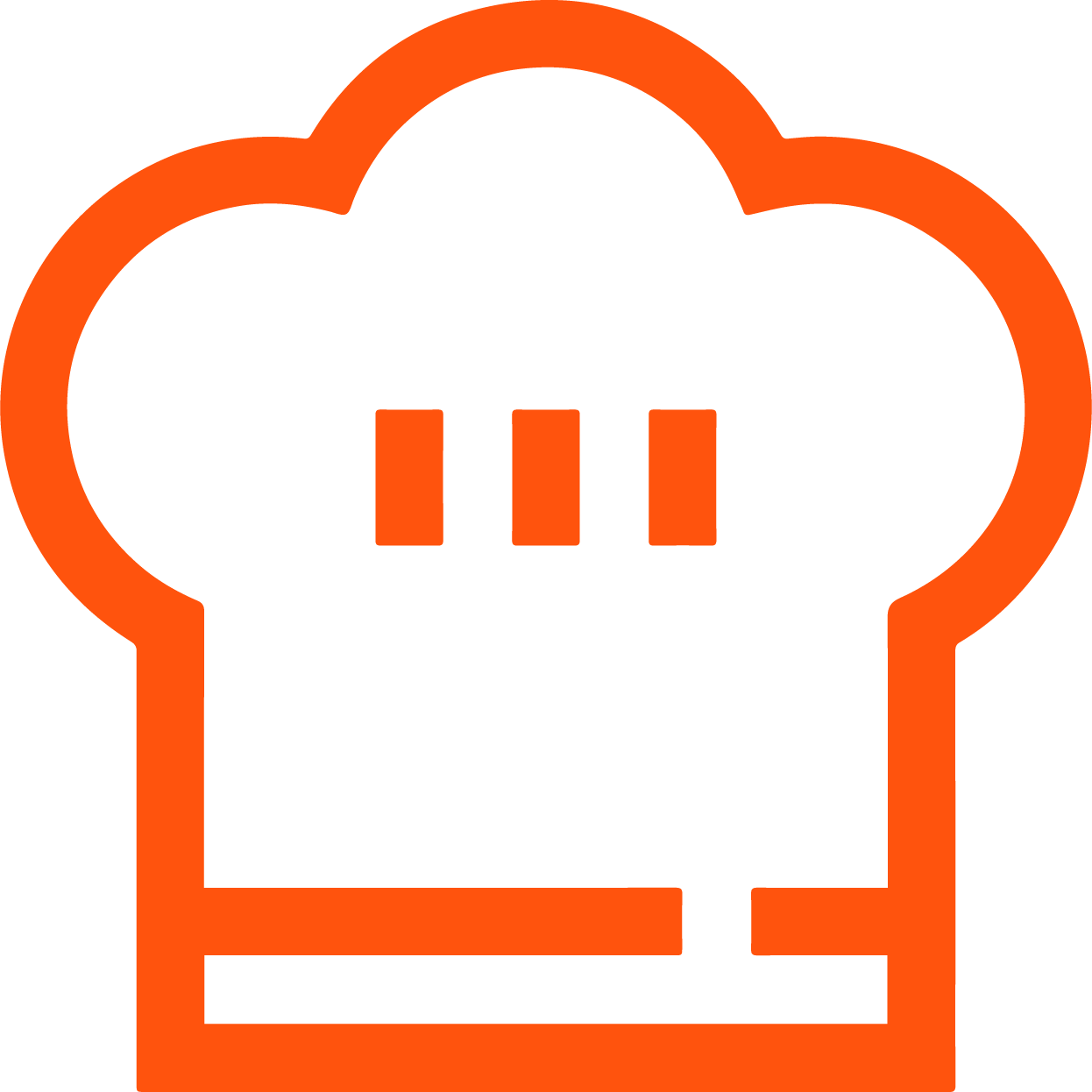 Join 200,000+ Culinary Enthusiasts
Exclusive deals, recipes, cookbooks, and our best tips for home cooks — free and straight to your inbox. PLUS: 500 Rewards Points.
Mid-summer is peak season for perfectly ripe, sinfully sweet peaches, so it's time to stock up. Which of these sweet and savory peach recipes are you most excited to try first?