How to Bake Fish: Using Fish en Papillote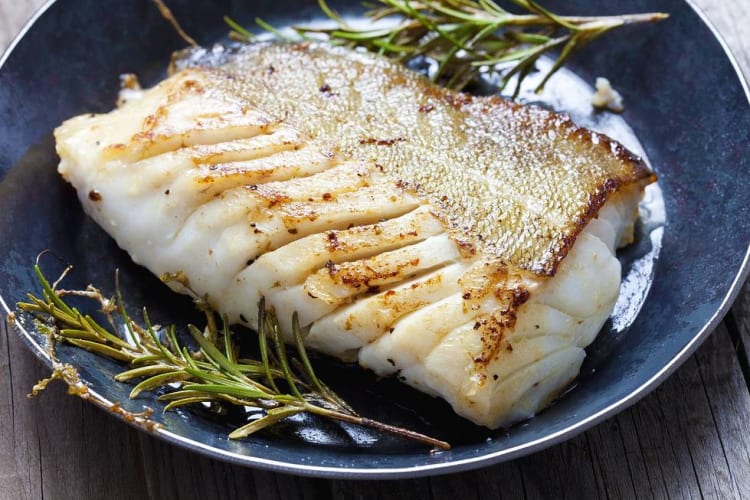 Hmm....en papillote? Sounds fancy, right? But this zippy French method is foolproof in its simplicity. If you've only had mediocre results when trying to figure out how to bake fish, you've got to try baking fish en papillote.
Baking fish en papillote works wonders on dinner. Essentially, fish is gently steamed in a hand-folded parchment packet that doesn't allow any flavor to sneak out during baking. Fish en papillote is like a present: the fish and veggies are wrapped up then baked in their own juices until succulent and tender. Unwrapping the paper reveals dinner steamed to perfection, surrounded by a fragrant, flavorful broth that begs for a crusty French baguette or bed of whole grains for sopping up.
GET UP TO $50 IN COZYMEAL

CASH™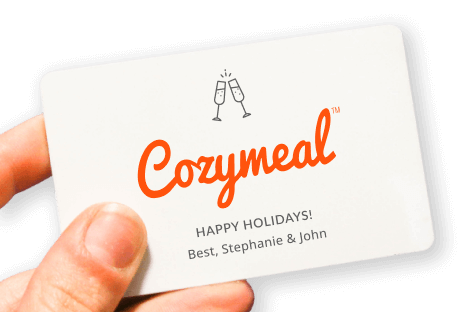 GET UP TO $50 IN COZYMEAL

CASH™

$100 or more, get $10 Cozymeal Cash™

$250 or more, get $25 Cozymeal Cash™

$500 or more, get $50 Cozymeal Cash™
Watch our video to learn how to bake fish using fish en papillote, and then scroll down for an easy step-by-step tutorial.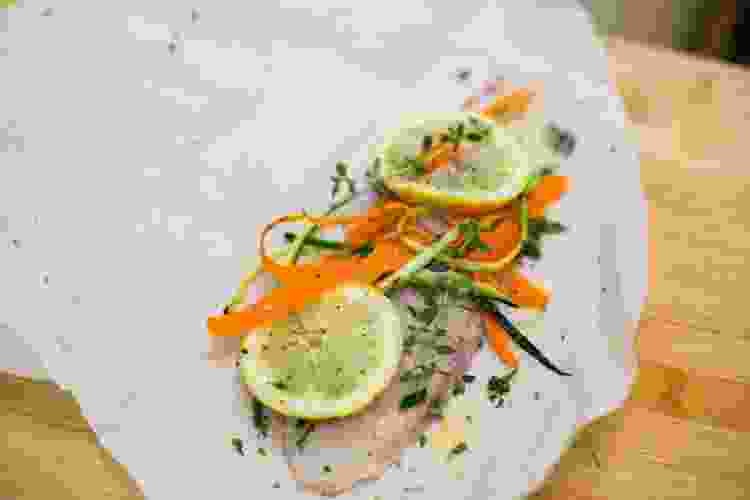 How to Bake Fish: Using Fish en Papillote (Video):
Here are the simple steps to mastering this clever technique resulting in perfectly tender, flaky fish:
Step 1: Prepare the Parchment
The term "en papillote" is derived from the French word for butterfly, based on the way the parchment paper is cut to form the individual packets. The edges are cut to form half a heart shape and will look like a full heart or the wings of a butterfly when unfolded. To achieve this, fold a large sheet of parchment paper in half and cut it to form a heart shape when opened. It should be large enough to hold all the food, plus a couple extra inches for good measure.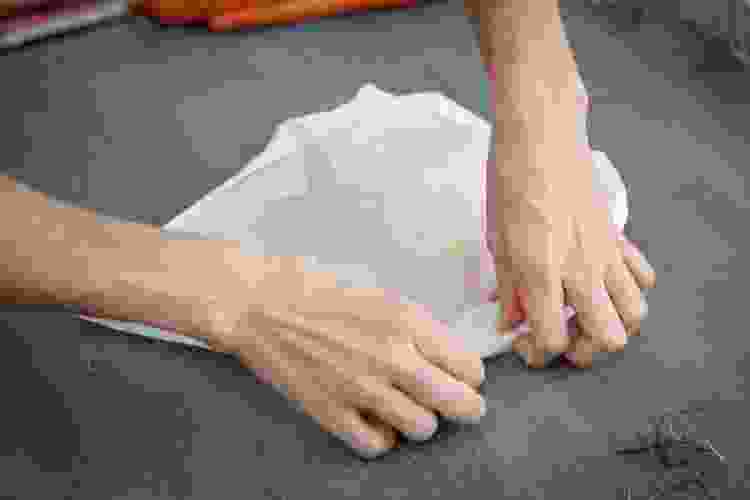 Step 2: Build Layers of Flavor
Place your fish to one side of the creased line down the middle of the heart. Many types of fish work and virtually any vegetable you'd steam would be delicious. Think of how ingredients will balance one another out. The fish, vegetables, aromatics, herbs, and spices you choose will release moisture and flavor to create a steamy vapor, but you'll also need a small amount of liquid, such as a drizzle of olive oil and a splash of vinegar or a squeeze of lemon to ensure enough steam.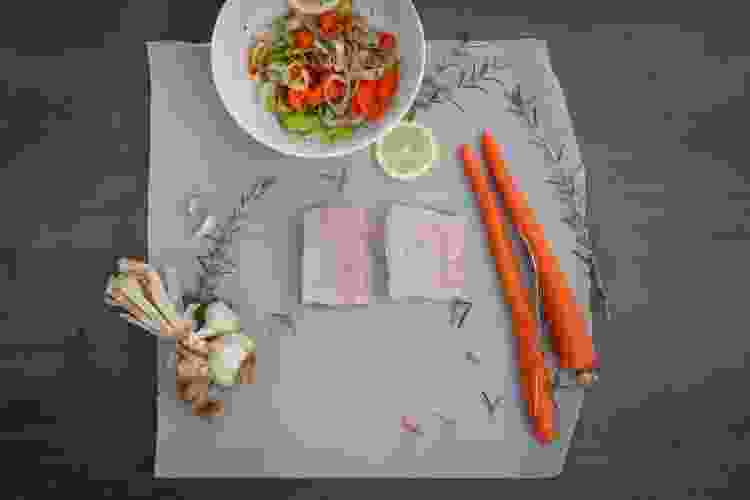 Step 3: Seal the Deal
To seal up your parcel, fold the other half of the heart over the stack of ingredients on the parchment and start making very tight, closely overlapping little folds at the top of the heart and work your way around towards the bottom. Then twist and fold the bottom end over. This helps create a tight seal, making sure that the fish will cook in its own juices and not dry out or lose flavor. Be sure to leave enough space to allow the air to expand and circulate.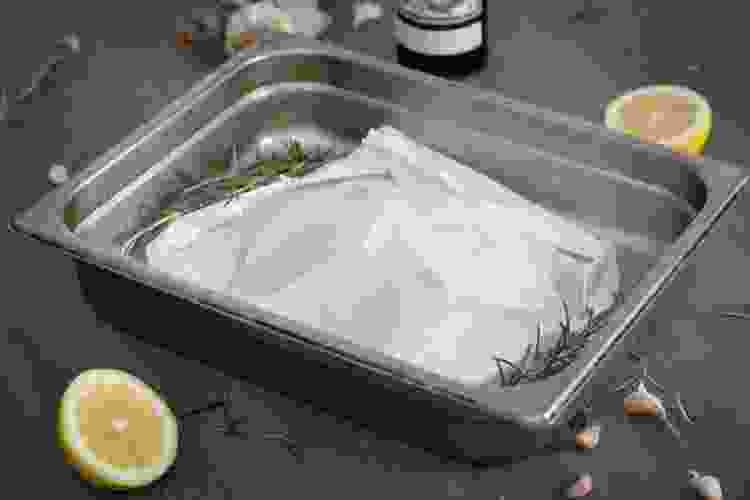 Step 4: Get Baking
Preheat the oven to 400ºF, place your fish en papillote on a sheet pan, and pop it in the preheated oven. Determining the right cooking time may take a little experimentation, but generally, thinner filets will be ready in less than 10 minutes while thicker cuts can take up to 15 minutes. You will be able to tell when it's done when you see a puffed-up, slightly browned parchment package.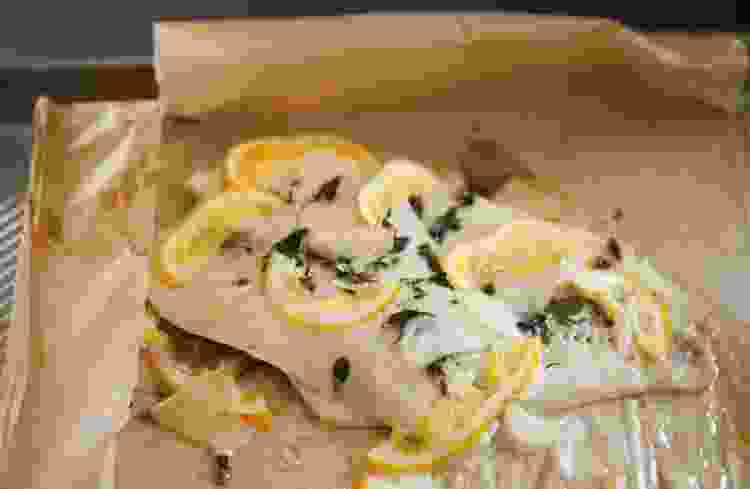 Book an Online Cooking Class Today
Five-star chefs. Step-by-step coaching. Flexible menus. Come see what's cooking in a live online cooking class.
And that's it! Just transfer each packet to a dinner plate, cut a small opening in the paper with a paring knife, pull apart the packet, and devour the contents. Fish en papillote certainly delivers impressive sophistication in both presentation and taste, the preparation is super easy, and as for the cleanup—it's almost nonexistent. You'll barely even need to wash the plates!
Whether you're cooking for one or many, baking fish en papillote is an easy way to make a relatively hands-off meal and create wonderfully succulent, flaky fish. Because of the steam, you don't even need to use oil, so this is also a low-fat way when considering how to bake fish. Plus, parcels can often be assembled in advance, so you can have them ready to pop in the oven when you get home from work!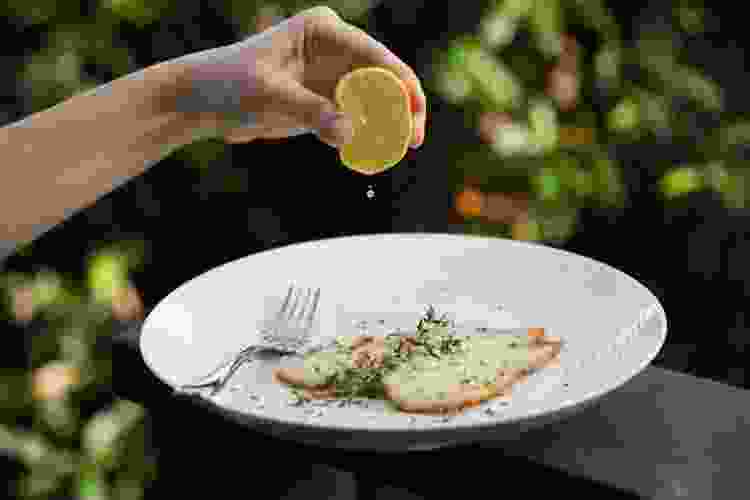 Need some fish en papillote recipe inspiration and more hands-on instruction with how to bake fish? Check out these Cozymeal experiences:
Bounty of the Sea with Chef Charlie
Fresh Fish Cookery Techniques with Chef Henry
Mediterranean Coastal Fare with Chef Victor

Join 200,000+ Culinary Enthusiasts
Exclusive deals, recipes, cookbooks, and our best tips for home cooks — free and straight to your inbox. PLUS: 500 Rewards Points.
Are you excited to learn how to bake fish using fish en papillote? We hope our video and tutorial get you started baking healthy fish preparations in no time!