17 Must-Have Home Bar Essentials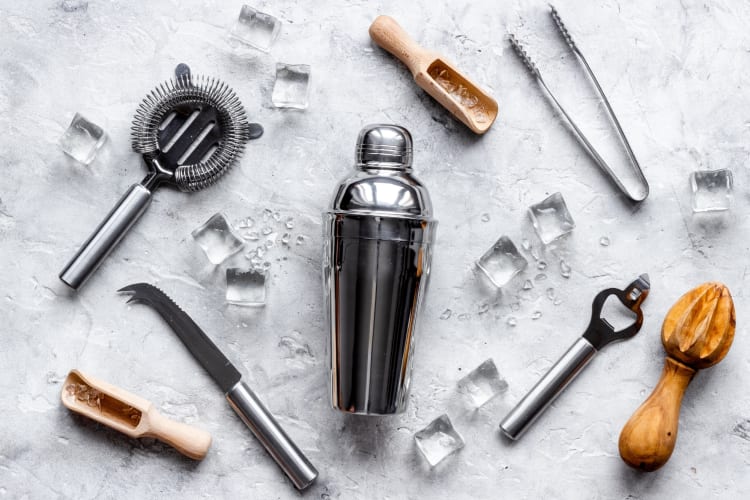 Our editorial team recommends the best products through independent research, selection and careful review. Prices are subject to change.
Are you looking for some home bar essentials to upgrade and enhance your bartending game? Maybe you're looking for a unique anniversary, birthday or housewarming gift for a cocktail-loving friend? Whether you're a beginning bartender or an advanced mixologist, keeping a variety of home bar essentials on hand is imperative to a successful bar (even if it's located in your kitchen or dining room).
From setting up your own bar to helping a friend add to theirs, this guide is designed to help you stock your home bar with bartending tools, bar necessities and basic liquors to create amazing cocktails, tropical drinks and nightcaps for your friends and family. You'll be the hit of the next party or backyard cookout.
Jump to Section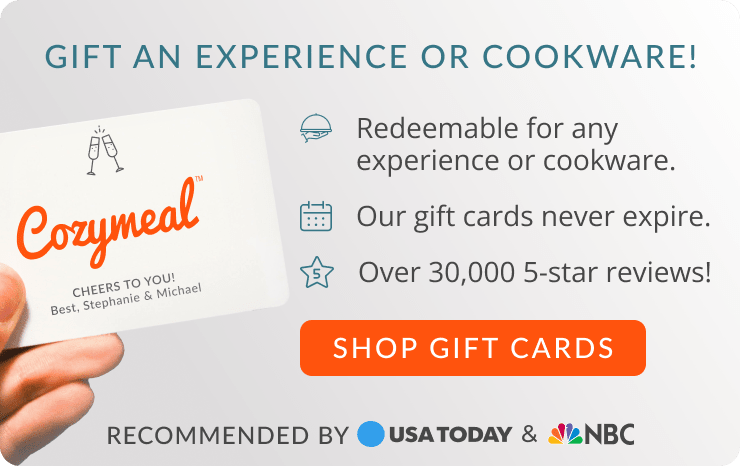 Learn Home Bar Must-Haves
If you haven't spent much time behind a bar, you may have questions on how to stock your home set-up with home bar essentials. Online mixology classes are a fantastic way to learn professional techniques and craft cocktail recipes as well as get tips on how to stock a home bar.
You'll learn how to make seasonal drinks, tropical cocktails, classic nightcaps and even mocktails from world-class bartenders and mixologists. There are even themed sessions where you can create Mean Girls, Marvel and other fun movie-inspired drinks like a Black Widow Russian, a Hulk Smash or a pink-tini as you learn the proper way to mix, muddle, shake and stir.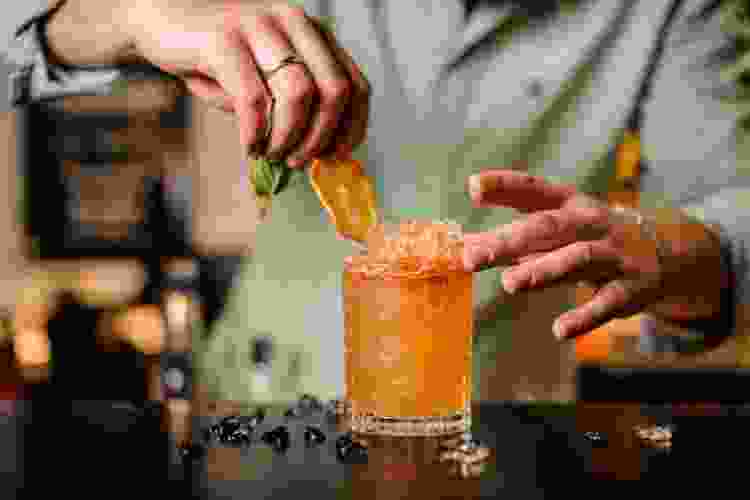 Shop Barware Loved by Mixologists

Stock your home bar with mixers, shakers, muddlers and more that top bartenders love.

Shop Now
Home Bar Supplies
Whether it's shaking a gin fizz, straining a mint julep or muddling mint for a mojito, the right home bar essentials make cocktail creation a fun and easy task. With the right tools and accessories, your friends will be calling on you to hold down the bar at all their parties and get-togethers.
1. Cocktail Shakers
Cobbler and Boston-style shakers are a home bar essential for leak-free shaking and mixing. The Harold Import Co. Stainless Steel Cocktail Shaker is 18 ounces and functions as an all-in-one mixer, strainer and chiller. The cap on this cobbler-style shaker works as a jigger to measure out all your favorite mixers and liqueurs for a perfect drink. An all-purpose cocktail shaker set includes shakers, strainers, jiggers and bar spoon/muddler combos.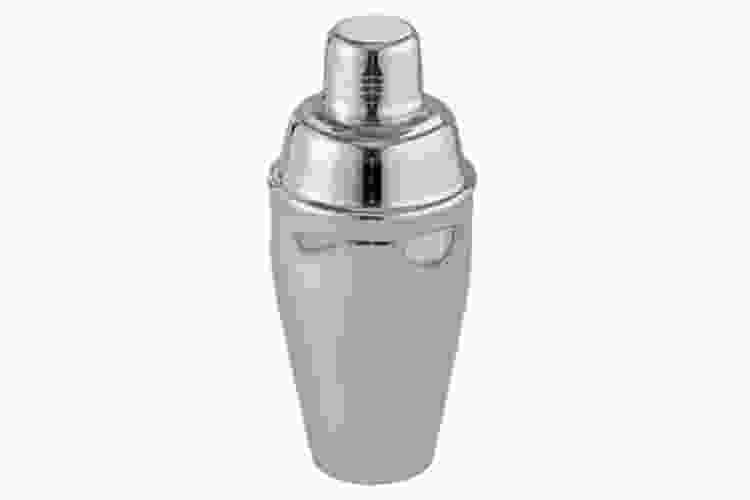 2. Mesh Strainer
If you're mixing fruit and muddling mint, you're going to want a way to strain out the extras. The Viski Stainless Steel Mesh Cone Strainer is a must-have home bar essential as it's perfectly sized for a wide array of glasses. It quickly separates mix-ins and fruit pieces from liquors and can be used alone or in addition to a Hawthorne strainer for smooth cocktails.
3. Jigger
A jigger is one of the top home bar essentials for measuring out the perfect portion of rum, tequila or whiskey. The double-sided Harold Import Co. Double Jigger has measurements for one ounce and 1.42 ounces.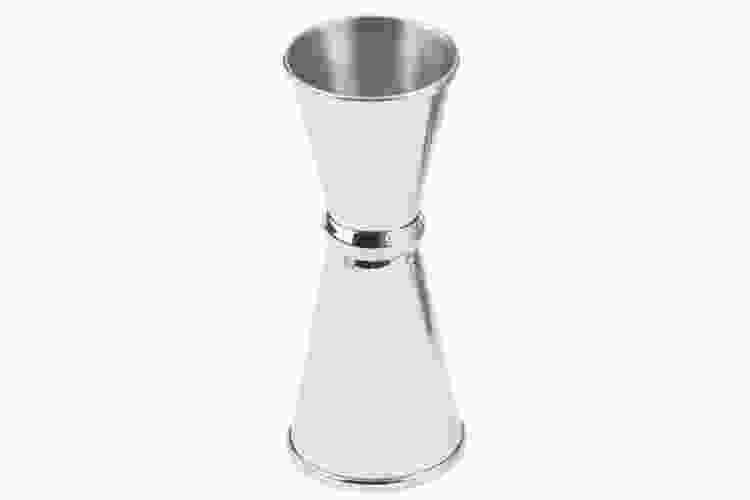 4. Muddler
Mixing herbs, botanicals and essential oils into your mixed drinks is a creative way to infuse flavor and fragrances. The Harold Import Co. Stainless Steel Muddler is one of the best home bar essentials for mashing fruit and muddling mint for mojitos. At 13" long, it can be easily stored with other barware and supplies.
Shop Top-Rated Bar Cart Essentials
Browse mixologist-recommended barware worth raising a toast to.
5. Zester
Every home bar, and kitchen in general, needs a multi-purpose zesting tool. The True Zesty Citrus Zester and Channel Knife allows you to create lemon zest and twisty spirals for tropical drinks. It can also be used for chocolate swirls and nutmeg sprinkles if you like to get fancy with home bar essentials.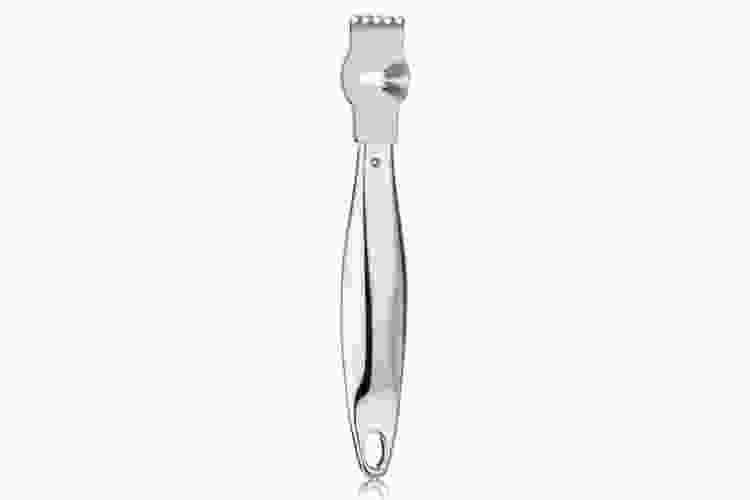 6. Cutting Board and Paring Knife
A cutting board and one of the best paring knives may not seem like home bar essentials, but you'll end up using them all of the time for a variety of tasks like slicing strawberries, peeling an orange spiral or cutting lemon wedges and other garnishes. The Henckels 3-Pc Bar Board Set comes with a 3" paring knife, a 5" serrated knife and a 7.75" x 5.5" hardwood cutting board, making the perfect sized home bar essential for any task you might need.
7. Bar Multi-Tool
The best home bar essentials offer versatility and multi-use capabilities in compact packages. The World's Greatest 4-in-1 Bar Tool functions as a can and bottle opener, peeler, citrus stripper and decorative garnish maker. It's about 8" long and made of Japanese stainless steel with an easy-grip handle for comfortable use.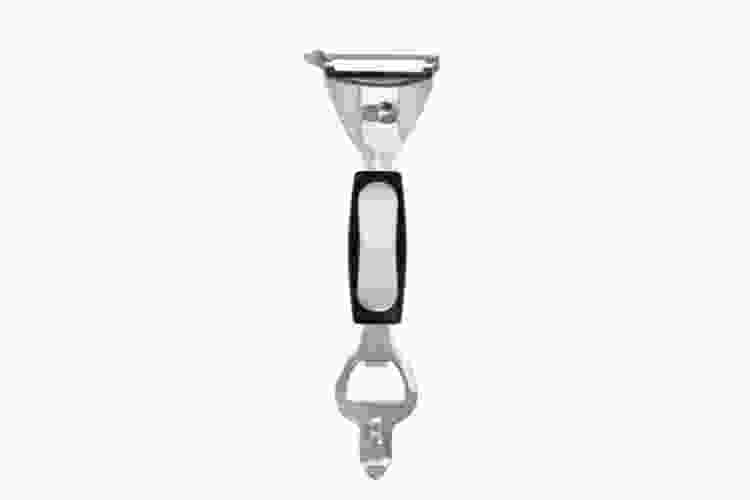 8. Big Block Ice Cube Tray
A large ice cube makes a decorative and functional addition to a negroni or old-fashioned. The Harold Import Co. Big Block Ice Cube Tray makes extra-large blocks of ice that stay cold longer, melt slower and don't dilute beverages. Freeze fruit, citrus swirls and mint leaves for an extra infusion of flavor.
9. Glasses
One of the most important home bar essentials is a set of glasses. If you're just starting out, invest in a couple of all-purpose glasses, such as rocks or Collins, that will work for a variety of beverages. Rocks glasses are short and about 8 to 10 ounces. Collins, or highball, glasses are tall and slender and about 12 ounces. As you get better acquainted with the drink-making process, you can graduate to margarita, hurricane and fancy types of wine glasses for your home bar essential collection.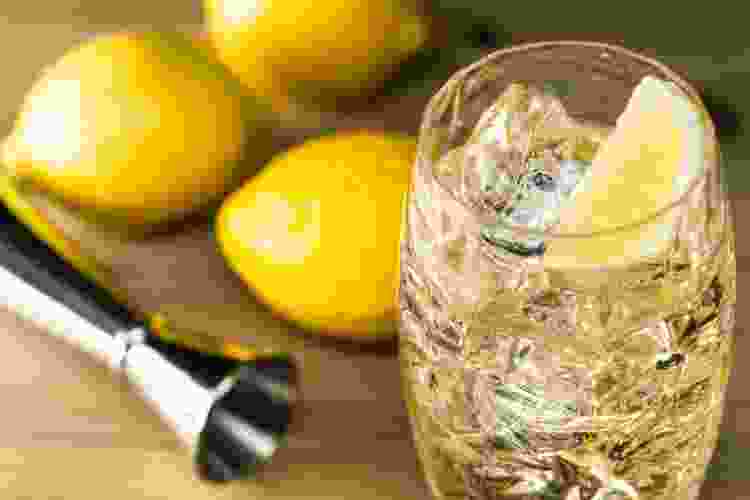 Full Bar Liquor List
From Moscow mules, martinis and Manhattans to the gin fizz, painkiller and Long Island iced tea, you'll want to stock your bar with a couple of bottles of different types of spirits. You don't have to have a full bar liquor list or purchase top-shelf brands until you figure out what your friends and family like, as well as what you'll be making most. This essential liquors for a home bar list includes the six top types of liquor to help you get started.
Shop Barware Loved by Mixologists
Stock your home bar with mixers, shakers, muddlers and more that top bartenders love.
10. Vodka
Perhaps the most used of any liquor in the cabinet, vodka tops our list of home bar essentials. For bloody marys, screwdrivers, white Russians, lemon drops and cosmopolitans, it's necessary to invest in a bottle or two of this Russian libation. Give Grey Goose, Absolut or Ketel One a try.
11. Tequila
Whether you go 10 rounds with Jose Cuervo or make it a straight tequila night, this Mexican spirit is a top home bar essential for the liquor cabinet. Purchase a bottle of Patrón, Jose Cuervo or Sammy Hagar's Cabo Wabo to get those margaritas, palomas and Mexican mules flowing.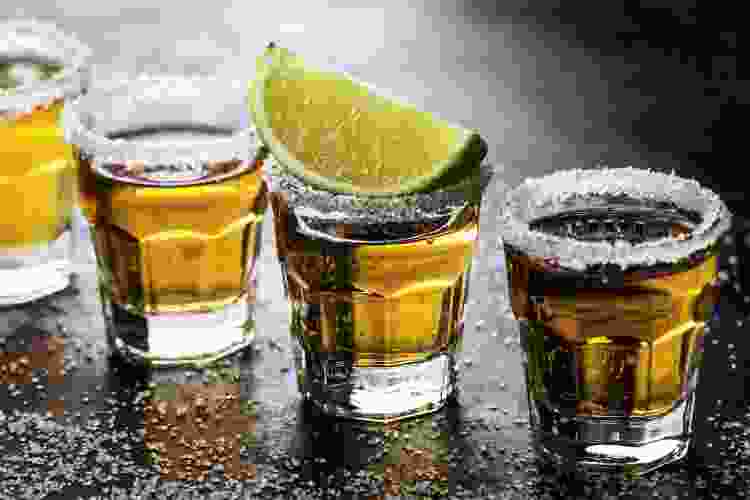 12. Gin
The juniper and botanical notes of gin give a dry and floral-infused flavor to martinis, negronis and Tom Collins cocktails. Add a home bar essential such as the classic London dry gin of Tanqueray and Beefeater, or the licorice, almond and juniper infusions of Bombay Sapphire, to your home bar liquor collection.
13. Rum
The drink of pirates and poets, rum is a staple home bar essential. A dark rum like Gosling's Black Seal Rum is an excellent choice for cocktails like the dark-n-stormy. Try a light or white rum version such as Bacardi for mojitos, pina coladas, mai tais and the tropical painkiller. For a one-and-done, no mixing required taste of the tropics, check out Blue Chair Bay Rum Cream in key lime, pineapple and mango flavors.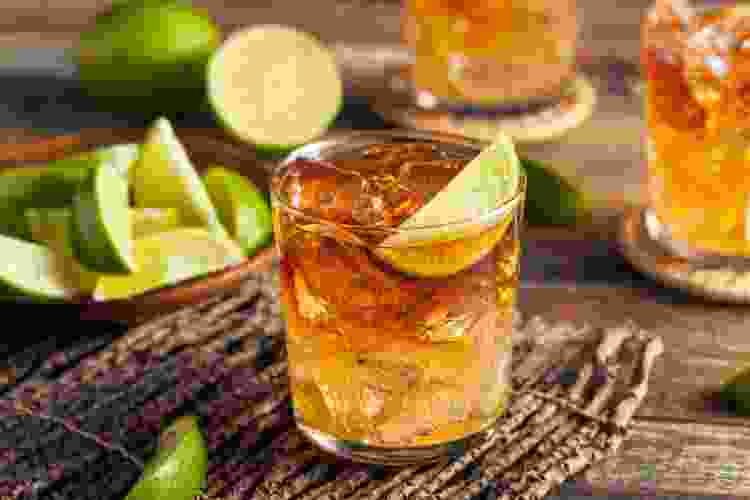 14. Whiskey
With so many varieties of whiskey in the world — including Irish, Scotch and Tennessee as well as rye, bourbon and Canadian — choosing a whiskey to have on hand can be intimidating for beginning bartenders. A good recommendation is to start with bourbon or rye. This gives you a well-rounded selection of whiskey for Manhattans, whiskey sours and bourbon old-fashioneds. Whiskey home bar must-haves include brands such as Jack Daniels, Jim Beam and Jameson.
15. Brandy
For the perfect nightcap, a good brandy is one of the best home bar essentials to add to your collection. It gives a smooth, rich and dark flavor to brandy Alexanders, sidecars, sazeracs and Tom and Jerry cocktails. Pick up a bottle of Hennessy, Asbach or Remy Martin to have on hand.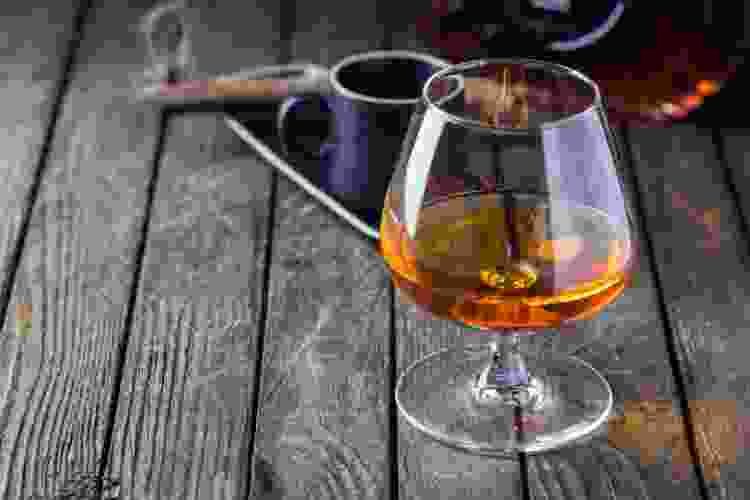 16. Liqueurs
For sweet Alabama slammers, creamy mudslides and frothy white Russians, flavored liqueurs like Kahlúa, Bailey's and amaretto are a must. Triple sec is a no-brainer to get that citrusy zing infused into the perfect margarita. Look for Cointreau, Grand Marnier or Dekuyper to include on your home bar essentials list.
Shop Top-Rated Bar Cart Essentials
Browse mixologist-recommended barware worth raising a toast to.
17. Mixers
Mixers are those non-alcoholic flavor and color enhancers that give mixed drinks a distinctive look and taste. A tequila sunrise just wouldn't be the same without a splash of grenadine. Stock your home bar with other mixers like simple syrup, bitters and carbonated beverages like Ginger Ale, ginger beer, club soda and tonic water. Don't forget to pick up some juices like pineapple, grapefruit, cranberry and orange. You don't even have to go to the ABC store. Most of these can be found at your local grocery store.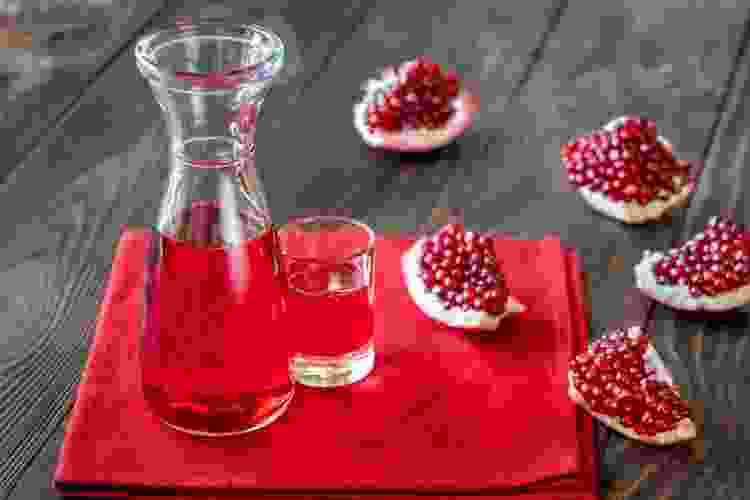 18. Bar Snacks
Don't forget this bar essential! A steady supply of salty, sweet, high-fat/high-protein nibbles are what every imbiber craves. Stock up on snacks like nuts, spicy pretzels or potato chips. If you prefer to take things into your own hands, whip up these incredible honey roasted peanuts and keep them by your bar. Just try not to eat them all yourself!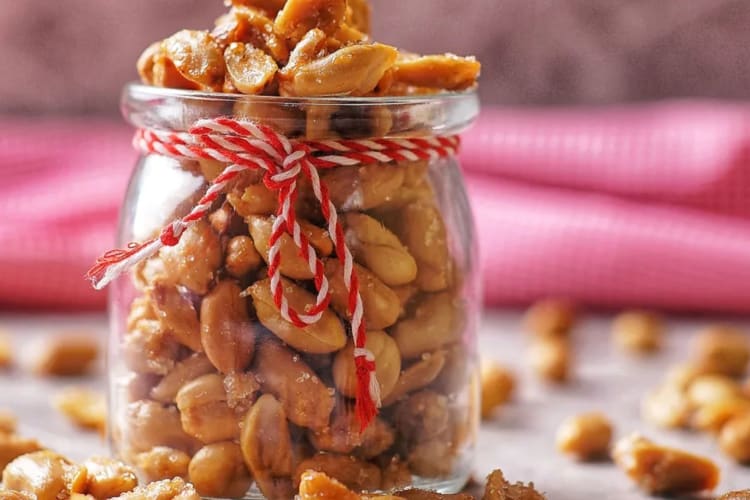 Join 200,000+ Culinary Enthusiasts
Exclusive deals, recipes, cookbooks, and our best tips for home cooks — free and straight to your inbox. PLUS: 500 Rewards Points.
Setting up a home bar with all the essential tools, home bar supplies and liquors doesn't have to be a difficult or expensive task. From gifts for bartenders to gifts for cocktail lovers, this list of home bar essentials can be used as a checklist to get started on your bartending adventures. Decide what kind of drinks you enjoy and go from there.
For even more great ways to stock your home bar, check out mixologist-recommended barware in the Cozymeal Shop.