Hunger is Coming: Game of Thrones Inspired Recipes and Classes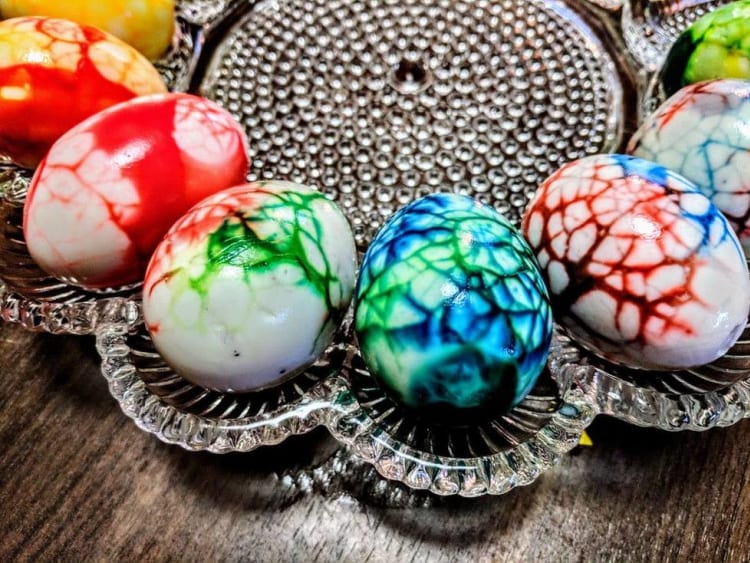 Hunger is coming. And we're ready.
Whether you're planning an epic finale party or just looking for some unique Game of Thrones inspired recipes for this Sunday night, we have you covered.
From Deviled Dragon Eggs to proper mutton stew to Sansa's lemon cakes, we cover it all here with these 19 Game of Thrones inspired recipes and eight Cozymeal Game of Thrones themed cooking classes.
Create your own menu with these dishes or round up a few friends for a special experience featuring a feast worthy of seven—or even eight—kingdoms.
Which dish will take the crown?
Game of Thrones Inspired Recipes
1. Sansa's Lemon Cakes
Follow this sassy, citrusy recipe from Nerdy Nummies for the Lady of Winterfell's favorite sweet treat. These elegant, dainty individual lemon cakes are popular in King's Landing and typically enjoyed by the noblewomen. You can feel like royalty yourself by creating this sweet, tart recipe at home or learning it in one of our classes below.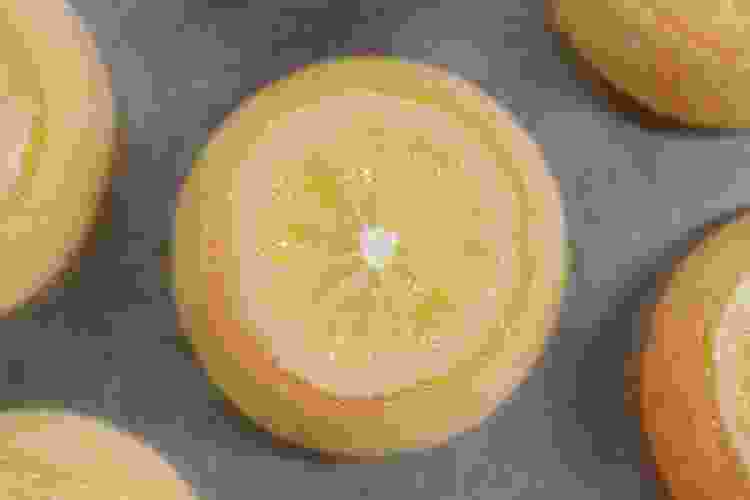 Gourmet Cooking Classes Near You

Take your culinary skills to new levels with guidance from five-star chefs.

Book Now
2. Brown Butter Pot Pie
"The secret is browning the butter before making the dough," Hot Pie tells Arya in Season 7. "Most people don't do that 'cause it takes up too much time." Take a page from Hot Pie's (cook)book and make this next-level Chicken Pot Pie with Brown Butter Crust.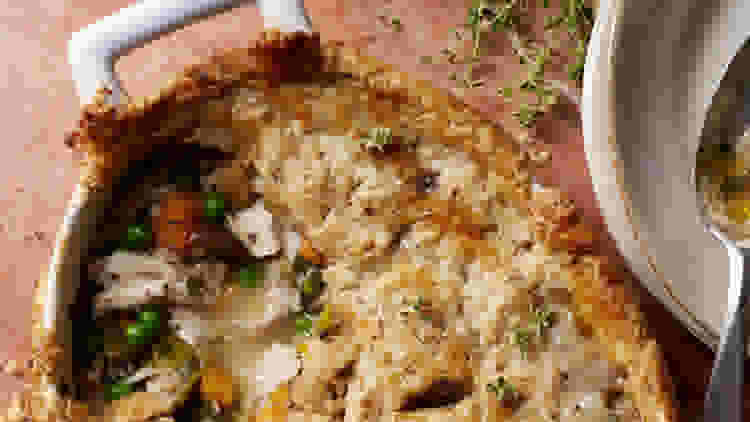 3. The Breaker of Chains Cinnamon Whiskey Coffee
Remember that time a TV show with a $90 million budget accidentally left a Starbucks coffee cup in a shot? (You likely do, since it only happened last week!) Celebrate that epic faux pas with this The Breaker of Chains Cinnamon Whiskey Coffee recipe. This coffee cocktail, sweetened with a cinnamon simple syrup, will also help keep you awake for any Game of Thrones binge watch.
4. Raw Oysters with Poison Sauce
Oysters, clams, and cockles. Any Game of Thrones fan will appreciate this Braavosi-inspired dish. This recipe for mollusks and mignonette, Braavosi-style, comes from Cozymeal Chef Chris in Atlanta.
RAW OYSTERS WITH 'POISON' SAUCE
Ingredients:
12-16 freshly shucked oysters
1 shallot, finely minced
1 semi-ripe mango, cut into small cubes
½ cup of champagne vinegar
1 lime, squeezed
¼ teaspoon sugar
½ teaspoon salt
¼ teaspoon freshly-ground black pepper
1 teaspoon of fresh Thai chili or jalapeño, minced (remove the seeds if you want a milder sauce)
Preparation:
Shuck each oyster, working the tip of your knife between the shells to loosen them. Rinse the opened oysters to get rid of any lingering sand or grit.
Combine all of the ingredients in the vinegar sauce together over low heat, stirring gently until the sugar and salt dissolve. Allow the sauce to cool at room temperature, then for 20-30 minutes, for the flavors to marry.
Top each oyster with a spoonful of the spicy-sweet mignonette sauce. Serve oysters cold.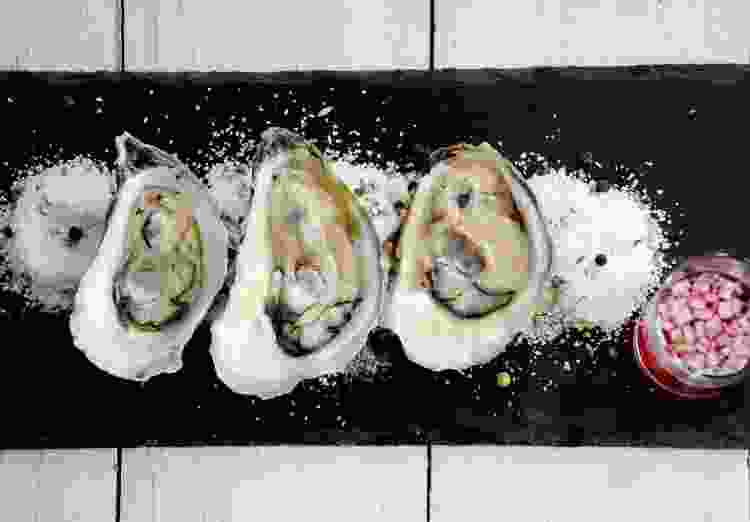 Join a Live Online Cooking Class Today
Your kitchen is now your own culinary classroom. Connect with chefs from around the world right from the comfort of home.
5. Mutton Stew
Make this mutton stew from Food52, a Game of Thrones recipe that is guaranteed to be better than Flea Bottom's Bowls o' Brown. Don't worry, Gendry, there's no mystery meat in this mutton stew. There is, however, tender lamb, garlic, rich broth, fresh herbs and aromatics; all combined to make a hearty and comforting dish.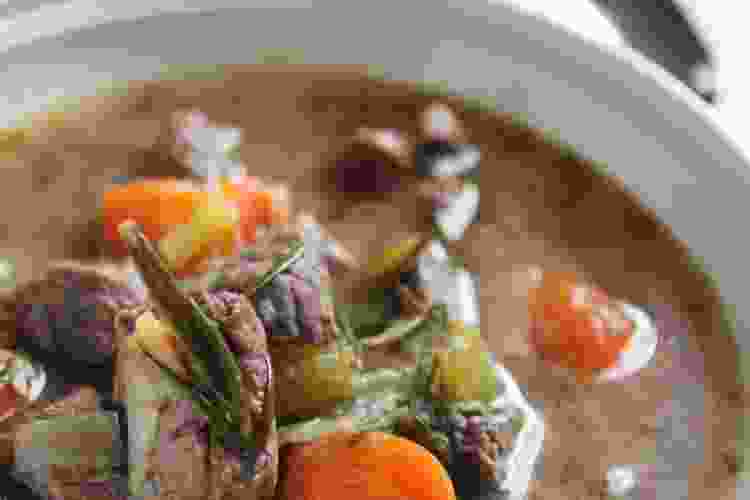 6. Cersei's Sangria
The Lannister family sure loves their wine, don't they? You can "drink and know things," too, by making this fiery red sangria. Cersei's Sangria is made with dragon fruit, blood orange, star fruit, mango, and (of course) the nectar of the gods.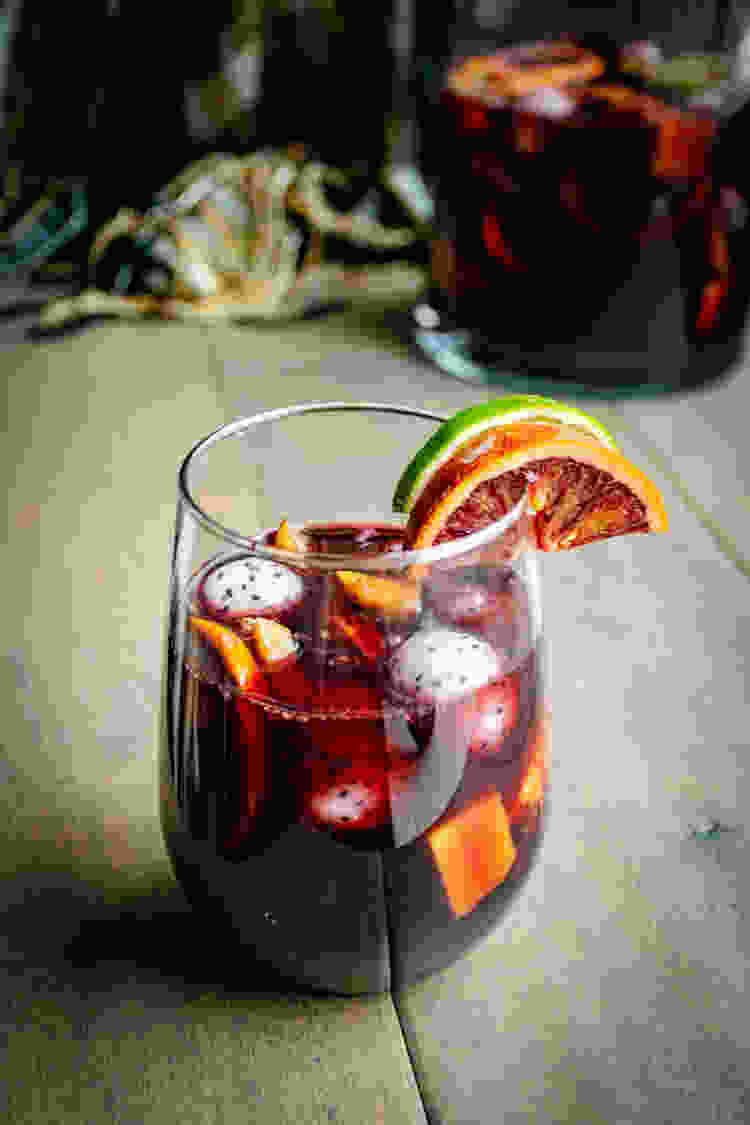 7. Jon Snow Cones
A classic frosty treat gets a Warden of the North makeover in this recipe from The Spruce Eats. Fireball Jon Snow Cones are crafted from shaved ice and a homemade syrup made with cranberry juice and Fireball Cinnamon Whiskey Liqueur. Half dessert, half cocktail, fully delicious.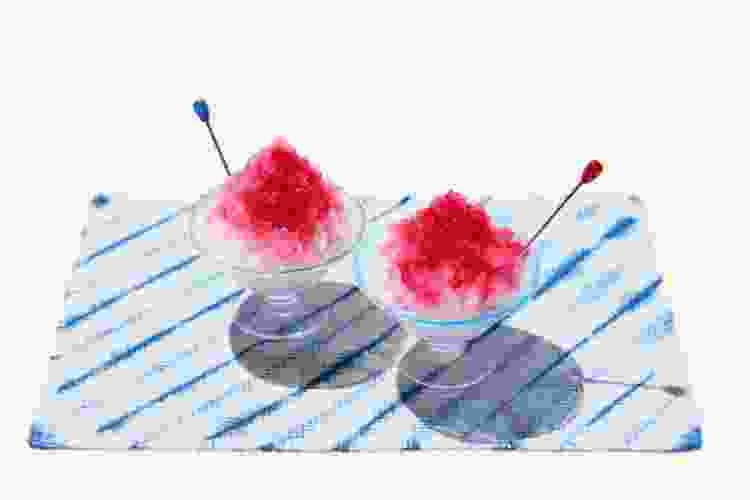 8. Deviled Dragon Eggs
Become your own mother of dragons by making these colorful, marbled Deviled Dragon Eggs. This cool and creamy recipe, filled with avocado and lime, comes from Cozymeal Chef Danushka's Dragon Eggs and Hot Pies class in Austin. For a visual guide on making the marbled eggs, follow this technique from BuzzFeed.
DEVILED DRAGON EGGS
Ingredients:
6 large eggs
1 tablespoon mayonnaise
1 teaspoon Dijon mustard
¼ teaspoon lime juice
½ ripe avocado, diced
Salt and pepper, to taste
Jalapeño pepper, for topping
Preparation:
Cook eggs 10 minutes, drain, and let cool.
Roll eggs on counter to crack shells. Dip the eggs into water with 3-4 drops of blue or green food coloring. Let eggs sit for at least an hour.
Remove shells, slice eggs in half, and remove yolks. In a food processor, combine the yolks with the mayonnaise, mustard, lime juice, avocado, salt, and pepper. Process until smooth. Pipe filling into empty egg whites and top with shaved jalapeño pepper.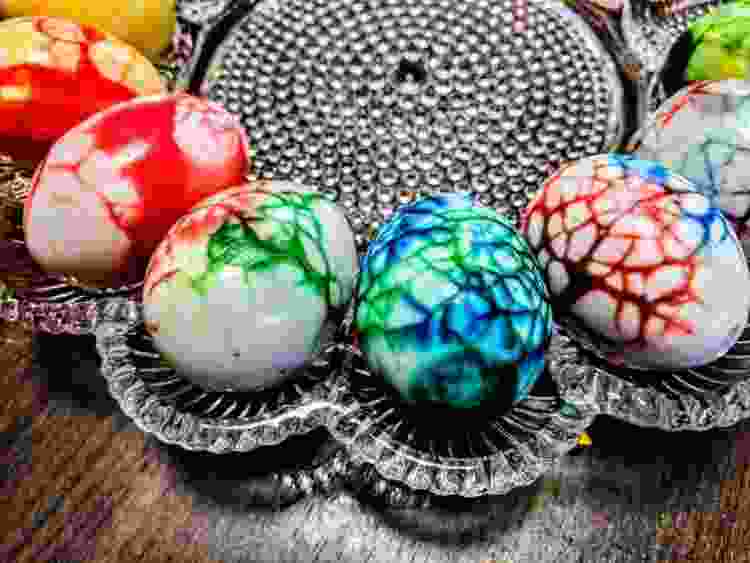 Book a Gourmet Cooking Class Now
Kick-start your culinary confidence with help from a world-class chef. See what's cooking in your city today.
9. Ceremonial "Pigeon" Pie
Pigeon pie is enjoyed by many Game of Thrones characters. Most notably, this ceremonial pie makes an appearance at Joffrey's wedding, where an enormous pigeon pie has been hollowed out and filled with actual pigeons. This recipe from Feast of Starlight includes no pigeons—live or otherwise—and is filled instead with red wine, quail (or chicken), vegetables, apricots, pine nuts, and pancetta for a stunning dish worthy of any feast.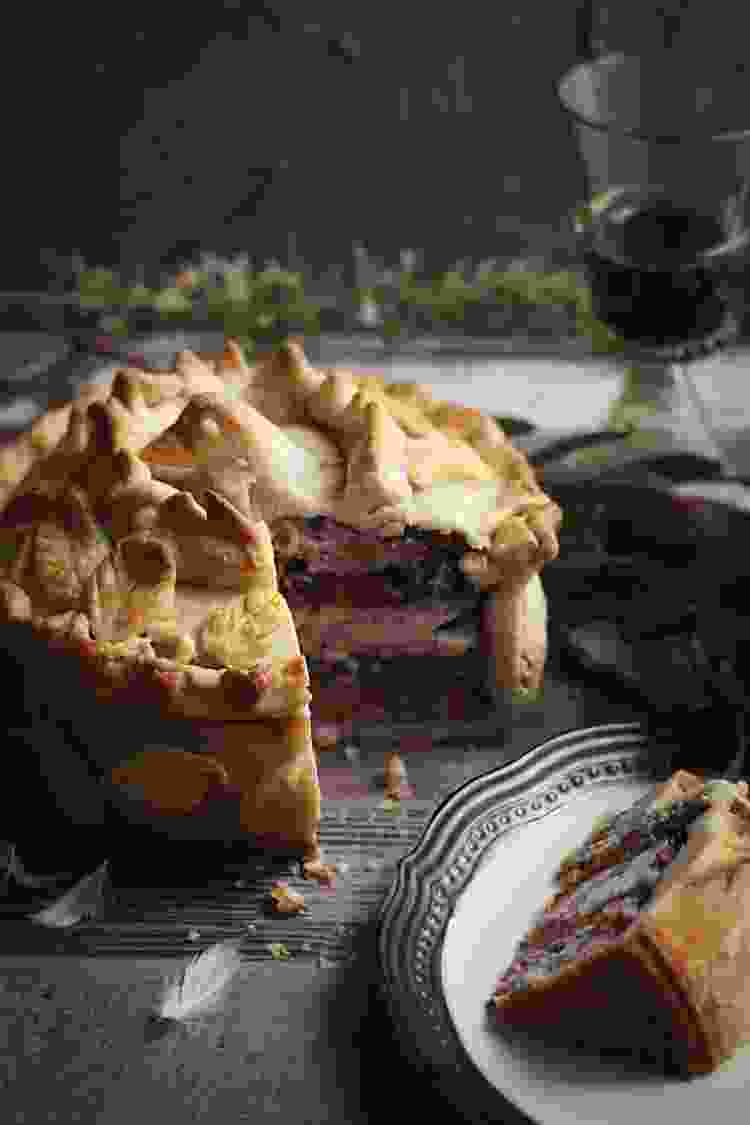 10. White Walker Cocktail
With Johnnie Walker White Walker Whiskey, crafting a cocktail inspired by The Army of the Dead is easy. Take The Night King's Sour, for example, made with white grape juice, vanilla syrup, and Blue Curacao to give it a frosty blue hue. Dragonglass not included.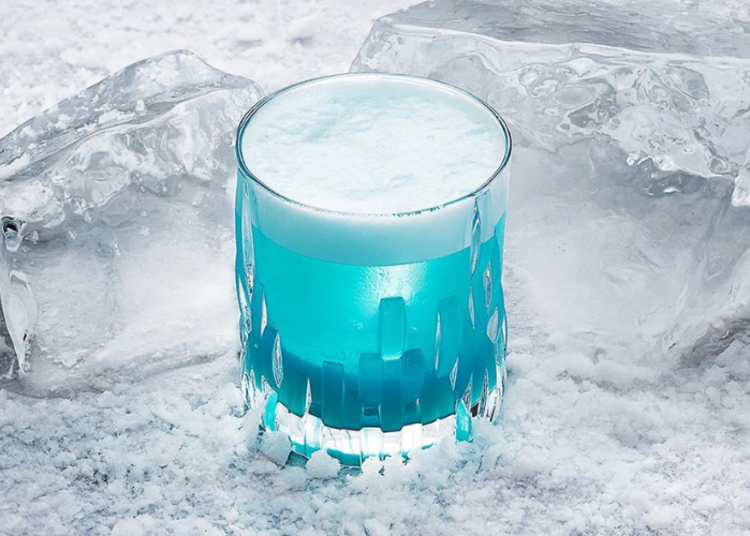 11. Direwolf Bread
Inspired by Hot Pie's iconic farewell gift to Arya, this direwolf bread recipe from Bon Appétit includes a template for the whimsical wolf shape. The bread, made with beer and buttermilk, is the perfect centerpiece to any Game of Thrones feast.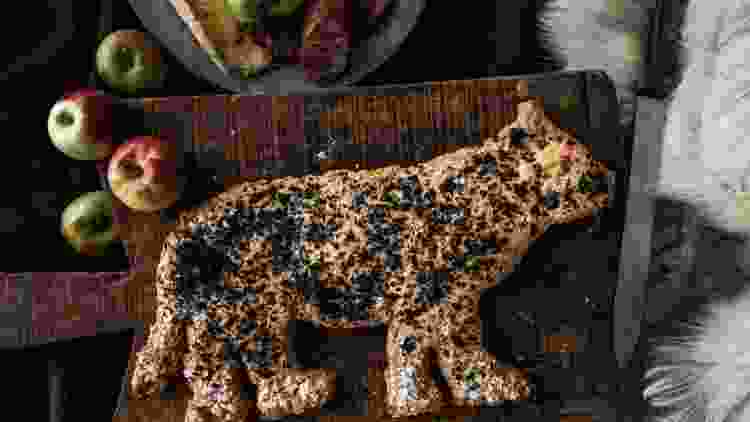 12. Black Garlic (Little) Fingerling Potatoes
For potatoes as black as the current queen's heart, Cozymeal Chef Cregg in San Francisco shares this delicious Game of Thrones inspired recipe. (Little) fingerling potatoes are roasted with a black garlic-infused brown butter, Parmesan, and herbs to create a unique and delicious side dish for your GoT banquet.
BLACK GARLIC (LITTLE) FINGERLING POTATOES
Ingredients:
1 pound mixed color fingerling potatoes
2 bay leaves
4 black garlic cloves
1 cup of unsalted butter, cubed
1/4 cup grated Parmesan cheese
1 tablespoon olive oil
1 tablespoon fresh rosemary, chopped
Salt and pepper, to taste
Preparation:
Cut butter into small evenly-sized pieces. Place into a light-colored, heavy-duty saucepan along with bay leaves. Melt butter over medium heat, stirring occasionally to ensure even cooking.
Watch butter closely. The color will progress from a bright yellow to a golden tan, and then to a deep golden brown. Once browned and nutty, remove from heat. Remove bay leaves and transfer the butter to a heat-proof bowl.
Once brown butter is cooled to room temperature, place into a food processor and pulse butter with the black garlic. Leftover butter can be stored in refrigerator up to 2 weeks.
Preheat oven to 425°F. Cut fingerling potatoes in half lengthwise and combine the potatoes, 2 tablespoons of the melted black garlic butter, olive oil, rosemary, and half the Parmesan cheese. Season with salt and pepper. Roast the potatoes in either a baking dish or cast iron skillet for 25-30 minutes, or until potatoes are slightly crispy and tender on the inside. Let cool for 5 minutes, top with the remaining Parmesan cheese, and serve.
Book an Online Cooking Class Now
Ready to perfect your homemade pasta, paella or pad thai? Join a world-class chef from the comfort of your kitchen.
13. Red Wedding Sorbet
Cool things off with a fruity, spiked sorbet that hopefully has nothing in common with The Red Wedding besides its name. This Watermelon Vodka Sorbet was featured in Taste of Home's Game of Thrones menu and we love its bright color and refreshing, clean taste.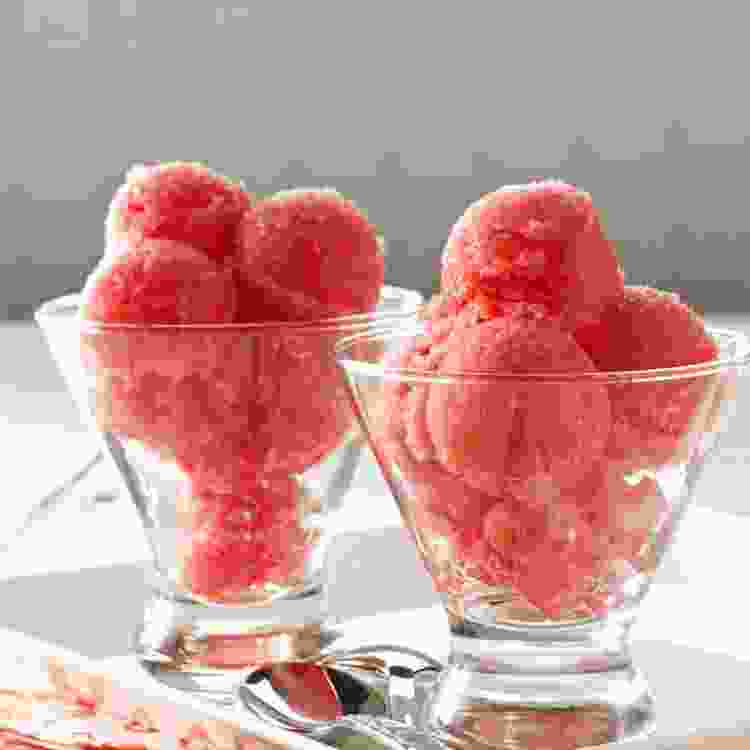 14. The Hound's Fried Chicken
Like The Hound, we love fried chicken. Although, we typically do not violently threaten people to get it. Demand the best, just like The Hound, and learn how to make fried chicken perfectly every time. From brining to coating to frying, follow these tips from New York Times Cooking and you will be on your way to becoming a fried chicken expert.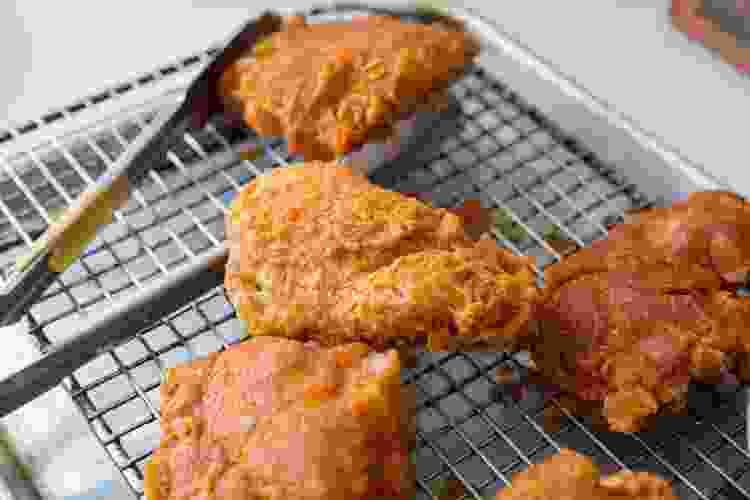 15. Kingslayer Crab Dip
No kings were slayed in the making of this crab dip. Made with massive king crabs, milk, cream, herbs, and Grana Padano cheese, this Ultimate Crab Dip from Saveur will have the Lords and Ladys at your Game of Thrones party coming back for seconds (and thirds).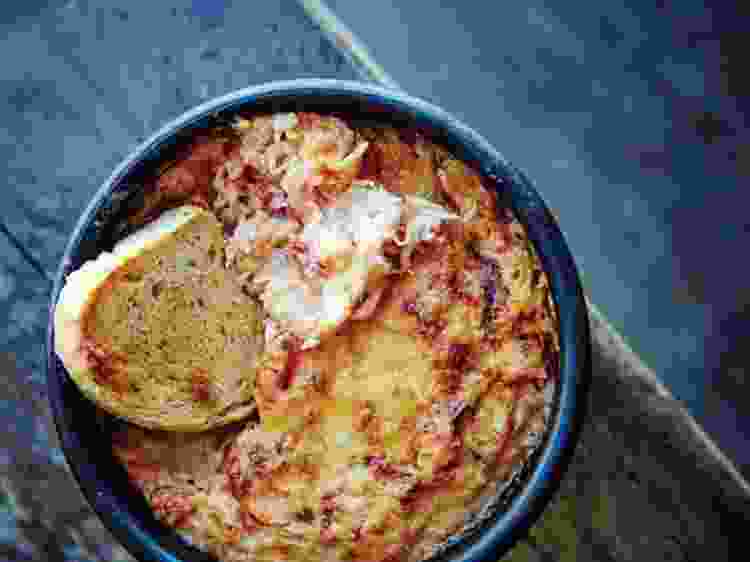 16. King's Spicy Turkey Legs
Turkey legs are fitting for any medieval feast, and this recipe from Chef Latisha in Atlanta is no exception. In her A Song of Spice and Fire class, she taught this exact recipe for King's Spicy Turkey Legs.
KING'S SPICY TURKEY LEGS
Ingredients:
4 turkey legs
2 tablespoons ground Guajillo chili
½ teaspoon cayenne pepper
1 tablespoon finely minced oregano
1 tablespoon finely minced cilantro
1 tablespoon roasted garlic
1 tablespoon black pepper
1 tablespoon kosher salt
2 tablespoons melted duck fat
Preparation:
Mix the chili, cayenne, oregano, cilantro, garlic, pepper, salt, and duck fat to make a dry paste.
Coat each leg lightly with the paste and smoke for 30 minutes.
Remove turkey legs from the smoker and place in a large roasting pan. Cook in a preheated 375°F oven for 1 hour, or until legs are crispy and reach an internal temperature of 165°F.
Remove from oven and rest fifteen minutes before serving.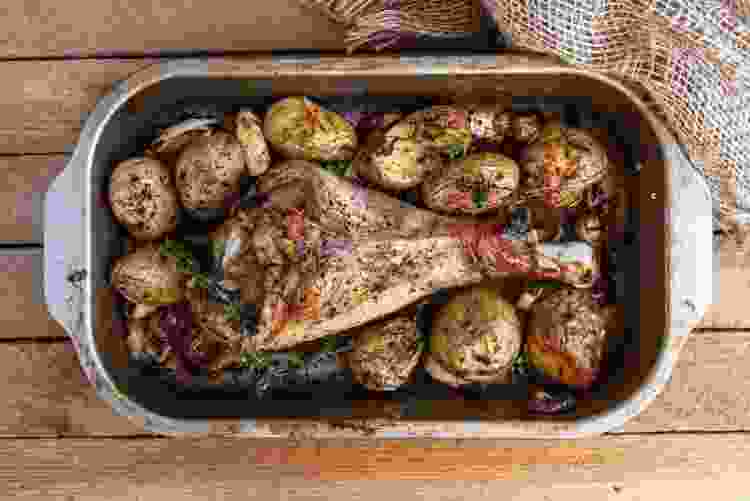 Gourmet Cooking Classes Near You
Take your culinary skills to new levels with guidance from five-star chefs.
17. Tyr-Onion Rings
Lord Tyrion Lannister is loved by many for his quick wit, fantastic one-liners, and his love of wine. Honor his character by making and serving crispy onion rings at your next Game of Thrones night — or, as we like to call them, Tyr-Onion Rings! This recipe for Foolproof Onion Rings from Serious Eats creates the crispest and lightest rings around.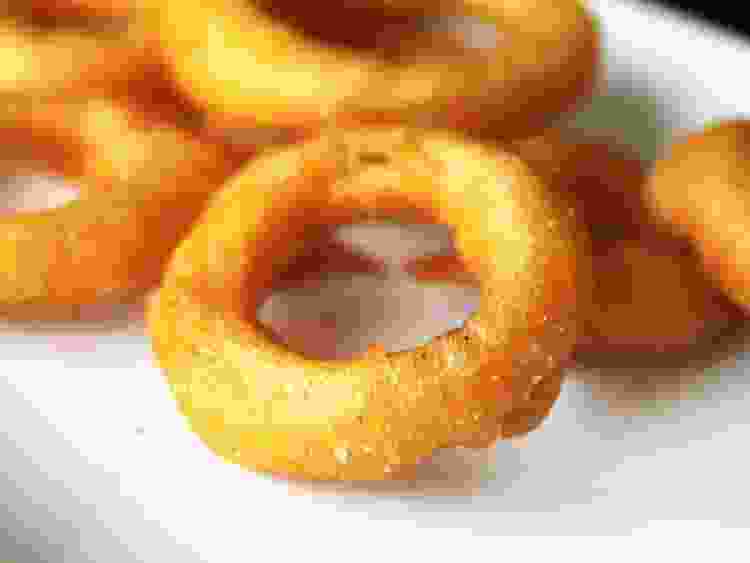 18. Flaming Dragon's Blood Cocktail
You'll certainly feel like Daenerys Targaryen after a few of these Flaming Dragon's Blood Cocktail. This Daquiri combines rum, lemon juice, and white luster dust with a sweet, fragrant raspberry and thyme syrup. The flickering flame makes for a dramatic final touch.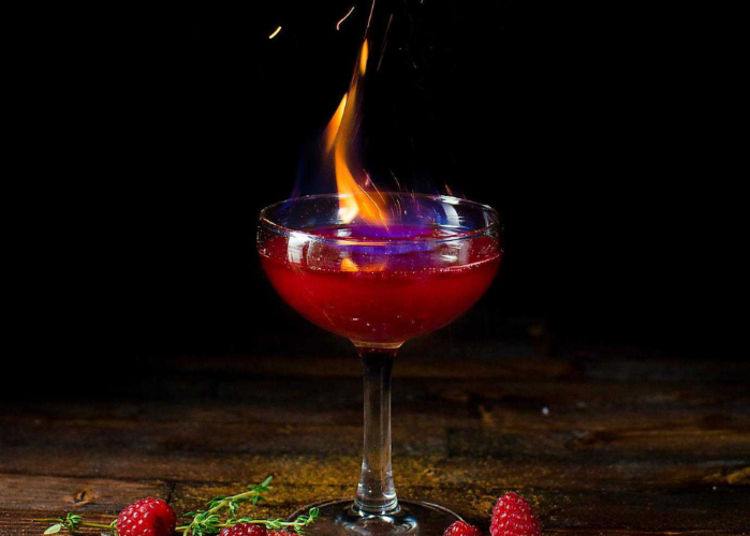 19. Brienne of Tart
For a tart that Brienne of Tarth would be proud of, make this Brienne of Tart recipe. This mixed berry galette is rustic, sweet, fruity, and fairly quick to put together. Buttery galette dough forms as the base, and is much easier to make and shape compared to pie dough.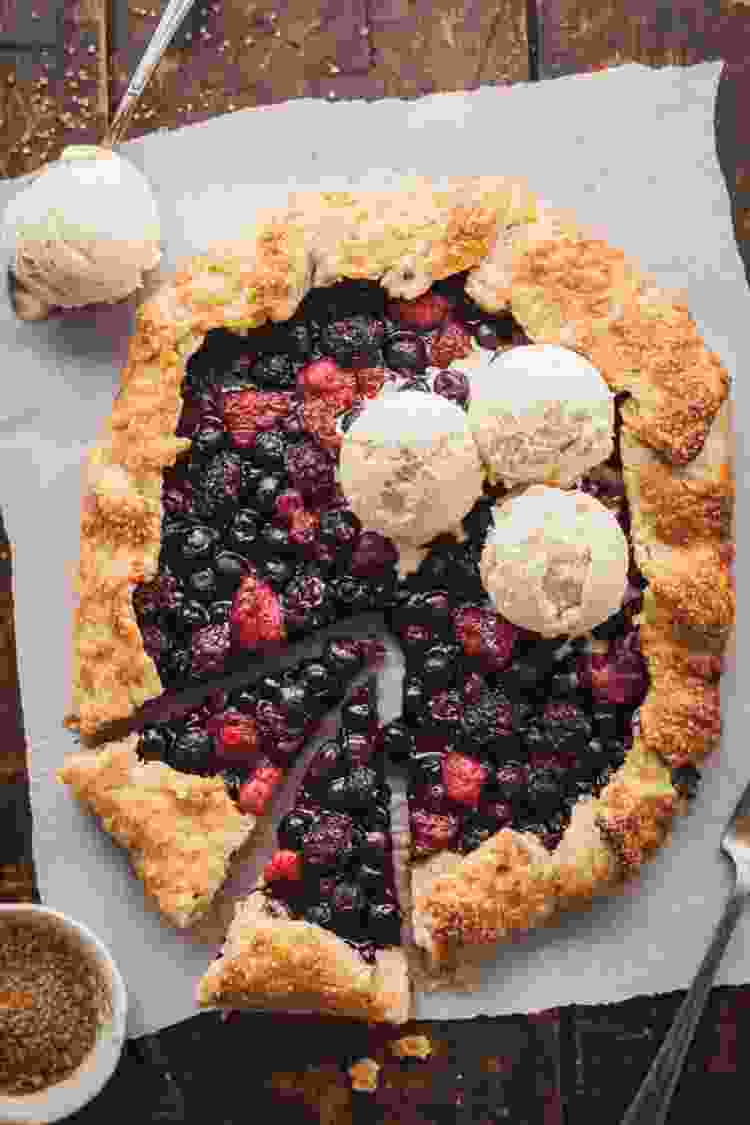 Join 200,000+ Culinary Enthusiasts
Exclusive deals, recipes, cookbooks, and our best tips for home cooks — free and straight to your inbox. PLUS: 500 Rewards Points.
For nationwide culinary experiences, check out the many fun experiences on Cozymeal.
Cozymeal is not affiliated with or sponsored or endorsed by Game of Thrones, HBO, or any of HBO's subsidiaries or affiliates.