23 Superior Cincinnati Foods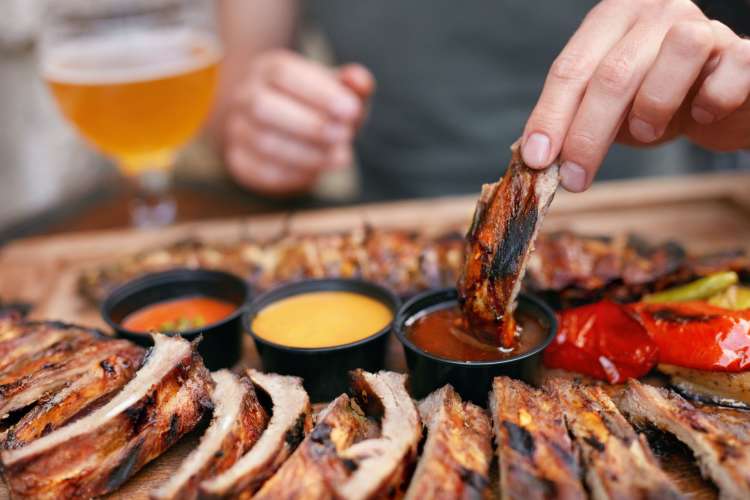 The Cincinnati food scene is vibrant and diverse, and the city boasts some of the best culinary spots in the Midwest. From iconic barbecue dishes and ethnic favorites to opulent fine dining, there are tons of flavors to explore.
If you're in the area, this list definitely has an option to delight your taste buds. Check out a few of these spots for awesome atmospheres and even better flavors. Here are the 23 best Cincinnati food finds to add to your must-try list.
Jump to Section
Book a Local Food Tour Now
Explore your city's best bites, esteemed eateries and hidden gems with a top-rated tour guide.
23 Best Cincinnati Foods
These are the best Cincinnati foods from the city's top restaurants, including some of the area's most popular eateries and best-kept culinary secrets.
1. Cincinnati Chili at Camp Washington Chili
Fewer Ohio foods are more iconic than Cincinnati chili — a layered favorite available in multiple styles. There are tons of great places around the city to snag this dish, but none are more iconic than Camp Washington Chili. This 24-hour-a-day spot is a must-visit to experience the city's most famous meal.
The Vibe
Camp Washington has a nostalgic diner feel complete with checkerboard floors and neon signs. Slide up to the bar or grab a table or booth to enjoy your meal. Check out the colorful murals and browse the wall of framed news reports about the spot they've collected since opening in 1940.
What to Order
Of course, the eatery is famous for its iconic Cincinnati chili, but its menu also features other diner faves. Try out the cheese coney for a flavorful classic. The turkey wrap and customizable spinach salad are great options for Cincinnati foodies looking for something on the healthy side.
Camp Washington | 3005 Colerain Ave., Camp Washington, OH 45225 | $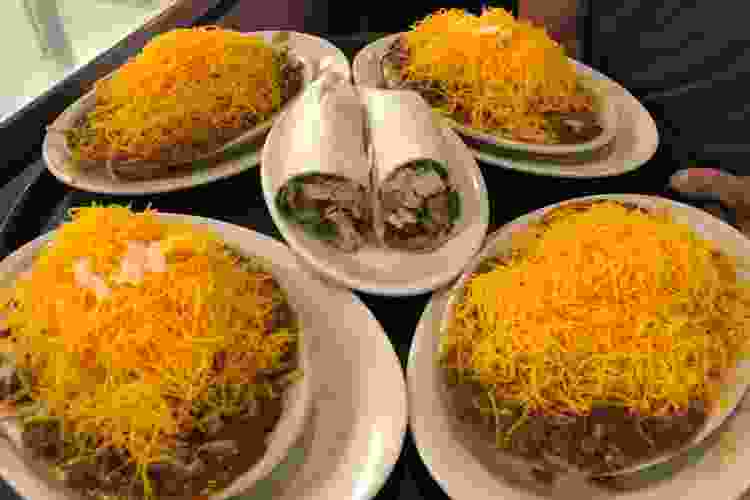 2. Barbecued Ribs at Montgomery Inn
Montgomery Inn ribs are a staple and one of the best Cincinnati foods for barbecue lovers. These world-famous ribs are made from pork loin and cooked to perfection. Diners can choose from a normal order or indulge in a half or full slab slathered in the restaurant's signature sauce.
The Vibe
Inside both locations, diners are treated to everything Cincinnati. Cozy walls are adorned with jerseys and memorabilia from local sports greats. At the Boathouse location, make a reservation early to get a table on the airy first floor with expansive windows overlooking the water.
What to Order
The ribs are what make this place shine. Pair them with traditional sides like macaroni and cheese or potato chips.
Montgomery Inn - The Boathouse | 925 Riverside Dr., Cincinnati, OH 45202 | $$$
Top-Rated Cooking Classes in Cincinnati
Master the art of gourmet cuisine with the help of the best chefs in Cincinnati.
3. Ice Cream at Graeter's
Graeter's Ice Cream began as a small ice cream cart in 1870. Today, it's a huge sensation that's available in their shops in five states and the freezer cases of major retailers. Head here to enjoy a cone or sundae for Cincinnati food to satisfy your sweet tooth.
The Vibe
Graeter's has the typical laid-back ice cream shop vibes with plenty of tables and outdoor seating. Friendly employees make you feel welcome and are happy to help you choose the right flavor. Select locations have party rooms and indoor playgrounds, perfect for little ones to burn off some sugar.
What to Order
The store has a rotating selection of seasonal flavors that are incredibly tasty, but the black raspberry chip ice cream is a standard crowd favorite. There are also classic flavors like Dutch milk chocolate and Madagascar vanilla bean. And even if you avoid dairy, you can still select from an assortment of sorbet flavors.
Graeter's Ice Cream | Multiple Locations | $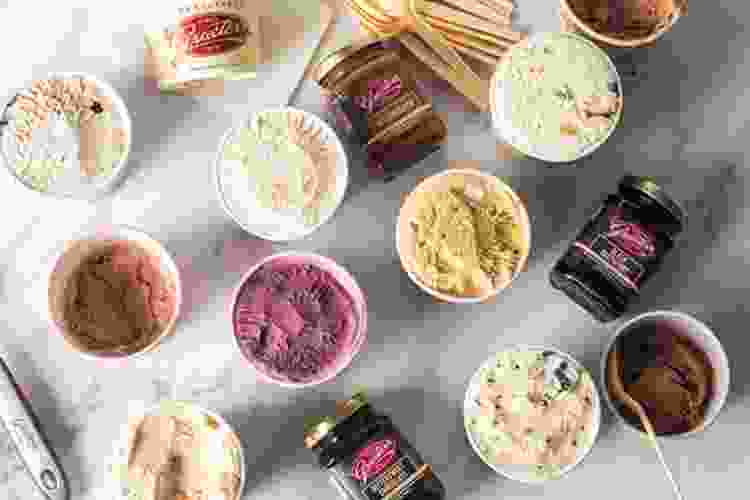 4. Goetta at Eckerlin Meats
Goetta is a meat that's unique to the area and a must on your list of foods to try in Cincinnati. The lean meat is a combination of pork, beef and a signature blend of spices. At Eckerlin Meats, their house-made goetta has developed a cult following, making them one of the best places to enjoy this one-of-a-kind Cincinnati food.
The Vibe
They're a charming, old-fashioned butcher shop with glass cases displaying carefully prepared meats. The spot is counter-service only, but there's plenty of indoor and outdoor seating nearby at Findlay Market, where they're located.
What to Order
Eckerlin's signature goetta can be enjoyed as a sandwich with egg and cheese. It's also flavorful enough to enjoy alone and can be ordered by the slice.
Eckerlin Meats | 1801 Race St., Cincinnati, OH 45202 | $
5. Steak at Prime Cincinnati
This is the spot for the best Cincinnati food for a special occasion and delicious steak. Prime Cincinnati serves top-of-the-line cuts of the world's best steak. Plus, their side dishes are some of the best in the city.
The Vibe
The vibe is sophisticated and glamorous. Dramatic light fixtures and custom paneled walls add to the opulence. The greenery-filled patio is a natural retreat right in the city.
What to Order
No matter what type of steak you love, Prime has it. Enjoy a premium dry-aged Kansas City strip or indulge in a wagyu ribeye. Try truffle mashed potatoes for a decadent side.
Prime Cincinnati | 580 Walnut St., Ste 100, Cincinnati, OH 45202 | $$$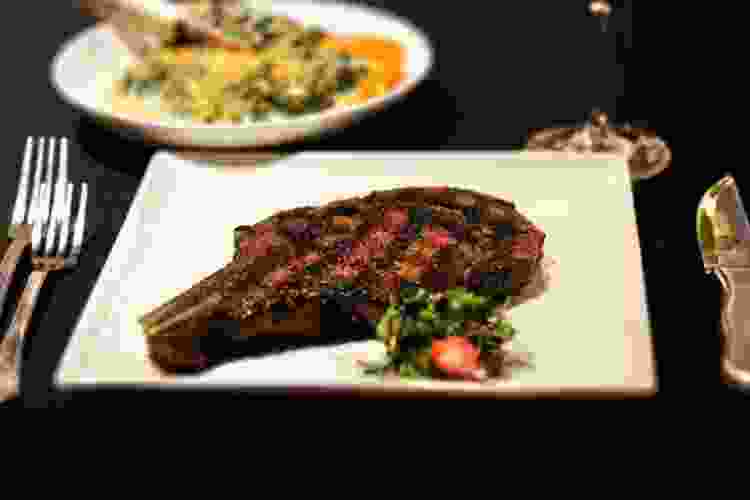 Book a Local Food Tour Now
Explore your city's best bites, esteemed eateries and hidden gems with a top-rated tour guide.
6. Waffles at Taste of Belgium
Taste of Belgium has some of the best food in Cincinnati for all ages. From sweet to savory, this place offers it all on their expansive menu of salads, sandwiches and entrées. But the waffles are a must-try!
The Vibe
The atmosphere at each location is casual and no-fuss. The décor is bright and clean with subtle touches that pay homage to the founder's home country. It's a great spot for families with kids of all ages or to grab a beer with friends.
What to Order
This Cincinnati food spot offers a selection of waffles on its seasonal menu. Delight in sweet waffles topped with banana and Nutella, or savor the heartier classic roasted turkey atop the shop's traditional waffle.
Taste of Belgium | Multiple Locations | $$
7. Pizza at Two Cities Pizza
A pie from Two Cities Pizza Company is one of the best ways to enjoy Italian food in Cincinnati. This unique spot serves two iconic styles of pizza with a huge assortment of toppings. Choose from New York style or Chicago style — or try one of each!
The Vibe
The interior is an eclectic combination of styles featuring urban New York and Chicago décor and a plant wall for a touch of greenery. And be sure to check out the award-winning subway-themed bathroom that makes this one of the most unique restaurants in Cincinnati.
What to Order
From the Chicago menu, try the Rhythm Road pie with mashed potato, bacon and chipotle aioli. Among the New York-style options, don't miss Miss Brooklyn, with arugula, goat cheese and grapes. There are also vegan and gluten-free crusts, making this a great Cincinnati food option to accommodate diners with dietary restrictions.
Two Cities Pizza | 202 W. Main St., Mason, OH 45040 | $$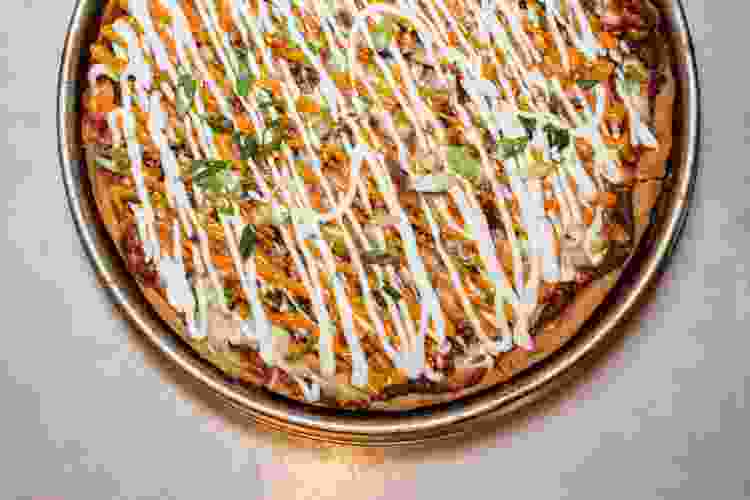 8. Sushi at E + O Kitchen
There's great ethnic food in Cincinnati, sushi included. And E + O Kitchen has two convenient and trendy spots to enjoy this Japanese classic. With fresh ingredients and a variety of rolls, it's an awesome place to grab a bite.
The Vibe
Both E + O locations have tons of atmosphere, perfect for a date night or an evening out with friends. The hip interiors feature open ceilings and exposed brick or shiplap walls for an interesting rustic yet industrial vibe.
What to Order
Enjoy the iconic California roll made with purple rice for an inventive twist, or the unique tuna sashimi with lush white truffle oil. For those that aren't into seafood, check out their veggie-forward sushi for beginners: the Purple Rain roll filled with fresh avocado and asparagus. This is an outstanding Cincinnati food locale for healthy eats and fresh flavors.
E + O Kitchen | Multiple Locations | $$
Top-Rated Cooking Classes in Cincinnati
Master the art of gourmet cuisine with the help of the best chefs in Cincinnati.
9. Eggs at Maplewood Kitchen
If you're craving a delicious breakfast, head to Maplewood Kitchen and Bar. This chic eatery serves up the best all-day breakfast in the city. With a wide variety of egg dishes, Cincinnati foodies and brunch lovers are sure to find a morning meal to satisfy their appetite.
The Vibe
The décor here is simple, airy and industrial with a shimmer of sophistication. The exposed brick and open ceilings give it a trendy feel, while the hanging plants and colorful artwork add character. The open dining room feels comfortable and makes for a lively brunch spot.
What to Order
Maplewood's signature omelet is flavorful and filled with veggies, ham and goat cheese. You can also choose to have your cage-free eggs prepared to your liking and served with your choice of bacon, sausage or goetta, another one of Cincinnati's famous foods.
Maplewood Kitchen and Bar | 525 Race St., Cincinnati, OH 45202 | $$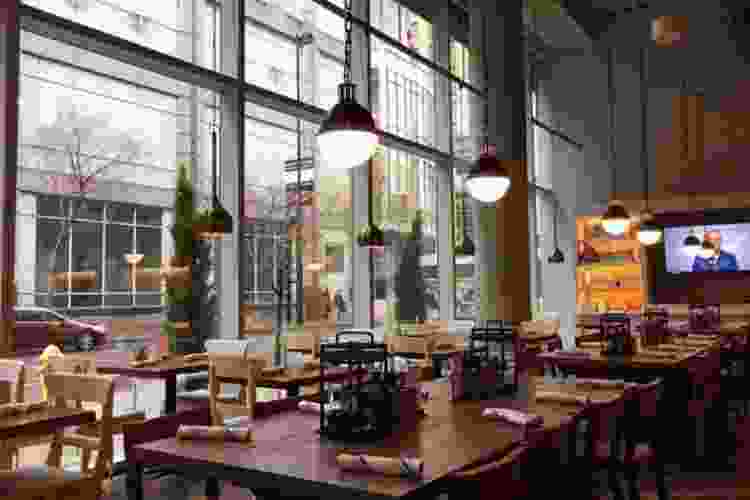 10. Pho at Pho Lang Thang
When you're not feeling great or are just craving a cozy meal, pho can fit the bill. This flavorful Vietnamese soup is delicious comfort food. Pho Lang Thang has some amazing pho that will warm you up on the coldest of Ohio days.
The Vibe
The vibe here is as welcoming as their signature pho. With mid-century modern touches, the interior has a stylish feel that's not intimidating. Bright murals and graphic statement walls fill this Cincinnati food favorite.
What to Order
Two popular dishes are beef and chicken pho, both served with high-quality cuts. There's also a vegan broth that can be served with plant-based additions like mushrooms.
Pho Lang Thang | 1828 Race St., Cincinnati, OH 45202 | $$
11. Burgers at Tickle Pickle
The burgers at Tickle Pickle are one of the best foods in Cincinnati for vegetarians and meat-lovers alike. This café provides a variety of options and innovative flavor combinations. Plus, the sides are amazing as well.
The Vibe
The vibe here is cute and colorful. Art-covered custom tables fill the cozy dining room, and a chalkboard keeps little ones busy while you order at the counter from the music-themed chalkboard. Colorful murals and displays of customers' artwork add to the welcoming vibe and make it one of the most unique restaurants in Cincinnati.
What to Order
The burger choices here are the most creative in the city. Check out The Slayter, served on a pretzel bun with tartar sauce. Spice lovers will enjoy The Red Hot Chili Pepper burger topped with spicy ketchup and pepper jack cheese. Herbivores looking for plant-based Cincinnati food will love the Buns N Roses, an award-winning black bean burger served on a vegan bun.
Tickle Pickle | 4176 Hamilton Ave., Cincinnati, OH 45223 | $$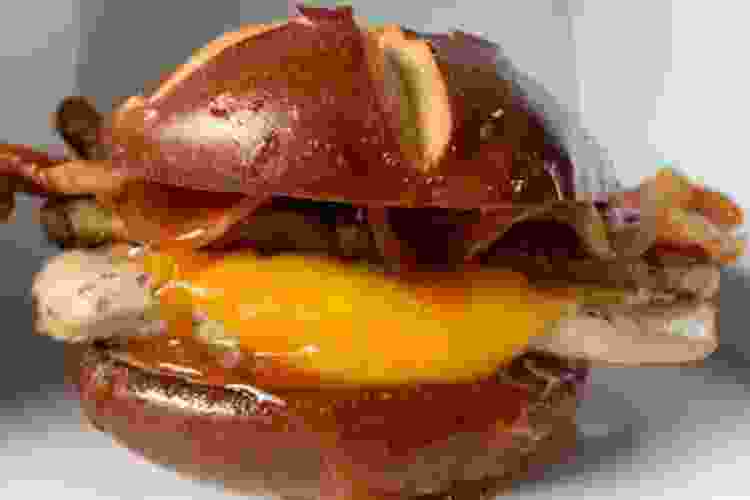 Book a Local Food Tour Now
Explore your city's best bites, esteemed eateries and hidden gems with a top-rated tour guide.
12. Doughnuts from Starlight Doughnut Lab
For a sweet morning treat, head to Starlight Doughnut Lab. This small batch baking shop features some truly innovative flavors. Pick up a dozen and sample them all for a Cincinnati food experience that satisfies every craving.
The Vibe
This small, space-themed Cincinnati food shop is downright adorable. It's cozy with limited seating. However, the staff is super friendly and can help you select just the right flavors for your order.
What to Order
Starlight has rotating monthly flavors in addition to regular staples available year-round, like yummy maple butternut and a refreshing lemon poppyseed. Cocoa lovers will adore the double chocolate and brownie batter flavors.
Starlight Doughnut Lab | 4603 Carter Ave., Norwood, OH 45212 | $
13. Lobster at Oakley Fish House
If you love high-quality seafood, you'll find an amazing meal at Oakley Fish House. It can be tough to find fresh and well-prepared ocean fare in Ohio, but this eatery has some of the best seafood to try in Cincinnati.
The Vibe
The dining space here is modern and refined. Exposed brick adds a rustic touch, while the sleek, mirror-adorned bar area gives off a contemporary vibe.
What to Order
The lobster tails are perfectly cooked and paired with squid ink linguine and littleneck clams for the ultimate seafood lover's feast. This Cincinnati food spot also serves a variety of lobster tempura sushi rolls. The Black Dragon Roll is topped with fresh eel, and the Fish House Rainbow Roll includes white fish and shrimp.
Oakley Fish House | 3036 Madison Rd., Cincinnati, OH 45209 | $$$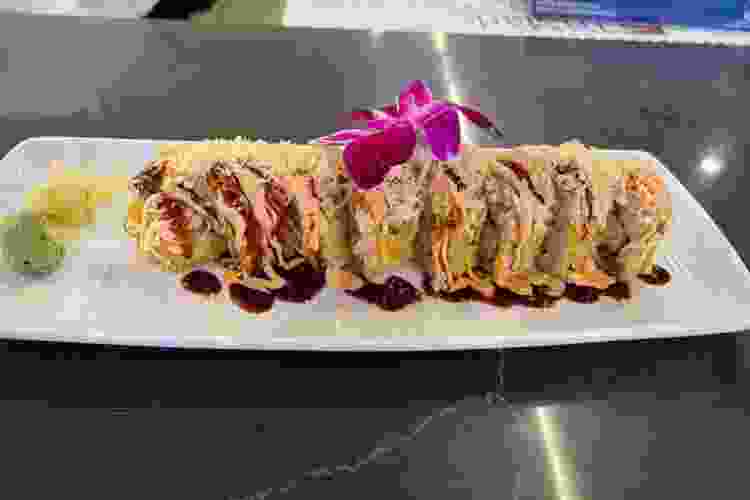 14. Tacos at Bakersfield
Bakersfield got its start in Cincy and now has locations all over the Midwest — for good reason. This hip spot serves up some of the best tacos around, and their margaritas aren't too bad, either! This is a major Cincinnati food lover's destination that's popular for Taco Tuesday and beyond.
The Vibe
The décor here is as innovative as the taco combinations. Wood paneling creates a natural feel complemented by greenery walls. Exposed brick and industrial light fixtures make the space hip, and the overall buzz is energetic, fun and casual.
What to Order
The fish and shrimp taco options are awesome for seafood lovers, and spice devotees will enjoy the pollo diablo. There are two vegetarian options, one with portobello mushrooms and the other with corn truffle. Wash it all down with the restaurant's signature margaritas or an earthy cucumber version.
Bakersfield | 1213 Vine St., Cincinnati, OH 45202 | $$
Top-Rated Cooking Classes in Cincinnati
Master the art of gourmet cuisine with the help of the best chefs in Cincinnati.
15. Gyros at Zorbas Greek Restaurant
Zorbas Greek Restaurant makes some of the most authentic Greek food in Cincinnati. It's a perfect lunch spot in a convenient location. Plus, they have a drive-up window for dining on the go.
The Vibe
The dining room here is quaint and low-fuss. The color scheme is inspired by the coastal scenery that's quintessential Greece. The bright blue walls and stunning wall art create the perfect backdrop to a delicious Greek meal.
What to Order
The gyro here is a fan favorite, available with traditional meat as well as chicken. There's also a gyro burger served on a bun instead of pita bread. Each is served with Zorbas' delicious handmade tzatziki sauce. Perfectly-seasoned Greek fries complete the meal at this yummy Cincinnati food vendor.
Zorbas Greek Restaurant | 6520 Glenway Ave., Cincinnati, OH 45211 | $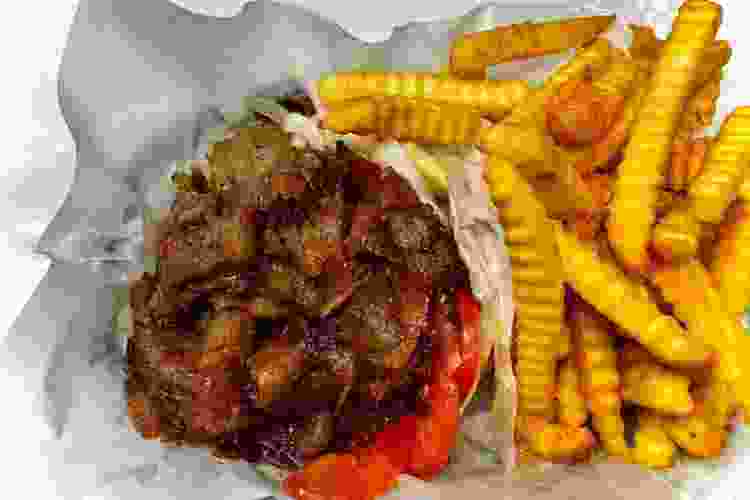 16. Hot Dogs at Senate
Hot dogs at Senate are a Cincinnati food that the whole family can enjoy. Senate serves beef hot dogs with a variety of toppings. They have a pretty stellar beer selection, too.
The Vibe
The narrow building oozes history, with brick walls and detailed architecture. Enjoy the downtown sights and sounds through the large, front-retractable windows. The staff is laid-back and welcoming.
What to Order
Adventurous Cincinnati foodies should try the K-Pop Dog, topped with kimchi and pickled cucumber. There's also a classic Chicago dog with traditional ketchup, mustard and relish.
Senate | Multiple Locations | $$
17. Wings From Pendalo Wingery
If you're looking for the perfect Cincinnati food to enjoy while watching the Bengals game, look no further than Pendalo Wingery. This spot has delicious wings tossed in a variety of house-made sauces.
The Vibe
The industrial space has plenty of TVs and is an awesome hangout to watch sports or gather with friends. The unique décor and greenery add character. Plus, they're housed in a Braxton Brewery, offering an energetic and lively feel.
What to Order
Check out the signature wings with classic sweet Buffalo or barbecue sauce. Spice lovers can challenge their palates with Pendalo's fiery Korean Fire and Nah Bro XXX sauce options. Vegetarians can try the cauliflower wings. Order one of the brewery's refreshing craft beers as the perfect pairing to your meal.
Pendalo Wingery | 1211 Broadway St., Cincinnati, OH 45202 | $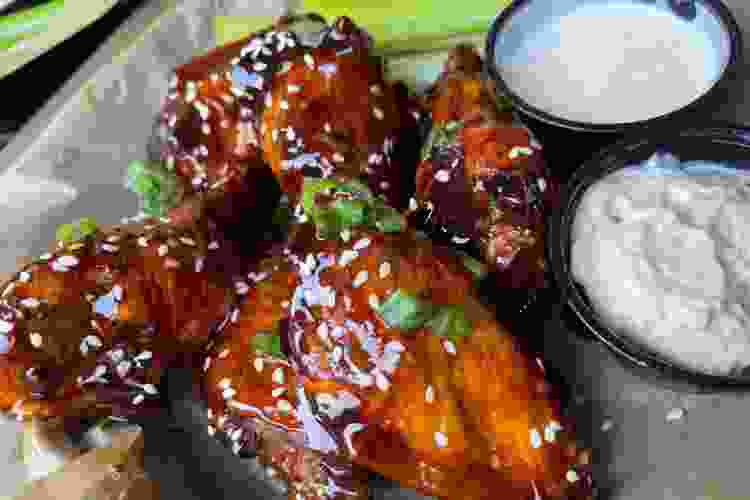 Top-Rated Cooking Classes in Cincinnati
Master the art of gourmet cuisine with the help of the best chefs in Cincinnati.
18. Empanadas at Ché
For Cincinnati food full of Argentinian flavors, check out Ché. This eatery serves up the best empanadas in the city. With a variety of filling options, these savory pastries make the perfect authentic snack or meal.
The Vibe
Ché is cozy and welcoming. With touches of Argentinanian décor and signs highlighting local beer, it has a community feel. Watch a Reds game on the television and have a few beers at the large bar.
What to Order
There are tons of empanadas to choose from. The unique De Carne option is filled with spiced beef, eggs and olives, or go for the four-cheese empanada, full of melty goodness.
Ché | Multiple Locations | $$
19. Mac and Cheese at Keystone Bar and Grill
Keystone Bar and Grill is a Cincinnati food spot perfect for lunch, dinner and anytime in between. They also have the best mac and cheese menu in Southern Ohio. With several options cooked to melty perfection, they've got comfort food for any Cincinnati palate.
The Vibe
The vibe here is clean and modern with painted brick and bright lighting. A wall of TVs at the bar allows diners to enjoy sports, while a variety of tables allow for date nights or family meals.
What to Order
The Lovin' Spoonful is the restaurant's take on a classic mac and cheese topped with melty cheddar. Meat lovers will enjoy The Powerhouse with smoked brisket and buffalo chicken topped with bleu cheese.
Keystone Bar and Grill | Multiple Locations | $$
20. Oysters at Pearlstar
For an amazing taste of the sea, check out Pearlstar. This spot serves the best oysters in the area in a variety of ways. It's also a great Cincinnati food and drink spot for special occasions and date nights.
The Vibe
The vibe here is super chic and trendy. Quirky art creates a gallery wall, and paper lighting gives the space character. The light and bright color scheme gives the narrow interior an airy vibe.
What to Order
Check out the raw bar menu for the chef's selection of oysters, or have them with toasted pink pepper and cilantro. You can also try the baked oysters topped with crispy breadcrumbs. Those that don't enjoy oysters can delight in the cauliflower steak and cheeseburger offerings.
Pearlstar | 1220 Vine St., Cincinnati, OH 45202 | $$$
Book a Local Food Tour Now
Explore your city's best bites, esteemed eateries and hidden gems with a top-rated tour guide.
21. Hot Sandwiches at Melt Revival
One of the best foods to try in Cincinnati is the warm and toasty sandwiches at vegetarian hotspot Melt Revival. This spot is a local fave for its crusty bread and variety of delicious fillings.
The Vibe
You'll love the quirky, welcoming interior just as much as the food. Funky patterned walls, vivid colors and local art on display invoke a sense of cheery comfort. There are even magnetic words along the walls to build fun sentences as you wait for your food.
What to Order
Stick with a classic and enjoy the crowd favorite cheese melt with white cheddar and provolone. The vegetarian cheesesteak is a satisfying meatless option featuring housemade seitan with peppers and onions. Whatever you order, you're sure to enjoy your meal from this Best Sub and Sandwich award winner from City Beat Cincinnati food-loving voters.
Melt Revival | 4100 Hamilton Ave., Cincinnati, OH 45223 | $$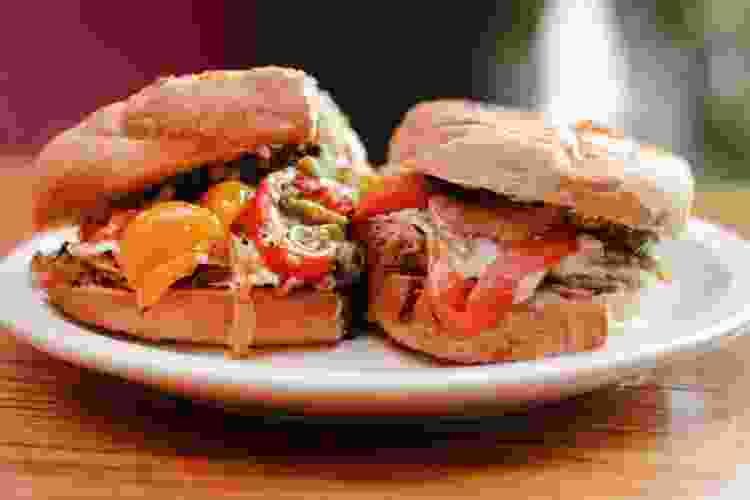 22. Pasta at Nicola's Ristorante
If you love great pasta, Nicola's Ristorante is a must-try. This Cincinnati food favorite has a menu of Italian staples to enjoy. Plus, their pasta is all freshly made in house!
The Vibe
Nicola's elegant lighting and crisp white linens give the space an opulent feel. Their old-Italian vibe is an authentic backdrop to the cuisine. It also has one of the best patios in the area with twinkling chandeliers and lush foliage.
What to Order
Pasta lovers can enjoy classics like potato gnocchi and tagliatelle with Bolognese. There's also ravioli filled with ricotta, goat butter and veggies, and creamy seafood risotto. Add truffle shavings to your dish to elevate the flavors to a new level.
Nicola's Ristorante | 1420 Sycamore St., Cincinnati, OH 45202 | $$$
23. Salads at Green District
Green District is the spot for fresh and healthy Cincinnati food. This salad eatery features colorful ingredients with tons of flavor. Select from their preset menu items or mix up a custom salad of your own.
The Vibe
Friendly employees chat with you as they make your selected salad. Watch them add ingredients and mix your meal before taking it to go or finding a seat. You can also dine on the patio to enjoy the lively vibe of Fountain Square.
What to Order
Choose from classic choices like a Cobb or Greek salad. There's also a Thai-inspired salad and one with nuts and fresh fruit. Whatever you choose, Green District will chop it to your liking and mix in your selected dressing.
Green District | 33 E. Sixth St., Cincinnati, OH 45202 | $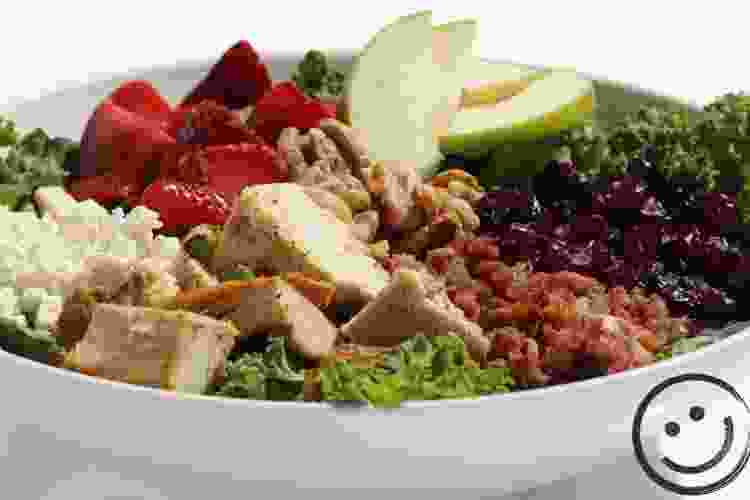 Join 200,000+ Culinary Enthusiasts
Exclusive deals, recipes, cookbooks, and our best tips for home cooks — free and straight to your inbox. PLUS: 500 Rewards Points.
These options give you plenty of ways to explore the Cincinnati food scene. From breakfast to dessert, tons of culinary greatness awaits you in Cincy. So prepare your taste buds and get ready to experience the most delectable food Cincinnati has to offer!
For even more fun ways to explore Cincinnati and beyond, check out other experiences happening on Cozymeal.
More Ways to Explore Cities Near You
Food tours in Cincinnati are coming soon! In the meantime, explore the best bites in your city with food tours near you. Check out some of our favorite experiences below: