What Is Guanciale and How Do You Prepare It?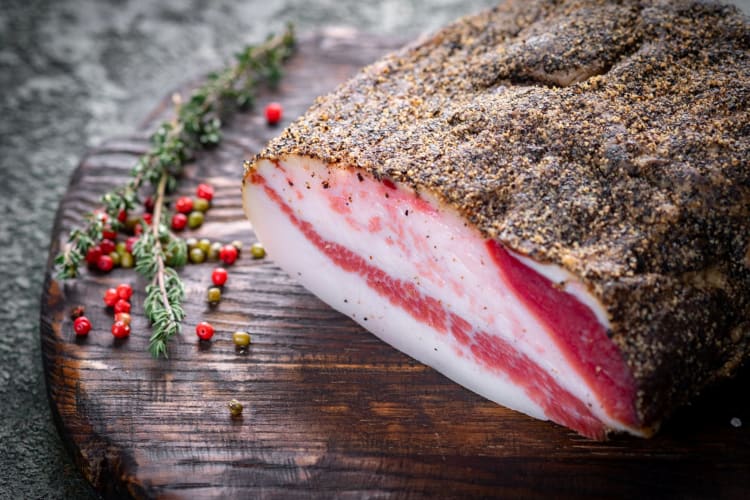 Our editorial team recommends the best products through independent research, selection and careful review. If you make a purchase through one of our affiliate links, we may earn a commission. Prices are subject to change.
Guanciale is a common feature of Italian cuisine, but you might be unfamiliar with this salty, bacon-like cut of pork. This guide will teach you what you need to know about buying, cooking and storing this delicious Italian staple.
Jump to Section
Gourmet Cooking Classes Near You
Take your culinary skills to new levels with guidance from five-star chefs.
What Is Guanciale?
Guanciale, pronounced "gwan-cha-lei," is cured meat cut from the cheek of a pig. The word guanciale is actually derived from the Italian word guancia, or "cheek," because of the origins of this cut of meat. You can find guanciale in many Italian recipes, especially those from the central regions of Italy near Rome. You can also find guanciale on charcuterie boards to add a rich, salty flavor.
What Does Guanciale Taste Like?
Guanciale has a high fat content and less gristle than other cuts of pork, so it has a richer texture than you might expect. This is what makes it excellent on a charcuterie board. One thing to note is that guanciale is very salty, so it works best either as part of a recipe or as a small part of your snack plates. A little goes a long way, and the fat rendered from guanciale is incredibly useful in making traditional Italian dishes. Keeping note of the flavor profile and texture of this cut of pork can help you in your quest to learn to cook Italian food.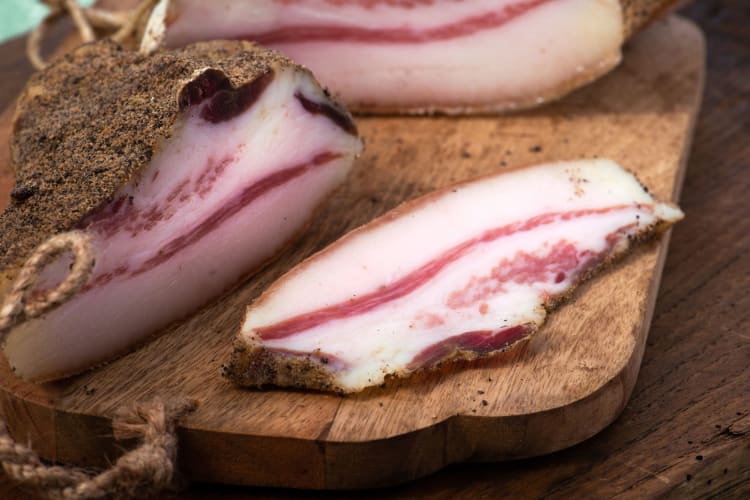 Guanciale vs. Pancetta
Like guanciale, pancetta (below) is cured pork, but unlike the cheek cut of guanciale, pancetta comes from the belly of the pig. Both are sold in their cured form, but you will often find pancetta sold in rolls while guanciale is more oblong.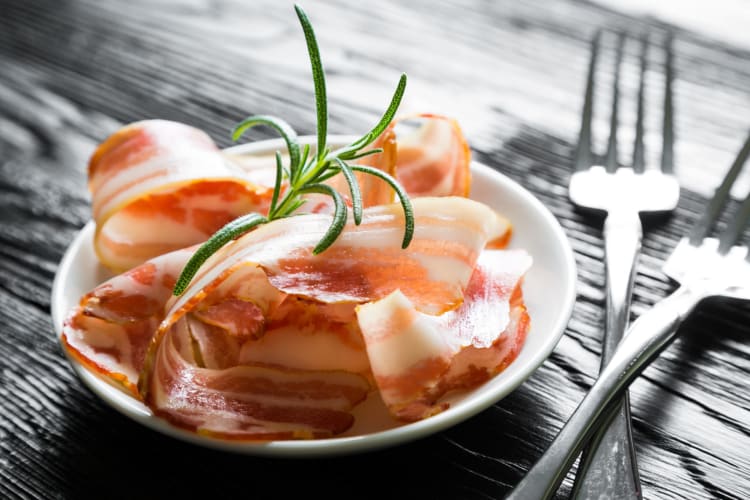 Guanciale vs. Bacon
Bacon is another type of cured pork meat that you might wonder about. Like pancetta, bacon comes from the belly, back or sides of the pig, while guanciale comes from the cheek. And while bacon and guanciale have similar salty flavors, there is one distinct flavor difference: smokiness. Bacon is often smoked and carries that flavor with it, while guanciale is not. Smokiness is also an important difference between pancetta vs. bacon.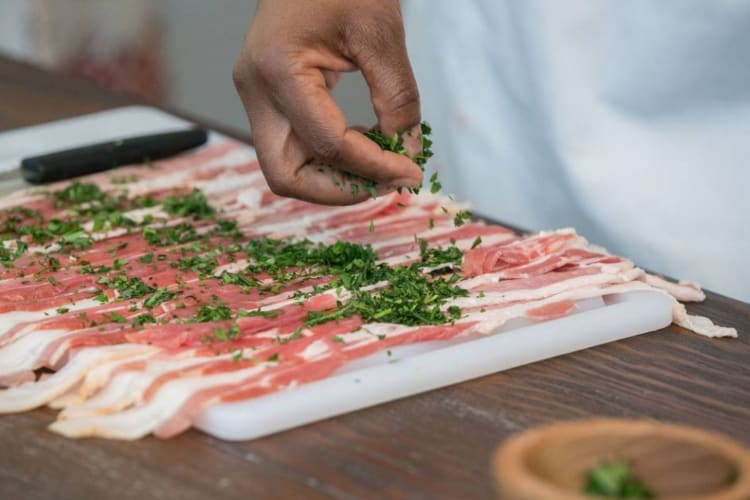 How to Cook Guanciale
There are quite a few ways to cook guanciale, from enjoying it on its own with a charcuterie board or using it in classic Italian recipes. It is an excellent way to add flavor and richness to soups, pastas and more. Traditionally found in foods from the Umbria and Lazio regions, you'll find it in many carbonara recipes, like traditional carbonara or bucatini carbonara.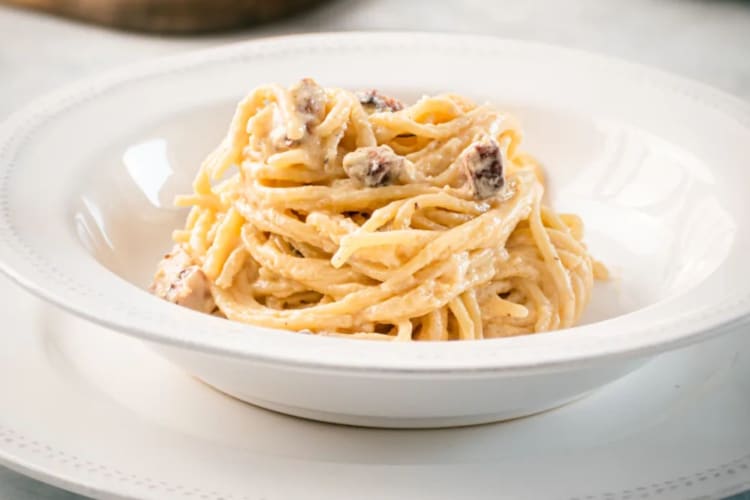 If you are still unsure about how to incorporate this traditional Italian staple into your dishes, cooking classes can be a great way to get more familiar with new ingredients. You can find cooking classes to help you expand your culinary skills in most major cities, like these cooking classes in NYC or cooking classes in Portland. There are also sure to be cooking classes near you or even online cooking classes available to help you conquer guanciale and other unfamiliar Italian ingredients in your own kitchen.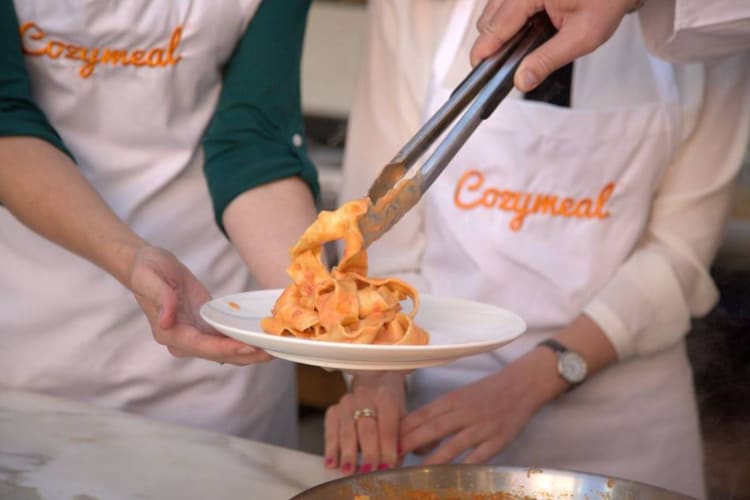 Join a Live Online Cooking Class Today
Your kitchen is now your own culinary classroom. Connect with chefs from around the world right from the comfort of home.
Storing Guanciale
When you buy a whole cut of guanciale, it will keep for around three weeks as long as it is wrapped up tightly. If you need to store it for longer, try placing it in the freezer for a lengthier store time. Once you've cut into the meat, you have about seven to ten days to use it before it goes bad.
The other important part of guanciale is the fat that is rendered when you cook it. Like most other cooking fats, this lasts much longer if packaged correctly and stored in the refrigerator.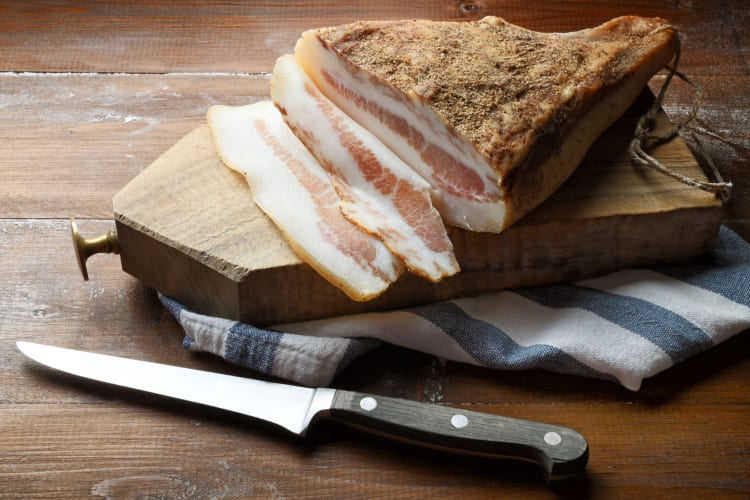 Where to Buy Guanciale
The one difficulty some at-home chefs run into with guanciale is availability. If you have an Italian deli or a market with a full-service meat counter available, you might not have an issue. If you're relying on traditional supermarket offerings, buying guanciale online might be your best bet. Try this Licini guanciale for an authentic and dependable online option.
And of course, if you prefer to try out guanciale before deciding whether or not to buy a whole half-pound or so of it, there's always the option to try it at a restaurant first. There are plenty of authentic Italian restaurants in Chicago and other major cities that will give you an authentic taste of Italy in their dishes, guanciale included.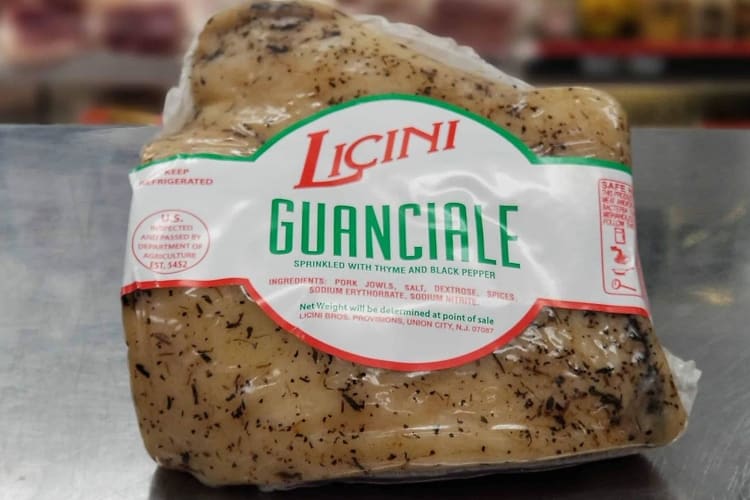 Join 200,000+ Culinary Enthusiasts
Exclusive deals, recipes, cookbooks, and our best tips for home cooks — free and straight to your inbox. PLUS: 500 Rewards Points.
We hope this guide to guanciale will prove helpful to you as you master the art of Italian cooking. This salty, rich cut of pork is the perfect addition to your recipes and charcuterie boards.
For even more ways to explore your favorite foods, check out other experiences happening on Cozymeal.