How to Cook Couscous
Knowing how to cook couscous is a skill you'll depend on time and time again for making healthy, balanced meals. Couscous originated in northern Africa, but today it is enjoyed around the world and paired with a wide variety of stews, meats, seafood, salads and more. Once you know how to cook couscous, the possibilities are endless!
If you've never worked with this versatile food before, you may be asking, "What is couscous made of and how do you cook different types of couscous?" In this article, we'll show you how to cook couscous with easy couscous recipes and other tips to ensure you get perfectly fluffy and delicious bites every time.
Jump to Section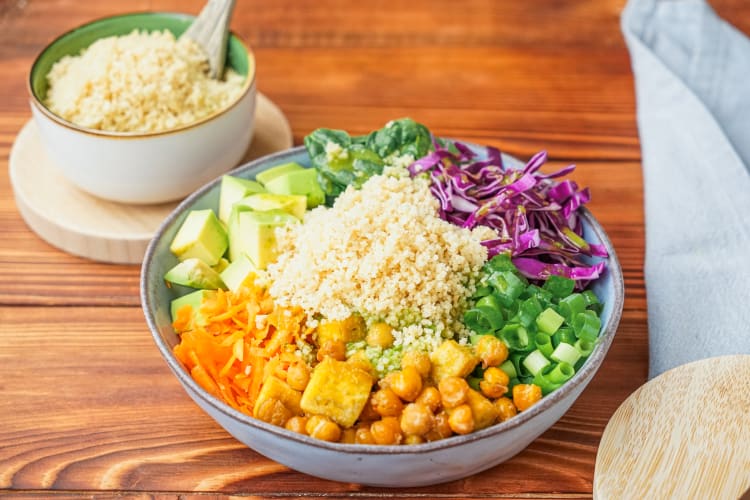 What is Couscous?
Before you can learn how to cook couscous, it's important to understand what couscous is. Couscous is a traditional North African dish that is popular in Morocco, Algeria, Tunisia and Mediterranean countries. Couscous looks, tastes and behaves somewhat similarly to grains like quinoa, rice and farro. It is frequently served cold in salads or hot with stewed meats, legumes or vegetables. Couscous has a nutty, slightly sweet flavor on its own and is excellent at absorbing the spices and juices of whatever ingredients accompany it.
However, couscous bits themselves aren't a grain, which begs the question, what is couscous made of? Couscous is actually more closely related to pasta and is made with water and semolina flour, which comes from ground durum wheat.
If you want to know how to cook couscous, you may also wonder, "is couscous healthy?" Much like pasta, couscous can be an excellent part of a balanced diet. The dish is a good source of fiber and plant-based protein and contains a handful of vitamins and minerals, including selenium. However, couscous is high in carbs and contains wheat gluten, making it unsuitable for people with wheat allergies, gluten sensitivity or celiac disease.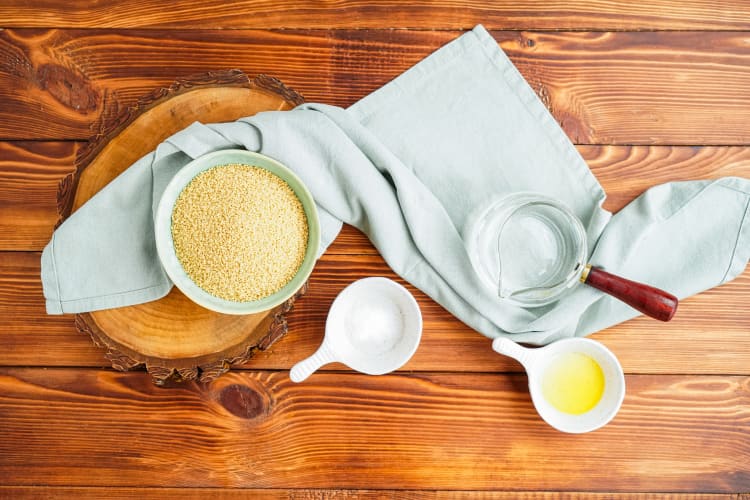 What are the Types of Couscous?
Learning how to cook couscous also depends on the type of couscous you're working with. There are two main types of couscous: traditional Moroccan couscous and Israeli couscous. At first glance, traditional couscous may look like quinoa. Couscous is made up of little off-yellow bits about half the size of a grain of rice. The tiny size of Moroccan couscous allows it to cook very quickly. Moroccan couscous makes an excellent bed for meats and vegetable stews.
The other popular type of couscous is Israeli couscous, also known as pitim or pearl couscous. The dish isn't actually a traditional Israeli food but was introduced in the 1950s by Israel's prime minister, who wanted hungry immigrants to know how to cook couscous when rice rations were low. This type of couscous has a thicker, rounder consistency, like tiny pearls. Israeli couscous is made with semolina wheat flour and water. Israeli couscous is commonly served cold in salad dishes or as a side dish and has a somewhat chewy, lemony and savory flavor.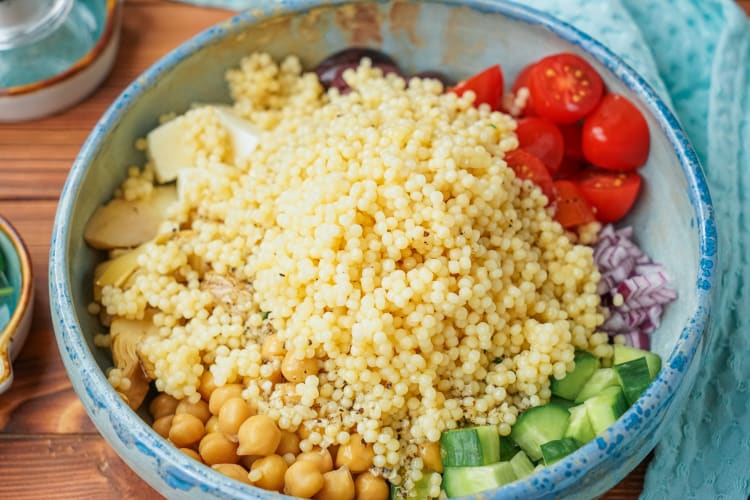 How to Cook Couscous
The best couscous recipe will, of course, depend on the type of couscous you're making. Because couscous is similar to a pasta, you can make it from scratch by hand. Traditional Moroccan recipes for how to cook couscous will call for only a few ingredients, often just semolina flour and water. Making hand-rolled couscous takes about 45 minutes of preparation time and roughly an hour of cooking time.
However, in the age of modern convenience, you don't need to go through all the trouble of learning how to cook couscous by hand. Instead, it's much easier to purchase premade and dried couscous, typically found in the same grocery aisle as rice, quinoa and other grains. Learning how to cook couscous this way is incredibly easy. The ratio of water to dry couscous is about 1 to 1. One cup of dry couscous will turn into about 2½ cups once cooked, which equates to about four servings.
To cook couscous you will need:
1 cup of water or broth
dash of salt
dash of olive oil
1 cup of dry couscous
First, bring 1 cup of water or broth to a boil on your stovetop. Add a dash of salt and olive oil to the water to keep the couscous from sticking. Pour the dry couscous into your boiling water, stir briefly, cover the pot tightly with a lid and turn off the heat. Allow the couscous to cook undisturbed for about 10 minutes. Once the couscous has absorbed all the water, you can fluff gently with a fork and serve. Alternatively, you can spread the couscous on a baking sheet and let it cool before adding it to a cold dish or salad.

How to Cook Israeli Couscous
Learning how to cook Israeli couscous isn't very different from learning how to cook couscous of any other kind. The water-to-dry couscous ratio is about the same, but you may want to add a little more water for Israeli couscous, as the larger pearls will need more water to absorb. By that same token, Israeli couscous can also take a few minutes longer to cook than traditional couscous.
To cook Israeli couscous you will need:
1½ cups of water (or broth)
dash of salt
dash of olive oil
1 cup of dry Israeli couscous
First, bring 1½ cups of water to a boil in a large pot. Add a dash of salt and olive oil, as you would with traditional couscous. Once the water is at a rolling boil, add 1 cup of dry Israeli couscous, cover with a lid and reduce to low heat. Allow the couscous to cook undisturbed for about 10 minutes on low heat, then turn the heat off and let sit an additional 5 minutes. Open the pot and fluff gently with a fork or serving spoon, being careful not to mash the couscous pearls. Serve hot or spread over a baking sheet to cool and add to cold dishes.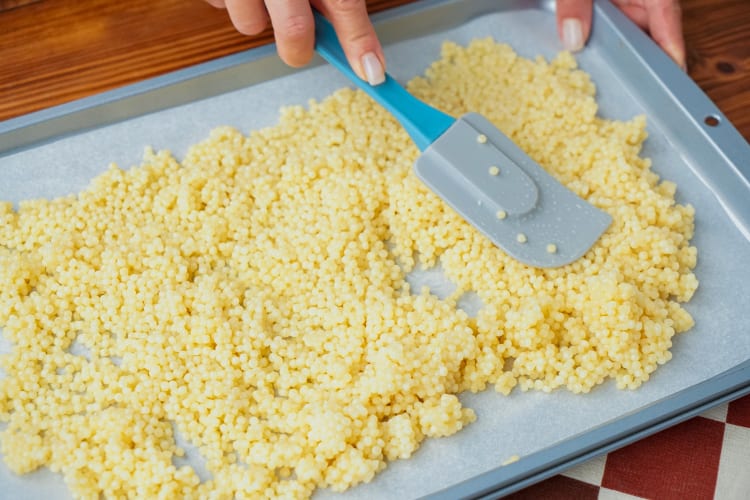 What to Serve with Couscous
Mastering how to cook couscous is one thing, but knowing how to cook couscous pairings is another. Most couscous recipes will show you how to make couscous, but they won't always suggest the best way to serve couscous. While couscous is perfectly fine on its own, it's a bit like eating plain rice or pasta. If you want to really impress your friends by knowing how to cook couscous, pair it with another savory dish and allow the flavors to mingle.
1. Grilled Kabobs
Once you know how to cook couscous, you'll always have the perfect side dish to balance out savory vegetable kabobs, Moroccan kefta kabobs or Greek Chicken kabobs. Pierce whatever meat or vegetables you'd like on long skewers, then let them cook on the grill or a shallow skillet, turning over once halfway done. Create a bed of hot couscous to lay under your kabobs or serve on the side.
2. Vegan Bowls
Knowing how to cook couscous will also help you create a base for quick and easy lunches. Start with a scoop of couscous, then throw in your favorite protein source like chickpeas, beans or edamame. Add fresh chopped lettuce, sweet potatoes, zucchini, green onions and whatever else your healthy heart desires, then pair with a sauce like tzatziki, teriyaki or lemon herb dressing. The best part about couscous Vegan Bowls is that they're totally customizable, easy to make and have dozens of cuisine options.
3. Blackened Mahi Mahi
Mahi mahi is a large, white-fleshed fish that can be caught in warm waters almost anywhere in the world, including the coasts of Africa and the Middle East. One delectable method for how to cook couscous is with black olives and chopped red bell pepper, served as a side with Blackened Mahi Mahi. The intense spices of blackened mahi mahi complement the meat's slightly sweet flavor, which is enhanced by the nuttiness of fresh couscous.
4. Moroccan Vegetable Stew
When learning how to cook couscous, you can't go wrong with a tasty and traditional pairing like Moroccan vegetable stew. You can use any recipe that seems appealing to you, but most are comprised of vegetables like cauliflower, zucchini, sweet potato, eggplant and parsnip and plenty of enticing spices like turmeric, ginger, cinnamon, cumin and coriander. Spread the hot couscous into a fluffy bed before scooping fresh stew over top.
5. Mediterranean Couscous Salad
One of the best things about knowing how to cook couscous is playing with all its versatile uses. After cooking your couscous and allowing it to cool, toss it in a large bowl with freshly diced Roma tomatoes, cucumber, red onion, chickpeas, black olives and feta cheese. You can add whatever other vegetables and spices you'd like, of course, then flavor with parsley, mint, basil oregano and lemon juice. Serve cold as a main course or side dish.
6. Lamb Tagine
Tagine is a traditional North African stew cooked in shallow clay pots, and it's one of the best dishes to try when learning how to cook couscous. The stew can have various ingredients, but lamb is one popular protein option, typically slow-cooked with an assortment of ingredients like turmeric, coriander, nutmeg, black pepper, cilantro, tomatoes and dried apricots. Lamb tagine is one of the best foods to pair with couscous because the pearls soak up the rich sauce.
7. Moroccan Chicken
Moroccan chicken is a classic comfort meal from Morocco, featuring stewed or braised chicken thighs, ras el hanout, ginger, cinnamon, paprika and other spices balanced with sweet fruits like raisins, lemons and dried apricots. Start by browning the chicken in a large pot with a dash of olive oil, then add other ingredients and cover with a lid to slow cook for about an hour. Moroccan chicken is an excellent main dish when practicing how to cook couscous and other flavor-enhancing carbs like maakouda or khobz.
8. Dolma
Dolma comes from the Turkish word "dolmak," which means "stuffed." This flavorful dish is one of the most unique ways how to cook couscous. Dolma is frequently made with grape leaves, zucchini or cabbage leaves stuffed with rice, couscous, meats, other vegetables, herbs and spices. The trick to making tasty dolma that sticks together and tastes perfectly tender is to rinse and soak the rice before stuffing, and leave room for the dolmas to expand while cooking.
9. Tunisian Masfouf
Masfouf is a sweet traditional Tunisian dish made with couscous, butter, sugar, milk and fruits like raisins and pomegranates. Masfouf is frequently served during the month of Ramadan, but may also be enjoyed at other special occasions or whenever you'd like to treat yourself to something wholesome and sweet. Masfouf can be an excellent option if you're looking for creative ways how to cook couscous for breakfast or dessert.
10. Zigni Berbere
Zigni berbere is an intensely spiced beef stew from the northeast African country of Eritrea. This incredibly hearty stew is buzzing with spices like cardamom, ginger, cinnamon, cumin, black pepper, bird's eye chilies and fenugreek, so it balances perfectly when learning how to cook couscous. Simmer the ingredients together in a large pot, then spoon them over a bed of couscous for a meal that warms you from the inside out.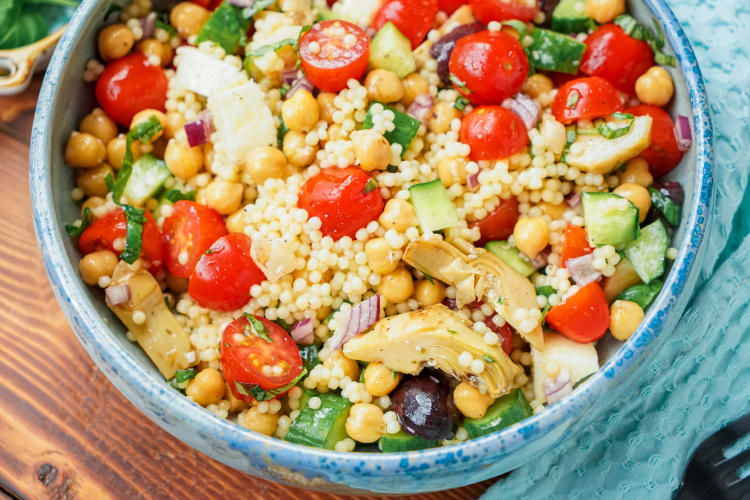 Couscous Recipe
Whether you enjoy it plain as a side, cooked into masfouf for breakfast or served alongside spicy zigni berbere for dinner, couscous is an essential shelf-stable food that can enhance your daily meals. This endlessly versatile carb can make salads more satiating, stuff vegetable and grape leaf dolmas or balance out other sweet and savory dishes.
However you choose to cook your couscous, don't be afraid to think outside the box. Ready to practice how to cook couscous? Try your hand at the easy couscous recipe below.
How to Cook Couscous Recipe
Learning how to cook couscous is an easy way to diversify your pantry and add a new carbohydrate to your weekly rotation. Our best couscous recipe will show you how to whip up perfectly hot and fluffy couscous for use in salads, bowls, stews and more.
Ingredients
optional herbs and spices: dill, parsley, cilantro, cumin, garlic, green onion etc.
Directions
7 steps | 15 Minutes
Step 1
Measure and prep all ingredients.
Step 2
In a large saucepan over medium-high heat, bring the water or broth to a boil. Add the extra virgin olive oil and salt.
Step 3
Add the dry couscous into the boiling water and stir briefly to prevent sticking.
Step 4
Tightly cover the pot with a lid or heat-safe plate and turn off the heat source.
Step 5
Allow the couscous to cook in the hot water for about 10 minutes. Avoid opening the lid during this time, as releasing the steam can slow down the cooking process. After 10 minutes have passed, you can quickly check the couscous. When all of the water has been absorbed, the couscous is done.
Step 6
Lightly fluff the cooked couscous with a fork to separate the grains, then serve hot or spread on a baking sheet to cool before using in salads and other cold dishes.
Step 7
Store leftovers in the refrigerator for up to three days or freeze for up to three months. Enjoy!