How to Make Cake Pops
Before you can learn how to make cake pops you'll probably want to know what they are. It may seem obvious. Cake pops are pieces of frosted cake on a stick, right? Sort of. Cake pops are actually balls of cake mixed together with frosting so the bite is more dense and gooey than your typical bite of cake. But cake pops are all about the chocolate coating they're dipped in and the way they are decorated. It's the combination of the hard, chocolatey bite and the texture of the toppings combined with moist frosting and cake all in one bite. That's the essence of the cake pop.
Do you have a preference for dark chocolate, milk or white? Do pastels appeal? What's your pleasure for toppings? When it comes to cake pops, it's all about the décor. It's almost as much fun learning how to make cake pops as it is to eat them.
Learning how to make a cake pop takes a little patience. There's more to it than meets the eye.
For those who like to keep things simple, you might want to stick to cupcakes. But for those who know they've got the magic touch when it comes to baked goods, learning how to make cake pops is relatively easy and gives you an opportunity to show off your creative stuff. The best part about learning how to make cake pops? You can make them in big batches and freeze them so you always have the perfect party favor on hand.
Jump to Section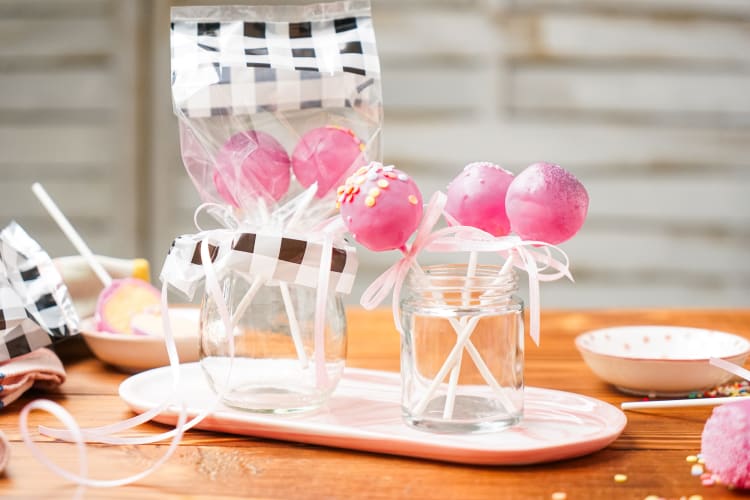 How to Make Cake Pops with Cake Mix
If you haven't tried eating a cake pop, you should start there before you learn how to make a cake pop. The traditional cake lover who craves a soft, flaky bite of freshly baked cake with just the right amount of sweet frosting on top might turn their nose up at the cake pop. But if you're the person that loves to mash your cake and frosting together to make sure each bite is fully coated, and if you love chocolate-coated anything, then cake pops are calling for you.
Once you've discovered the addiction, it's only natural that you'd want to learn how to make cake pops. At first, it seems like a simple idea. Just ball up some cake with frosting and put it on a stick, then dip into chocolate and sprinkle with decorative toppings. If only it were that simple!
Before you bag the idea of learning how to make cake pops, keep reading. You don't have to be a pastry chef to whip up this tempting treat. You can make cake pops easily at home.
There are a few pro tips for how to make cake pops that will ensure your project is a success. And you don't have to make a cake from scratch. You can learn how to make cake pops with cake mix so get your favorite box out of the pantry and get to it.
Here are the basic steps for how to make cake pops:
Mix the cake and frosting, form into cake balls and refrigerate until very cold.
Melt some of the chocolate. Insert a lollipop stick into the melted chocolate and then insert the stick about halfway into a cake ball. The chocolate on the stick is your glue.
Dip the cake ball into melted chocolate, add décor and set to dry.
Devour!
There are a few key parts to understand when learning how to make cake pops with cake mix. First, make sure the cake cools completely. You can break it up with your hands, but using a stand mixer on low speed makes it much faster.
The second part to know when you want to learn how to make easy cake pops is getting the frosting-cake ratio right. In general, less is more. You can use your favorite store-bought flavor but store brands tend to be pretty dense. If you want to know how to make cake pops like a pro, take the time to make your frosting from scratch. Any recipe will do.
Once you have the cake filling consistency down, use a melon baller to scoop small amounts of the cake mixture and use your hands to gently roll them into a ball shape. Place on a cookie sheet lined with parchment paper.
The next tip to learning how to make cake pops easily is to refrigerate your cake balls. If you try to insert a lollipop stick into your fresh, gooey cake ball without freezing it first it will likely break apart. If the stick doesn't destroy it, the dipping will. Yes, having to refrigerate the cake means the process takes longer but if you've come this far you might as well learn how to make cake pops right.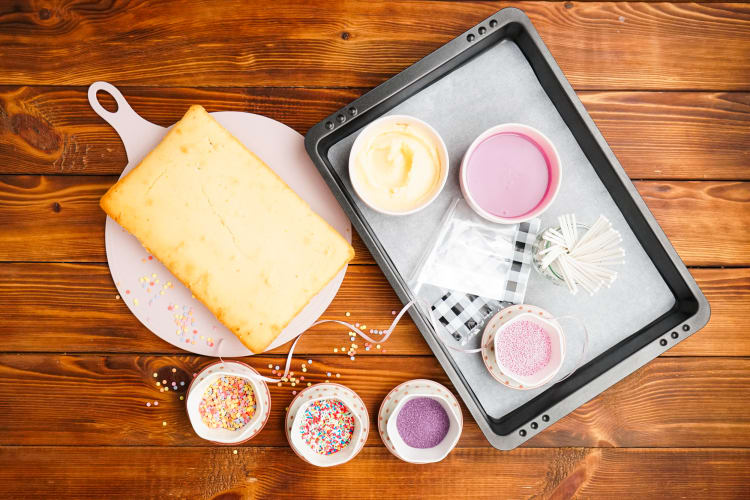 How to Make Cake Pops with Leftover Cake
Let's say you're too lazy even to make a box cake. Have zero shame. You can learn how to make cake pops from leftover cake. In fact, cake that is a day or so old is perfect for learning how to make easy cake pops because the frosting mixes in more evenly.
No reason to throw that half-eaten three-day-old store-bought cake away. It's already frosted so it's perfect if you want to learn how to make cake pops from leftover cake. Dump whatever you have left into your stand mixer and use the low setting to combine. Add extra frosting if needed to get the consistency right. Don't you just love it when you can repurpose and avoid waste?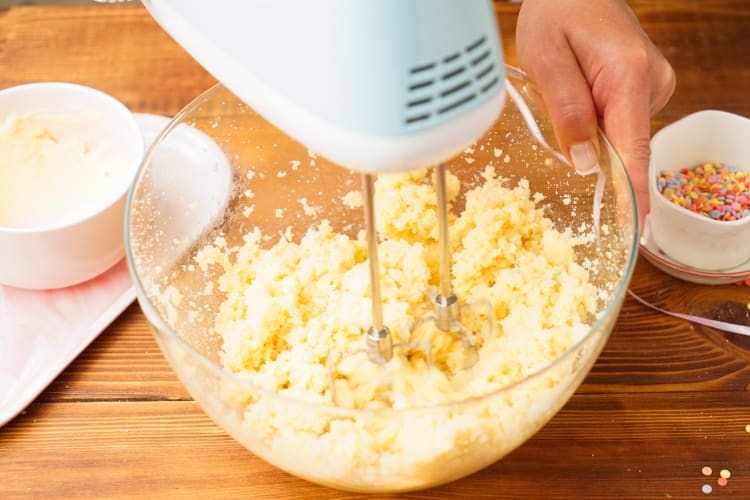 How to Make Cake Pops without Frosting
Are you the person who scrapes the frosting off of their cake? Making cake pops without frosting is easy. You can substitute cream cheese. Or peanut butter. Or you can even use a little bit of milk and vanilla extract. Go wild with strawberry jam. The bottom line is that learning how to make cake pops easily only requires something you can use to provide the necessary bind.

How to Make Cake Pops without Lollipop Sticks
The urge to create has hit you and you've already got your cake and frosting in the bowl. Then you realize you don't have lollipop sticks. So how can you make cake pops without lollipop sticks?
There are a couple of good options. You could use pretzel sticks if you have longer ones. Or candy sticks like a peppermint stick. Got rock candy in the house? Repurpose the wooden stem for your cake pops. Worst case scenario? Skip the stick.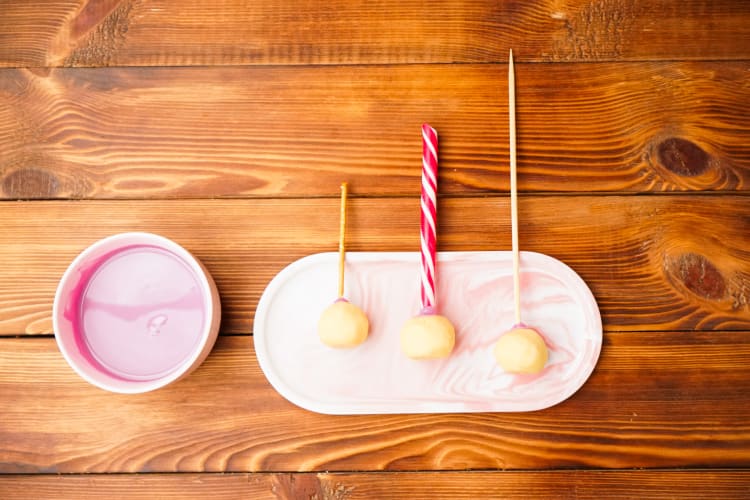 How to Dip Cake Pops
Congratulations! If you've come this far, then you've already accomplished the hardest part of learning how to make cake pops — the assembly. Now you've arrived at the fun part — dipping and decorating!
As with learning how to make cake pop filling, there are some key steps for how to dip cake pops. First, use a dish deep enough to fully dip your cake pops plus have some room to work with a spoon to help finish off any excess. Second, make sure you have a cake pop stand ready. You can lay the dipped cake pops on a baking sheet, but you'll end up with a flat side and that's not very fun. Any old cardboard box or styrofoam will do for your cake pop stand. Just cut your holes to size before you get started. No boxes around? You can make cake pops easily using a jar of sugar or a bowl of dried beans.
Remember that the whole attraction of the cake pop is giving it some festive flair. White chocolate is a popular option for cake pops because you can tint it easily into a variety of colors. But dark or milk chocolate will work just fine. Sprinkles are an obvious choice for your décor, but take yourself on a shopping spree in the cake decorating aisle and you'll find all kinds of fun options from candy confetti to fancy sugars to glitter.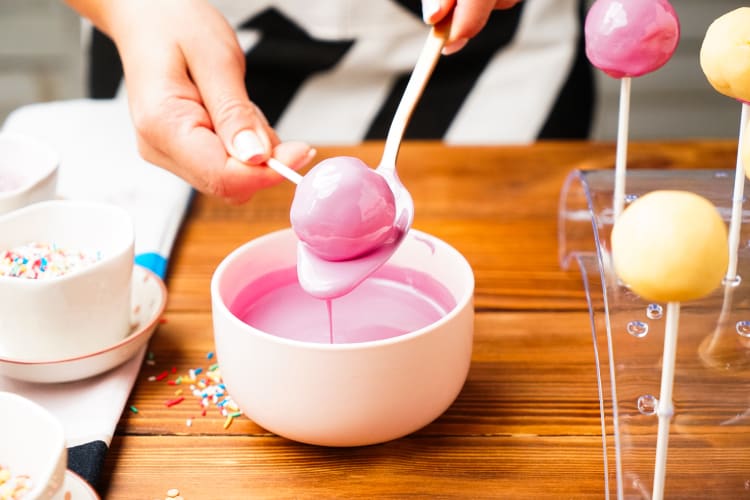 Cake Pops Tips & Recipe
Let's review some pro tips on how to make cake pops:
Stand mixers are ideal for crumbling your cake to a fine consistency.
Get the cake and frosting consistency right and don't use too much frosting.
Refrigerate or freeze cake pops before inserting your lollipop stick.
Use some melted chocolate on your stick as glue.
Depending on what type of melting chocolate you use, have a little canola oil on hand in case you want to thin it out for easier dipping.
If you decide to tint your chocolate, use gel coloring vs. liquid to prevent over-thinning.
A spoon is a great tool to help get your cake pop evenly coated with chocolate. Roll your cake pop against a spoon to help release excess melted chocolate.
Have a cake pop stand ready. If possible, sit your cake stand on a baking sheet so you can go wild with your decorations without making a huge mess.
Let the cake pops dry completely before storing.
Now that you've got the confidence to make a cake pop at home, you can get creative and make it fun. Learning how to make cake pops for kids birthday parties is an obvious win, but don't be afraid to get your glam on and bring homemade cake pops to your next bridal shower instead of the same old cupcake. For even more ways to explore your favorite foods, check out other experiences happening on Cozymeal!
How to Make Cake Pops Recipe
Learning how to make cake pops makes celebrating at home a little more special. Endlessly customizable, we'll show you how to make cake pops that will wow your friends and family.
Ingredients
13x9 sheet cake, see notes 1
frosting, plus more as needed, see notes 2
candy melts or other melting chocolate
baking sheets lined with parchment paper
cake pop stand, see notes 3
décor of your choice, such as sprinkles, edible glitter, sanding sugar
plastic wrap, freezer bag or storage jar.
Directions
10 steps | 240 Minutes
Step 1
Measure and prep all ingredients.
Step 2
Make sure your cake is completely cool. Using a handheld electric or stand mixer on low speed, break the cake down into a fine crumble. (See notes 4.)
Step 3
Keeping speed on low, begin adding frosting two tablespoons at a time (if using a frosted cake, check the consistency after breaking down and add 1 tbsp additional frosting at a time). Your goal is a moist mixture where the cake is still identifiable. Be sure not to overdo it.
Step 4
Using a melon baller or small spoon, scoop small amounts of cake batter and use your hands to roll it into a small golf ball.
Step 5
Place on a parchment-lined baking sheet. Repeat until all batter is used up and refrigerate for at least 2 hours or freeze for at least 30 minutes.
Step 6
Melt the candy melts as directed. Remove the cake balls from the refrigerator a few at a time (keeping them as cold as possible makes dipping easier). Dip one end of a lollipop stick into the melted chocolate. (See notes 5.)
Step 7
Insert the dipped end about halfway into a cake ball. Set aside on your cake pop stand to set. Repeat with remaining cake balls, working in batches of six at a time.
Step 8
Dip a cake pop into the melted chocolate. Twirl it against the inside of a spoon to help coat and release any excess.
Step 9
Set aside in the cake pop stand, decorate while the coating is still wet and allow to set for 2 hours.
Step 10
Once your cake pops have set, you can wrap them individually in plastic wrap or place them in a freezer bag for storage. Cake pops should be stored in the refrigerator for up to a week or in the freezer for up to 2 months. Thaw in the refrigerator as needed. Enjoy!
Notes:
The sheet cake can be made from scratch, a box mix or a premade cake.
Frosting can be store-bought or homemade.
If you don't have a cake pop stand, an upside-down box or styrofoam can be used.
Day-old cake works better than freshly made.
It makes sense to melt a little chocolate at a time vs. trying to melt it all at once. It may start to seize up before you can finish assembly otherwise.