The Best Brunch in Los Angeles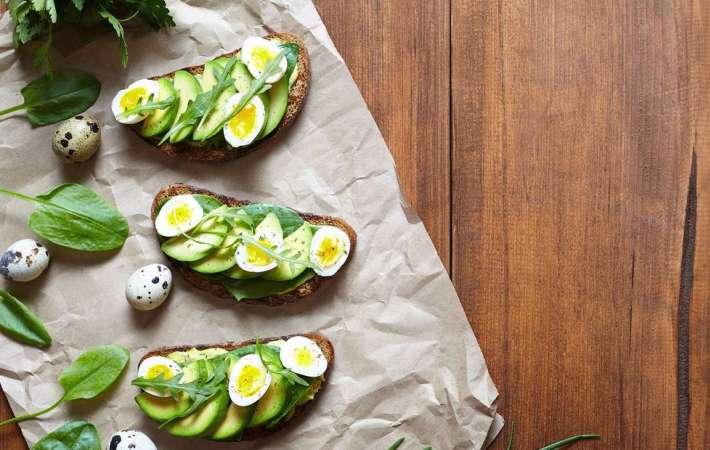 ---
Los Angeles takes its brunch seriously.
What better way to kick off (or end) a weekend than with brunch? Avocado toast, fluffy pancakes, oversized burgers, or bubbly Mimosas—brunch has it all. And Angelenos have their pick of where to get it.
But what is the best brunch in Los Angeles? We asked ourselves this, too, and set on a mission to find it. What we came up with are these nine local favorites.
Whether you're in the mood for ultimate comfort food (looking at you, chicken and waffles), bottomless libations, the best outdoor patio, or some healthier options, we cover it here with these spots serving up the best brunch in Los Angeles.
The Best Brunch in Los Angeles
1. Fratelli Cafe
Located in the heart of Melrose, Fratelli Cafe offers a cozy respite from the busy city. Popular with locals, this family-friendly cafe dishes up breakfast all day—whether you're dining inside or on the dog-friendly patio. Owned and operated by LA locals, Fratelli's strives to make you "feel like you're a local, even if you aren't one." Fratelli is known for their fluffy croissant French toast, but other popular specialties include sweet and savory Belgian waffles, behemoth breakfast burritos, and egg scrambles. The menu offers plenty of vegan, vegetarian, gluten-free, and dairy-free options, too.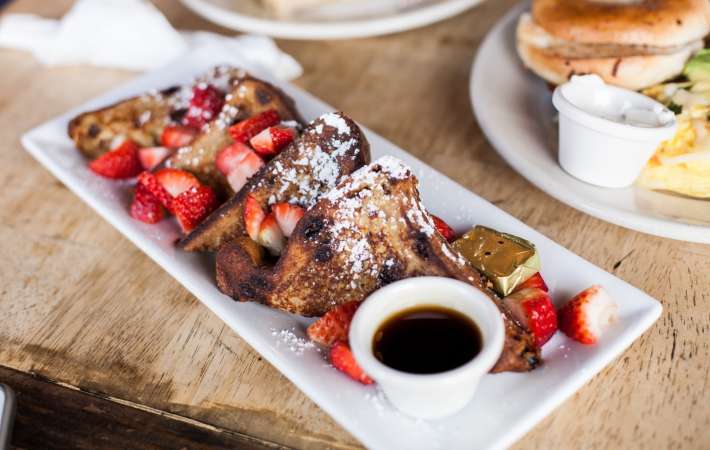 via Fratelli Cafe
2. Poppy + Rose
Calling all chicken and waffle fans. Poppy + Rose, located in downtown's Flower District, specializes in scratch-made comfort fare. The country-inspired restaurant is locally owned by Chef Michael Reed of Viviane in Beverly Hills and Diana Yin, owner of the popular LA food truck Peaches Smokehouse and Southern Kitchen. You'll find all the Southern classics on the menu, including buttermilk fried chicken and waffles, tender biscuits and gravy, and pulled pork hash—made with BBQ pork that's smoked in-house for 18 hours.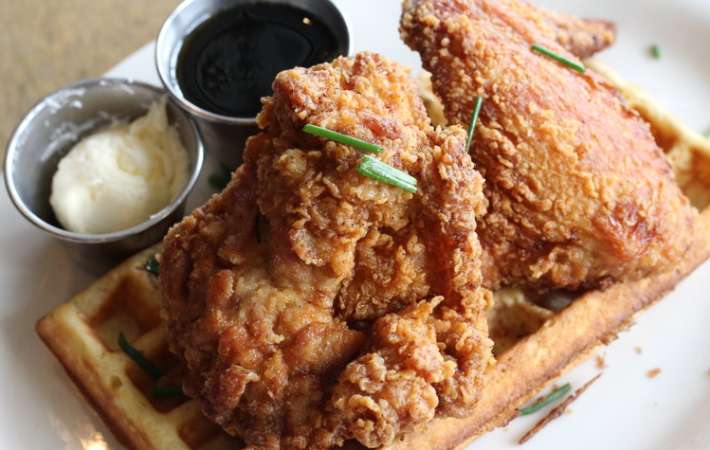 via Poppy + Rose
3. Cafe Vida
Cafe Vida brings "food for life" to three LA locations: Pacific Palisade, El Segundo, and Culver City's charming Restaurant Row. This quaint cafe specializes in healthy Latin cuisine with a Californian twist. Owner Luis Castaneda notes that Cafe Vida focuses on "simple cooking that tastes great, looks great, and feels right." He adds that the cafe's basic promise is a "health conscious restaurant that offers flavorful new alternatives for people and families on the go." Some popular brunch items include Huevos Rancheros, the protein-packed Balance Breakfast Bowl, and the California Scramble.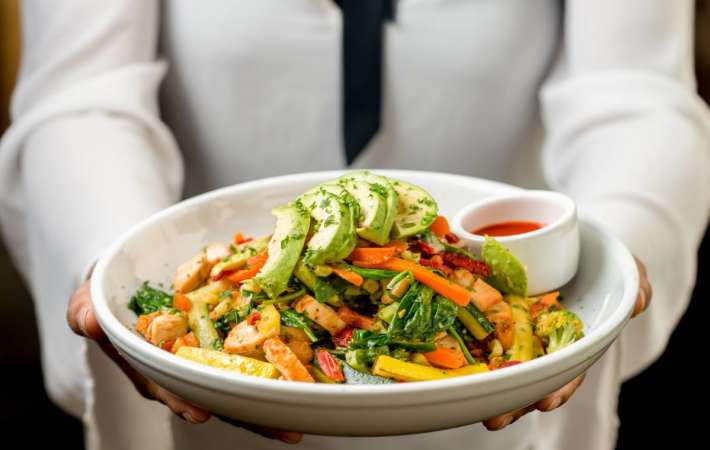 via Cafe Vida
4. Grub
The name says it all when it comes to this Hollywood joint. Grub serves up delicious fare seven days a week in a charming 1920s bungalow and outdoor garden. Owner Betty Fraser notes that brunch here is kind of "like you were going to your crazy aunt's house, but no family drama and you don't have to do the dishes." While you won't find drama at Grub, you will find refreshing Lemon Basil Mimosas, Friggin' Amazing French Toast, and their signature Hooked! Tuna Melt (which holds the title of Best Sandwich in the U.S. by Restaurant Magazine). Whatever you do, don't leave without trying their Crack Bacon, "named as such by a favorite customer who tasted it for the first time and pronounced, this is so good it should be called crack!"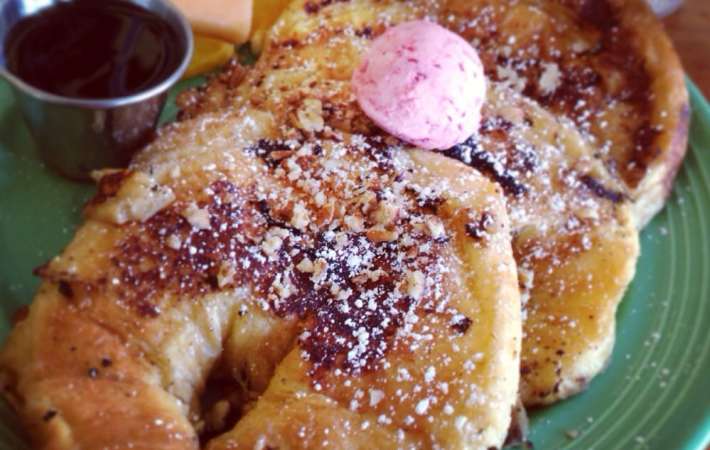 via Grub
5. Little Next Door
Little Next Door serves up big flavor at its West Hollywood location. Deemed the Most Romantic Restaurant in LA by Los Angeles Times, this charming Parisian-style brasserie boasts the most picturesque outdoor patio in town and a full brunch menu. Sample brunch specialties include the Parisian Omelet with gruyere, Grilled Filet Mignon Benedict, and waffles with mascarpone whipped cream. Brunch is served until 3:45 Tuesday through Sunday, and weekend brunch specials and Mimosas are discounted before noon. That's a good reason to get out of bed early.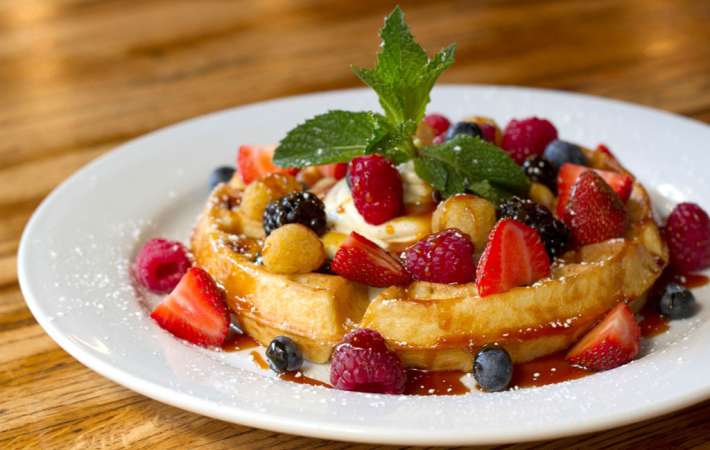 via The Little Door
6. Bottega Louie
Downtown's bustling Bottega Louie keeps LA customers happy with food that is just as appealing as the bright, spacious interior. Besides rows of rainbow-colored macarons and the prettiest pastries in town, Bottega Louie offers a great weekend brunch. The menu provides a nice variety of savory, sweet, and boozy options. Choose from strawberry and peach French toast, lobster hash, or lemon ricotta pancakes. Shareable small plate options include avocado toast with chorizo, portobello mushroom fries, and freshly fried beignets. Besides the usual morning suspects—lattes, and the like—Louie offers a nice variety of libations, including half a dozen champagne cocktails.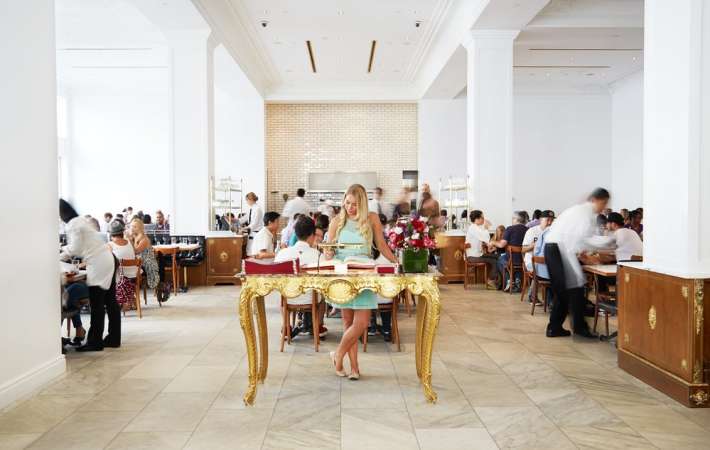 via Bottega Louie
7. République
Located in the old La Brea/Campanile building is the husband-and-wife owned République. Breakfast is served daily in their cafe, but locals line up for their weekend brunch. République offers something for just about anyone. There's chia seed pudding, shakshouka, pupusas, kimchi fried rice, or the "Regular Breakfast"—which consists of eggs (any style), bacon steak, fingerling potatoes, and baguette with French butter and jam. Lastly, we don't recommend leaving without snagging a decadent pastry or bomboloni from the cafe on your way out.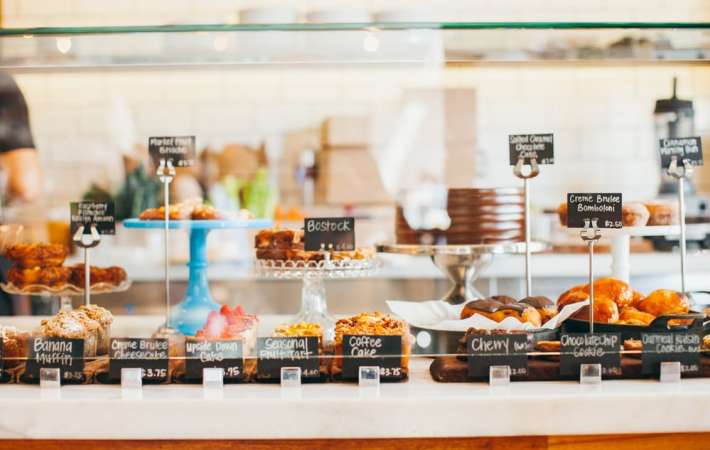 via République
8. Eat This Cafe
Know what makes the best brunch in Los Angeles even better? Bottomless mimosas. And Hollywood's Eat This Cafe has just that. Their local favorite weekend brunch includes a customizable omelet bar, vegan tofu scrambles, breakfast paninis, and Grand Marnier French Toast. For just $15, you can also order their infamous bottomless Mimosas with the purchase of any entree.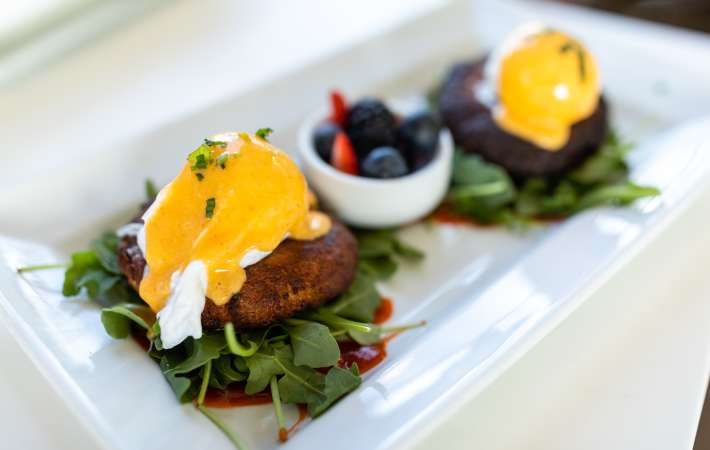 via Eat This Cafe
9. Alcove Cafe & Bakery
If you're craving the typical brunch "best of" hits, Alcove Cafe and Bakery has you covered. This Los Feliz cafe serves updated American classics in a historic bungalow surrounded by a garden patio. Alcove focuses on organic, local, and fresh ingredients. On the menu, you'll find egg benedicts, chilaquiles, loaded avocado toast, and even their own collection of chocolates. Thirsty? There's Bloody Marys, Make-Your-Own Mimosas, and their famous Bianco Sangria.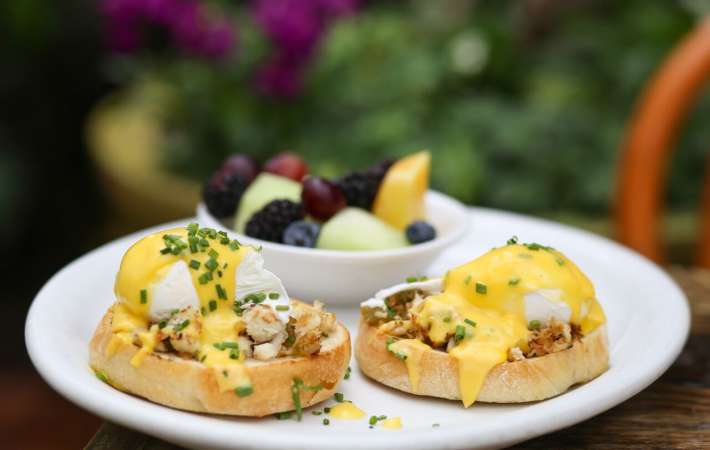 via Alcove
No matter what morning craving hits you this weekend, you now know where to get the best brunch in Los Angeles.
But what if you want to master the fine art of Breakfast in Bed? Take one of our Cozymeal brunch classes to have fun, learn to cook, and bring-your-own bubbly.
Check out what we're cooking up in LA below:
Texafornian Brunch for cornmeal waffles, Cocao-Candied Bacon, and Sweet Potato Tot-chos.
Vegan Brunch for plant-based spins on biscuits and gravy, "bacon" hash, and scrambles.
Moroccan Crepes & Tea for sweet crepes, granola, and Orange Blossom-Mint Tea.
Authentic Italian Brunch for sweet and savory tarts and frittata.
California-Italian Fusion Brunch to master the poached egg and create next-level avocado toast.
Recent posts
---
06-20-2019 - Trace Anthony Bourdain's New York City steps and visit these must-try restaurants and bars with our custom map.
06-17-2019 - Usher in your golden decade with these 50 fantastic 50th birthday party ideas. It just may be your best birthday yet.
05-28-2019 - Make dad feel loved with these 30 fun things to do on Father's Day.
Most popular posts
---
11-16-2015 - Feel the burn.
09-11-2018 - We've searched high and low to bring you the very best brunch spots in Los Angeles. From chicken and waffles to fluffy croissant French toast to the best healthy options in town, here are our picks for the best brunch in Los Angeles.
04-02-2019 - These 35 fun and new ideas for date night in NYC will bring a spark back to date night—and they just might make you fall in love with the city all over again, too.